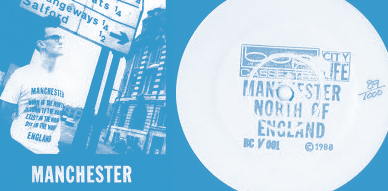 I promise this won't be the last post for January, I actually have an interview ready for tomorrow. But probably it will be the last obscure band post for this month.
Nonetheless this will be short, I'm quite knackered, I had a very busy weekend with friends and family in town, celebrating and all. And now I just need to rest, but of course I can't, as I have to be at work. Tough life. But well, there's always music to bring a smile, right?
Night Flowers: the London band, a favourite of mine, whom I would have loved to do a 7″ for sure, are back with a new song and new video. "Losing the Light" is a lovely pop tune and the video is quite nice too! I like the monotone colour choices the video director chose, those bright pinks and yellows made it all so poppy. It seems this song is just a one-off digital single, but I do hope it does get released in a physical format!
Discos de Kirlián: so the Barcelona label Discos de Kirlián named themselves after the legendary Spanish band Aventuras de Kirlián. It was only time for the label to put together a tribute album to the Donosti band. And it is being released on a limited number, 100 CDs. That's all. The beautiful compilation is available to stream at the moment on the label's Bandcamp and it includes so many exciting and top contemporary Spanish bands like Doble Pletina, Marlovers, Alborotador Gomasio, Los Bonsáis, Apenino or Coach Station Reunion among others!
Daytrip Records: a new label from Cardiff, Wales. And they are starting the label with a compilation titled "This is My Street". What is this compilation about? Well, it is a compilation of Kinks covers by indiepop artists. It is coming out on February 16th as an LP and of course, digitally too. The album features 13 songs, 13 bands, including faovurites of mine like The School, Los Bonsáis, The Catenary Wires or The Wendy Darlings.
Unlikely Friends: if you are into 90s American indiepop why not check out Unlikely Friends, some sort of supergroup formed  by Charles Bert from Maths and Physics Club, D.Crane from Boat and Chris McFarlane from Jigsaw Records? They have a cassette album out with a whopping 14 songs total. The band based in Tacoma, Washington, say they want to be the best hardly known, under-practiced pop band in the Pacific Northwest. Could they make it? There are some great songs here like "Smiles for Miles" or "The Strangest Kind". The tape was released January 12 and the art was created by Dee Krain.
Lillet Blanc: the fab Brooklyn based band have a new six song EP coming out on tape very soon. How soon? Not sure! But it is definitely one record I wish came out on vinyl or CD, but what can you do! It is going to be out on the tape label Spirit Goth and it will have the songs "Guest House", "Be New", "Lavender", "Inlet", "Twin Mistress" and "Casco Bay". I have reviewed this band before, when they were included in the very good CD16 compilation. And I must admit I haven't seen them live. It is something that has to be fixed soon, how haven't I seen such a beautiful band, from the same city, yet!
—————————————————-
Time ago I mentioned the compilation "Manchester North of England" on the blog. The original one, not the Cherry Red one that came out a year ago. That time I was looking for information about Penny Priest, who had appeared contributing the song "Sometimes". I was lucky enough afterwards that Penny got in touch with me and we even did an interview for the blog. So today I'm hoping for the same thing to happen as I dedicate some lines to the band New Morning.
New Morning appears on this compilation with the song "Working for the Payroll". And as far as I know this was the only song that they released. There were no proper releases nor other compilation appearances according to Discogs. After you hear this jangly song you'll start wondering why? How come no one offered a release!?
As we know "Manchester North of England" came out in 1988. It was released by Bop Cassettes (BC 001) and included a bunch of favourite bands of mine like The Man From Delmonte, Raintree County, The Waltones and more. The tape version came in an over-sized black moulded plastic cassette case (a bit like a miniature VHS box) with with 16-page fold out insert. Black cassette shell with black paper labels. Whereas the LP version was distributed through Revolver and The Cartel and was available by mail order from BOP Cassettes in Manchester. It was presented by BOP Cassettes and City Life Magazine. Contains 14 tracks all of which were unreleased at this time. Limited to 1000 copies. Including an A4 insert with tracklist.
We also know that the title for this compilation comes from the t-shirt designed by Identity Clothing. The 14 tracks were compiled by NME journalist Jane Champion.
I believe on the booklet that was included on the tape there is a small bio for each band. Sadly I don't own this record and can't find out more information about New Morning, but perhaps some of you could help me with that?
My only other source of information for New Morning was going to be the Manchester District Music Archive. According to them there was a compilation titled "Time Flies" that was released in 2009 where New Morning appears with "Working for the Payroll". I don't know nothing about this compilation but I have the slight suspicion that it might have been either a Japanese only release or perhaps a fan bootleg. It is a very interesting compilation you see, I think it is Japanese because it says "22 Pop Songs / Neo-Acoustic & Guitar Pop 1982-91". Japanese fans are the ones that call indiepop as neo-aco. And the tracklist is interesting, from April Showers and Dolly Mixture to the Stars of Heaven to Bourgie Bourgie. But in the end the mystery is solved and I do find out where this compilation comes from! It is just a compilation put together by the blog Consolation Prize. Oh well…
The other mention on the Manchester District Music Archive is that of a calendar for the venue The Boardwalk. For me this is like a treat, reading all these names, many of which I have no clue who they are and I would love to track down, hear their music. But I also see more known names like The Pastels, Rote Kapelle or Too Much Texas. Until I finally see New Morning. I see that they played on Sunday September 7th of 1986 alongside Scarlet Town and Code of Arms.
As you can expect with the name New Morning it is very difficult to google them. I try. But I can't find much information. I refuse to accept this is their only song they ever recorded. There must be more. So I ask out there, does anyone remember them? Who were they? Were they involved with other bands? It would be great to know any other details about New Morning!
::::::::::::::::::::::::::::::::::::::::::::::::::::::::::::::::::::::::::::::::::::::::::::::