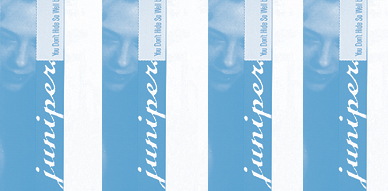 Thanks a lot to Douglas Armour for the interview!
++ How did Juniper start? Who were the members and where did you all meet each other? And what was the main reason to start the band?
Juniper was Jenni Taylor (songwriter, vocals/guitar), Scott Degraw (bass/vocals) and Douglas Armour (drums/vocals). In the late 1995, I was quitting a job at a coffeeshop in Washington DC to go live in Bulgaria for a couple of months. Jenni, who had just moved to DC from Richmond, VA was my replacement. We talked and got along well and jammed a couple of times and made plans to jam more when I got back to DC. I think that we made a flyer saying we were looking for a bass player… not sure what the influences were listed as but probably something along the lines of the Smiths and Joy Division. Scott, who was a good friend of mine (I was roommates with his brother Brian, who is in the band Gang Gang Dance) and lived in the same neighborhood that I did (Mt. Pleasant) saw the flyer, but I don't remember if he actually called Jenni or if I just asked him if he wanted to play bass with us. He was a guitar player at that point.
++ How was the scene of DC during those years? Was the halo of Pam Berry's music still present? Where you influenced by any of it? Why did you decide to leave the city and relocate to San Francisco?
I definitely think that DC was a magical place, even at that time. Maybe, in a way, it was over by that point, but I think there was still an element of "us" vs. "them" around. "Us" being the punks or pop kids or music nerds or artists or whatever, and "them" being the normal folks or the yuppies or squares or whatever. Like, you didn't buy clothes second-hand unless you were a hipster or poor. ☺
There were actually so many different scenes in DC. I was not really into the pop scene at all. Jenni and her boyfriend at the time, Mike Hammel (the Ropers, the Mondo Crescendo) were in that scene. I liked Unrest and used to work at Teenbeat every once in awhile when Mark Robinson was still in Arlington, VA packaging records for shipment. He used to pay me in records and I'd take the Teenbeat merch to record stores and sell them and buy the stuff I was into… I remember a lot of David Bowie, T-Rex, Lou Reed and free jazz being purchased (and in some cases, stolen). Of the DC area "factions" I was definitely more into the Dischord scene than the Teenbeat or Simple Machines stuff… bands like the Nation of Ulysses (later Cupid Car Club), Circus Lupus and Fugazi. But, it was a great place to be back then. Scott and his brother and a couple of friends and I ran a space for a while called Artslab that would put on shows and events and there was a punk space called the Beehive Collective that I spent many a night at. I saw Cap'n Jazz (from suburban Chicago) there. There's definitely a heavy Cap'n Jazz vibe in the drumming on Juniper.
I always wanted to move to California and I think that Jenni and Mike were into it and Scott was willing to give it a shot. I wanted to move to Los Angeles but Scott definitely did not and Jenni and Mike felt a connection to the Bay Area (Mike's old band the Ropers were on Slumberland which was based in the east bay). So, I was outvoted and we moved to SF.
++ That year, 1996, you released two 7″s right. The debut one was "You Don't Hide so Well" on A Turntable Friend in Germany. How did you end up releasing so far away? Care to tell us a bit about more of the single?
I have no idea about that. That was definitely Jenni and Mike's connections. If I remember correctly, A Turntable Friend was run by a guy named Olaf or Uli or something, and he was kind of in and out of mental institutions… or he had had like a major breakdown at some point.
++ The second came out on The Orange Peel label, who I honestly don't know any other releases from, and it was called "Making Gerard Smile". Who run this label and how did you release with them? And… who was Gerard? Is this a real story?
I don't remember that either. I do remember that the two 7's were designed by a friend of Mike's (who I believe also designed one of the Ropers' albums), and they were "matching"… the two 7's were matching, not the 7's and the Ropers' album. I'm not exactly sure about Gerard, but it might be Gerard Cosloy, who was a college radio DJ, did a zine called Conflict, Homestead Records and Matador Records.
EDIT: Actually, Gerard refers to Gerard Depardieu in "Going Places", a film from 1974. We actually had the words "Going Places – 1974″ on one of the run-off grooves on one of our 7″s.
++ Also there was a video for the A side of this single, what was the idea behind it and what do you remember from recording it?
Scott was working as an editor at a production company in DC and we shot it in our practice space and behind the house that Jenni and Mike lived at and edited it ourselves at Scott's work on a big Avid editor. There's no denying that this video was made in the mid 90's. My friend Nathan Maddox (who was our unofficial roadie and traveling companion) is at the beginning of the video (releasing the balloon), and again at the end (filming). He died in 2002… he was struck by lightning in NYC. I miss him.
++ Third and last came the Fantastic Records single, the wonderful "Think and Die Thinking" with "Summer on My Mind" as a B side. Aside from the fantastic song the sleeve is really pretty. Whose idea was it to have a real flower pasted on the back cover and a little kind of portrait on the front cover?
I'm sure that the design for this was Jenni's idea. (The Mondo Crescendo had an even more tedious 7" design for the "California Sun" single…) Yeah, gluing down all the picture-corner-holder thingys and taping down the wildflowers. Tedious.
++ Also on this single it says that "Think and Die Thinking" was titled by Tatty Bellrope, what's the story behind this?
Tatty Bellrope is Dan Gallagher. He is an enigma.
++ What was the highlight of Juniper's life? What were the best moments of being with the band?
We did a tour on our move from DC to SF that was pretty amazing. Nathan and I took LSD when we were in the French Quarter in New Orleans on Halloween and that was a very "Easy Rider" kind of night. Playing shows and getting to meet and hang with cool people in great bands like Boyracer and Henry's Dress were highlights.
++ Why did the band call it a day? What are you all doing nowadays?
After we had moved to SF, Scott decided that it wasn't working out for him and he moved back to DC. That's when Jenni and I started the Mondo Crescendo.
I live in Los Angeles and still make music. I released an album last year on a label in Brooklyn called the Social Registry. Scott lives in DC and directs and produces television shows for channels like the Discovery Channel. I'm not exactly sure about Jenni but I think that she lives in Philadelphia.
++ Anything else you'd like to add or say to the popkids out there?
Keep calm and carry on.
::::::::::::::::::::::::::::::::::::::::::::::::::::::::::::::::::::::::::::::::::::::::::::::