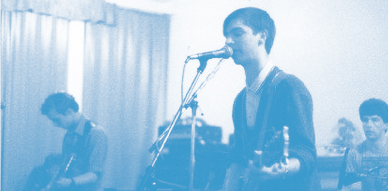 Thanks so much to Paul Denheyer for the fantastic interview!
++ What's the story behind Politburo? Who were the original members and why did you start a new band after the break up of Dead of Arrival?
There were a couple of line-ups after DEAD ON ARRIVAL, including for a while JOHN LEVER (from Manchester's THE CHAMELEONS) but the main line-up was:
(myself) Paul Denheyer – voice and guitar
Ian Jackson – bass guitar and voice
Carl Henry – the drums
along with
Andy Clegg – mellotron and synth (1983-84)
Dave Dix – keyboards (1984-85 but mostly only on recordings)
There was never a question for me of not continuing to make music after DEAD ON ARRIVAL. I enjoyed it too much and personally felt I had more to say as a songwriter. I'd known from an early age that music was all I wanted to do and I suppose I've always been lucky enough to find like-minded people who share that passion.
++ How much has changed Wirral since the eighties?
The Wirral is now officially promoted as the 'leisure peninsula' and is best known for it's golf courses and as the place where wealthy footballers have their luxury homes. But it also still has it's fair share of areas of poverty and social deprivation. During the eighties, and as a direct result of government cuts (in particular to customs & excise) our hometown was the cheapest place in Europe to buy heroin and, like the rest of Britain, lost most of it's manufacturing industries creating high unemployment here. It has changed in many ways since and from my point of view for the better. Liverpool has just finished it's year as European Capital Of Culture and this always affects surrounding areas – I remember seeing the positive effects it had on Glasgow when I was playing up in Scotland with FISHMONKEYMAN in the nineties. For young musicians and artists here, there is more support and there seems to be a healthy local scene now for the arts in general.
++ Where does the name come from? I read somewhere that during the mid eighties, Dale Street's Vernon Arms was dubbed Liverpool's politburo. Anything to do with that?
In the early 80s, Britain was living under the conservative Thatcher government – not the happiest of times for many people and particularly for anyone with socialist or left-wing views. While we never really wrote out and out political songs, it amused us to call ourselves Politburo (after the Soviet inner cabinet) just as a means of 'getting up peoples noses'.
++ The first release of Politburo happened to be a BBC flexi disc called Two Minute Heroes. How did this happen? Was it common for the BBC to release records at that time?
The 'Two Minute Heroes' record was the idea of Radio Merseyside's Roger Hill. I think he wanted to give something back to the local bands of the time – particularly the ones that regularly submitted material for his show. For a while, i think he was the only broadcaster at Radio Merseyside supporting the local scene – later on they started a sunday night show called 'Streetlife' hosted by Con McConville and Janice Long (who later went on to Radio One) – but I'm not aware of any other such releases so i guess Roger should take credit for it really.
++ You released a couple of demo tapes, do you remember which songs were included? Any chance pop fans will be able to listen to them some day?
Hmm we made available several cassettes of our songs for sale at gigs – a few of the tracks I put up on the myspace page.
++ In 1984 Ronnie Flood, founder of the city's musicpaper Merseysound "had the idea of putting together a compilation of the best local groups who weren't getting airplay". That was the Jobs for the Boys compilation and Politburo was included with the song "Innocence", which you had to re-record. Did you know Ronnie already? Was there a launch party? What were your favourite tracks on the compilation? Do you think he missed any other great local groups?
No, we didnt know Ronnie directly until he asked us to submit a track for the album. The launch party was an all-day event at Liverpool University featuring many of the bands on the album. We were the last band to play and I remember waiting around most of the day watching the other bands (some we were aware of already) and only really enjoyed BROKEN PROMISE and THE FACTION. Probably because they had a similar attitude to ourselves – we prided ourselves on being as unpretentious as possible and disliked any form of 'rockstar' behaviour. Other than that I always had a soft spot for COOK DA BOOK's 'Piggy In The Middle 8′ track. I don't think Ronnie missed any good unsigned bands at the time, BLACK, IT'S IMMATERIAL, ECHO & THE BUNNYMEN, ICICLE WORKS etc.. were already signed and making their own records by then.
++ Did you participate in other compilations?
No, just the 'Jobs For The Boys' album.
++ In March 1986 you release your first and only proper single "Euphoria b/w April Shower, Half a Hairpin". What do you remember from these recording sessions? Who released the 7″? Why did you choose these three songs in particular?
I remember enjoying the sessions for the single. Our producer and good friend Dave Dix (from BLACK) took us into Pete Fullwell's Benson Street Studios to lay down the tracks. For a small studio, it was a really good vibe with other local musicians dropping in and hanging out – IT'S IMMATERIAL, BLACK and WAH! were all signed to Pete's label INEVITABLE.
Dave added some keyboard parts, then we did the vocals and final mixes in New Brighton's STATION HOUSE studio. The record was released on Pete Leah's SKYSAW RECORDS and was well received generally – I think we decided between us all that they were our best 3 songs we had at the time.
++ After that you were going to work on a second single, right? What happened with it? Why didn't it come out?
Yes, we were booked into Cargo Studios in Rochdale to record the latest songs but split up just before the session and so regretfully it had to be cancelled.
++ Did you gig a lot with Politburo? Which gigs in particular do you remember the most and why?
We were constantly gigging throughout the UK. Gigs that stand out? I'd have to say playing at the Royal Court Theatre along with ECHO & THE BUNNYMEN and others for JOEY MUSKER's 'Drums Over The Mersey' charity gig. I also remember enjoying every time we played at the 'Larks In The Park' event and performing live on Radio Merseyside with ICICLE WORKS and IT'S IMMATERIAL was very cool. I loved IT'S IMMATERIAL
++ What's the story behind the Return of the Kodak Ghosts video? It has indeed that ghostlike feel! And what about the song, were you inspired by Eyeless in Gaza's "Kodak Ghosts Run Amok" by any chance?
Haha, i have to say this song was very heavily-influenced by Sheffield's COMSAT ANGELS (a big favourite of ours). I don't think i heard the Eyeless In Gaza track. The video was part of a home-produced 25 minute film we made of our songs called 'Building Cages'. To have a band video at all in those days was rare and to be selling it at gigs for the price of the cassette itself even rarer. It was produced on a couple of domestic recorders and a camera the size of a suitcase so is highly amusing to watch compared to what can be done now.
++ Did you know there was a Danish movie last year called "Room 205″ and it's a terror movie! What is your Room 205 song about? maybe it's about ghosts too? Do you have a particular interest in ghosts at all?
nope LOL. I never really felt too comfortable explaining my songs, preferring listeners to make up their own minds but i think looking back it's about isolation. At the time i was losing friends to drugs and I think this sense of helplessness was reflected in more than a few Politburo songs.
++ What do you miss the most from those days when you hang around with your mates and made fantastic music?
In all honesty i'm still hanging around with friends and hopefully still making fantastic music occasionally LOL. I never grew up
++ Why and when did the band call it a day? What did you do after?
All things come to an end and there were many personal reasons for the end of Politburo in 1986. Ian Jackson had started his own musical project with local poet JEGSY DODD and it's success, along with the band's frustration at not gaining the recognition we thought we deserved, probably didn't help matters. Sadly, for me, the songs written by both myself and Ian at the end were never recorded and I still feel they were the best songs we ever wrote. They did however give me a focus for the direction of my next project.
Ian went off to do his own thing and Carl and I started playing with lots of different musicians in search of the right formula that would eventually gel to become FISHMONKEYMAN. After releasing our own 12″EP in 1990, we were signed to Warners and released a couple of successful singles with them. FISHMONKEYMAN continued in various guises with support from indie label COPASETIC RECORDS until 1997 when I finally hung up my guitar and concentrated on producing local bands and discovered underground house music.
These days I produce the odd house vinyl, dj occasionally and run an underground house internet radio station and record label called MYHOUSE-YOURHOUSE. Just recently, I returned to my indie roots and started producing demos for a new Liverpool band called SLOPeS. (http://www.myspace.com/thisisslopes)
++ Anything else you'd like to add?
Only my thanks for asking me to do this interview. Was funny thinking back on what were exciting times for the Liverpool music scene. They were 'dark times', particularly in the north of england and yet a lot of quality music was created. It's nice to know there's still interest in this period, I still get emails about the bands i was involved in at the time and for that reason put up the following myspace pages so people can still hear some of the songs….
http://www.myspace.com/politburo82
http://www.myspace.com/fishmonkeyman9197
::::::::::::::::::::::::::::::::::::::::::::::::::::::::::::::::::::::::::::::::::::::::::::::
Listen
Politburo – Innocence