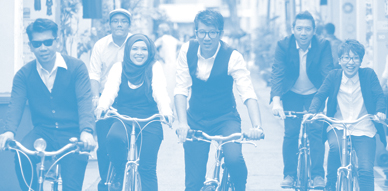 It is quite stressful not being able to buy new records. As I'm moving at the end of the month I don't want to order anything that may arrive at the address I'm living now when I'm not there anymore! That would be awful. At the same time, seeing new records coming out and not being able to buy them, scared that they may sell out is not the nicest of feelings. For example the new Even as We Speak record. I want it very much. And I see posts by the band saying that it is selling so good here and there. Will I manage to get a copy? I just need to wait until the beginning of October to get it, that and some other records, sure the Alvvays one too, but that one won't sell out, surely they've printed thousands and thousands of copies.
Speaking of Alvvays, the video for "Dreams Tonite" has been released. There is not much more to say about their "Antisocialites" album, for many it is the best record of the year and that might be true. I'm very bad to make lists and remember what has been released this year, but definitely this is one of the bests if not the best. Anyhow, we've played the song many times, now it is quite lovely to put some imagery to it, tricky imagery where the band has been superimposed over old footage.
The Spanish Amanda, the fantastic English bedroom band of Huw Darling that once released an album on Firestation Records titled "Brave New Girl" and who I interviewed on the blog now has BandCamp presence. "The Ballad of the Spanish Amanda" is a collection of favourites and rare recordings by the band and it is thoroughly enjoyable. But that is not all, there are also recordings by Huw Darling before The Spanish Amanda. We find the band London Fields which was a short-lived alias in the mid-90s before developing into The Spanish Amanda, and I can only say wow, wow, wow!! Hope the 6 songs on there get released in a CD or something. But what about The Spanish Amanda, what was Huw doing? It seems he formed a band called The Chickpea Darlings alongside Jo Darling (ex-Abstinence & Sensibility) and Freddy Darling (ex-RSPCA). They have an album streaming on Bandcamp titled "Poet's Day" with 10 songs. The band is self-described as middle-aged bedroom miserablists with C86 tendencies. What's not too like?
Lost Film from Easthampton, Massachussetts, is unknown to me. The band formed by Jimmy Hewitt on guitars, vocals and synthetizer and Ben Husk on drums, has been releasing songs since 2014 when they recorded their first demo. As I'm not familiar with their music I start exploring. I see that their only proper physical release was a tape album in 2015 titled "Imago", then the rest of their output seems to  have been only in digital formats. Their latest is brand new, the "Broken Spectre" album is set to be released in October. At the moment only one song is streamable, "Burn", and it is quite a beauty.
This past week we've also seen Shelflife promoting the new Airiel record and that is definitely a good thing. The label has uploaded two of the album's song to their SoundCloud and I've been playing them time after time. The first one to be uploaded was "Painkillers" and yesterday, "Your Lips, My Mouth". As usual, top tracks by the shoegaze/dreampop Chicago band.
It is no secret I'm a big fan of Brisbane band Major Leagues, I've championed them for years now and how I wish I had worked with any of the many cool bands that appeared in Brisbane 3, 4, years go. For a reason or another that didn't work out, but I have been a fan of Major Leagues, Go Violets, Babaganouj, Tempura Nights and many more. It was really exciting then when I stumbled this week upon Poolshop, which is the name Jaimee Fryer from Major Leagues is using for her dreampop bedroom project. There are a bunch of songs here, my favourites being "Can You Dream", "You're Alright Alone", and "How Long".
And it is time to close this week of recommendations with Strawberry Runners, which I'm quite surprised to see they hail from New York according to their Facebook (or Connecticut according to Bandcamp). Of course, I live here and I have never heard about them until now. Well, I do see they play a show in Ridgewood in October, but that's like the end of the world for me. So far. But maybe I'll get myself together and make it. I'm very curious. I heard the song "Garden Hose" today and thought it was really good and I see that it is part of the album "In the Garden, In the Night" that will be released on the 20th of October on Salinas Records. It seems though that previously the band had released a tape 3 years ago, one titled "Hatcher Creek EP" that had two songs, "Hatcher Creek" and "When We Were Good". It seems this one is still available on Bandcamp. Anyhow, their new one that coming out in October will be released on vinyl and it will include 5 songs, "Garden Hose", "Brother", "Dog Days", "Trouble" and "Your Bed Was Tall". The band is formed by Emi Night on vocals, guitars and mandolin, Davy Timm on trumpet, vocals and keyboards, Sam Kelley on guitars, Tyler Morse on bass and vocals, Max Barcelow on drums, vocals and Rich Goldberg on keyboards. Definitely a band to keep an eye on, especially because they know how to add trumpets to their songs, I'm a sucker for indiepop songs with trumpets, what can I say!
—————————————————–
Time to continue the indiepop world tour and it is time to return to Asia and visit Singapore. There were a few bands I was recommended on Facebook by Wayne Tan like The Oddfellows, Pagans, Padres and more, but there was one, that I was already familiar with, as I own their one and only album, that I figured would be pretty interesting: Serenaide. Interesting because I know their songs, but I really know nothing about them.
In 2005 I was already running Plastilina Records with Jalito, at the time we were reaching out to several smaller labels around the world like Music is My Girlfriend from Sweden or Fruit Records from Singapore. We would exchange our releases, we would send a small stock of ours and we would receive a stock of theirs. That way we could sell small amounts of each other records in our home countries. Of course, I would keep a copy of each of their releases for my collection.
As I said Fruit Records was one of the labels we were in touch and had a good relationship. They appeared in the indiepop stage around the same time as us. Isman and Elisa, Fruit Records label owners, were very passionate about indiepop especially about South East Asian bands. Their label was to release Mocca from Indonesia or Ferns from Malaysia for example. But the first release the label put out was from a Singaporean band, Serenaide. For me it was a total surprise, I had never heard a band from that small country, I wasn't even aware that there were many indiepop fans there. Now I know Vernon in real life and some others through Facebook and I know how passionate they are about music too!
Anyhow, the first package of Fruit Records we received included the album "The Other End of The Receiver" by Serenaide (catalog FRUIT001) which was released in late 2004 if I remember correctly. Of course at that time we all used Myspace and I friended them there. I also believe that I wrote a post about the band on my old blog, but that memory is hazy, maybe that didn't happen. I just knew that I liked the record, it was unexpected, and my favourite song in the 10 track album was "The Girl from Katong". Of course, I've never visited Singapore, it is on my list, so I had to find out where or what was Katong.
Katong, also known as Tanjong Katong, is a residential neighbourhood in the Central Region of Singapore, located near the seafront. It used to be located by the sea, but land has been reclaimed all the way to East Coast Park to provide more land for housing and recreational purposes due to the shortage of land in the late 1960s after Singapore gained independence. Katong was the location of many villas and mansions of the wealthy elite in the late 19th to the mid-20th centuries. They made their fortunes in the Far East and built seaside resorts, villas and manors along the beachfront of Katong, beginning from Katong Park to the end of the East Coast. Katong's rich cultural mix has contributed to its unique cuisine. Katong is well known for its restaurants serving Peranakan cuisine and particularly, a spicy Straits Chinese noodle soup called Katong Laksa.
Okay, I suppose the day I visit Singapore, I'll visit Katong, at least to try the Katong Laksa. What else is there to see there? I play their album once again and I listen to the songs in order, "The Sweetest", "The Hands of the Doctor", "Furry Animal Fury", "The Girl from Katong", "Lonely Bedroom Encounters", "190 – Confession", "Sofa Series", "Midnight", "Would You Like to Hear it Too?" and "Cameo Appearance".
The band was formed by Pheyroz Yusuf on vocals and guitars, Zuremy Ibrahim (later replaced by Remy) on guitars and vocals, Mimi Yahya on bass guitar, Shakir Samat on drums. On later lineups we'd also find Natalie on violins and Eugene on keyboards. On the credits I notice that all songs were written by Pheyroz except "The Girl From Katong" and "Would You Like to Hear it Too?" which was written and sung by Zuremy. On the album Natalie Soh is credited for violin (I guess she wasn't still in the band) and Kevin Foo on keyboards.
Kevin Foo also produced the album which was recorded and mixed at The Loft Studios. The record was mastered by Jeffrey Lam.
But this album wasn't their first appearance on a physical record. They had already appeared with two songs on a 2003 compilation titled "The Show Must Go On…" which was released by Soundschemers as a sort of Singaporean band sampler. The songs Serenaide contributed were "The Sweetest" and "The Girl From Katong". Were they the same recordings as the ones in the album though? Other bands on this compilation were Seven Sundays, Radium Rags and The Marilyns among others. I don't know any, but I know The Marilyns played at least one gig together with Serenaide.
In 2004, when Fruit Records was being born, the label released another sampler. This time was a mini-album titled "Fruit Records Pop Cuts" (catalog FRUIT00) and it had three songs by Serenaide, "The Sweetest", "Sofa Series" and "Hands of the Doctor". There were also three songs by Mocca and two by Homogenie. Mocca did release on Fruit Records afterwards, but Homegenic didn't. Who were they?
Lastly the band was to appear one more time on another Fruit Records compilation. The band contributed "The Girl from Katong" on the very recommendable "Peachy Little Secrets…" CD (FRUIT003) that came out in 2006. On this compilation you will find top tracks by La Casa Azul, Little Name, Annemarie and Mocca ft. Karolina Komstedt.
I found their Bandcamp, but there's no information there. At least you can stream for free the whole album there. But from there I end up in their Facebook. Here I learn a few interesting bits about the band. It is shocking though that the band started in 1999! That really is a surprise. They were already a band 6 years before they released their album. That is not that common these days. Maybe there were no labels in Singapore ready to support local bands until Fruit appeared? It might be the case.
I look in their Facebook, which hasn't been updated since last year, for more info. I start from the bottom, and see that Indonesian band Brilliant at Breakfast covered this same song I love, "Girl from Katong" on July 29 of 2011. How cool!
Then I see that the band played the Mosaic Music Festival in 2013. Then another interesting detail is that this brilliant song, "Girl from Katong" was on a movie! The song was included as part of the soundtrack of the Singaporean movie Sandcastle that was released in 2010.
I keep googling. I found a lovely and detailed post dating from last year, 2016, on the blog City Youths. On  it I learn that the band split at some point after their album and reformed in 2011. Does this mean they are still active? Another find is that of the blog 360 de Separación from my good friend Manolo. His review of the album is written in both English and Spanish. Oh the nostalgia! These years were so great for blogging, making many friends, such great memories.
On Bandcamp I found another cover of "The Girl From Katong".  This time by another Singaporean band, Elektone. It is interesting with its electronic beats, it is really lovely but I prefer the original! And yet another one, by Ashruff from Admiralty in Singapore, on SoundCloud.
My next find is even better. It is an interview with the band on BetaMusic. I finally start to get to know the band. From this interview I learn that the band toured Indonesia and Kuala Lumpur, that they were big fans of The Smiths, Pulp, Lightning Seeds and more and that in 2005 they were hoping to become known in Japan. Did they get to do that?
Another interview dating from 2013, when they reformed to play the Mosaic festival is up on Music Weekly Asia. There aren't really many details here, it is quite short, just a couple of questions but I learn that "The Girl from Katong" was actually used in a sex scene on the aforementioned movie Sandcastle.
At this time, after seeing that the band actually received some praise by mainstream media I start wondering if the band was popular among Singaporeans, if they got some recognition at least? Were their songs played on radio perhaps? Or on TV?
What is strange too is that there is very little information about the band members. Did they make music with other bands? What are they doing now? Why are weren't there more recordings, not even from their second period when they came back? As I said, I don't know much about Serenaide, and there's really few information about the band. There is information about the record, but that's all. Would be interesting to know the story behind them.
::::::::::::::::::::::::::::::::::::::::::::::::::::::::::::::::::::::::::::::::::::::::::::::