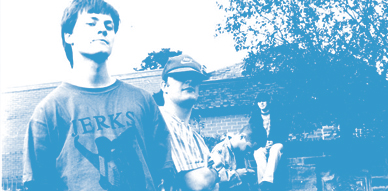 It's been the busiest week so far this year. I'm kind of glad it's over, though I still have a couple of projects to work on. Freelance work. The bright side is that things are shaping up and I may be able to go to Indietracks after all. The lineup is 30% or so up to my taste but I'm sure the next announcements will win me over. Anyways, Indietracks is more than just bands, it's the community, it's the atmosphere and of course the warm beer. It's what indiepop is all about. So who cares what bands play. It's going to be phenomenal either way.
The good news this week is the release of The Sunny Street's sophomore effort "Hidden by Decades". We've released it under the Plastilina imprint. We are very proud of this album and hopefully you'll get a copy in your hands soon. You know how much I love them, they are among my best friends, so it's just very heartwarming to be able to finally put this out. On top of that, Americans will get the rare treat to see them play live at the NYC Popfest next month. Oh! And I think Rémi is playing some acoustic songs at the train at Indietracks. Not to be missed!
Staying with Plastilina Records, I can confirm too that The Sound of Starke Adolf Vol. 1 compilation will be out May 1st. This is probably my most ambitious project up to date on the label. I try to document the great Swedish underground scene of the early 2000s. I plan 2 more volumes, which I can't wait to start working on them. This first volume includes Action Biker, Dorotea, Strawberry Fair, Nixon, and more. Pre-order now as I think this one will go fast!
On the Cloudberry side, I've been working a bit on the fanzine and on the CD that will come with it. The "pink" fanzine will include interviews to The Garlands (who grace the cover), Very Truly Yours, Gold-Bears, Persian Rugs, Strega and My Laundry Life. The CD is titled "There is Peace in the Surging Prow" and the cover star is Rita Tushingham. One of the songs included will be "Fishing for Moonlight" from a new band from Canada called Sleuth. I recommend heading to their bandcamp and listen to some more songs by them. They are really ace. You can order their songs on tape too. Other confirmed bands on the CD are Very Truly Yours and Persian Rugs. Also, if you haven't noticed yet, you can check the tracklist and the artwork  for the upcoming 7″ by Very Truly Yours. I'm hoping it will be out in July or August as the latest. And coming after is the long awaited debut and goodbye 7″ by Alingsås' Youngfuck with the tracks "Black Tulips" and "204,7". On the merch side, I have plans to print new t-shirts and finally some tote bags this summer. So keep your eyes peeled.
But now let's get into indiepop mystery solving mode. Anyone know anything about The Jerks? I got in touch once with them through their myspace and asked them to do an interview with me. I sent them questions but never heard from them again. A shame really. Would have loved to learn more from them.
I have been a fan, for some years now, of a song of theirs called "Waterskin". This track appeared on the Kite tape that was released in 1989. Jangly perfection! I hear this track appeared on their 3rd demo tape. It's just a great track: chiming guitars, heartfelt vocals, and great lyrics! That was the first clue for the indiepop detective in me. Next stop was their Myspace page. First things I notice is that they sometimes dropped the "The" from their name, they took lots of photos of themselves, and they made some Jerks t-shirts. I'd love to own one!
There are some great tracks on their player, all I assume unreleased: "Beyond the Pale", "Across the Sun", "Clean", "Happy Comedown", "King of the Wild Banjos (Live)", Life Slips By (live)", "Manmade" and "The Lens (live)". I listen to them time after time today and I get that dream (that comes back to me all the time) of releasing compilations of long lost bands on beautiful digipacks with lots of photos and memorabilia. Though of course, reality comes back immediately, and I wonder if there are more than 100 people interested in such a thing.
So they were from Oldham, north of Manchester. It seems Oldham rose to prominence during the 19th century as an international centre of textile manufacture. It was a boomtown of the Industrial Revolution, and among the first ever industrialised towns, rapidly becoming "one of the most important centres of cotton and textile industries in England". At its zenith, it was the most productive cotton spinning mill town in the world, spinning more cotton than France and Germany combined. Oldham's textile industry began to fall into decline during the mid-20th century, and its last mill closed in 1998.The demise of textile processing in Oldham depressed the local economy. Today Oldham is a predominantly residential town, and a centre for further education and the performing arts. It is, however, still distinguished architecturally by the surviving cotton mills and other buildings associated with that industry. The town's population is of 103,544. Do you think they still live there?
I just saw a flyer online where it says they played along Spacemen 3 and Inspiral Carpets on the 4th of September 1987 at The Hurricane Club in Oldham. Does this place ring a bell to anyone?  Or what about Butterflies? It seems they played there as well.
Next clue. On Last.fm there's a small bio saying: Oldham-based indie band active in the late 80s and early 90s, no releases of their own except self-released cassettes, tracks included on compilations include "Didn't Quite Make It" and "Waterskin." Changed singer and became Rubber Orange. Then I find the Manchester District Archives website were there's another bio: Oldham band. Line-up: John Reed – Vocals, Guitar, Lee 'Drany' Dransfield – Guitar, Warren Wrigley – Bass, David 'Dids' Gill – Keyboards, Andy Price – Drums. Before Andy Price joined the ubiquitous Chris Goodwin played drums for them for some time. Several demo tapes recorded at The Mill by Clint Boon. 'Waterskin' released on the compilation tape 'Kite' and 'Didn't Quite Make It' released on the Bop/Joe Bloggs compilation Hit The North. After John Reed left Lee Severin from Too Much Texas replaced him and they replaced their set, soon afterwards changing their name to Rubber Orange.
A quick search for Rubber Orange and I stumble upon their myspace. A nice discovery! I'm enjoying their songs. But  then again it's been a while since anyone logged in. But wait, there's a myspace for "Dranny" who was part of The Jerks.And he seems to have logged in not so long ago. Wonder if he'll solve this indiepop mystery! Would be so great to learn more about the band and finally interview them. And why not, listen to more songs by The Jerks! The ones available to stream are fantastic!
::::::::::::::::::::::::::::::::::::::::::::::::::::::::::::::::::::::::::::::::::::::::::::::
Listen
The Jerks – Waterskin