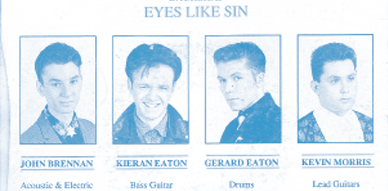 Thanks a lot to Kieran Eaton for doing this interview! I wrote about the Dublin band Premonition a long time ago hoping to learn more about them. Luckily a month or so ago Kieran got in touch and was keen to answer all my questions about the band. If you have never heard them before, now it is a good chance to discover them, especially with Kieran's thoughtful and detailed answers! It makes the interview very special!
++ Hi Kieran! Thanks so much for being up for this interview! How are you? Are you still based in Dublin?
You're welcome!! How are you? I'm as fine as can be at my age, thanks. No, I'm now based in the picturesque seaside town of Dungarvan, County Waterford in the South East of Ireland.
++ Still making music?
I am. I was the bass player in Premonition. I also played flute in the middle of one song which involved some very deft manoeuvres from me and our roadie! I still play both regularly and also a lot of saxophone; mainly tenor with a little soprano and alto when the mood takes me!
++ I know so little about Premonition, there's very little on the web as well. So let's start from the beginning. What were your first musical memories, what sort of music was played at home while growing up?
That's a funny one. A very eclectic mixture. My earliest memories are of my mother playing me records on an old mono record player, the ones that had an arm that held the record above the deck and somehow dropped it just in time for the stylus to land. She played me records by The Dubliners, Percy French and Bing Crosby. My Godfather lived next door and he was in his early 20's at the time. I used to visit him regularly and he played me records which I now know to have mainly been The Beatles. My father didn't play any instruments but was a huge opera fan and would often play us light opera records. In later years he traveled all over the world to attend operas. My mother played some violin and piano in her school years, but not much really. They both however loved to support the arts and so as children we were regularly brought to theatre performances so I guess it was an easy transition for us to become performers. And they were very supportive of us all learning music too so we really were very lucky. I have three brothers and a sister. My sister and eldest brother sing in our national philharmonic choir. The middle brother is a lighting technician for our national tv station and also works in stage production outside of his full time job. And Gerard who drummed with Premonition still plays but I'll expand on that in the later question.
++ What was your first instrument?
Piano. Then tin whistle. Then recorders, flute, bass guitar and saxophone in that order.
++ Then were you involved with any bands before being in Premonition? Who were Loudness of Whispers?
No. I was in a school orchestra and a group that performed medieval music before Premonition but no prior rock n roll band.
I have no idea!! We initially called ourselves Loudest of Whispers and played out first gig under that name. But then we discovered that there was another band called Too Loud To Whisper so we changed the name to Premonition.
++ How did Premonition start as a band? How did you all know each other?
The original drummer, Jimmy, and original guitarist, Tim, lived a couple of doors from each other. They started the band. Neither of them could play; they were pretty much learning their instruments by ear in a garage. Tim played flute in the school orchestra that I was in. For some reason we didn't get on together in school probably because both Tim and Jimmy were a year behind me in school so we didn't mix in the same circles. After I finished school I started teaching flute in my school the following term. One day I arrived early and Tim was outside waiting for someone. We got chatting. He told me that he was starting a band and needed a bass player. I told him that I was planning to get a bass and that was it, I was in. For months I'd try to learn on the bottom four strings of Tim's guitar and he would borrow his sister's acoustic while I saved up for a bass. Tim and I were beginning to hang out in the Mod scene in Dublin at the time. I actually ended up buying my first Vespa before the bass!! Everyone was cool with that though, priorities are priorities and we all agreed that a scooter was way more important than a bass. We were useless anyway so I didn't exactly delay the progress of the band. We still had no one to sing though. My younger brother Gerard by now had started to learn drums. Through conversation I heard from Ger that one of his classmates played guitar and both wrote and sang songs. So a small bit of arranging later and John came to the garage with his guitar and a songbook in hand. The book was the songs from the album "All Mod Cons" by The Jam. The garage, by the way, was the craziest place to be. Tim's father owned a small grocery shop at the front of their house. They kept extra stock in the garage which was safeguarded by a German Shepherd who was only put out when we'd arrive to rehearse. It was almost impossible to find a spot to stand without getting covered with dog shit!! Anyway, John auditioned and impressed us all so much with his ability to play and sing simultaneously that he was accepted immediately. That's no exaggeration; neither Tim nor I could play and sing at the same time!!
Well as you can see already, we all went to the same school, Synge Street school, the one used as a basis and location for a recent movie "Sing Street" which tells the story of classmates forming a band. Only for the fact that the movie's band are still in school but we weren't it could nearly have been about us!!
After a couple of years Jimmy quit the band. That's when Ger came in; to replace him on drums. A year or so later Tim quit. He was replaced by Kevin, a classmate of mine who I've been friends with since we were two years old. So the final line up was Ger and his classmate John and me and my classmate Kevin.
++ Who came up with the name? What's the story behind it?
Jimmy. No real story. Once we heard there was another band of almost the same name we decided to change. After rehearsal one night we were sitting around throwing out names and Jimmy, out of the blue, said Premonition. That was it straight away, we all said yes.
++ How was Dublin back then? What were the places were you hang out? Where were the venues to catch the bands you liked?
Rough enough. Mid recession so high unemployment and generally not the best atmosphere about. Daytimes were spent hanging out with other Mods in the city centre. For some reason Mods weren't well accepted in city pubs or clubs so we didn't hang out there at night. There was no point, we would be refused entry almost everywhere. But they didn't cater for our music interests either so we didn't bother much with city nightlife. We rehearsed several nights a week in the garage and usually headed to a local pub for a beer afterwards.
There were very few venues that catered for up and coming bands. The only two really were the Baggot Inn and The Underground, a tiny pub in a basement. The Baggot was a cool place though; everyone wanted to play there. The drawback was that the band had to pay to play there. They had an in house pa and sound engineer and we would have to pay up front for a slot there and hope to make the money back on ticket sales which of course we never did. That's why so many Irish bands disappeared We couldn't afford rehearsal rooms and gig slots never mind recording costs. We saved for months to raise the £120 we needed for our first demo. We also had to cover the costs of posters to advertise. By the time we were gigging properly as such three of us were also holding down full time day jobs. The Baggot was a place that was occasionally used by international artists to "try out" new material on an always surprised audience. Those kind of acts were never advertised as the venue probably only held about 100 people so there would be bedlam if there was advanced warning. The biggest artist I can think of who played the Baggot to a stunned audience was David Bowie. I wasn't there for that unfortunately. Bigger bands like The Blades had a slightly bigger venue called the TV Club but it had closed its doors long before we began gigging.
There wasn't much in the line of international acts either. We had a showjumping arena called the RDS and Shane Castle. I saw Queen at Slane and Michael Jackson at the RDS so I'm talking about that level of international. Both venues are still in existence and both still run concerts occasionally but we also have two stadia that can hold up to 80,000 concert goers and one 18,000 capacity indoor venue now too. Back then though the majority of acts avoided Ireland because of the "troubles" in the North of Ireland. There are six counties in the North that are still under British rule. Back then there was a lot of terrorist activity up there, regular bombings and shootings. We have peace now, both sides eventually came to a power sharing agreement which was strongly backed by the Clinton administration at the time. We reckon though that artists thought that the whole county was at war and gave us a wide berth.
++ On the website Irish Rocks it mentions that you were influenced by The Blades. What other bands would you say were influences in the band?
The Beatles. And all of the Mod bands from England in the 60's, The Kinks, The Small Faces. Also the post punk Mod revival and new wave Brit pop of the time, The Jam, Elvis Costello, The Housemartins, The Smiths, Julian Cope, Billy Bragg.
++ You won the Dublin Millenium Battle of the Bands in 1988. How was that experience? 
Unbelievable. There were over 80 entrants. We thought we didn't stand a chance. The two guys who ran the event, Steady Eddie and Pete the Roz, ordinary guys who loved new Irish music, persuaded us to enter. I think they probably persuaded us all to enter!! Looking back on it now we were so lucky to win. We actually got a vinyl release. Just before cd took over. We'd never have had one otherwise.
++ Were there any bands that you liked in the contest?
Yes but I couldn't tell you any of their names at this stage!! The competition final was tough tough, the other two bands were excellent. We really were stunned when we were announced as the winners.
++ Thanks to winning this contest you got to record a single for EMI at Sun Studios. How did that go? Was it a straightforward recording? How was working with EMI?
It went very well. Sun studios was in Dublin, not the Presley one!! We had done quite a few demo sessions by then so we were very familiar with studio practices.
I think there was a limit set on the amount of hours available to make the recording but we finished it with plenty of time left over. We were well rehearsed. We would prepare by each recording our lines individually on an old cassette recorder and listening back to make sure it was all perfect so by the time we'd get to the studio it would be all systems go.
EMI Ireland was run by Rory Cowan, a hilarious character. I did all of the dealings with him on behalf of the band. He was very supportive and pushed the record as best he could. He got us airtime on national radio too, a thing that evaded most bands at our level. After EMI closed its Irish branch I worked with Rory again with a different band. He had set himself up doing PR for various acts. He is now a cast member and international star of an Irish TV comedy series called Mrs. Brown's Boys.
++ The songs recorded for this single were "The Streets are Paved With Lead" and "Eye Like Sin". If you don't mind, would you care telling me the story behind both of these songs?
No problem at all. The Streets Are Paved With Lead is a song about the mass emigration of Irish people to London during the recession of the 80's. London was of course experiencing a similar recession so many of our emigrants found themselves just as unemployed there as they were here. The Lead in the title was to counter the lyrics of an old song in which London's streets were said to be paved with gold. John wrote both songs. I always liked the line about the Liffey. The Liffey is a river that Dublin is built on. Back then there was so much pollution that the Liffey stank like hell. Dublin is also a major port so the river is affected by the tide. When the tide went out the smell from the Liffey was so bad you could smell it all over the city centre. John's reference is to say that leaving Dublin to be unemployed in London isn't such a good idea. So many found themselves living in worse poverty in London than they had in Dublin. So "the scent of the Liffey is 10 times nicer than the stench of the Thames" basically means your shit life here is way better than your shit life there.
Eyes Like Sin is pretty much a song about an ex girlfriend of John's. she broke off with him and he was still in love with her. He had a few one night stands with her over the following years. Through that he hoped the relationship would revive but she had no intention of that happening. That's the basis of the song. Her willingness for occasional love action only prolonged his love but he knew deep inside that each time he failed to resist her he was setting himself up for more emotional hurt.
++ The record was produced by the band and Pat Dunne. How was the relationship with him and what did he add to the sound of the band?
We had a good relationship with him. He was easy to work with. I can't say that he added much to the sound, we were very sure of what we wanted before we went in. But his knowledge of the studio was superb and he made the whole recording session very easy for us. He seemed to like what we were doing too so that really put us at ease.
++ And how did the creative process work for the band?
Simple really. At first John was the only songwriter among us. Then Ger started to learn guitar and write too. Whoever came up with the song would come to rehearsal and play whatever they had so far just with rhythm guitar. We'd all just join in and come up with our respective lines ourselves. And we'd keep going until we were all happy with the finished song. There was never any "you play this" we all just did our own thing.
++ Was there interest by any other labels after the release of the single?
++ I was just listening again to the A side, "The Streets are Paved with Lead", what a fantastic song! It makes me wonder how come you didn't release any more records?
Thanks for the compliment!! The simple answer is money, or lack thereof.
++ But did you record more songs? Perhaps there were demo tapes that you used to sell at gigs?
Absolutely. We had several demo tapes. And after the single release had come and gone there was talk that bands were beginning to get signed from demos alone without the traditional rout off trying to attract a+r people to gigs that they would never come to. So we got our hands on a Tascam portastudio and set into just recording so there are songs recorded but heard by nobody but us.
We only ever sold one tape recording that was made through the mixing desk at the Baggot. A 40 minute live set. We sold it to friends and family and used the cash to make our first demo!
++ Speaking of gigs, did you play many? What were the best ones you remember? And where was the farthest you played from home?
Yes, we played loads. I think the best ones ever were the launch night for our single, the night we won in Dublin and another competition we won in a town called Carlow about 50 miles from Dublin. My ex-wife is from Carlow and she saw it advertised in a local paper. The prize man net by today's standards was small, about $1,000 but it was worth a lot more in 1986. It funded another recording session.
We never travelled overseas and Ireland isn't that big so I guess about 150 miles. We were in Cork a couple of times and Sligo once. Dublin is conveniently situated about half way up the east coast of Ireland. Cork is about midway along the south coast and Sligo on the Northwest coast.
++ Were there any bad gigs that you wish not to remember?
There's one that springs to mind. We were booked to open for a better known band from Dublin called A House. The gig was in Cork city. We hadn't a car between us. I was the only one with transport but we wouldn't all fit on the Vespa so off we went on the train, guitars and gig bags in hand. Got to Cork and thought we'd walk in from the station as we'd not a lot of money. Eventually arrived exhausted at the venue. A House were sound checking so we waited our turn. Eventually their manager came to us and told us that there was another opening act booked by the venue and we were cancelled. By the time he told us we'd missed the last train home by only minutes. Kindly (I write with much sarcasm) he said we could stay for the gig and wouldn't charge us entry fee!! I'm a seriously calm guy but if there was ever a time I felt like throwing a punch at someone it was then. We hung around for a while but we were so pissed off we didn't enjoy a second of it. We ended up wandering the streets trying to find somewhere to sleep rough. We were such a bunch of naive fools that we put no forward planning in place. Nowhere to stay and equipment we couldn't sleep in a doorway with. So off we strolled very slowly towards the train station. Along the way we found a late night pizza place which was open till 4.00 according to the neon sign. Only a small place so they weren't too impressed to see us coming with all our gear. That experience is still remembered with hilarity; in fact I recently stayed in a hotel in Cork at a friend's stag weekend and sent out a photo of the view to the Premonition lads and all came back with the same comments. It won't sound as funny to you but try to imagine the group disappointment at the time coupled with the realisation that we were completely unprepared for the occasion. Into the pizza shop we went. Gerard is strictly vegetarian so ordered a plain pizza with extra cheese. Back then there wasn't much available for vegetarians, especially ones who don't like vegetables!! Out came the orders only for us to discover that this lot had never heard of mozzarella. Gerard's pizza was thick with melted cheddar with a big pool of melted cheddar oil in the middle. Simple as that. At the time, probably because of the whole scenario, that was the funniest thing we had seen all day. Anyway, we hung around like a bad smell until they threw us out at about 4 am and wandered off towards the train station. We reckoned at that stage it would be the safest place to sleep in the waiting area. That proved to be the best decision because as it happened the first train of the day to Dublin was already on the platform and the staff kindly let us board so that we could sleep safely with our gear. We got to Dublin in time for me and Kevin to get to work on time. That was the worst gig we didn't play.
++ And what about the press? Did you get much attention from them?
Yes, we did get good press. Again at the time it was difficult to even get a mention in the press because there was very little written about new and unknown bands. We got a small amount of mention in national press but every mention no matter how small was good. Always positive, we never got a bad review.
++ You did record a Fanning Session, and the blog Fanning Sessions Archive has two songs from that session. Were there more songs recorded at this session?
I can't remember to be honest. I can only presume that there were only two songs recorded that time, otherwise more would be on the site. That was our second session though, there was a previous session that produced three songs but that doesn't seem to be on the archive site.
++ And how was that, recording a session for Dave Fanning? That must have been important, a true highlight for the band?
Yes it was great to get to do it. Both sessions were very exciting. Fanning is famed for launching U2 so everyone wanted a session for his show. It took quite a bit of hustling to land the first session. I don't remember how we got a second but to get to even record one in the studios of the only national radio station that aired new music was a fantastic experience. Then to hear the songs on air afterwards was amazing, it's very encouraging to get experiences like that.
++ Then when and why did the band split? What did you all do afterwards? Music?
We never really split. We decided that constant rehearsal for few gigs and no nothing to come from the hard work wasn't the way to go. Bands were beginning to be reported as getting recording contracts from demos alone so we chose that route. We borrowed a tascam portastudio from someone and recorded for a while. Ger was very interested in pursuing that option and invested in a bigger recording unit and built a small soundproof studio behind our parents house. But by the time he mastered the art of using it we had pretty much fizzled out.
Kevin continued to work in his job for a number of years. He eventually took a voluntary redundancy opportunity and now works as a very successful and award winning photographer. John continued to work in the civil service where he remains today. Ger continued recording and released material with his next band Las Vegas Basement. Well worth checking them out on bandcamp. I recorded some brass and woodwind parts along with my partner Pauline, a superb trumpet player. He also released some retro 80's style material with another band, Les Marionettes and I played some more sax for him then. He has played with some of Ireland's leading musicians. Drums with Jack L, keyboards with Mundy and Duke Special. He has a super collection of vintage equipment; some beautiful 1960's guitars, a 1963 Fender Jazzmaster, a 65 Vox teardrop 12 string, a Hammond organ and Wurlitzer electric piano to name but a few. He continues to play and work as a part time hairdresser.
I stayed in the civil servic. I've worked there for over 30 years. I'm currently on long term sick leave due to a neurological muscular condition that I have developed. But I've never stopped playing. I still play bass; my four string Precision and 5 string custom made fretless are the tools of my trade. I also play soprano, alto and tenor saxophones and concert flute. I play in several cover bands, usually on a "on call" basis. My favourite bands though are a local ska outfit that also includes my partner on trumpet and a 3 pierce Mod/New Wave band in which I'm the lead vocalist and bassist. I play in the Waterford Youth Orchestra too which keeps my classical interests up to speed and I teach all of my instruments privately.
I've done some nice gigs with all of the ska greats from the late 70's revival. Supported Madness, Bad Manners, The Beat, The Selecter. I've played on stage with members of The Specials, the Best and the wonderful Rhoda Dakar. None of this would have happened if I hadn't joined Premonition.
++ And these days, are you all still in touch? Will there be ever be a chance for a reunion?
Yes, we're all in touch. Facebook is a great tool for that. I meet Kevin regularly, after all we've been close friends now for 49 years! I don't see John much but that's where social media shines. And of course I still see a Ger, we're still brothers!! As for a reunion? Maybe, we never officially split so anything us possible.
++ Aside from music, what other hobbies do you enjoy having?
Me? Well before my illness I enjoyed lots of things. I spent a few years in my youth on the national kayak slalom squad and still paddle for leisure occasionally. I've also run six marathons and completed a full Ironman triathlon. I can still cycle a little despite the pain it causes and still swim occasionally. Again, despite the condition I can still swim up to two miles. I tend to avoid it though because it leaves me having to recover for a few days regardless of distance of distance covered.
I'm also a dedicated Mod since my teens. I still own and ride a 1968 Lambretta scooter which is currently being given a complete restoration by a friend who shares the same passion and whose business is only the import and restoration of classic Italian scooters.
++ Never been to Dublin, or to Ireland, so was wondering what would you recommend doing and checking out, what are the sights one shouldn't miss, or the food one has to try?
Go to the Guinness exhibition centre. Go to St. Michan's church where the keyboard used by Handel when he composed The Messiah is on display. There you also get brought to the crypts where bodies haven't decomposed due to a constant temperature. You even get to touch one of them!! Christ Church cathedral is also with a visit. If you're lucky one of the organists will be practicing. They have one of the biggest and oldest pipe organs in the country there and the sound from it is amazing. There's also a rock n roll centre that celebrates our many international contemporary artists.
++ One last question, looking back to those years, what would you say was the biggest highlight for Premonition?
Just doing it. We had great fun and the experience was always positive and it really was a great thing to do.
++ Let's wrap it here,  thanks again for the interview, is there anything else you'd like to add?
Not much to add really. I'm delighted to have had the opportunity to go down memory lane in detail, thanks so much for asking me. But if any of your readers are doing or thinking if doing the same thing, do it!! The financial and fame side of success isn't important really, at least not to me. I wouldn't be the person I am without having this experience. And I wouldn't like to be anyone else!!
Thanks again. It's off to a two day audience with a James Galway, the world's greatest flautist with me now. I've watched him teach before. He's an amazing musician whose advice applies to all players of all instruments so I'm looking forward to learning more about the most wonderful language in the universe, music.
So, it's goodbye from me for now, or as we say over here in our native tongue, slán. (Pronounced slawn)
::::::::::::::::::::::::::::::::::::::::::::::::::::::::::::::::::::::::::::::::::::::::::::::