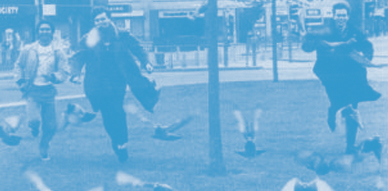 Popfest Friday started with me meeting the Wallflower gang and Victoria in Williamsburg. We were supposed to have Peruvian food at Chimu but it was closed. Odd, seems the restaurant now closes Fridays and Saturdays. Strange days to close really. So change of plans, we went to Caracas for some arepas. We were happy to enjoy some Peruvian beer there plus a great lunch special for $9. An arepa of your choice and a salad. This was the moment when I learned the Japanese word "saiko", which means awesome. During the whole meal, the band was saying "saiko" non-stop.
Afterwards we went on a record store adventure. We started at Rough Trade, then we headed to Academy Records and lastly to that store of the hipster label that doesn't need any promo here. All in all I didn't find any good records. Everything was crap or overpriced. The rest of our gang didn't find much either. The best moment of all this walking from Williamsburg all the way to Greenpoint, was the postcard photo the Wallflowers took with Manhattan on the back at the Bushwick Inlet Park.
We arrived a bit late for the showing of the Sarah documentary at Knitting Factory. But there seemed to be a problem. The blu-ray disc wasn't playing. The room was almost full, no spaces for sitting down, and everyone was waiting for a solution. A lot of people were trying to help, which shows how supportive is the indiepop crowd. I thought of a friend that lives around the corner, but he doesn't even own a TV. Happily Videology, a bar that was a 10 minute walk, offered to show the movie for Popfest.
I guess the movie deserves a proper review so I'll leave that for another occasion. I think that's pretty fair.
After the show, it was time to go to Cameo for the Popfest gigs. There I had a sandwich, ate it fast, and got ready to catch the second band of the night, Jessica and the Fletchers.
You can think I'm biased as they are my friends, but their show was a fresh breeze of indiepop. Fast, upbeat, catchy, and with a lot of attitude. Kudos to Toni, the keyboardist, for his "Toni Poni" DIY t-shirt. Some of their songs, when released properly, like "Amelia (Te Queremos Igual)" or the sublime "Air Balloon Road" could be classics of this indiepop period. Still a very young band with lots of room to grow, they got indiepop flowing in their veins. They feel it, and they have fun playing it. I think everyone had a very good time with band.
I know, Pale Lights played first, and I did my best to catch them. I did catch their two last songs. The thing was that this sandwich I ordered at Cameo took forever to come! At some point I thought I was going to make it as they brought me a sandwich almost 5 minutes after ordering. As I was eating some of the fries the waiter told me he made a mistake and took the sandwich away from me to another table! Oh well… But you know, I've raved about Pale Lights so many times in the blog, definitely one of the best bands in NYC, and the little I could catch was as good as always with the inclusion of Kyle this time around instead of Andy.
Third band was The Catenary Wires. Obviously seeing Amelia is always a treat. Some people think this new project is boring. I heard that a bit. I've been listening to the album, and I can't agree with anyone saying that. The thing is, it is different to what we are used to. We are used to the upbeatness of Talulah Gosh, Heavenly, Tender Trap, Marine Research, etc. I know, it may be hard for some to adjust. I won't say they are my favourite band of the ones she has been involved but I still find it very enjoyable, with good lyrics and well crafted pop songs.
Fourth time I see Papa Topo, and the second time I was seeing them in a week. Of course the surprise factor wasn't there at Popfest, especially when they played the cover of the Spice Girls. A band that plays a lot of influences, but of course, I always look forward to their biggest hits, "La Chica Vampira" and "Oso Panda". It was so much fun, I could see people jumping around, and they even brought some Spanish speaking music fans that weren't part of the indiepop scene. This I thought was cool. Though one of them was telling me to start "rock en español" club night and play some Argentinean hard rock at it. I don't understand how some people could put in the same bag Papa Topo with say Sumo or something like that.
The two last bands are legendary bands. #Poundsign# and The Loft. In due honesty I'm more of a fan of #Poundsign# than The Loft. From The Loft I love two or three songs. The rest are fine, but don't think they are as brilliant as "Up the Hill and Down the Slope". But, that didn't mean that I didn't enjoy the whole show. It was really good, powerful even! I bought a t-shirt. A very nice t-shirt actually! Now, next year please bring The Caretaker Race, from the bands that sprung off The Loft, that is my favourite. I would LOVE that.
Brooklyn Vegan posted a photo of me with a drumstick while #Poundsign# was playing. That was a gift from Papa Topo's drummer, the Jankely. Bit embarrassed of that photo. In any case, I was just so happy listening to so many tunes that I've always loved. It was a treat to see a reunited #Poundsign#. I had already the Wavelength record on vinyl, but as they were selling it on CD, I also bought it.
After all the bands there was some good dancing at Mondo. Maz played a bunch of classic tunes and I danced until very late, it was almost 4am when we left the venue. It was a goodbye though. All Jessica and The Fletchers and Papa Topos were leaving on Saturday. It was a sad goodbye, I had enjoyed a whole week in their good company.
———————————————————-
A sleeve that looks like The Pale Fountains. It was 1982 when Pulsebeat Records released the "Farewell to the Playground EP" (cine 001) by The Cinematics.
A four song 7″ with two songs on each side. "Puffa Train" and "Don't Mention Love" on the A side, while "All it Means" and "Learning to Say Goodbye" on the B side.
This is pre-indiepop indiepop and for those who are not very aware of who The Cinematics were, well, it has two illustrious members of the indiepop hall of fame: Gregory Webster and Tim Vass. You know, those two from the Razorcuts, or the Forever People, or bands like Red Chair Fadeaway or Sportique.
This is a very rare record. I don't own it sadly, and the median price on Discogs is a bit too high I think. On the credits of this record we find that Colin Rodgers played drums, lyrics and music on the B side by Tim Vass, music on the A side by Gregory Webster and trumpet by John Goodwin.
This song also would appear later in the Messthetics compilations, perhaps making the record much more sought after than before. On the Messthetics liner notes we get to know that the band was based in Luton.
Luton  is a large town in Bedfordshire, England, 30 miles (50 km) north of London. Luton Town F.C. have had several spells in the top flight of the English league and won the Football League Cup in 1988. They have played at Kenilworth Road since 1905.London Luton Airport opened in 1938; in the Second World War, it was a Royal Air Force base.The University of Bedfordshire is based in the town. The town was for many years famous for hat-making, and was also home to a large Vauxhall Motors factory; the head office of Vauxhall Motors is still situated in the town. Car production at the plant began in 1905 and continued until 2002; commercial vehicle production remains.
Also I like this line that sums up more or less the sound of the band:
"Puffa Train" from their 1982 single shows Gregory Webster and Tim Vass' evolution from TV Personalities DIY to breathy twee-pop well underway"
I would guess 500 copies of this record were made. I don't know sadly much more of the Cinematics. Would be great to learn if they recorded any other songs, or if they participated in compilations. Also we know what happened to two of their members, but was Colin Rodgers involved in any other indiepop bands? Was Pulsebeat Records a name for self-releasing? Anyone know anything else about them? Maybe you were at one of their gigs?
::::::::::::::::::::::::::::::::::::::::::::::::::::::::::::::::::::::::::::::::::::::::::::::
Listen
The Cinematics – Puffa Train