29
Dec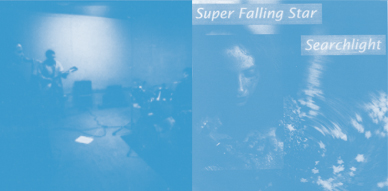 The Australian indiepop family tree is such an affliction of incestuous relationships. If you try to trace it, during the 90s, names like Bart Cummings, Mia Schoen and Andrew Withycombe, are repeated many times. Everyone has played together at a certain moment and everyone has helped each other making this scene flourish. I was unaware Super Falling Star was part of the Melbourne revolving door scene till Saturday when Teresa asked me if I knew them.
To be honest, I knew I had a record by them but I couldn't remember what the Searchlight 7″ sounded like. I didn't recall when was the last time I played it. Strange. Because for music I do have good memory, for other things, not really. But, what I do remember was that I got it when Drive-In Records made a huge sale, 25 7″s just for the postage price. What a deal, right? But then, at that time, I didn't have a turntable. And the question immediately arose, maybe I had never played it?
If so, Saturday was the first time I played it and it was love at first sight. Teresa had already gave me a taster. She sent me "Love is Blue", which is such a fantastic song. For the collectors inside us, this song appeared on the Melbourne Holiday 7″ and the Clover Club CD, both on Clover Records from Japan, both compilations. Time for me to get those? Indeed. But, back to this wonderful 7″, that I'm sure you can find dead cheap in many stores, it has a stunning B side! No wonder why Teresa made it clear to me before playing it, "Closer to the Sun is my favourite Super Falling Star song, I couldn't care less for the A sides".
And it's true, both Searchlight and Full, the two songs on the A side, get eclipsed by the precious and uplifting Closer to the Sun. Why had I missed such a lush song? And it was here, in my room!
Super Falling Star started in 1993, when Vicky Barker and Rod McQueen placed an ad at their local music shop looking for a female guitarist. Not female, but a guitarist, Ian Finlay gave them a call, taking the risk of being turned down. He got on board. The band was soon completed when Julia Caluzzi joined them to play drums. After nine months Rod and Vicky called it quits, though they did participate in the recording of the first release by the band, the Someday single. This one appeared on 1994 on Quiddity Records. The B sides are Falling Girl and Shipwrecked.
After four years, in 1998, the band releases some new stuff, this time on Drive-In Records (which was run by Mike Babb, who also ran Quiddity, so more or less, the same thing). Now it was Natasha Dragun in charge of vocals and, with her, they released the "Searchlight" 7″ that I've been praising and also a split 7″ with Detroit's Fuxa. A new band on my list to check out, though Detroit does bias me, "Detroit Rock City" anyone? On these recordings is Andrew Withycombe who joins to play bass. Maybe you know him from Hydroplane, the Cat's Miaow and Huon? Such a jet set star!
There was one last release under this formation, it was the single "Dead Letters" on Basingtoke's Roisin Recordings. The B side is "The Fading Light". The date was 2000. After releasing this single, changes happened. On 2001 Emily Fullerton and James Dean (who plays on Tugboat, the Australian band, not the Canadian one) joined the band to replace Julia and Andrew, respectively. That was the last time we heard from Super Falling Star. And even though there hasn't been an official break up, I would guess the band is over now. But maybe not? Anyone has any news?
::::::::::::::::::::::::::::::::::::::::::::::::::::::::::::::::::::::::::::::::::::::::::::::