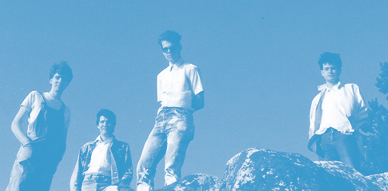 So very happy, Peru qualified for the World Cup, a party we haven't been part since 1982!! I need to be in Russia next summer. I dream of it. Getting tickets to the games is going to prove the most difficult thing, but hopefully there's a way. I'm very excited.
This is also the last post before I head out on vacations! Hope you've been enjoying this series of bands from all around the world. There's been a lot of nice comments and messages especially from people that heard these bands for the first time. Also have gotten in touch with many of them! Some of these contacts have resulted in interviews and some others well, in nothing much. But still, I think it's been a fun exercise and I still have at least a handful more countries and bands to feature after my vacation.
Having said that, it is time to discover some new indiepop on the web!
The Mallorys: what a nice discovery! I see a heavy influence of The Smiths in the songwriting and the music of this Lake Forest, Illinois, band. Their self-titled album has just been released on Bandcamp and also on home made tapes the band is selling for 8 bucks. There are 9 songs in total, all of them having witty song titles. The credits tell me that behind the band there's one Danny Robles with the help of Emily Murmun on backing vocals. That's it. Very talented this Danny!
Dumb Things: more tapes. 2017 has been the invasion of tapes. Cassettes and more cassettes. I have a few and since moving I don't know where to put them. Oh well. I think I'm alone preferring a CDR as a cheap alternative over tapes. In any case there's a fine label in Toulouse, France, named Hidden Bay Records that has been releasing a bunch of great records. I recommended them when they put out the Brunch Club tape remember? Well now it is time for Dumb Things from Pop City Brisbane. The band is formed by Pat, Maddie, Adam, James and Andy and they sound really great on the 10 songs of their self-titled tape debut!
Clemente: Daniel Soto from Culiacán, Mexico, goes under the name Clemente. He has just released on November 10th a CD EP on the same-city label Discos en Verano. The EP titled "Buenos Aires Soundtrack" has 6 songs and according to Daniel the songs are vignettes of the time he spent in Argentina. Right now you can stream two of the songs to be included, "Lobby Boy" and "Foto del Mar" and they are really nice, clearly influenced by Spanish bands like Family or Dar Ful Ful.
Sensaciones: Well after discovering this Mexican label I decided to explore what else is in their catalog. And I find this joint project by Daniel from Clemente and Jesús Sandoval from Emma's House Records and Pure Morning. There is only one song titled "El Eco de Tu Voz" and the sound is not much different to the classy one that I was enjoying with Clemente.
Night Sports: And the last recommendation for this week is the latest release by Kocliko Records from Spain. The 10″ by Night Sports will be released on November 23rd but you can already enjoy the 6 songs to be included on BandCamp. Who are Night Sports? It is our friend Caspar Bock who used to be in Champagne Riot and for a bit on Northern Portrait, who I met just once, curiously in Spain. There are 6 songs of classy synth driven indiepop which would be great at an indiepop party (are there any still?!). I can't wait to get mu hands on this record. Kocliko keeps surprising with very fine and unmissable releases!
Ok! I'm off to Lisbon for 9 days! See you in a little more than a week!! 🙂
————————————————-
Our 39th band in this review! Quite amazing, isn't it? As I said in previous posts I thought I was going to only be able to review around 30 bands, but this exercise has surprised me. I've found many new bands from all different corners of the world and I've been surprised by their quality. I hope you've been enjoying our "world tour" and today it is the turn for Canada. Who do I want to feature? A classic band who I know very little, Cannon Heath Down.
I remember listening to their music for the first time maybe 10 or 12 years ago on Myspace. I can't remember if it was an official page or not. In Myspace a fan could set up a Music page for the band they wanted. That may sound odd as today that is not common. In any case I don't know if it was official or not, but I was happy to discover a jangly band that was obscure but sounded brilliantly.
The band released one album during their time and with that album they reached cult status. I still don't own it. That is embarrassing. I see a copy that is not expensive on Discogs now but it says the jacked has stains. I don't need it mint, but stains? That is not good for me. The album was released in 1987 on the label Bongo Sunrise Records (catalog BSLP 5866-01). This label doesn't have any other releases listed. Maybe it was a self-release?
The album had 13 songs, 6 on the A side and 7 on the flipside. On the A side we find "Light Your Eyes", "Julia Rainbow", "Je Suis Certain", "Ma-de-moi-selle", "Fortunate" and "A Charming Sound". The B side had "Blue Skye", "Bone of Contention", "Having Dreams", "Not Now", "Safe as Milk", "Quagmire" and "Belly Through". It says that the album included a printed lyric sheet. The cover art has a cool color photo of the band.
The album was produced, mixed and performed by Cannon Heath Down. It was recorded and co-mixed by Cal Stephenson and Tom Ferris at Limited Vision, Coquitlom. Additional recording at Limited and the CHF Mobile. Preproduction at Bedrock Studio, Vancouver, British Columbia (David Osborne and Darryl Neudorf), and The Loving Room, Vancouver (Bill Sherbet and Bayou Drachma). Tape editing by Greg Reely at Mushroom Studios, Vancouver. Mastered at Location Recording, Burbank, California. Type and layout at Camart Studio, Burnaby, British Columbia. Photography: Chris Magnusson. Hair by Cair. Yeah, HAIR.
Discogs also lists one appearance. The band contributed the song "Bone of Contention" to the 1991 double CD compilation "Last Call: Vancouver Independent Music 1977-1988" that was released by Zulu Records (Zulu 5-2).
This song, "Bone of Contention", actually had a promo video which is available on Youtube. It was the only video they made.
I find the website for the Museum of Canadian Music. This museum, based in Calgary, says that has the most comprehensive catalogue of more than 100 years of Canadian sound recordings. In this website I find a bunch of interesting information about the band.
The band was formed by Jeff Hay-Roe on guitar and vocals, Christopher Davenport on drums, Jonathan Brotherton on vocals and guitar and Cameron Brown on bass and they were based in Vancouver. The whole band lived together in a house in East Vancouver, Jon, Frank and Cam on the upper floor while Jeff and his wife Jacquie (and eventually their first daughter too) on the first floor. They had many cats.
Before being Cannon Heath Down the band was called The 5th of November. At that time only Jeff and Cam were in the band. Another friend of theirs, Rod, was the other member. Then they changed the name of the band to Bayou Drachma and during this period they used French names to call themselves, Pierre, Henri, Guy and Luc, all with the same last name, Lafleur. Later they would change their name to Cannon Heath Down after the book Watership Down which none of the members had read at the time.
Jon joined the band after seeing an advert for a drummer. In the end he didn't end up being the drummer of the band, that was Frank. Now, who is Frank? I suppose that would be Christopher Davenport.
They also mention some bands they opened for like Grapes of Wrath, 54-40, Game Theory and the brilliant The Water Walk.
Another blog that wrote about them before me was the very fine Wilfully Obscure. Here he mentions a very interesting detail, that the band released in 1989 a tape titled "Peace Bum Days". What was on it?!
To my surprise my search would made me go to Flickr. Here I found another release, a tape titled "Safe a Love" also released by Bongo Sunrise Records. There are also a bunch of clippings. On one I find that the band formed in the Autumn of 1985 and in January 1986 the band had already completed their first demo "Ma-de-moi-selle" which was released under the name of their previous band Bayou Drachma. This song received airplay on UBC campus radio station, CITR. The next spring the band started working on a recording project at Nettwerk's Limited Vision studios. During the summer the band played its first gigs, playing with bands like U-Men, Go Four 3, The Rainwalkers and Stubborn Blood. Then the band went on a hiatus from performing but after their album was released they resumed gigging. It also mentions that the song "Bone of Contenetion" got airplay on CITR and SFU's CJIV.
Finally I find the tracklist for "Peace Bum Days". It says this was their 2nd album demo and was recorded on February 1989. What is strange is that says it was only made by Jonathan Brotherton and Christopher Davenport. What happened to the other two? The songs on this tape were "Julia Rainbow", "Sunset Jim", "Safe as Love", "Ten Days for Boys", "Like a Daughter", "Deft H.", "Baby Pool", "Bright and Funny Too", "Arms Around", "Deft S.", "Green Monkey", "Je Suis", "Feel Free" and "Day By Day". Many songs!
I keep digging on the web. The band used to play a lot at a venue called The Town Pump. Another venue they played was the Commodore Ballroom.
I've heard only a handful from their album, but I start thinking that they would make a very nice collection for a reissue. Why hasn't that happened yet? Maybe it could be a Cloudberry release? I definitely would like to listen to all their songs, but maybe this could be a good idea? I'm just thinking out loud.
There's not much more on the web. Would be interesting to know what happened to them afterwards, if they continue making music. What are they doing now? Would love to know if there were recordings by their first band 5th of November. I would also love to hear the songs on the "Peace Bum Days". There's not much on the web about them, though can actually listen to a few songs on Youtube. They are these lovely jingle jangly songs, just as I like them. If you don't know them yet, this is a good time to do so!
::::::::::::::::::::::::::::::::::::::::::::::::::::::::::::::::::::::::::::::::::::::::::::::