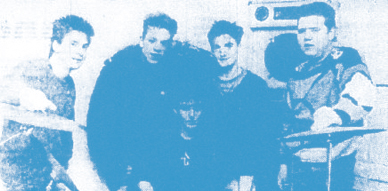 Is it me or the indiepop world has gotten very quiet after Indietracks? There are really no "current topics", are there? From this month until perhaps next year we won't be seeing any other indiepop festival. Berlin Popfest is no more right? Wait, there is Manchester Popfest next month. But then after that, that's it. The year is over for the indiepop fan we all have inside.
I've been feeling like having a bit of a vacation too. From the blog and the world. I usually take a vacation during the summer but I'm not this year. I feel restless. My next vacations are in October and November. I should have spaced them out a bit better. In the meantime I should work on the next releases. The 7″s that are in the pipeline, with The Color Waves having a release next month, and also the Cloudberry Cake Kitchen series.
In the next few weeks I'll start planning the next and final Cloudberry fanzine set to be released next year. The podcasts stopped all of a sudden and I'm very sorry about that. I haven't got the helping hand for putting together the different bits and pieces of the audios no more. I don't have the time or the skills to do this by myself and so, unless some good Samaritan out there wants to take care every month of putting 35+ mp3 snippets together, well, let me know.
The last week also saw a sudden surge of activity in the indiepop-list. Topic being, once again, vinyl vs. CD vs. Mp3. Throw in the discussion some 'capitalism' and 'comfort', and well, it all felt like I was getting spam every couple of minutes. It's a discussion that never ends. I believe the conversation started with the idea that this vinyl 'resurrection' of the last few years was just a fad and that it was only the big labels that were taking advantage of it. I tend to agree with this. I love vinyl, but I know all of what has been happening, all those articles saying "the comeback of vinyl", "vinyl sales are up this year", etc, etc, are just a fad that will pass in a couple of years if not less.
Collectors will be collectors. And so we will continue to buy records, in any format, it doesn't matter really. We just want to interact with our music, have the whole discography, order tidily our shelves. In a nutshell, be happy. Then the rest, that are buying vinyl because it's cool to have the latest reissue of whatever 70s band to decorate their hip apartment's living room, with a vintage turntable and all, well they'll move on to something else. Candles perhaps. Or whatever.
Collectors are an species in extinction. We are being told that less is more for the last decades. To have less at home is good. The term hoarder is so popular now. So you need to feel good. Feng shui, and all that nonsense. So yeah, this trend will continue. The brainwash will continue. Spotify playlists will continue for the regular music lover, who are by far the majority. And that's how it will be. Everyone knows this.
Paying $35 for an LP is outrageous. Still, I do it. I shouldn't though. I'm supporting a wrong model. I would be cool to spend $10 on a CD including the same songs. Makes more sense. But some labels try to milk the fad by releasing on vinyl. They copy the big label model. There are some excellent labels though that still release in both formats, like Shelflife or Slumberland, making it all very fair.
I think indiepop should be more about the ideals of economy, of what's right for the fans. That was the whole Sarah revolution, wasn't it? Releasing 7″ singles instead of fancy glossy 12″ singles that sold for double the price or so with the same amount of songs and perhaps a stupid remix.
It's a difficult topic this. We don't know what will happen next week aside that there will be less and less sales, less and less collectors. Should we think outside the box? Surrender to the digital format? I wonder. Every year we question the status of the music industry. In the end all discussions seem to be worthless. Everyone says they love and prefer vinyl records, but you know what, it's about supporting and buying the records, not just saying it.
————————————————————
I've been checking the past two weeks compilations that I want to have in my collection. Some of them very obscure that I have no idea they existed a month ago. Many of them listed as indiepop just because one or two tracks in them will fall in that category whereas the rest of the songs are just random. Online sellers are very tricky.
There are other compilations that I can't really judge. That I haven't heard the rest of the songs but because of the name of the bands I have big doubts that the whole of it is indiepop. For example the compilation called "Humber Beat" that doesn't even appear on Discogs.
Rateyourmusic does have it listed. It was a 1987 release on Criminal Records (catalogue CRTWR 001). It includes 14 songs, and one of them is from this band that I want to introduce you today, That Noble Porpoise.
Okay, so it's not a noble purpose. But a porpoise. What is a porpoise?
Porpoises (also called mereswine) are small cetaceans of the Phocoenidae family; they are small toothed whales very closely related to oceanic dolphins. They are distinct from dolphins, although the word "porpoise" has been used to refer to any small dolphin, especially by sailors and fishermen. The most obvious visible difference between the two groups is that porpoises have shorter beaks and flattened, spade-shaped teeth distinct from the conical teeth of dolphins.
Kind of strange to name your band because of an obscure animal. The song on this compilation was "Hand in My Head". Other bands in the compilation are Treasure Berries (sounds like an indiepop band, no?), The First Time, Billy Earth, Product of Reason, Fandango, Taboo, Mike Bawn, Armoured Heart, Chatterland, Kestrel, Radio, 12 Guilty Men, and The Diseased. Well, to be honest, I'm not familiar with any of these bands. Any help would be appreciated here!
There is an old SoundCloud page though, owned by Evan Barryman, where the whole "Extended Play" by That Noble Porpoise  is uploaded. There are then four songs, the aformentioned "Hand in My Head", "Trip", "Someone came to The House"  and "Drowning Inspiration".
The artwork of the tape does have a porpoise for you wondering.
If you click on each of the songs you'll get the full lyrics for them. Also we learn that all of the songs were penned by Evan Barryman. Would be nice to get in touch.
Keep digging. I find another band member's name: Jonah Lacey-Hatton. Wikipedia lists him as part of the Hull band The Planet Wilson, that included members from the Red Guitars. Does this mean that the band hailed from Hull?
Then on 2012 article on the Scunthorpe Telegraph I find another band member's name: Alex Ogg. It says that because of a book he co-wrote called The Art of Punk he was going to have a space in the Tate Gallery. In the same article it mentions he used to be part of That Noble Porpoise as a bassist and mentions that the band was actually from Winterton.
Winterton is a small town in North Lincolnshire, England, 5 miles (8 km) north-east of Scunthorpe. The 2011 census found 4,899 inhabitants, in 2,001 households. Major north-south/east-west streets of Winterton are Market Street and Northlands Road. Winterton is near to the banks of the Humber and is 8 miles (13 km) south-west of the Humber Bridge which can be seen from many parts of the town.
On an interview on the Mudkiss fanzine, Alex says: " I think I played three gigs as second bass player in a group called That Noble Porpoise (taken from the line in the original Batman film) and a couple of gigs in a college band called The Men Who Couldn't Play. That was it. I was terrible. If I'd been any good, I would have been a musician. I wasn't, so I decided to write about it. You don't have to tune a keyboard."
Okay, so it wasn't because of the animal the name of the band, but because of Batman. That's two posts in a row that have a Batman connection!
Then, heading to Google Maps, it's easy to notice that from Winterton to Hull there's only 30 minutes drive. It's all starting to make sense here. To get there you need to cross the Humber river. Okay, then it all makes sense, the compilation where they appeared was called "Humber Beat". Safe to assume that all the bands in this compilation are from the area?
I end up in a page called MusicLincs. There are a bunch of Scunthorpe bands featured. I search for That Noble Porpoise and I learn they played the 1986 Scunthorpe Rock Open.
I couldn't find any other information about this obscure band. So, if anyone out there could help me, with more info on the rest of the members, if there were any recordings or releases, even other gigs they played, that'd be great! Always good to learn more about these forgotten guitar pop bands!
::::::::::::::::::::::::::::::::::::::::::::::::::::::::::::::::::::::::::::::::::::::::::::::