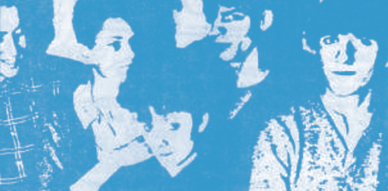 Another week, another post. I continue being unoriginal, a bunch of indiepop news of today and a forgotten indiepop band from the past. I wonder if this is the right format but I must admit I'm starting to be comfortable with it.
Who wouldn't want a 4 CD boxset with 41 Jazz Butcher songs? Last week Fire Records announced just that, to be released this October. The box set includes 4 Jazz Butcher albums, "Bath of Bacon", "A Scandal in Bohemia", "Sex and Travel" and "Distressed Gentlefolk". I don't know much details about it, I hope it comes with a pretty big booklet, but what you can do right now is actually pre-order it from the band's Bandcamp.
I guess that Jazz Butcher was the main news for last week! Now it is time to continue exploring the bands I didn't know from Brucey's last podcast. Many Indonesian bands were included, another sign that there seems to be a healthy indiepop scene there. I wonder how tight-knit it is. Last week I covered Toy Tambourine, this week I'll start with Beetleflux. This four-piece from Medan is formed by Taufik Ahmad on drums, Fahrin Hartias on guitar, Aulia Nasution on guitars and vocals and Muhammad Ridho on bass. I don't think they have released anything proper yet, on physical format I mean. Their first LP seems to be available on streaming on Spotify and iTunes. I believe it is titled "Smaerd".  The good thing, what I'm really enjoying, is their dreamy jangly guitar pop on SoundCloud. There are a bunch of songs, from Bruce's favourite "Calme Céleste", which is their latest, to a bunch of demos, and an earlier EP titled "Trailee EP". The band seems to have been going for years now, only now I discover them.
Another Indonesian band is Lousy Pop Group. This one-man band from Depok who took their name from a The Wake song is on the Shiny Happy Records label who released a 3″CD  titled "The Guy Who Runs the Government has Small Eyes". On the band's SoundCloud there are 5 songs, including a "Pristine Christine" cover. The song Bruce recommended on his podcast was "The Ballad of a Powerful Antagonist". The band is less upbeat than Beetleflux, but makes up for it with melancholy and class. Very nice classic sounding and Sarah-influenced band.
Supercrush Records is another Indonesian band and their first release will be "When I'm Relax" by YawYaw also from the same country. I couldn't find much information about the label or the band, but this sounds really good so if Bruce recommends it, I will recommend it.
Youth Portal are from Malaysia and on their Bandcamp there is just one song. Sadly. Because I'd like to hear more. The band sounds like early 2000s Swedish pop, think Labrador Records. The song that is streaming is titled "Butter Breakfast" and the lyrics are on there if you want to sing along. Not much more information about them.
Come on, what's with bands? Why not add which city are they from? the band members? what's the mystery?
I'm not a 100% sure if the people behind Sky Faction are the same people behind Starry Eyed Cadet but I want to think this is true. There is just one demo song on their Bandcamp and it is so so pretty. The song is titled "No One Else" and I believe it will be part of a 5 song EP this summer. The band is based in Oakland/San Francisco and what hints me to the Starry Eyed connection is that the song was engineered by Ron Songco, who of course is part of that blissful indiepop band that dazzled us a couple of years ago at NYC Popfest.
The last band I was to discover through the podcast was the Sydney, Australia, band Sachet. They have a new album out, an LP on proper vinyl titled "Portion Control" that was just released. Well, actually they have a digital single, "Grateful Dad" as their newest release, but I'll think of the album as their latest as it is actually a physical release. The band has been uploading stuff since 2015, so there's a lot here for me to explore. I start though with the song "Tinnitus" which opens their latest album and it sounds real fine.
—————————————–
I'm trying to democratize the blog, not cover English bands post after post. I can't be too original, what could I post after a Japanese and Swedish band? An Australian band? Sure, that's a good idea. A German band? Of course. But maybe those for next time? Now I want to investigate the life and death of The Wild Indians from Edinburgh, Scotland.
Once again, I don't own any of their three releases. That makes them more mysterious to me. I was at a museum this past weekend and I read something about collectors, about that there is more excitement in the hunt, much more than in the actual object you are looking for. I wonder if it is true. I love the records I track down, I like their songs a lot. But I can't deny that trying to find information and the record itself is truly exciting.
So yes, why not start with their records? I've heard their songs through MP3s and also on Youtube, but I never really looked deeply. I was aware of their two 12″ singles, but I didn't know that their first release was actually a shared flexi in 1983. This flexi came with the issue 17 of the Scottish fanzine Deadbeat Zine which had it's own catalog number HAVINGFUN-001. The flexi came on a wraparound black and white picture sleeve designed by Lindsay John and The Wild Indians contributed the song "Stolen Courage". The other band on the single were Pop Wallpaper who had the song "The Great Adventure".
There are actually credits on the flexi:
Fiona Carlin – vocals and alto sax
Kay Sheridan – basss
Kevin Low – guitar
Mike Binks – drums
The engineer was Pete Haigh at Pierhouse. The record was produced by John McVay and The Wild Indians.
The next year, 1984, will see the light the 12″ single "Love of My Life". This song was to be accompanied by two more songs on the B side, "The Biggest Man" and "Maybe". The record came out on the label Hullabaloo! (catalog HA!001). What is a hullabaloo? It is an uproar or fuss.
I really like the design and art of this record, white and blue, colors I use a lot on my label. On the back cover there are some credits and we see that the drummer might have changed as now it figures as Bo. No last name. Or maybe Mike Binks was called Bo? The record was also produced at The Pierhouse by John McVay and was engineered by Pete Haigh. John McVay also contributed piano on the "Love of My Life", David Gibson played guitar on "The Biggest Man" and Tony Whelan played drums on "Maybe". I feel this might have been a self-release as there are no other releases on this label.
Their next 12″ was to be released on another label, Rosebud (catalog SPARK 003). It was 1986, and this label had already released Pop Wallpaper, the band they shared a flexi. Maybe this was this band's label? Probably. The single "Penniless" came with two more songs on the B side, "We All Take a Tumble in this Wonderful Life" and "Give Up the Ghost". Now we see that the band is just Kevin Low on guitars and Fiona Carlin on vocals. The rest of the instruments are credited to Myles Raymond on bass, Les Cook on drums., Scott Hamilton on piano & strings, Kay Sheridan on bass*, Bo on drums*, Rhona MacIntyre on backing vocals. Those two with asterisks, who used to be part of the band, worked just on the song "Give up Ghost" which was engineered by Pete Haigh and recorded at The Pierhouse maybe at an earlier time. The two other songs were recorded at Planet in Edinburgh and were engineered by Chic Medley. The whole record was produced by John McVay. Now, who is the girl on the front cover? Is that Fiona?
I find on Discogs two compilation appearances for The Wild Indians. The first one dates from 1983 and it is a live version of "Maybe" that was included in The Deadbeat Tape. This was of course the same fanzine that put out their flexi. Other bands in this compilation were Strawberry Tarts, Twisted Nerve, Burlesque, Sunset Gun, Life Support and Slaughterhouse. The only one I'm familiar with is Sunset Gun. Only 100 copies were pressed for this tape and they were sold for 2 pounds as Vinny Bee, the man behind the zine, points out.
In 1985 they ere to participate on another tape compilation, "Bai-Bang!". This tape was released in Sweden by the label Res Publika. The Wild Indians were to contribute the song "Bite the Hand". I have no clue about any of the other bands on this tape which mostly are Swedish like Det Sjätte Sinnet or Njurmännen. Do they ring a bell?
I find a Tumblr post about Pop Wallpaper, the band they shared flexi and whose members Les Cook and Myles Raymond helped them on their last 12″. Sadly I don't find anything similar about The Wild Indians. Maybe I'd like to listen Pop Wallpaper? I find some songs on Youtube, and they are much artsier than The Wild Indians, less poppier.
Something cool that is related to The Wild Indians is the Deadbeat fanzine. For them I find a website that is updated regularly. Aside from some scan with The Wild Indians being mentioned I couldn't find any worthy information about the band.
I look for the people involved with the band. I can't find much. I see that Tony Whelan who played drums on the song "Maybe" had been involved in a band called Trax and later in the fantastic Liverpool band "Care" with Paul Simpson from The Wild Swans and Iain Broudie from The Lightning Seeds.
The curious detail about all of this investigation was to happen now. Do you remember the band Garbage? Yeah, that nineties grunge band? Well, it seems that Shirley Manson, their vocalist, was at some point a backing vocalist for The Wild Indians. I didn't see her on the credits of any of the sleeves but maybe at some point? Or maybe live?
But there was going to be one final discovery in this whole cat and dog dynamic. I was to find Mike Binks, the band's first drummer, SoundCloud. And guess what? There's a trove of Wild Indians recordings. I assume these are early recordings, from the time of Mike Binks in the band, as they sound quite different to the songs on the 12″s. They are a bit darker, closer to post punk than to indiepop. On this SoundCloud you can actually listen to "Stolen Courage", the song on the flexi. And then you can listen to what I would guess were demos for the songs "Having Fun", "Dancing as Fast As I Can", "Call it Jazz", "Bite the Hand" and "A Problem With Shape".
I couldn't find much more about The Wild Indians. I found a Fiona Carlin who is a solicitor in Edinburgh on Twitter. Might that be her? Who knows. What about Kevin Low? There's a Kevin Low that is an artist who lived in Edinburgh during his youth and now is based in Glasgow. Could that be him? I wonder. But maybe you do know something about them? Maybe you saw them live? I would love to know what happened to them after The Wild Indians, if they continued making music. Would like to know if there are more unreleased tracks, especially from their singles period. Does anyone out there remember them?
::::::::::::::::::::::::::::::::::::::::::::::::::::::::::::::::::::::::::::::::::::::::::::::
Listen
The Wild Indians – Penniless