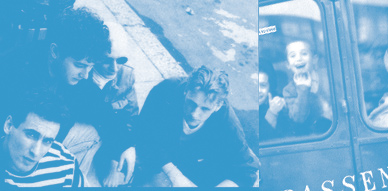 Thanks so much to Robert Randall for the interview! Some time ago I wrote a small piece about The Passengers and Robert was kind enough to get in touch and answer to a bunch of questions! If you wanted to know a little bit more about this great late 80s English band, now it's the time!
++ Hi Robert, thanks so much for being up for this interview! I see you are now living in NYC! Have you been a long time here? And why did you leave the UK?
Been here since 1990. Came here because totaled car, and band and girlfriend split up.
++ Do you miss England? What are the things you miss the most?
Not really, well not that much anyway. I miss my friends the most.
++ You were telling me you had been involved in music when you moved to America. Tell me a bit about your band here in NYC.
It was called Because Because Because, Matthew Caws and Daniel Lorca now Nada Surf were the guitarist and bass player, I sang and played occasional guitar, and Alex Gomez from Your Mom played drums.
++ And how different or similar would you say were the scenes in London and NYC?
I think London was more into image at that time. The music was quite different. NYC was Sonic Youth whilst London was Blur
++ Let's talk about The Passengers now. Was it your first band?
No not at all.
++ How did the band start? And how did the recruiting process work?
David Wright started the band with me after our previous band (London) split up. As far as recruiting we basically advertised in the back of Melody Maker and auditioned for a rhythm section. Steven George and Robert Havis (Rob Jet, I believe he is known as these days) got the job. They were friends from Essex and they came together. Soon after they joined David left to get married. We then auditioned for a new guitarist and Marcus Clements turned up. He was brilliant.
++ Where does the name of the band come from?
Nowhere special. I wish you don't have to name things.
++ And at that time what would you say were your influences?
I loved the Stones, Dylan, Smiths, REM, Big Star and of course the Only Ones.
++ Being in London during the late 80s it seems there was a big explosion of guitar pop bands. Did you feel part of a scene? And what were your favourite bands to play with then?
I think we enjoyed playing with anyone. Obviously opening for bigger bands attracted a bigger audience and that was always a lot fun when we got the chance. I can't really remember feeling part of a scene, but obviously we hung out with other musicians.
++ And which would you say were your favourite Passengers gig and why?
At a place called Block Shock in Berlin. It was just a great memory of a large and crazy packed club. We were great that night and the audience was great too.
++ I read your biggest success happened in Spain and Germany because one of your songs, "Hell to Heaven", was played in MTV Europe. So I'm guessing there was a promo video for this song? What's the story?
That pretty much was the story.
++ I hear that in Berlin you were received like proper rockstars. How was that?
Well Berliners were especially fond of English Indie bands, and I suppose we were that.
++ You only released one 7″ that included three songs in it. Any chance that in a few words you can tell me a bit about each one of the songs?
Not particularly, they were just two early songs, that Marcus never played on. Our better stuff happened after Marcus joined, but unfortunately never got released because we disintegrated for no good reason.
++ How was the recording process for this single?
Just a regular multi track recording. Nothing special really.
++ Who were True Records that released the single?
That was us and the Bicycle Thieves, distributed through Rhino records.
++ I also like very much the photo used for the 7″ artwork. Where did it come from?
I think it was taken by a friend of the manager.
++ You told me there are more recordings other than the ones of the 7″. How many more songs did you record? And how come was there never another release?
We probably have an albums worth of material. As I said we just split up before the songs were released.
++ And when and why did you split up?
We actually split up on a second trip back from Berlin in the airport.
++ What happened to you all afterwards? Were you involved with music?
Like I said I joined Because Because Because in NYC, Steve joined Swervedriver, Marcus returned to Bath and played with many bands since, and Rob joined Peach.
++ In retrospective, what would you say was the biggest highlight of the band?
Writing and playing with Marcus.
++ And what about these days, when was the last time you picked up your guitar? And what other hobbies do you have aside from music?
Yesterday. I don't think I have any hobbies really. I do what is in front of me.
++ One final question, what's your favourite thing about NYC?
At the moment nothing. It's freezing. Im thinking of moving to Portland.
++ Thanks so much again, anything else you'd like to add?
Thanks for remembering the Passengers.
::::::::::::::::::::::::::::::::::::::::::::::::::::::::::::::::::::::::::::::::::::::::::::::