30
Aug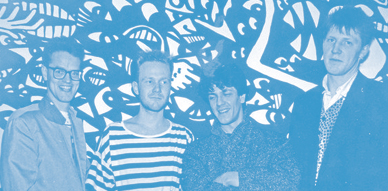 I can say now that all pre-orders and recent orders of Stephen's Shore debut 7″ have shipped and they are in the way to arrive to their new homes, if they haven't already. I see someone has already added it to Discogs. Really cool. At the moment I can assure you that the record will be available at Jigsaw Records in the US and Stone Records in Japan. Hoping more mailorders get in touch during the week. So if you prefer to get them from there, be my guest. I understand you wanting to save some in postage.
Next important news is that as soon as I finish this post I will get all things together so I can send The Seashells 7″ to press. As you know, because I announced a month or so ago, this is the comeback of the classic Umeå band with two brand new songs. I'm very excited about this as I love the music and also because I've been a fan of the band for so long.
This weekend has been a bit tough for me though, I doubt any of you have heard of something called Bell's palsy? well, supposedly it goes away in two weeks or so, but I got scared as hell. The right side of my face has some sort of mild paralysis and it is awfully annoying. I'm taking medicine and will go to therapy starting Friday. I know, very unlucky. But guess that's life, no? At least it is supposed to disappear and all my muscle functions should recover.
So that means I may be a bit busier these coming weeks as all this definitely will take time from me. Especially time I use to go to the post office. So if the record you ordered takes a little longer, don't worry, it will arrive for sure.
Also I just heard that we have someone very special to write the liner notes for Some Other Day. That, and the mastering of some tracks, are the final steps to get this compilation ready. I'm assuming now it will come out early next year.
Early next year too will be the release of the long, LONG, awaited Pale Spectres 7″. Everything is ready now and you can even download one of the songs from the website.
That's the news from me this week. A bit quiet for indiepop, (aside from the announcement Peter from Twee.net will be giving away all his records (!!!) – but don't get too excited, he is planning to donate them to a museum, kind of like something we discussed ages ago while in London… both having this idea of setting up a museum to preserve indiepop at the time, though of course, setting one up requires a lot of money!) but not so much for Cloudberry. I'm very excited with all the new music we will be putting out month after month. Will it be the final run?
———————————————————————-
Here's another band/record I've always been so very curious from the first Leamington Spa compilation: Sister Rain.
I've had their record as a saved search both on eBay and Discogs, but to be honest, I never had any luck getting it. It doesn't sell for too much on Discogs, but seems someone always gets there before me, when I get the email saying that Discogs has found the record, well it is there no more!!
I have never heard three of the songs included in the record. Just the first one, "Burt Reynolds", the same one included in the first Leamington Spa comp. The other songs are: "Curtain Song", "Window Cowboys" and "Is it Right?". The last two on the B side. The record was released by Serene Records (catalog RAIN 001) in 1988. It is safe to assume that this was a self-release as there seems not to be any other releases in the label.
During those same years, the late 80s, there was another Sister Rain band in the world. There was a Sister Rain in Oslo, Norway. They have a much more presence on the internet and they released a handful of records. I wonder if our Sister Rain were aware of them?
I don't think the photo on the sleeve depicts Burt Reynolds. Burton Leon "Burt" Reynolds (born February 11, 1936) is an American actor, director and producer. He has starred in many films, such as Deliverance, The Longest Yard, Smokey and the Bandit and Boogie Nights, in which he was nominated for his first Academy Award. It looks like a much older man.
The blue jacket, a Cloudberry blue (!), has some information on the back.
Steve Periac – voice, guitars
Dave Taylor – bass, violin
Beat – guitars, keyboards, vocals
Tiffer – drums, voice
All songs are credited to Banks, Breakey, Periac and Taylor. They were recorded at "Suite 16" in Rochdale, England. They were produced by Dave Fielding and engineered by C.J. Cover. The pic on the cover is credited to Geoff White.
I check the liner notes on the Leamington Spa CD. What new can we learn from it? It says:
Oldham, home of the Inspiral Carpets and Oldham Athletics, also produced Sister Rain in 1987. Their only official release was their "Burt Reynolds" 12″ from which we took the titletrack for our compilation. It was produced at "Suite 16 studio" Rochdale by former Chameleons member Dave Fielding. Due to their Rockdale connection (twintown of Bielefeld) they even managed to play a couple of gigs in Germany.
Pretty interesting. So they hailed from Oldham.
Oldham is a large town in Greater Manchester, England, amid the Pennines between the rivers Irk and Medlock, 5.3 miles (8.5 km) south-southeast of Rochdale and 6.9 miles (11.1 km) northeast of Manchester. Together with several smaller surrounding towns, it is part of the Metropolitan Borough of Oldham of which it is the administrative centre. Historically in Lancashire, and with little early history to speak of, Oldham rose to prominence in the 19th century as an international centre of textile manufacture. It was a boomtown of the Industrial Revolution, and among the first ever industrialised towns, rapidly becoming "one of the most important centres of cotton and textile industries in England".
Rochdale, where they recorded the songs, is quite close actually. 8.5 km north northwest from Oldham.
My next stop is a Facebook page managed by the band. From here I get to know Beat and Tiffer's real names, Nigel Banks and Chris Breakey, though I'm not 100% sure who is who.
We also get to know that they split in 1992, and that they were formed in Middleton (?!). Wait, so not Oldham? This is getting confusing! That is quite close to Oldham and Rochdale too. Maybe some were from Oldham, some from Middleton?
Anyhow they formed as a three piece originally until in 1987 Nigel joined them. They also toured France. Would be interesting to know which cities in France and Germany they played, right?
From there  we find a link to an old Myspace page. There are some songs I've never heard before there, "Frame to Frame", "Crushed", "All I Want" and "The Very last Time". Sadly only "Frame to Frame" can be streamed. Where do these songs come from? Early recordings? Demos for a second single?
Time to investigate the whole Facebook wall for them. What will we find? We learn that they played in Sendenhorst, Germany on the 9th of Sept of 1990 at a venue called The Titanic. That they met again in 2009 and agreed to record a song titled "Watch Out for the Voodoo", but then in 2010 they were wondering why the song never came to fruition. This song was a song that they only played live and was never recorded as a demo or anything.
At some point they were posting stuff on a Soundcloud page, not Sister Rain stuff, but stuff the members were producing. Today there's only one song and it is called "It's Awesome". Before there were many others.
We know that there was another Sister Rain song titled "Straight Upstairs". Also there's a live video of Sister Rain from 1988. It seems then they were just called The Rain. There's 26 minutes of footage. Maybe someone can help me figure out which songs they are playing?
Even more interesting, Dave Taylor, became, and is now, Lord Mayor of York. He is the first Green Party councillor to hold this position. York's Lord Mayor is second only to London's in precedence. There's an interesting article/interview on York Press where he talks about his music past, mentioning Sister Rain too!
That's all I could find. Seems some time ago there were more Sister Rain songs online, on Souncloud at least. I wonder why they were taken down. I would love to hear the rest of the songs that are on Myspace and cant be played. Maybe even more unreleased stuff they have. "Burt Reynolds" is such a great track, jangly heaven, that I can only be very curious about the rest!
::::::::::::::::::::::::::::::::::::::::::::::::::::::::::::::::::::::::::::::::::::::::::::::
Listen
Sister Rain – Burt Reynolds