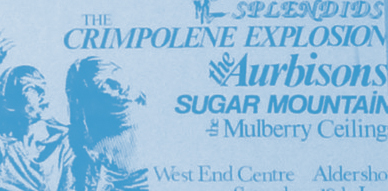 Thanks so much to Michael Weare for the interview. After being told by Uwe Firestation on how fabulous were The Mulberry Ceilings (and The Aurbisons) I always wondered how they sounded like. Months ago Dave Driscoll (from Fruitier Than Thou blog, and The Aurbisons) shared with me 4 songs recorded live by The Mulberry Ceilings, and they blew my mind. They were just so good, impressively good. The guitars were jingly jangle, chiming, just my cup of tea. Some weeks ago some videos appeared on Youtube by The Mulberry Ceilings and then, well, I couldn't stop smiling. It was just fabulous indiepop. I hope, and wish, one day, these songs get a proper release. So good. Please enjoy!
++ Hi Michael! Thanks a lot for being up for this interview! I hear you live in Sweden these days, how come? Do you miss the UK at all?
Yeah, I've lived in Sweden for 11 years now. I live in the south of Sweden, a small town/village called Bjärred, near Malmö. I'm married and have 2 kids Lucas 8 and Emmie 6. I do miss the gigs and the pubs.
++ So yeah, I heard about The Mulberry Ceilings earlier this year thanks to Dave Driscoll. Four live songs. And they were fantastic! It's a shame that they are not properly recorded. But, did you properly record any songs? Was there any intention to release some of your stuff at some point?
We recorded 2 tracks – Pillow Crazy and Tea in a China Cup. They were done on a 4-track at Liz's house. She had this great room that used to be a barn so we could make plenty of noise. Unfortunately I no longer have a copy of these songs as I lent them to a friend and never got the tape back. It also included some live tracks when we played as a 3 piece. Chris Kelly, Liz Paton and myself.
++ You did make two promo videos though, what was the main idea behind them? And was it an easy choice which song to make a video of?
We only did one video for Pillow Crazy. It was done on black and white super8. We didn't do it for any promotional use. Sean Johnston thought it would be cool to do a video. He wrote and directed it. Andy the bass player couldn't make the filming so we used Liz's brother Tim as a stand in. The blonde girl in the video who I'm trying to give flowers to is Chris' girlfriend at the time Jo.
Sean also made a couple of videos for The Aurbisons, Creating a Fuss and Holy Cow. I was a stand in for Steve Harris for the Holy Cow video as he did not liked to be filmed. We made a mask that looked like Steve and I mimed along. I was also the back end of the pantomime cow- my first 15 minutes of fame.
We also made some gross out splatter movies that we showed as back drop when we played gigs. I remember at one gig people were not clapping or cheering when we just played one of our best songs. All I heard was "that's disgusting and urggh" I turned around and the scene behind us was one of blood and guts and the audience was watching our films in the background. The films were not of the highest quality and but we still had a couple of people coming up to us uttering their disgust at the films.
++ When did the Mulberry Ceilings start as a band? Was it your first band? And who were the band and how did the recruitment process work?
Mulberry Ceilings were not my first band. I was in a band called Tomorrow the World- A very bad goth band that didn't even dress in black. We later changed the name to The Monkey Puzzle and played only a couple of gigs in my hometown of Fleet. The Mulberry Ceilings were formed when I met Chris Kelly at a college in Basingstoke. He had a couple of songs that we practiced in his bedroom. Pillow Crazy and Tea in a China Cup. Liz joined me on vocals and but we did not have a bass player or drummer. We borrowed Sean Johnston (drums) and Andy Bennett (bass) from the Aurbisons who helped us record these 2 songs.
++ What were the expectations when you started the band?
We did not have any expectations. We just wanted to write some songs and play a few gigs.
++ Where in the UK were you based then by the way? Which were the venues you'd usually go see bands? And what were the places or neighborhoods you'd see The Mulberry Ceilings hanging out on say, a Saturday night?
We were based in Fleet/Basingstoke. 2 small towns in the south of England not too far from London. We had a fantastic venue called the West End Centre in Aldershot. There was a couple called Jo and Danny who put on some great gigs. It was called the Buzz Club. They managed to get The Stone Roses, Primal Scream, Blur, Manic Street Preaches, The Charlatans, The Beautiful South, Blue Aeroplanes and many others to play. The support bands were mostly local bands. The venue was not that big so you always had a cracking atmosphere especially if there was a big band playing.The Mulberry Ceilings only played once at the West End Centre. It was a local band night and we played in the bar as a 3 piece. Chris, Liz and myself.
++ What about the band name? Where does it come from?
Chris the guitarist suggested it and it stuck.
++ From those songs I've heard, I was impressed by the cover you did of The Poppyheads. Were you mates with them?
Someone had this on a mix tape and thought it would be a cool song to play. We only had a couple of our own songs and we needed to fill out our set for a gig.
++ And speaking of that, how much of a fan, and how involved were you, with the indiepop scene that was happening in the UK then? Which were your favourite bands?
I was really into the indie scene at that time. The jangly and faster the better.
We listened to everything from the 14 Iced Bears, Flatmates, Mighty Mighty, The Jazz Butcher,The Bodines, Close Lobters, The Primatives, The Fall and The Wedding Present to name but a few. I've just been looking back at an old scrap book and I was going to 2 to 3 gigs a week. The only band I never managed to see live was New Order but that was probably a blessing in disguise.
++ What about covering The Aurbisons' "Debbie Rix"? I guess that happened because of the Dave Driscoll connection? What other covers did you use to play? Or which covers would you have liked to play and never did?
We did a cover version of Never seen Before by The Close Lobsters, not as the Mulberry Ceilings, but as the Aurbisons. I liked doing cover versions like this. Songs that people hadn't heard of much that we could pass off as our own but I had forgotton that we did a cover version of the Poppyheads.
++ What about gigs? Did you play many? Do you have any favourites? Any anecdotes that you could share?
We didn't play that many as a 3 piece. We played at Farnborough Technical College, The West End Centre-Aldershot, The Basingstoke Caribbean Club, a hospital in West London and some busking in a shopping centre in Farnborough.
Not very glamorous I have to admit.
++ The other two songs I've had the chance to listen were "Pillow Crazy" and "Two Lumps Please". Both are great! Would you care telling me the story behind both?
Chris came up with the guitar riff for Pillow Crazy and we wrote the lyrics and tune together in his bedroom. It was the first song we wrote together. It was the first song that I had I recorded and couldn't stop playing the demo to all my friends at college. It was always one of the live favourites. Two Lumps Please – I think the tune and lyrics came first and Chris came up with the guitar riff after that. It was such a long time ago this maybe incorrect.
++ So how played guitar? I love the guitars of your songs, they are fast, jangly, chiming, I don't know, just perfect for indiepop. Wish more bands played them like that. Where did you take inspiration? Did you have any musical heroes?
Chris Kelly played guitar. He loved the Wedding Present and all he wanted was to be able to play guitar as fast as them.I don't really have any musical heroes but I loved Joy Division and New Order. I have never thought as them musical geniuses. I always thought they sounded like amateurs but they managed to make a great sound together.
++ How long did the band last and when and why did The Mulberry Ceilings split? Were you involved with music after?
The Mulberry Ceilings never really split up. We sort of evolved into the Aurbisions. The Mulberry Ceilings and the Aurbisons were going to play at the same gig. We were going to be the support band.
We needed a drummer and a bass player for the night so Sean and Andy from The Aurbisons were going to help us out. So both bands decided to practice at the same time to save on time. Someone suggested that for one night only we should play as one band.
Everyone thought that this was a great idea especially Steve Harris. He always wanted to have a big band sound. We went under the name The Aurbisons and that was the end of the name Mulberry Ceilings.
We decided to swap singing duties on the night and that's how I ended up singing Debbie Rix.
I cannot remember how many times we played as a 7 piece but it wasn't many. Steve Harris never really got the big band sound that he wanted and left the band. We carried on playing as a 6 piece but changed the name of the band to Cow and started getting in the baggy scene but that is another story.
The main core of the band carried on Liz, Sean, Dave and I until 2000 when I moved to Sweden and Sean moved to New York. Sean and I have been friends since we met at school aged 11.
We have always been in the same band and I'm sure we would still be doing something in a band now if we hadn't moved away. We all still keep in touch even though we are so far apart.
I recently found Chris Kelly with the help of Facebook.
++ Looking back in hindsight, what would you say were the highlights of The Mulberry Ceilings?
Playing as a 3 piece at a student bar in Farnborough. For one of the songs we did a cover version a Splendids' song. The Splendids was a friend's band whose singer had a unique way of dancing with a hat. We started the song and there was a groan in the room. The small audience mainly made of friends thought it was a bad song choice. I thought we had 2 and half minutes left and people were not happy so I decided to start dancing in the same style as singer from the Splendids. Nobody expected this not even Liz and Chris and I managed to capture the singers dancing down to it. The audience thought this was hilarious and we got a huge round of applause when we reached the end of the song. That broke the ice and the rest of the gig was warmly received.
++ And aside of music, what other hobbies or interests do you have?
I still listen to plenty of music. I love bands like Primal Scream, Film School, Low, Efterklang, Broken Social Scene etc. Just recently I have started playing football (Soccer). I'm not very good but I get stuck in.
++ What about Stockholm? I really loved it there when I visited, would love to move one day even! What are your favourite places to have a beer, or to eat? Any Swedish specialty that you would recommend?
Stockholm is a beautiful place especially in the summer. It is made up hundreds of islands so I would recommend a boat trip next time you are over. If you go in the winter visit the Ice Bar. The drinks, mostly vodka, are served in ice glasses and you are given a extremly thick winter jacket and gloves. It is so cold you can only stay inside for about 20-20 minutes.
++ And how easy was to learn Swedish for you? Would you recommend someone to move and live in Sweden? Why?
I've never learnt a language before so it took me quite a while to learn the it. Nearly all Swedish people have a very good knowledge of English and even though I speak Swedish with them they sometimes answer in English.
I would recommend moving to Sweden if you have any connection here. If I hadn't moved to Malmö I would have chosen Gothenburg or Stockholm as the other alternatives.
You cannot visit Sweden without trying the Swedish meatballs.
::::::::::::::::::::::::::::::::::::::::::::::::::::::::::::::::::::::::::::::::::::::::::::::