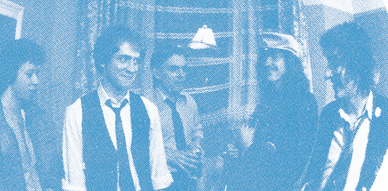 I should be taking a nap but instead I decided to keep my promise of a blog post every weekend. Well, every weekend that I'm in town. I just came back from visiting the MOMA PS1 museum here in Queens, with Scott B from Summer Cats. I got in for free as I'm a Long Island City resident. To prove I'm a resident I showed an invoice on my iPhone to the clerk of my latest CD order on Amazon.com, a Rudolf Rocker album. My name was printed there along the shipping address, my address. Prior to that we went for brunch at a cozy place called LIC Market. Hash, red peppers, eggs and duck for me. And toast, always toast, and butter on it.
We talked about the usual, indiepop. Something I learned today, that I didn't know at all, was that James Turrell, an artist I studied in university, and who has been converting Roden crater into an amazing work of art, is Jen Turrell's (Rabbit in Red, Boyracer) dad. How cool is that. Now the Flagstaff, Arizona connection makes so much sense. We chatted about the Melbourne scene, Summer Cats, The Motifs, The Zebras, and he tipped me that Hugh from Summer Cats is starting a band with the guys from Audiobooks. Promising. Oh! and Scott is building a music social network, much better than last.fm. Just wait and see!
Waking up early has never been a skill of mine. But yesterday I did it. Even earlier than on weekdays. At 7am. I know, many of you think that's normal, and I'm complaining for no reason. But for me, it is very hard. It takes a big effort to get out of bed. But I managed. The reason: Princeton Record Exchange. On Record Store day.
I went there with two friends from work, one that is very much into classical music, and the other who has a very eclectic taste but knows quite a bit about indiepop. On the way to Princeton he had Comet Gain playing on the car, and on the way back he had Gold-Bears. It feels strange when someone not connected to the scene is into this music. I don't mean it in an elitist way, but it feels everyone that loves indiepop eventually gets sucked in and gets involved with the scene, releasing records, promoting, blogging, doing something.
Princeton is such a pretty town. It's a shame we didn't have much time to explore it. The university buildings had a varied architecture and there was a good vibe to the whole town, even though it's in New Jersey. Upon arriving to the record store, greeting us with a shocking yellow sign, we noticed a long line of people waiting to get in. As long as two blocks. It was a terrible idea to come here on record store day, was my first thought. I wasn't interested in any records from record store day, and making that line seemed unbearable. But if I was going to be there, I wouldn't mind picking some stuff and then selling it on eBay. Why not. If I don't do it, someone else will. Maybe pick up a Bruce Springsteen?
But luckily things turned out better than expected, people that didn't want to purchase any record store day special release didn't have to make the line. So we went in and got lost among thousands of records. Most of them were crap, as usual, but there were some good finds. Especially on the CD section, where for $2 I found many late 90s and early 00s indiepop albums. On the vinyl section there wasn't much to be found. Not much second-hand, and very little 7″. But still, it's fun to browse and dream that you'll find a hidden gem, one that has been waiting patiently for you, one that other people doesn't even know what it is.
It really gets me when people at the record store, other shoppers, try making conversation with you. There was this guy, long-haired, wearing jean shorts and Timberland shoes, who was browsing records next to me, being very loud on the phone. He seemed proud that he was spending hundreds of dollars. I felt bad for him. He clearly doesn't know about eBay. Anyhow, at some point he grabs one of the box sets on the shelf above the 12″s. And he turns to me and asks: "Have you heard this box set by Tom Petty and the Heartbreakers? Any good?". I was puzzled. I only answered, "No, sorry". I mean, do I look as someone who would listen to that? But wait, there's more. Ten minutes later another long-haired guy, with beard this time, asks me, "Have you seen any Ozzie?". So now, people expect me to browse records for them? And also, browse bad music? I should stop wearing black t-shirts and black jeans. Clearly I should become some sort of traffic light, more colorful, more "poppier".
And today, having internet back at home (it didn't work for 2 whole days!! it was awful, a nightmare!), I started designing some ideas for a new Cloudberry website. It's shaping up nicely, but will probably ask some friends to test the UI and give me some feedback about the design. Alexandra was telling me that there was no reason to change the old one, but I feel, after 5 years, the site has kind of grown old. It's not really visually striking or anything like that. I feel it serves it's purpose, but it's funny, I dedicate my life to create websites and interactive packages, and I haven't done some sort of 'top' design for Cloudberry. What do you think?
Also the totebags are being made as we speak. Hopefully I can pick them up this week. I'll keep you updated about that. And when it comes to releases, well, The Deddingtons tracklist is up on the site (and now just waiting for the band to decide which song they'd like to give away as a freebie)/ The CD album, part of Cloudberry Cake,  should go to press shortly. And that's not all, people who are fans of Cloudberry on facebook got the chance this week to listen one of the upcoming songs on the Nixon 7″. The response was fab, everyone is loving it. For this release we are just waiting for the final mixes and then we are set. Exciting times ahead for the label.
—————————————————————————–
On to our obscure band of the week, Scissor Fits, who were from a time where indiepop didn't exist, 1978. But they were really indiepop. And they have a strong connection with the music we love, and with a label I love. So on to that.
As a curious cat that I am, I wondered about this:
It is most likely that scissors were invented around 1500 BC in ancient Egypt. The earliest known scissors appeared in Mesopotamia 3,000 to 4,000 years ago. These were of the 'spring scissor' type comprising two bronze blades connected at the handles by a thin, flexible strip of curved bronze which served to hold the blades in alignment, to allow them to be squeezed together, and to pull them apart when released. Spring scissors continued to be used in Europe until the sixteenth century. However, pivoted scissors of bronze or iron, in which the blades were pivoted at a point between the tips and the handles, the direct ancestor of modern scissors, were invented by the Romans around AD 100. They entered common use not only in ancient Rome, but also in China, Japan, and Korea, and the idea is still used in almost all modern scissors.
Anyhow, the Scissor Fits were a band that played often at Snoopy's in Richmond, London, a venue that Mike Alway used to promote. And not only that, Mike Alway was a part-time member of this band. And occasionally their manager. Yes, the same Mike Alway that will later start a label that would redefine music, el Records.
Wikipedia has a few lines for the band:
The Scissor Fits were a post-punk English band founded in Hounslow in 1978. They are best known for their classic DIY punk single "I Don't Wanna Work for British Airways", which was recorded before they had appeared in public. A part-time member and occasional manager was Mike Alway, later famous for his A&R work with Cherry Red Records and el. They also released a live EP titled "Soon After Dark" which contained the pre X-Files classic "The Government Knows about UFOs". The band comprised Nick East (vocals), Simon Ives (bass), Colin Roxborough (rhythm), Bud Drago (drums) and Vic Watson (lead) in the early days. When Drago returned to his native US he was replaced by drummer Pete Garrard.
And I'll tell you a second connection with indiepop, the vocalist, Nick East, was going to be in an el Records band years later.  Can you guess? I could by the melody and the vocals. Give it a shot. Yup, you are right, The Gol Gappas.
Not so many years ago one of their tracks appeared on the Messthetics compilations, and there's a little text about them there:
The Scissor Fits hailed from Hounslow, barely two miles off the main runways of Heathrow, so "I Don't Wanna Work for British Airways" takes to heart the DIY maxim "write what you know." Their debut EP was recorded before they'd ever played in public, and 'dedicated to the Soft Boys.' Mike Alway was a songwriter and part-time guitarist-and-general-inspiration who actually went on to manage the Soft Boys: he had the 'Fits open for them several times during the Underwater Moonlight era. (Alway later managed the Monochrome Set and launched the Blanco y Negro, Reviere, …If, él and Sound of Chartreuse labels.) Yank drummer Bud Drago put out a (remarkably American-sounding) EP on the same Dubious label but soon headed back Stateside (he's now in Character Z, and running www.listening-post.com), while the 'Fits went on to record a live EP for Tortch that featured a couple of DIY's finer, longer, more psychedelic numbers. The band-name? "a Don Martin cartoon in MAD magazine depicted a woman with a long cigarette holder accidentally stubbing her cigarette out in a man's eye. The resulting sound effect was 'SIZZZA – FITZZ' or something like that…"
I was in touch with Nick East some years ago. I wanted to interview him about The Gol Gappas. I believe he was working in Leeds University then, he probably still does. He seemed very nice but sadly I never got back any answers to my questions. I'm a big fan of them. I did ask him if Cherry Red had any plans to make some sort of retrospective of all their songs, which are not too many, but it seems that Cherry Red won't do it. Do you can never say never.
They released two 7″s as far as I know. The first was "Taut? Tense? Angular? And Other British Rail Sandwiches" and it included five songs:
A1         I Don't Want To Work For British Airways
A2         A Small One
A3         I Wish I Hadn't Shaved My Pubic Hair Off
B1         D.H. Lawrence Wasn't A Mexican
B2         Waiting For Your Love In The Shower
Did they work for British Airways at all? I have never traveled in BA. It's usually Continental or Virgin Atlantic when I go to London Heathrow. Is it that terrible BA? I wonder because that is probably their best song, a catchy popsong that pre-dates what the TVPs would so sometime after. It should have been a hit, it should have been bigger than the Beatles maybe. And if anyone has a spare copy, you know, I'm looking for it! This 7″ was released by Dubious Records and the catalog is SJP 793.
The second 7″ was released by Tortch Records in 1979. Catalog number was 005. This one seems easier to find, I've seen a couple on Discogs, but at the moment I'm a bit broke! But I do plan making up to it soon. All the songs were recorded live at Covent Garden, Rock Garden on September the 7th of 1979. The songs included were:
A         The Government Knows About UFO's
B1         Who Wants To Live Forever?
B2         Aniseed Trail
The also appeared on some compilations. They included "I Don't Want to Work for British Airways" on the Cherry Red comp "Labels Unlimited – The Second Record Collection " and "Radio Teeth" on the 1,000 Only Records release "The Snoopies Album: The Last Remains Of A Richmond Venue ". The latter one seems very rare, there's one listing going for almost $100!
Here are two scans from their first 7" that tell the story behind the members of the bands. Really interesting stuff! Scan 1 | Scan 2
And that's about all I could find from them. They were clearly ahead from their time, and I feel it's not crazy to say that the Gol Gappas picked it up from where the Scissors Fits left it. I do wonder if they had any more songs recorded. I wonder what happened to Nick East in between these two bands. I wonder what are they doing now. If you know anything else, please share. You know what the comments section is for 🙂
::::::::::::::::::::::::::::::::::::::::::::::::::::::::::::::::::::::::::::::::::::::::::::::
Listen
Scissor Fits – I Don't Want to Work for British Airways