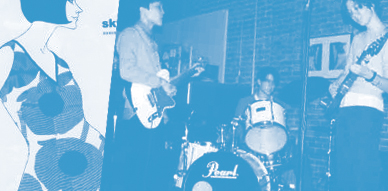 A short but sweet interview with Kenji who many of you may know from the great The Fairways. Before being in The Fairways he used to be in a band called Skypark that released an EP on Shelflife, which I still haven't managed to find a copy! These days Kenji is in a band called Clay Hips and it is sounding great! I look forward to any releases they put out, hopefull the near future!
++ Hi Kenji! How are you doing? You just played Berlin's Indie Pop Days! That must have been exciting! How was the first ever Clay Hips gig?
Hello! The Berlin Popfest was an amazing experience for us. Andrew and I hadn't been on stage together for almost 10 years. It was exciting to play with a full band again and to have the opportunity to rehearse in Germany. Our friend Suresh flew all the way out from San Francisco to play bass. Yoshi from Eux Autres and Aislers Set recently moved to Berlin and was so generous to lend us his amazing drumming talent. Although we only had 3 days to arrange and rehearse 12 songs, we made it through the set!
We handmade a 4-song EP for the gig and we're hoping to get together again soon to record another EP or maybe even a full-length record.
++ Most of us know you from The Fairways and Skypark and those bands were based in California, how come you are in Germany these days? Was it difficult to adjust? I can imagine the language wasn't easy!
Like many expats I know in Germany, I also moved here for love. I've been here for almost seven years now. I was living in Berlin for the first two years, so it was relatively easy to adjust. Everyone speaks English there. I was putting together a record with a friend in Sweden at the time, so that kept me fairly busy for the first few months. German is undoubtedly a difficult language but it was really fun to learn.
++ Alright, let's go back in time, to Skypark days. I know the EP was released after the band had already split, in 1998. So, during what years was the band active, and why didn't you get to release anything during that time?
I started Skypark with a couple friends from high school but we didn't really get it going until we were in college. Ariadni had already been active in the SoCal indie scene with the band Poastal and I was just learning to play guitar. We were all really big fans of Sarah Records and Slumberland and we'd sit around in Jen's dorm room at Berkeley listening to Ropers records and figuring out Field Mice songs on guitar. So, I guess that was around 1995-ish. Originally, we had a 7″ planned for release on the Belmondo label run by Naomi from Mod Lang record shop. We had a test pressing made and the artwork was done but it somehow fell through.
Shelflife got in touch with us after we released a song on a cassette compilation that they put out and they were keen on releasing more stuff. We eventually went back into the studio a year later to record more songs. Not all the recordings made it on the release though.
++ Was Skypark your first band? How did the recruiting process work?
Actually, no. Skypark was not my first band. I had a very brief punk project with my friend Toni who went on to form the CeBe Barnes Band. I only knew how to play a couple chords at the time, so she played guitar and we both sang. We were supposed to release a 3-song 7″ on Chou-Chou but the label folded before we could release it. I think I have the only test pressing of that single, which is good because it's unlistenable.
++ And why did you name the band Skypark?
Skypark Drive is the name of a really ugly street near an airport close to our hometown. The name sounded Sarah-esque. That was all that mattered to us, so it stuck.
++ I came a bit too late, and the EP has been sold out for so long. You should re-release it some day! Anyhow, looking back to it, how do you like it? I've read around on the web that many consider it Shelflife Records best release ever!
Thanks! I didn't even know that it's sold out. I haven't listened to the CD in ages but I remember it as fun times with my best friends.
++ So yeah, how did you end up releasing on Shelflife? I think back then Ed was living in NYC, right? But did you get to meet personally?
We played a mini Popfest-type thing in southern California hosted by Shelflife. I think that was the first "real" show we ever played at a proper venue. That was probably right before Shelflife relocated to New York.
++ The EP was recorded at your uncle's studio. Care to explain that?
Half of the Skypark EP was recorded at my uncle's studio in LA and the other half was recorded at Black Eyed Pig in SF.
My uncle has recorded a lot of different bands over the years and is a musician himself. When I was a teenager, he recorded my favorite band at the time, Red Temple Spirits. It was pretty crazy being fourteen years old and going into his studio to watch them record Black Sabbath covers. I was at the height of my "goth" phase at fourteen, so there wasn't anything cooler.
++ My favourite song may be Morse Code, it's just so catchy and dreamy at the same time. And the guitars on the song are just wonderful… anyways, will you tell me the story behind it? 😀
I haven't used a distortion pedal since.
++ What is your favourite song on it? Were there any more recordings or this is it?
I guess I would have to say that Bicycle Boy is my favorite. We wrote it after seeing this beautiful guy riding his bike home after a gig we played with Holiday.
++ I always wondered about the strong connection between Skypark and Aerospace ("Hey Boy! (Song for Kenji)" and "Summer Days Are Forever" on their album, you know?). How did that nice friendship came about? Was there ever a nod from any of your bands towards Aeorospace?
Mark from Paris Caramel was friends with Toby from Aerospace. Toby came to visit SF one summer and was super enthusiastic about Skypark which made our hearts melt. It was so exciting to meet someone from Sweden that had even heard our CD. A couple years later, we toured the Pacific Coast with them. Fun times and friends for life.
++ How do you remember the scene in San Fran back then? It seems that it was a happening place then; what other bands did you like?
The SF indiepop scene was really happening when we started out and it's still going strong. It was awesome because every band had their own sound. Bands like Poundsign,Track Star, Henry's Dress, Aislers Set… all very different styles of music. They've also all made names for themselves. I still love all those bands and we're still in touch after all these years!
++ What about gigs? Did you play lots? What gigs do you remember the most?
Skypark didn't play very many shows. We had a few memorable ones though. Opening for the Softies at a thirft store/record store… Another show with the Softies and Elliot Smith with Alicia from Poundsign playing drums for us… And of course our very first show with Track Star and Henry's Dress at SF Art Institute.
++ So then what happened? Why did you call it a day?
We never really disbanded. Ariadni was really busy doing other stuff, so we found more members and became The Fairways.
++ Are you still in touch with your fellow band members? What are you all doing these days? Still involved in music I hope!
Yes! I'm still in touch with everyone. Skype is a wonderful thing but I try to get out to California once a year.
Jen is a doctor specializing in acupuncture and oriental medicine. After leaving the Aislers Set, she put out a few records with her husband as Mystic Chords of Memory. Really amazing stuff.
Ariadni is a visual artist living in Los Angeles. We talk about making music again all the time.
Andrew lives in Ireland with his husband and is involved in writing grants. I'm in Munich with my husband and I recently left my job at a publishing company to start my own business. Hopefully, you'll soon be hearing more from us as Clay Hips!
::::::::::::::::::::::::::::::::::::::::::::::::::::::::::::::::::::::::::::::::::::::::::::::
Listen
Skypark – Bicycle Boy