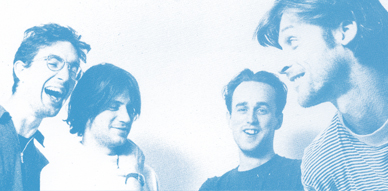 After another round of cutting and pasting Cloudberry sleeves I decided it was time to do some vinyl ripping. It's been a while since I used my USB turntable. The slow morning (though I should answer a couple of emails!) invited me to go through and rummage around the 7″ boxes I have in my room. Earlier I've been putting together some artwork for the next split single. It's fantastic. Also finished all the small posters for the new Cloudberry Classics CD, The Proctors, should be out any moment (you can pre-order now if you'd like and you can listen Black Tattoos streaming on the Myspace page). Also talked with some amazing bands for future interviews, so keep tuned to this humble blog.
Back to lost bands. The 7″ that I chose today for this Saturday morning comes courtesy of Avalanche Records, though they forgot to write which was the catalog number. I'd guess the band comes from Scotland too. Did Avalanche release any band that weren't Scottish?  Having a look on the threefold sleeve, Riverhead was formed by Michael Doran, Rod White, Richard Conte and Ady Powers. It includes lyrics for both songs contained in this single sided 7″. Yeah, two songs on the A side which are "Was Away" and "Haddit".  It also lists some other releases by the band (which are not listed in Twee.net):
Alpharetta – which is a 12″ record that includes four songs, Looking At The Sky, She Can, Strange and My Turn. This is AGAP 005
Haddit – another 4 track EP. This is AVA 001. Don't know which songs were included, though I guess Haddit is one of them.
And lastly it lists two T-shirts to buy, each for 6 pounds, one for Haddit and one for Was Away. Was it the same design as the sleeve covers?
Some more evidence that the band could/must be Scottish is that this 7″ was recorded in Funny Farm Studios, in Haddington. That's quite close to Edinburgh.
Where does the name come from? The only Riverhead town I found in UK, is in Kent in England. There's a Riverhead in New York state and also one in New Zealand and in Canada. There's a Riverhead Books, a subdivision of Penguin Books USA that published the Kurt Cobain diaries… that can't be either, right?
I don't think this 7″ is scarce at all. I think you can find it on eBay easily. I recommend getting it for the great c-86ish, Leamington Spa sounding, "Was Away". What a great song it is. Sadly there's no information online about them. If you know their whereabouts, or what did they do after or before Riverhead… or maybe if there are more releases, let me know! I'd love to hear more from this band!
::::::::::::::::::::::::::::::::::::::::::::::::::::::::::::::::::::::::::::::::::::::::::::::
Listen
Riverhead – Was Away