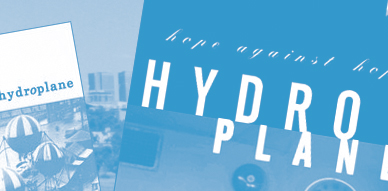 Thanks much to Andrew Withycombe for the interview! (and Bart Cummings for getting me in touch with Andrew!) Hydroplane was a fantastic band from the 90s. It consisted of the same members of The Cat's Miaow and they were around the same time. They sounded different and did continue making music after The Cat's Miaow's demise. They had releases in great labels as Wurlitzer Jukebox and Elefant and well, it's time to remember them. Enjoy!
++ Hi! How are things in Melbourne? Any exciting plans for summer?
Melbourne's good. No big plans for the summer – mostly household chores, gardening and wrangling children.
++ It's been 10 years since the last release of Hydroplane. What have you been up to since then? Will there be more Hydroplane songs some day?
I guess the rest of our lives got in the way – family, study, career, etc. I've played in other bands during that time. Huon and Driving Past, two other bands I've played with over the years, have released albums in the last couple of years. Hydroplane has a couple of unreleased songs coming out on a label called Fox Pop in the USA sometime soon. However, there are no plans to do any more recording with Hydroplane.
++ So the first question I ask myself is, why start a new band if you all were already in The Cat's Miaow? What was the idea behind this band? Because there was an idea, right?
I'm not sure. I think psychologically it felt right at the time. It's hard to explain really. Both bands were the same people. Musically either band could have played most of the songs. However, the writing and recording process for Hydroplane was a bit different.
Hydroplane was originally supposed to only release one record, which was a collage of song snippets and sound pieces. I think I felt there were enough ideas in that record to expand into an album. Drive-In Records, who put out the single, were into doing an album, so we did. I guess by doing that, I may have inadvertently broke-up the Cat's Miaow. In hindsight, I think stopping then gave the Cat's Miaow an evergreen quality, which I don't think we would have maintained had we kept going. Also, it enabled us to neatly package nearly everything the Cat's Miaow recorded on two CDs!
++ And why the name Hydroplane?
Hydroplane was one of the names Dean Wareham, from Galaxie 500, considered calling Luna before he settled on Luna. Seeing he wasn't going to use it, we thought that we might as well.

++ Back then what's your favourite place to hang out in Melbourne? And were there any other bands in town that you enjoyed?
I've seen so many bands over the years, and in so many venues, it's hard to say. I think back then we were hanging out a lot at the Empress and the Rob Roy – two pubs in Fitzroy, and the Tote – in Collingwood, which are in inner city Melbourne. I can't remember who was doing it for me. I know I used to see the Steinbecks, Sleepy Township and Long Weekend a lot. And I really liked Seaworthy, from Sydney.
++ How different was the recording process of Hydroplane compared to The Cat's Miaow? And what about the creative process?
The Cat's Miaow mostly followed the standard process of writing, learning and recording. Whereas, a lot of Hydroplane songs started as loops or drones, which were used to create a groove and inspire a melody and so on. I'd been doing stuff with tape loops and samplers since the late 1980s, when I got my first 4 track recorder. We did do a bit of looping with the Cat's Miaow. However, I think hearing the first DJ Shadow album gave us the necessary inspiration to carry on.
++ And this is just my curiosity, how many instruments can you play? And how many do you own?
Not many and not very well. I have a couple of electric guitars, a synth, a couple of toy keyboards and numerous gadgets. I did have more but have either lost them, sold them or given them away.
++ During the time as Hydroplane, both Wurlitzer Jukebox and Drive-In, labels that helped and supported The Cat's Miaow, were releasing your records. I've already asked Bart about the relationship with them and The Cat's Miaow, but I'd love to hear your take on it Andrew. How important and how helpful was the relationship with these labels?
I can't speak highly enough of those labels. Keith from Wurlitzer Jukebox and Mike and Jamie from Drive-In are the nicest people you could meet – great to hang out with, creative, supportive and a little crazy. Crazy I mean in a good way. For example, when Keith suggested doing a split flexi with Stereolab we thought he was crazy, but it showed how genuinely he felt about us and what we were doing. Mike was the same, always ready to try something new. Hydroplane would not have existed without Mike. The original idea for Hydroplane came out of a conversation I had with Mike late one night while we were watching a film about the Ventures, a surf instrumental band from the USA, from the 1960s, on tour in Japan. The photo on the first Hydroplane single is an image taken from that film – it's supposed to be the mysterious "Hydroplane". Ultimately, if the Cat's Miaow, et al ever had a profile, it's mostly because of those guys. However, I should also mention Clint Barnes from 4 Letter Words, and Tim Adams from Ajax Records – Tim used to sell our cassettes back before we started releasing records.
++ And another question where I'd love to know your opinion is, why the hell didn't Australian labels pick you up?
We never really tried to do anything with an Australian label. Our business model wasn't really suited to what was going on here at the time – we rarely played, we recorded at home, were 'Lo-Fi', etc. Anyway, we were internationalists. We were inspired by the K Records International Pop Underground.
++ And it's not like you were very obscure or anything, you were once in the Festive 50 of John Peel no less! So I find it odd. But yeah, how was that? Being in the Festive 50? How did you find out you were featured? And what was your reaction?
I think it was either Keith from Wurlitzer Jukebox or Mike from Drive-In who told us that we were in the festive 50. At the time John Peel was featuring a lot of stuff that Wurlitzer Jukebox was releasing. However, I don't think being in John Peel's festive 50 made us any more popular or transformed into more sales. It was exciting and did seem prestigious, but I think it was only something that really mattered to a few die hard indie music followers. The festive 50 has probably taken on legend status, particularly since John Peel died. So it probably makes us seem bigger than we actually were. Nonetheless, it's definitely a highlight probably only matched by the Cat's Miaow's first Drive-In single going top ten in Rolling Stone magazine's alternate chart back in the early nineties.
++ Was that your biggest highlight? What other highlights would you say happened during the run with Hydroplane?
As far as media recognition, and getting a bit of air play on BBC Radio One, the festive 50 was a big highlight. But as much as it sounds a bit clichéd, I think just being able to keep putting out records for as long as we did was a highlight, as well as getting to know some really great people.
++ And did you play any gigs at all?
We played a few parties. Playing live was never a priority; but it was nice to occasionally play for friends. For example, when Keith Jenkins came to Australia, he requested we play. I hired a room at The Tote in Collingwood and organised a show. Hydroplane played, off course; Huon played its first show; and I think from memory Upstairs was the other band.
++ You released two 7″s on three labels I know nothing at all. So I was wondering if you could tell me a bit about them and how did you end up releasing with them, "Liquefaction Empire", "Bad Jazz" and "Little Prints"?
Liquefaction Empire and Bad Jazz were labels based in the UK. They were run by two brothers. They were big fans of Wurlitzer Jukebox. I think that's how we came to work with them. Bad Jazz also did some co-releases with Drive-In. The second Hydroplane album came out on CD in the USA on Drive-In and LP on Bad Jazz in the UK. Little Prints was an off shoot of Drive-In. It might have been like a 7 inch singles club or something. I think it only released one or two singles.
++ And what about the release on Elefant? They are quite a big label these days and I believe in the late 90s they were already making themselves a name. How was that experience? Ever been to Spain by the way?
Elefant was great to work with – very professional. I think that release was part of a seven inch singles club as well. I don't know how we came to do that single – possibly because of the "success" of the single with Wurlitzer Jukebox.
++ You wanted to release just one 7″ when you started. But then you released many records. How come did the band evolve to be so prolific?
At the time we lived and breathed music – apart from going to work, our lives seemed to basically revolve around just seeing bands, playing in bands and recording and releasing records. So if it wasn't Hydroplane, it would've been another band.
++ Many singles, and three albums. Do you have a favourite song of yours?
Nothing in particular – maybe 'Stars' from the second album or 'Song for the Meek' from the first album.
++ You have songs called "International Exiles" and "We Crossed The Atlantic". It seems there's a longing to be abroad, am I wrong? What are the countries that you've liked the most? And have any of them inspired you for making songs?
No, no really longing to be abroad. To be honest, a lot of Hydroplane songs are about being in Australia. Nonetheless, some songs are about overseas. The songs that do mention overseas locations are usually about us being there. For example Bart wrote "Wurlitzer Jukebox" after we were in the UK. We were visiting Keith from Wurlitzer Jukebox during some un-seasonally cold weather. There was a lot of snow and we literally froze. "We crossed the Atlantic" is a cover. It was originally recorded in the 1960s by an Australian singer songwriter called Pip Proud. I liked the song, so we covered it. "International Exiles" is about the Cat's Miaow. Basically, it's a celebration of our international success!
++ And the title for that album of yours, "Hope Against Hope", it always made me think what did you mean by it. Care to unveil that mystery for me? 🙂
Bart titled that album, you'll have to ask him.
++ What about covers? You made a couple? Even one from The Cat's Miaow! If I ask you today, what cover would you like to do that you never got around doing?
We did record a few covers. I don't think there where any songs that we wanted to cover that we never got around to recording. We didn't keep a list of songs we wanted to record – choosing them tended to be more organic.
++ And what about the artwork for your releases? Where do all those great photographs came from?
Some we borrowed. Steve Crushworthy, who did the design for the second album, as well as some of the Cat's Miaow sleeves, took some. And the rest, we took ourselves.
++ On the Munch video compilation you contributed with a video for "Completed Extract From The Previous 7″"…
I'd forgotten about that video. I think it's footage of us playing at a party in Dave Harris's backyard. Dave was the guy behind the Munch video compilations.
++ So when and why did you decide to stop? What did you do after?
I don't think there ever was a conscious decision to just stop. It was just a case of other interests and commitments taking a higher priority and making it harder to write and to get together. Moreover, geographically we started to spread out a bit. Although, I guess if we decided to get back together, we could do it via a wiki or email or something, on our tablet computers.
++ And aside music, what other hobbies or interests do you have?
I have two children who seem to take up a lot of my spare time. Other interests include gardening, tending poultry, home maintenance, and home brewing – mostly beer, occasionally ginger beer.
++ Thanks so much Andrew, I do have one last question. What about flying in a hydroplane? Ever been on one? 😉
Unfortunately, no.
::::::::::::::::::::::::::::::::::::::::::::::::::::::::::::::::::::::::::::::::::::::::::::::