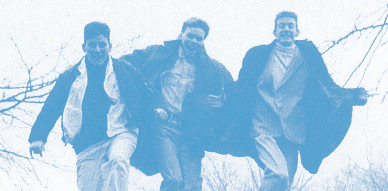 Thanks a thousand to Patrick O'Sullivan for the interview! I wrote about the Irish band So She Said knowing very little a few weeks ago. Somehow Patrick got in touch with me through Twitter and the rest is history. Now at last I learn a bit of the story of the Dublin band that even though didn't release a proper record released a few songs on compilations. And how good those songs are! If you haven't heard them before, it is now a good time to discover them!
++ Thanks so much Patrick for the interview! How are you doing? How was the summer? When was the last time you picked up your guitar?
Hello Roque
I'm fine, thank you. The summer was a bit weird – personal stuff – but life is good and I'm enjoying it!
I last picked up my guitar yesterday. I'm writing a song at the moment and I love to pick up the guitar and see how the song has progressed since I last played it. It's coming along grand.
++ Let's start from the beginning, what are your first musical memories? What sort of music was heard at home while growing up? What was your first instrument?
First memories…my mother had been a professional singer before she got married so there was always music in the house. I was listening to Andy Williams and Johnny Cash as a young child (and I thought it was great that they enjoyed a surge of popularity years later when I was an adult). When I was 8 we lived in Zambia for a while and I had two cassettes with me – Jim Reeves and Johnny Cash. I got to know every moment of those records. Sometimes we would go to a cabaret in the Intercontinental Hotel in Lusaka and my sisters and I would sing (separately, not together). I remember singing 'A Boy Named Sue', 'Bimbo' and others. I thought I was very clever for interchanging words from the songs with the local parlance, so "dollars" became "kwacha", etc.
But my first 'wow' moment was probably when I was about 13 and heard The Beatles and it blew my world apart. I knew then I had to be in a band. Shortly afterwards I was playing out on the road and my next-door neighbour was playing The Kinks in his house and I was mesmerised – the guitar sound and beat and voice – it was like stepping into a totally new world where the rules were all different.
My first and only instrument was the guitar. After that Beatles introduction I bought a guitar off some chap from school for something like £4. It was an awful thing. But I started to teach myself and practice with a friend on the road. I got some lessons but I was mainly self-taught.
++ Before So She Said there was The Delegates. Care telling me a bit about this band? Any recordings? What was the lineup? How did you sound?
The Delegates was more an idea than a real band. I had written a couple of songs and was playing guitar with my friend. Then at 17 my father got me a summer job in Vienna and I was away from my friends and my girlfriend. So I wrote lots of letters and set up a fan club for the band that didn't really exist. We even got written about in some music fanzine! We did have a couple of public performances – at my sister's wedding and another time in our old school. I got back to Dublin and started writing more and more songs and then I formed So She Said with Anto Healy and Brian King. And now I was in a real band!
++ Aside from So She Said and The Delegates, had you been involved with any other bands?
No. Although I've been recording some of my songs in recent times with a variety of musicians and for the moment I am calling that loose collective The Stuts.
++ How was Dublin back then? What were your usual hangouts? Your favourite venues to go see bands? Were there any like-minded bands that you were friends with?
Dublin was home and it was great. But when I look back on it the city was extremely quiet compared to nowadays. I grew up on Cedarwood Road, the same road as Bono, Gavin Friday, and Gugi. Bono obviously was in U2, while Gavin Friday and Guggi were in The Virgin Prunes. Around the corner, Alan Downey was in Aslan. It was amazing really 'cause this was just one road on Dublin's northside. There were bands everywhere. There were three or four bands among my friends. I don't recall too much about Bono but I clearly remember seeing Fionan Hanvey (Gavin Friday) walk up the road in a dress and I was … amazed! And to me Derek Rowan (Guggi) and his brothers were the long-haired lads near the shops with the motorbikes. But they always seemed friendly!
The place I remember most about going to see bands was The Baggot Inn. That was quite a legendary venue on the Dublin circuit. And the band of the moment was The Blades. Watching them live in The Baggot was an experience. But you were brought back to earth by the rush for the last bus from O'Connell Street, which was more than a mile away and left at 11.30pm sharp (the idea of a taxi didn't even enter our heads).
++ How did the band start? How did you all know each other?
I can't remember exactly how it started but I know that I was completely intent on starting a band. I met Anto through my girlfriend and we got on well.
About the same time, some mod bloke from the club we used to frequent (Bubbles) decided to try starting a band; the result was a room full of people, mostly standing around looking at us, in a rehearsal studio called Furlongs on Capel Street in Dublin. I can't remember how I came to be there ('cause I didn't know these people) but I was there and so was Anto. He played guitar, but at some point in the session he was messing on the drum kit, playing 'Down In The Tube Station At Midnight' by The Jam. I was impressed and asked him to join my non-existent band as drummer, despite the fact that he had no kit and could just about play.
I think I then persuaded one of my school friends, Brian King, to play bass. Anto got us cheap rehearsal space above Walton's, the famous music shop in Dublin, and we were off.
++ Why the name So She Said? What's the story behind it?
It was the title of one of our songs. I suggested it to the lads one Saturday afternoon after band practice, in a pub on Parnell Street called The Ivy Rooms.
++ And what would you say were the influences in the band?
Initially Anto and I had similar influences I would say – The Jam, The Beatles, Style Council, The Blades, a lot of 60s RnB. Brian's taste was probably funkier but he also liked heavy rock and metal. I got more into bands like Prefab Sprout, The Smiths and Elvis Costello as I began to write more.
++ How was the creative process for the band?
I wrote the songs. I brought them into the rehearsal room and played them for the other two. I was probably a bit of a control freak about the arrangements as well.
++ Two songs of yours, "So Happy" and "Let Me Out" appeared on the compilation "Swimming Out of the Pool" on the Danceline label. How did you end up there? Were you familiar the rest of the bands on the compilation?
I think that was organised by two music aficionados who were well known on the Dublin music scene – Pete The Roz and Steady Eddie! They just asked me if we'd like to go on the record. We were gigging around town at the time and had probably been in a newspaper or two.
I think I knew a couple of the bands. I think I knew The Outpatients, just from playing the same venues.
++ And what do you remember from the recording session for those songs?
I remember the excitement of going to the studio on a Sunday morning in March. I remember being very impressed with the fact that the sound engineer had worked on U2's albums. I remember him getting us to play acoustic guitar under the electric guitar and thinking that was very clever.
++ "At Home in June" was a song that won the Hot Press/Murphy's song of the month in 1989. What did that mean? What was the prize?
I'm not quire sure of the sequencing but I remember Hot Press beginning to take an interest in what we were doing. Hot Press was the only music magazine in Ireland and was read by every musician and fan so it was great to have them on your side. I remember the general manager of Hot Press, Jackie Hayden, coming to the studio to sit in on the session when we were mixing 'At Home In June'. I know the prize included some art work by the Hot Press graphics designer for our record/cassette. Arthur Matthews was the designer from Hot Press. He later went on to find fame and fortune as the co-writer of the comedy series Father Ted. We may have been interviewed by the magazine. I really can't remember what else we got apart from the publicity.
++ Those are the 3 recordings of yours I know. Were there any more? Maybe some demo tapes?
Yeah there were a few more demos but I wasn't very happy with them. In fact one of them – 'Lost And Found' – is one of my favourite songs from the era but I really wasn't happy with what happened to it in the studio. I think I'll rerecord it some day.
++ I really like those 3 songs, was wondering if perhaps in a sentence or two, you could tell me what they are about?
'So Happy' – being a teenager in Dublin at that time.
'Let Me Out' – An early foray into writing a love song.
'At Home In June' – this song chronicles a sort of mini break down I had. When I listen to it it's like watching a movie of my falling into a ditch and then scraping and crawling to get back out. Something strange happened in the writing of that song, something I hadn't felt up until then. I was losing all control and it terrified me. I was being physically sick – and these words just spewed out of me. The music too…it was different to what I had written before. I'm quite proud of that one!
++ And from your whole repertoire, which would be your favourite song and why?
I think most songwriters will give you a different answer depending on what they most recently worked on. I have a soft spot for 'So Happy' and I think my writing went up a notch with 'At Home In June'. The song I've just recorded recently with Anto pleases me a lot – 'Come And Go'. I wrote a song for my little girl – 'Carry Me'. There's another one 'Eternity'…there are a lot of songs in the repertoire at this stage and thankfully I have a small place in my heart for most of them.
++ Was there any interest from Danceline to release you? What about other labels? I find it strange that you didn't get to release a proper record!
I don't know if Danceline were into releasing bands on their own. I think they were just there to give bands some exposure. No, there was no activity from other labels. I think there may have been an enquiry from a publishing company at one stage but nothing that ever went anywhere. I suppose the fact that there were so many bands in Dublin at the time meant it was hard to really stand out. I don't know. But also, we broke up right after we had made a bit of a breakthrough with Hot Press – song of the month – finalists in the national band of the year, etc. In hindsight that wasn't a clever move!
++ What about gigs? Did you play many? What were your favourites?
We played a lot of gigs, mostly in Dublin. We seemed to revolve between three venues in particular – The Baggot Inn, The Underground and The Earl Grattan. But we played everywhere we could. I loved the residencies we had in those venues. But there were two gigs that really stand out in my memory – both in Dublin City University (DCU).
The first was RAG week when basically lots of events are planned and all the students party for the week. We were due to play at lunchtime, open air, outside the canteen. We set up and started and all the cool students were standing around and there was a bit of toe tapping going on. And then it started to snow. And my girlfriend and manager (now my wife) and a friend of ours started to dance. And then a few others joined them…and the snow came down heavier. More and more people started dancing and the snow fell down and the buzz grew and eventually they had to stop the gig 'cause it was getting dangerous with the snow and none of the audience, which had grown considerably by now, wanted it to stop.
The second was in a lecture theatre the night DCU was granted university status. We came on and I strummed the first chord and the place erupted. That was a pretty special gig.
++ Were there any bad gigs? Or any fun anecdotes you could share?
Some student threw sandwiches at us in another college one time 'cause we wouldn't play Bohemian Rhapsody! Our roadie threw them straight back. It could have got interesting but instead it was very civilised (it was a teacher training college).
There was one 24 hour period that sums up the highs and lows in an interesting way: we played in Sir Henry's in Cork as part of the Hot Press Band of the Year gig. It was really cool to play in such a well known venue outside of Dublin and we had a ball – partying afterwards, etc. I don't remember getting to bed or even where we stayed but I do know that very early the next morning I flew back to Dublin and got a taxi directly from the airport to sit my college exams. And when I got there the exam hall was empty – I was in the wrong place! I made it to the exam eventually but don't think I did terribly well!!
++ Did you get much attention from the music press or the radio?
As I said, Hot Press were on to us and we were interviewed in one of the national Sunday papers and had some other bits and pieces in the press. We were played on national radio a little bit.
Actually, you've just reminded me, 'So Happy' was played on the radio recently – the national station was having some vinyl slot on one of the talk programmes and my wife was a guest with that Danceline record under her arm! And a local radio station on Dublin's northside interviewed me a while back – the subject of that conversation was my playwrighting but they also played 'So Happy' and two other songs of mine ('Eternity' and 'Kids Can Crawl').
++ When and why did you split? What did you do afterwards? Did you continue making music?
We split in 1989 I think. I'm not quite sure of the exact date – probably at the end of the summer of 1989. Just after we were beginning to get attention!
I recall this row erupting out of nowhere and suddenly the band was no more. Basically Anto was unhappy. There was a lot going on in his life but at the time I didn't understand it. To be honest I think I was shocked or traumatised or something. I stopped writing songs for a few years. Well, except for one children's song I wrote for a pantomime (which starred the girls who went on to form the girl band B*Witched – they were very young at the time but really liked the song and asked me all about it a few times – it was called 'Two Friends').
I was having a pint with Anto recently and we got talking about the split and it turns out that there was a lot of stuff going on for him at the time that I wasn't aware of – personal stuff – and it came to the surface and was the chief cause of the band splitting. But that's life. Our recent chat was very therapeutic. We're recording music together again and it's great.
++ And today, what are you up to? Are you all still in touch? Speaking of which, I found a Soundcloud for Anto Healy's project Cabin, is that the same Anto?
I am writing songs and am recording with Anto again. He has a recording studio and is an excellent musician. I am also writing plays and had a short play tour nationally last year. I've been mentored by Fishamble Theatre Company which is Ireland's new playwrighting company. Through my playwrighting I have been approached by one or two film directors and am currently writing a feature film with a really talented director/actor TJ O'Grady Peyton. I am also working on a short film adaptation of my play Fairview's Finest Dancer with director Keith Farrell. Another short screenplay of mine is due to be produced this coming winter in Dublin. So creatively I'm busy and happy.
Yes that Soundcloud Cabin link is indeed by the same Anto Healy!
And yes I still see Brian as well – in fact I was just out with him tonight for a pint. We were trying to get tickets fro the All-Ireland Football Final this Sunday (go on the Dubs!!). Brian got one, I didn't!
++ Aside from music, any other hobbies you have?
Aside from all the creative stuff I love traveling with my family (back to Vietnam for the sixth or seventh time next summer), I've walked across Ireland with my dad and other members of the wider family, and I follow the Dubs (Gaelic football and hurling)!
++ Looking back in time, what would you say was the highlight of being in So She Said?
Filling dancefloors.
Sitting back the first time we recorded in a studio (which happened to be 'So Happy') and thinking "Wow".
Sitting back listening to 'At Home in June' and thinking "Wow".
++ Are you still based in Dublin? Has it changed much since then? What would you recommend doing, seeing, eating, drinking, if one was to visit your city?
Yes I'm still in Dublin. I live in Fairview which is only 2km from the city centre. I love living here. It is unrecognisably more cosmopolitan than when I was growing up on Cedarwood Road. One example that comes to mind when speaking about the band is this: we used to rehearse in Temple Bar Studios and one night I remember going to a quiet little pub around the corner with Anto and Brian after rehearsal to watch a football match. Nowadays Temple Bar Studios is like some sort of music Mecca and the little pub around the corner is the Temple Bar and packed every opening hour with tourists.
But despite that anecdote it is a great place to visit. Things to do: walk the hill of Howth, drink Guinness in a real drinker's pub (not a tourist trap), sit in the back room of The Palace Bar on Fleet Street, go for a hike in the Dublin Mountains, go for drinks, food, music in the Camden Street area, go to a play in the Gate Theatre. And give me a shout and I'll guide you though any or all of the above!
++ Thanks again, anything else you'd like to add?
Pleasure talking to you Roque. I will send you a link to 'Come And Go' very shortly – we're just mixing it at the moment. More info can be found at www.mentalmagpie.com and on Twitter @OSuilleabhainP
::::::::::::::::::::::::::::::::::::::::::::::::::::::::::::::::::::::::::::::::::::::::::::::
Listen
So She Said – So Happy