25
Nov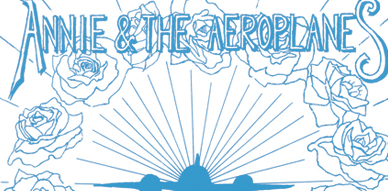 Thanks so much to Annie and Timmy for the great answers!  Some weeks ago I wrote a piece about Annie & The Aeroplanes and that same day Phil Wilson, from June Brides fame, pointed me out to Annie! Then Annie was very kind to be up for this interview! Discover this fantastic band that released one single, but what a single it is!
++ Hi Annie! Thanks so much for the interview! How are you? I hear you are now part of the Magic City Trio. Care to tell me a bit about this band of yours?
Annie: There are three of us in the band, and sometimes four when we play with a drummer. Frank writes most of the songs and I have some input with lyrics and the odd musical idea. Frank is my husband – he says I'm his muse. Its county folk deriving songs from current events. Frank and I play guitars and sing harmonies. Adi plays double bass.
++ How different would you say it is compared to Annie and the Aeroplanes? Have things changed a lot since the late 80s when it comes to the creative process?
Annie: I suppose with Annie and the Aeroplanes we were deriving our style from the more recent past – 60s , punk , etc. and produced original material from the word go   The Magic City Trio looked back to much older sources (1920s and before )and served an apprenticeship learning those songs and their lyrical themes and spent a long time playing (fairly obscure)covers before we were confident enough to write our own songs that would fit with pre war country.
Annie and the Aeroplanes songs were mostly written by Timmy Nuttal who was the drummer. He was my boyfriend at the time. The songs would spring from his head almost fully formed. He had a real clear idea of how they should sound, from the harmonies to the guitar solos. I wrote some lyrics, and wrote a few of the songs but Timmy's were really special.   I suppose I was his muse too!   Hmm, some sort of pattern emerges……
++ So let's go back in time, when and where did Annie and the Aeroplanes start as a band? Was it your first ever band?
Annie:  No, it wasn't! I started out as a busker in the late 70s. I travelled all over the world – well some of it. That's where some of the lyrics of Travelling Song came from. Having a baby put a spoke in my wheels, so I settled down in Bradford. I got involved in the I in 12 club in Bradford, there was this whole post punk anarcho music scene in West Yorkshire. I started a womens' music collective, it was just wild. I got a grant from the local council and we bought a load of instruments and amps and just made a racket. We didn't care though, we went out as 'Bags of Nerves', later 'Olulu Ololu.' There were about 16 of us! We played all sorts of left field gigs, like a car park in Leeds for the animal rights people. We had to smuggle the drummer out because she was wearing a leopard print mini- skirt. We were on a bill once with The Three Johns – there's books written about that time now. There's one called 'Bradford's Noise of the Valley's' by Gary Cavanagh, Bank House Books.
It all got a bit frenetic and I needed to take care of my daughter. I had gotten together with Timmy – he was a local boy who had been in a London punk band called Brigandage. We were invited to the south of France to be in a country band. First we practiced our country chops in a band we called 'Cowpoke Annie and the Texas Longhorns'. When we went to France we became 'Chien Chaud et les Hot Dogs'.
Timmy: I think we started late 86 or 87 after doing 'Cow Poke Annie' and 'Chien Chaud'.
++ Have you been involved in any other bands?
Annie:  There were a few more. Transylvania Mania springs to mind – eastern European folk, I sang in tongues.
++ Who were the members of the band and what instruments did each of you play?
Annie:  The band was a bit of a family affair – my brother Kuni and Timmy's brother Toby played guitars. The bass player, Mal, had been in the Bradford collective, and my first backing singer was also a Bradford connection. Timmy drummed. On the single we had to get someone else in to play bass – an old friend from Bradford, he was later found dead in the Shipley Canal, a drug deal gone wrong.
++ Who would you say were your influences at that time?
Annie:  I was really into Velvet Underground and Nico, and I loved Blondie.
Timmy: My influences at that time were punk ,country and psychedelia. I felt I wanted the band to sound somewhere between Blondie, early Who, the Ramones. The Beach Boys and Syd's Pink Floyd. We all brought different things to the mix.
++ I really like the single. I think it's a fantastic song! What's the story behind it?
Timmy: The tune of 'Mill Zill' came to me one boring aft at my mum's when I was staying with her shortly before meeting you. You helped me write the words. I think we all felt it was possibly the poppiest and most commercial of our tunes hence pushing it forward as our single plus it was our first song.
++ And what about the B side, "Travelling Song"? How did that one come about?
Timmy: I wrote 'Travelling Song' whilst washing up in our flat in Brixton and in dire need of a piss cause someone was using the toilet. Once again you helped me with the words.
++ About this single, who were behind Pipedream Records?
Timmy: Pipedream records was little Stevie. A friend of Toby's (and ours) who was an A and R man for Virgin Records. It was just for the single. The name and logo came from a packet of pipe gauzes that Stevie had.
++ Who took care of the artwork?
Timmy: I did the artwork. I adapted the design from an Egyptian style Tarot card 'the Magician' which had a bird or star (I can't remember) surrounded by a circle of Roses. I swapped the bird for an aeroplane.
++ Where did you record these songs? What do you remember of the recording session?
It was in Camden – don't remember that much about it, but we got it pressed at Abbey Road, that was something.
Timmy: We recorded the single at Chas Jankle's (of Ian Drury fame) studio without his knowledge using his technician Kiran. All paid for with copious amounts of 'herbal remedies'supplied by us. This was all set up/wangled by Stevie. We had to draft in Ian, an old Bradford muso bass ace because Mal couldn't handle the pressure. He was a terrible junkie and kept disappearing to the toilet. He took ages to lay down a track he was pleased with.
++ And how come there were no more releases by the band?
Annie:  After the single came out Andy Kershaw played it on Radio One, and we got some coverage in the music press there was a flurry of interest in us from the record companies but no one took us up. It got a bit demoralizing.
Timmy: We didn't put out any more 'cause we never got a record deal and we were always pretty broke.
++ Were there any more songs recorded?
Annie:  We made some 8 track recordings some of which still sound good to me, we need to get them digitalized.
++ What about gigs? Did you play many? Any favourites or anecdotes you could share?
Annie:  We played loads of gigs round London, and we usually went down really well. There was one really wild night when Timmy was really pissed and threw up in the middle of a song – he didn't miss a single beat!
Timmy:  I can't think of any anecdotes. Best gig for me was when they shoved us on to the end of the bill on a showcase gig at the George Roby and we totally fucking rocked the place and blew all the other bands away. Also I think I remember the Gallagher brothers telling us they thought we were ace when we supported 'Inspiral Carpets' at the Marquee when they were roadies for fore-mentioned band. Also I remember the downstairs neighbour telling us that she' would rather the whole of South London was nuked than have to listen to us rehearse one more time'. Great times, a bit sad too.
++ During the late 80s there were so many great guitar pop bands, the now called C86 sound. Did you feel part of a scene at the time? Were there any like-minded bands that you liked?
Annie:  Not really. We hung out a fair bit in Bonnington Square in Vauxhall when it was all squats and housing co-ops, loads of musicians and artists, all very alternative.
++ When and why did you decide to call it a day?
Annie:  I think we just ran out of steam rather than any official ending.
Timmy: We called it a day in 89 I think because we'd had enough. We worked our arses off at that band and we came close but we just never broke through. Also at that time other bands appeared doing similar stuff who were younger, prettier, tighter (though not  as good) and with record company backing.
++ What did you all do afterwards? Are you all still in touch?
Annie:  I started a music education charity in Brixton, for women and children. We got loads of money of the Lottery and did a lot of work. Then I got a job teaching at a local Adult Ed college, English and singing.
After Timmy and I split up he went back to live in Bradford. We are still friends and keep in touch.   He still drums in bands, and my brother still plays and sings – he also went to Bradford.
++ And aside from music, what other hobbies do you have Annie?
Annie:  I love reading, watching films and HBO type series. Travelling.
++ Looking back in time, what would you say were the biggest highlight of the band?
Annie:  I loved making the single and was thrilled when it got aired on Radio 1.
++ And do tell, what's coming up now for the Magic City Trio?
Annie:  We're going to bring out some Vinyl next year, defiantly a single and Frank feels ambitious enough to want to bring out a double10 inch LP. Since there's been a revival in Vinyls the waiting list is quite long for small runs.
On our never ending tour of world open mics we hope to play in Portland, Denver and maybe Boston.
++ Anything else you'd like to add?
Annie:  I really should write a book! I haven't even mentioned the 'Loose Livers', musical theatre, salsa dancing and baby music………
::::::::::::::::::::::::::::::::::::::::::::::::::::::::::::::::::::::::::::::::::::::::::::::