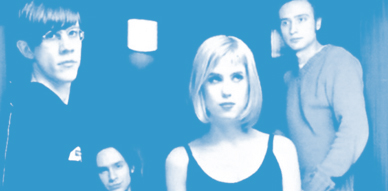 The last few days there's been an interesting debate on the facebook group Indiepop Shop Talk about a post Xanthi wrote on her blog Songs for Girls to Sing. After seeing the results of a survey (that I will go over in a bit), she expressed this:
I've been meaning to put forth this theory for sometime now and this kinda confirmed it (check the ratio of people who have been fans of indie pop music for 20+ years). It's a theory I came up with whilst following what is happening in this indiepop schtik all these years: that in fact, the indiepop scene, community, clique or whatever you want to call it is largely sustained and driven by people who are in their 40+ years.
I agree with this. Will even say that this is a theory but a fact. But let me go step by step so I can explain what's going on.
A week or so ago on the indiepop-list a nice chap by the name of Brian asked the listees if they could participate in a survey he was doing for a research paper. He is studying for his Masters degree in Library Information Science. He said that he was trying to collect data so he could write about the indiepop community, with a focus on how people get exposed to new music these days.
I participated answering the questions. Other 99 people did too. I guess 100 is the limit for the free SurveyMonkey service? It doesn't matter. It's a small number, that is true, but it's significant. How many people are really into indiepop? Arguably some 3000 in the world? So 100 is still not such a small number.
It's from the results, which you can see here, that Xanthi proposes the theory. From the results we see that almost 40% that answered the interview say that they've been fans for 20+ years. This will mean that more or less the big group into indiepop goes from 35 years and older.
This would be no surprise to anyone that attends festivals or gigs. You can see this. I never minded this, but some people get annoyed by it.
90% of the respondents wrote that they support the scene by buying records and going to shows. The remaining percent is a big question mark. I think if tt 10% is not doing this then definitely they are not supporting the scene in any way possible.
Vinyl seems to be the number one format choice. Yes, people love vinyl more than anything, but still CDs sell better.
There are a bunch of interesting results there, though I find the more surprising one the one that says more people use Myspace to find bands. Seriously? Who uses Myspace these days?!
Anyways, on the Indiepop Shop Talk, there are people that have said that this is not true, that express:
"" are making the music as well, starting labels as well, and building scenes as well. The emphasis on "40 yr olds" as those who have expendable income is also a bit meh as I had much more expendable income as a student because I didn't have a mortgage, or other mouths to feed than my own. I could drop money on records and just put off lunch, and I often did."
When I read things like this I wonder if seriously whoever wrote this is actually knowledgeable of the indiepop scene. I wonder what kids this person talks about? Which kids are organizing labels? Or gigs? Or festivals? Perhaps in other scenes this might be true. Maybe there they are proactive and creative and all that. But in the indiepop scene? It's not true. At least not yet.
I won't go into his expendable income argument as it's pretty obvious a 40 year old should, generally speaking, make and live more comfortably than a 20 year old. But let's talk about indiepop. Right?
I agree in one point with this person. The youngsters are making music. But the older guys too. The Orchids are still penning beautiful songs, The Hit Parade too. Then you have The Spook School, young and full of life, or Flowers, making beautiful noise. I think when it comes to music there's a 50/50 thing going on.
There was one post that I really liked and I think sums up what the "kids" are up to:
"I'm also not so sure kids want to be limited in one "scene" these days. Most of the people I know in between 15-20 are way more eclectic than I was at the same age. They're gonna listen to Rihanna, French Films, Thee o sees, Kurt Vile and The Field Mice, but they don't really care about who belongs where. I tend to think they just want to build their private own musical utopia."
This is dead on. And you can also see it when you see gig lineups for many of these younger bands. They just don't mind. They don't want to be part of one scene.
In the end, I think the main idea behind Xanthi's post is that of pointing out that we do need a new generation to step up. I've been writing about this for years now. A new generation that organizes gigs, release records, and bring new ideas to make the scene fresher and more exciting. I think age in the end doesn't matter, but it would be great if this great scene keeps going strong for many years to come.
And yes, I'm under 40. And I don't mind accepting that they are the ones who keep supporting the scene in a way or another. And I'm very thankful to them.
—————————————————-
Charlot may refer to:
+ Charlot, son of Charlemagne in the Matter of France
+ Charlot Byj (died 1983), American artist
+ Charlot Kaské (18th century), Shawnee war chief
+ Jean Charlot (1898–1979) French-Mexican painter and illustrator
+ Charlot, the French, Portuguese, Spanish and Italian name for Charlie Chaplin's character The Tramp
+ Charlot, the name of a high spec Bicycle maker in Paris in the first half of the 20th century
I was looking into some old CDs on my Benno shelves. I have a section just for the slim cardboard CD singles (or albums) that is a bit of a mess. They don't have a spine so it takes forever to find anything.
Among those CDs there's one by the Charlots on Firestation Records. So I played it.
This make me look into their other releases. I was aware for a long time of their other single, a 7″, but I had no idea they had released an album! So now, I have to look into getting it! Anyways, let's go discover this obscure band from the 90s!
Online I found on a Swedish blog a small biography of the band. So let's start there:
Charlots was a Swedish pop band formed in Stockholm in 1994. The members were Per Lindén (Guitars), Love Eklund (Synthesizers), Sofie Sörman (Vocals), Mattias Carlsson (Drums) and Sven Granath (Bass). On their first single Lars Antonsson played drums, and Roger Kallin bass. Love and Sofie were schoolmates at the musician program at Södra Latin's High school, and Sofie was at the same time singing in another band, Ridis, formed by some other schoolmates as a school project. Like many other Swedish pop bands in the 1990s, Charlots released records only in Japan and Germany. Nevertheless, they also climbed the charts in former Yugoslavia.
Today Sofie lives in Paris, where she is involved in various projects, performing and recording music. On her Myspace page she presents mostly jazz music. Love lives in London, and runs mrlove.org – a website about his impressive collection of Depeche Mode records.
A quick visit to Love's page I notice he has been updating his Depeche Mode collection recently. Is he still making music in England? I wonder. Then another visit to Sofie's Myspace. There are a bunch of songs taken from three albums "Hidden Space", "Ripples" and "Defrost". Definitely not indiepop but more into jazzy sounds. Quite nice still! Seems the last update on this Myspace account happened early in 2013.
Let's get back to their records then. Almost 20 years ago. 1995. That's when they released their first 7″ on the fabulous Japanese label Motorway Records (catalog MOTOR 009). There were three songs included, "Even If I Like You" (the sole A side), "Rocky Boy" and "Summertime Affairs". The photo on the sleeve came thanks to Annette Samuelsson. The record was produced, recorded and mixed by J.A. Novak, who was part of Cinnamon (I love this band). And yes, you can see some similarities between both bands. Also it's good to mention that Per participated in some of the Cinnamon releases too!
Their last  release was the one I was talking about, the one on Firestation Records. This one came in 1998 and was one of the first releases on the Berlin-based label (catalog FST 004). This CD included four songs, "Always Someone Else", "Playboy", "Night People" and "The Painter".
In between these two releases, in 1997, their album came out. I had no clue until today that it existed. It was only released in Japan on the L'Appareil Photo label (catalog PHOTO 14). This label also had Japanese releases for Momus, Stereo Total, Saint Etienne and more. It seems you can find a used copy for a fair price on Amazon.
And that's more or less when I lose their track. There's not much more written about them online. And aside from Sofie, I don't know if the rest of the band continued making music. Also would love to know and listen if they had any other musical projects before or during Charlots. Or if they have any unreleased songs? Does anyone know?
::::::::::::::::::::::::::::::::::::::::::::::::::::::::::::::::::::::::::::::::::::::::::::::