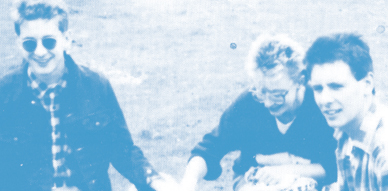 Thanks to Martin Cotter Cotter for the interview!!
++ Hi Martin! How did the Wee Cherubs come together?
I had been in a band called Radio Ghosts, we had been playing & gigging for years and it was becoming stale, so I left. The RG's were a kind of Gang of Four, noisy, angular agit-pop type of bunch, highly original and very guitar-y, but with a fair bit of attitude and much misery – most of it coming from me!
So by the time I left I was ready for something quieter and more subtle, where you could hear actual music, the guitar tones and so on, and where not every second was filled with spiky noise. I also wanted to write melodic but probably less commercial songs; songs that I had in my head but knew were wrong for the RG's. They weren't even all songs – just fragments; but I wanted to let them out and experiment with them.
Christine was my true love at that time, she was playing guitar in a band called Rapid Dance. I can't remember if she quit or if they split, but she started learning to play bass in the new post-RG band. We really were just doing it for fun. I was writing material that would never have been performed by the RG's, and so far as I knew at that time, would never actually go further than just personal enjoyment.
Then we started realising that a few of the songs had – something. We were very friendly with other Glasgow indie bands, notably Apes in Control. Their drummer Graham was one of me & Christine's closest friends, so he was absolutely perfect for us and was happy to split his time between the Apes and ourselves.
So we started rehearsing as a 3-piece, and soon started thinking about playing and recording, as the songs began to develop & mature. The music we were making at that time, I can't stress this enough, was being created entirely in isolation, independent of our contemporaries, and any other "twee" influences.
If you'd known us at that time, you'd know that this was just the way we were. It was never deliberately anything – it was what actually came out. I always felt that bands such as the Pastels, who we never listened to at all, had a deliberate strategy and actively tried to promote their identity. They acted the way they wanted to be perceived; we however were way too stoned, and simple-minded, to even consider that. Certainly I was!
++ Dreaming is indeed one of the greatest pop tunes ever recorded. What was your inspiration to write this tune?
Ocht away you go. No specific event that I can recall. Tunes come from nowhere, and if you're lucky, the words come easily and at the same time. Something you have to force out won't sound as natural. Dreaming was just a nice chord sequence for the chorus, and the lyrics cover an imagined situation where a fellow has been so enraptured by his true love that he doesn't realise she's moving away from him all the time ("I lived for a while in a film, in a dream…."), until when he finally snaps out of it, by which time it's too late ("when I woke up at last….") – she's nicked off with someone else. He's then reminiscing and feeling generally sorry for himself ("a photograph of two happy kids…") and starting to be get pathetic ("I could change but…"). I think at that time in my life, losing love and fear of losing love had more impact on me that being in love.
A song that had a peculiar inspiration was "Painless" (from the Rainforest demo). I had a dream I was watching the Smiths on TV, and when I woke up, I could still remember the tune! so while I still had it in my mind, I grabbed my guitar and worked out the chords, and used the same vocal line that Morrissey had been singing – about being Painless. It turned out to be one of our best songs. I even sent a recording of it to the great man himself, explaining how the song came into being; that we had "stolen" a song I dreamed they had played….and he wrote back on a nice postcard saying "I like it, now what?" And I have to admit, that stumped me.
++ You recorded the Dreaming single on 1983 but it didn't get released till 1984. Why was that?
I honestly can't remember. Probably too dissolute to get things organised any quicker. There was a hell of a lot of blow around then.
++ How many copies of the record were pressed? I have read that only 400. Are you aware of how collectible this single has become? for many it is the holy grail of indiepop!
Well, we pressed 1000. I do hear that it's quite collectable and this makes me quite sad and bereft…
The Cherubs were never 'big', even locally. So a few years after Christine had left and the band split up, I still had boxes of the single left. It never sold much then, because we were much too disorganised and unprofessional to have done anything like arranging any distribution for it – we just recorded it because that seemed like a good idea at the time.
So one day, maybe 5 years after the Cherubs split, I was moving house; and rather than keep lugging around the 10 or so boxes that I still had (each with 25 copies of the Dreaming single), and have to find space for them in my new flat, I took them out and dumped them in a skip.
No wonder I'm sad.
++ What about the Bog A Ten label? Who were they? This was their second release right?
This was Apes in Control's label. They released a single called Funtimes/Joined in the Dance, Dreaming was the second single.
As I said we were very friendly with them and we had captured their drummer, so they kindly invited us to release Dreaming on their label. They were / are very good folks, extremely creative and kind – but not business people really. Or at all, come to that.
Bogaten – if I recall the name came from a Bob Hope/Bing Crobsy road movie, and was also a monster in a later trashy sci-fi film.
Why they thought it was a good name for a record label, God knows. Remember what I said about the blow.
++ I read you also recorded a demo tape called "Rainforest", when was this recorded and which songs does it include?
It was recorded before the session where we did Dreaming, I think, and had 4 songs – Poor Little Lost Soul, Pastures New, Waiting, and (seriously), Theme from an Imaginary Channel Four Documentary (an instrumental).
The name from the last one – as well as being a reference to Sergio Leone's Theme from an Imaginary Western – came about because C4 was just opening and they were actually holding a competition to get some background music for their various logos.
So we put this 'song' together (it was really just a spacey improvisation), but as I recall, and quite typically of us, never quite got it together enough to actually ever enter the competition.
++ Why didn't you release more records? Have you ever thought about compiling all your recordings on one CD?
Money, and the band didn't stay together long enough. We had great fun though and although I would behave differently if I had the chance to do it all again, I wouldn't have missed it for the world.
I've never thought there would be much interest in what we did, so I've never considered doing a compilation. I don't think the master tapes exist any more anyway!
++ Fashion during those early eighties was quite different from the one we came to know post-c86 tape as I can see on the photo on the 7″! What was the usual indie guitar pop kid outfit back then?
Oh for me tartan / antique shirts were de rigeur, I used to get mine from charity shops or from Flip in Queen Street (Glasgow) which at that time was an absolute goldmine for loads of second hand American/foreign stuff. Tartan shirt, maybe a bootlace tie, old suit trousers – all second hand. I do remember I used to have a great pair of leather boots – they were old 1950's skating boots and the skates had been taken off. They took 10 minutes to lace up – they were great!
Christine had her own unique gamine style which again was not driven by any of the poserish, deliberate trends at that time; she, above any of the three of us and above anyone else I knew, was the complete embodiment of vulnerable, slightly hopeless but irresistibly lovable chic that eventually became the "twee" badge of preference. But she'd been like that all her life – it wasn't something she ever 'became'.
++ Being from Scotland I guess you were influenced by the Postcard Records releases, am I right? Did you go to gigs of any of their bands?
We were as I said pretty independent, to the extent of being slightly isolated. I was listening to a huge range of music and I did of course know about Postcard Records, and it was part of the soundtrack to that time for me; I'd have to acknowledge it would have been an influence, stylistically, that would be unavoidable.
But there was no blatant attempt to sound like Aztec Camera or Orange Juice or whoever, much as we liked them. We'd be subliminally absorbing them and it would have shaped some of the nuances of our sound; but then again, our sound was so varied that I don't know that you'd categorise it as being Postcard-like.
If you'd been to any gigs, and if you listen to the two demos and Dreaming, you can pick up a major range of styles and influences, from the Blue Orchids to the Zombies. I don't even think there was such a thing as a Cherubs sound: I have an old video of us playing a gig in Kelvingrove Park in Glasgow, and every single song is musically quite different. The only commonality is that the same three people are making the music.
++ What were the bands that you were listening at the time and influenced the Wee Cherubs?
Everybody!
++ Did the Wee Cherubs gig a lot? Any particular gig that you remember the most?
We gigged a bit, not really a lot. I remember we played a series of Sunday evening gigs at a sort of socialist's social club for a time, these were great, that was where we developed a lot of the songs, and was where I met Tommy Cherry, who eventually I formed the Bachelor Pad with a while after the Cherubs spilt.
We also played a gig (the one mentioned in Kelvingrove Park) where we shared a bill with the Oysters but we played alternate songs; we'd play a song, then the Oysters would play a song (while we stood around and watched!), then we'd play a song and so forth – that puzzled a few people, naturally.
This wasn't actually a gig but when we were starting out, we tried to get extra dates in a pub in Glasgow that loads of influential bands used (the Doune Castle). We already had gigs lined up so we used a different name, and I went to see the manager in disguise. Discussions went OK until I told him that the name of the band was "The Whustlin' Poofs". He didn't like that.
One gig we played in Glasgow where the P.A. company we were friendly with brought their entire range of equipment. Normally we'd hire say the £50 offering, which was more than enough for our needs; but they wanted to see what it would sound like if they hooked up every speaker and amp they had. The loudest gig for the quietest band! It sounded great from on stage, and it looked like Pink Floyd's sound system instead of ours; sadly I'm reliably informed that for the audience it sucked – loud, but bad!
++ Why did the Wee Cherubs call it a day?
Christine moved down to England to answer a long-held belief that she should make shoes for a living. That was the end of our relationship and with it, the end of the band. We did meet up again a couple of years later when she played bass in the Bachelor Pad!
++ Thanks so much Martin, anything else you'd like to add?
Think I've bored you enough!
::::::::::::::::::::::::::::::::::::::::::::::::::::::::::::::::::::::::::::::::::::::::::::::
Listen
Wee Cherubs – Pastures New