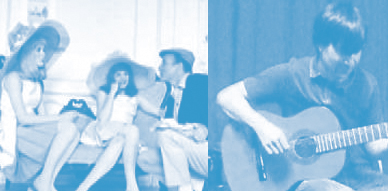 Three posts in a row, Saturday, Sunday, Monday. Two interviews and now featuring new indiepop bands and an old forgotten one. At this pace the Cloudberry Cake book is going to consist of 30 volumes!
Where to start this week? Bandcamp perhaps? Let's do it. Why not start with the explosive Sharesprings from Indonesia? Wow! They have two new songs on Bandcamp, "Trush!" and "Ivory Tower" and I'm hooked immediately! Wow, how can they make such a racket with their anorak-style pop! Ardhi, Putriani, Rusli and Yehezkiel are on it again. Totally recommendable this digital single. Hope to see this on a physical release and not on a tape!
Swimming Tapes hail from London and they have a new EP out on B3 Records. It is a 12″ titled "Soft Sea Blue" with four songs, "When We Can Hide", "Alison", "What's On Your Mind" and "Queen's Parade". I don't know much about the band so I had to check their previous releases which include a digital EP, "Souvenirs EP", and a sold out 7″, "Set the Fire/Souvenirs". The band seems to be playing a bunch of gigs in the coming months at top places like The Lexington and Rough Trade East. What else I know about them? A quick look and I see that they are formed by Robbie Reid, Jason Hawthorne, Louis Price, Paddy Conn and Andrew Evans and they have management.
Speaking of management, I contacted a band last week because I really like their music and of course they directed me to their manager. Maybe in that sense I'm too DIY, I can't work/deal with management. They have such high expectations, and I feel their priorities are wrong (or at least they don't coincide with mine). I understand they want to make the band big, huge, but I feel many times they just create obstacles in the way. I don't know, what is your take on them? For me, in my experience, "trying" to work with someone in the middle, between label and band has always been a hustle. It is like I give a message, then it goes through the manager filter and ends up in the band many times with the message distorted. And it is the same way back. In the years running my label I must admit I have avoided bands with management 100% of the times.
That said, I still love the the music and the bands. Moving on, I continue digging for new sounds and find out about a Phoenix, Arizona, dreampop band called Citrus Clouds. Their last release, "Ultra Sound", has 7 songs and seems to be only available for streaming. Actually, only two songs you can play, "Ocean Eyes" and the worthy "Life Happens". The band has been around for some years now, they started in 2014 and they are formed by Erick Pineda, Stacie Huttleston and Angelica Pedrego. Ah! Always nice to see Spanish last names playing indiepop, makes me terribly happy. Oh! and all their previous releases are all streamable.
Unhappybirthday from Germany do sound good. I only discovered them and I see a bunch of my friends are already fans on Facebook. Always late, always late. I'm now listening to their album "Kraken" and it is quite a surprise. There are 7 songs but originally it was released as a 5-track EP on Night-People Records in 2013. This 7 song release is actually out on vinyl, on a 12″ by Wave Tension Records. Now, will there be copies still when I can order it when I move? I feel I'm going to be so poor when I'm at my new place with the many records I need to buy!! I'll keep my fingers crossed. Maybe I shouldn't recommend any music so no one of you buys the records before I do?!
Justine Never Knew the Rules is a new band for me as well. They are from Sao Paulo in Brazil and they play some noisy pop. Their latest song is titled "Polar Bear (Hibernation Song)" and is actually great. They seem to have been around for some time, their first release uploaded to Bandcamp is a demo dating from 2013. I should explore the rest of their discography when I have some time, definitely. The band seems to be formed by four friends, Marcel Marques, Maurício Barros, Bruno Fontes and Gabriel Wittemburg. And they are signed to the most important Brazilian label probably? Midsummer Madness.
Even as We Speak, please please don't sell out your record until I move in two weeks so I can order it. They are promoting the "Black Forest" EP now with a video for the song "Clouds" and it feels timeless. Like if the band never stopped playing. And that's not all, the band is playing gigs and all. Will they come back to New York? Last year was magic. I hope they do. This record is not to be missed by anyone, me says.
———————————————————-
So we take a plane now from Changi Airport in Singapore and land at Ezeiza International Airport in Buenos Aires, Argentina, to continue our indiepop world tour.
It must have been around 2005 or 2006 that I heard of Lu for the first time on Myspace. Those were really good years for indiepop, Myspace became one a great tool for finding and connecting with bands (and then releasing them too!).
At that time I was still running Mira el Péndulo, an indiepop blog written in Spanish. We covered bands from all over the world but I always tried to find good indiepop from Latin America and Spain. That was the audience, and also I thought if we introduced these bands to them maybe, just maybe, they will get influenced, inspired, and start their own indiepop bands. I hoped for that.
I can't recall exactly how I discovered Lu. By chance probably. A lot of times you'd just check out the friends of bands you liked and that way you'd find similar bands. I think it must have been that way. I stumbled on Lu's Myspace and found two songs that were part of their demo: "Los Poderes de Sandra" and "Los Pulmones de las Nubes".
I remember loving "Los Poderes de Sandra" very much at that time, and I didn't waste any time to write about them on my blog. I had no clue who was behind these songs, or if there were any more songs. It was a mystery. Today I can't recall clearly how "Los Pulmones de las Nubes" sounded like. I think it was an instrumental but I'm not sure. As usual the song doesn't play on the old, forgotten, Myspace. Actually none of the two songs stream there.
I think that it was thanks to the blog that I got in touch with the person behind the band, Ignacio Aguiló. I believe this was a solo project, kind of a side project to his band Hacia Dos Veranos. This was a proper band, with releases and all. They were an instrumental band but you could see on their jangly tracks many nods to indiepop. They even covered an instrumental of Brittle Stars. But as you know, when it comes to me, I can enjoy a bit some instrumentals, but generally speaking it doesn't connect with me. I need lyrics. So I was never into them. But it wasn't a surprise that both bands had Ignacio, you could tell he had a good music palette.
When in touch I think I remember him telling me he had many more Lu songs, that he was going to send them to me for a possible release at Plastilina. That would have been nice. We wanted to support indiepop in Latin America and here was a brilliant sounding band. I never received those tracks and with time we lost touch. I believe Ignacio is now living in the UK and I'm not sure if he is involved with any bands there. He should.
I believe the only proper appearance of Lu was on a CDR titled "Granada 2". This was a compilation released by Molecula Records in Mexico in the mid 2000s (I couldn't find the year). On this compilation the band appears with "Los Poderes de Sandra". I see some other good bands in this compilation like the Spanish Linda Guilala or Nobel.
The band didn't make a splash and was quickly forgotten. I couldn't find any information on the web if they ever played live in Buenos Aires. I lost touch with Ignacio long time ago, he was one of the people who say that Facebook is for close friends only, and so I don't know more about his music. A shame really as I really loved what he was doing with Lu and I always hoped to hear more songs, at least an EP worth of songs. There had been indiepop bands in Argentina but it is hard to find one with the sort of preciousness and fragility that Lu had. In any case, I leave this post for posterity, to make sure people know this beauty of a song existed.
What other Argentinean indiepop bands do you like?
::::::::::::::::::::::::::::::::::::::::::::::::::::::::::::::::::::::::::::::::::::::::::::::
Listen
Lu – Los Poderes de Sandra