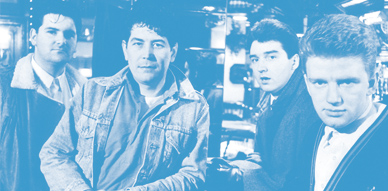 Thanks so much to John O'Sullivan for the interview! Back in October I wrote a bit about Public Address on the blog and John was kind enough to get in touch. He was also up for answering some questions and sharing the story of his band! You'll find the answers right below! Now sit back, grab a beer, and enjoy the read!
++ Hi John! Thanks so much for being up for this interview! Tell me are you still making music?
Hello Roque, you're more than welcome, and thank you for asking me. Yes, I still write and play music, but only for my own pleasure nowadays, the fire in the belly to play live has left me. In fact, I've only played live on one occasion in the last twenty-five years when myself and Glenn (the bass player from Public Address) did a set of covers, including an old PA track, Goodbye From Her, at his wedding reception in Edinburgh in 2011. I still love the songwriting process, even without an outlet for it nowadays.
++ And still living in Worksop? What were the places you used to hang out? Has it changed much since they heyday of Public Address? Are there any sights worth checking out in town?
Yes, I still live in Worksop, although that will be changing soon. Back in the 80s there were quite a few venues were live music flourished in Worksop. The Frog & Nightgown and The Old Ship Inn are two that spring to mind. It was at The Old Ship that we stole our drummer, Derron, from his then current band (their name escapes me, sorry). We used to rehearse at a few places in town, a room above The Queens Head was used a few times, but our main room was at The Regal Cinema on Carlton Road, across from The Frog, which was our post-rehearsal watering hole of choice. Worksop has changed a lot these past thirty years and I rarely venture into town to socialise to be honest. I live on the doorstep of Sherwood Forest (Robin Hood and all that) with lots of fantastic countryside surrounding the town, so I enjoy going for walks in the area. Clumber Park is a large National Trust property on the edge of Worksop which is well worth a visit.
++ Where there any other good bands in the area that you liked?
There were some great bands in and around Worksop, but I can't remember any of their names, sorry. How bad is that? Worksop is only a short drive from Sheffield which was producing lots of great bands in the early 80s, including Heaven 17 and The Human League. I have a vague memory of drinking (that's why it's vague) in The Frog with Phil Oakey on one occasion. But I may have dreamt it.
++ How did the band start? How did you all meet?
Me and Glenn knew each other all the way through our schooldays, and it was our love of The Beatles that got us into music and the idea of forming a band. We started writing songs when we were 13/14 years old – terrible songs! – but as we got older we got better. Well, I hope we did anyway. I still have cassettes of our early efforts, some of which I've put on MP3, which get an airing once in a blue moon. It was through Glenn that I met Stuart, our lead guitarist, as they both worked together. He had played in bands in Manchester in the late 70s/early 80s, supporting the likes of Joy Division and New Order, and was the driving force in getting the band to be more professional. Stuart and I eventually worked together as arrangers on the songs, and his lead guitar riffs were an essential part of our sound. Derron, as I mentioned earlier, was poached from another local band and was, together with Glenn on bass, part of a great rhythm team that kept us tight when we played live. Glenn was actually the lead singer and I was the bass player when the band first started, but we swapped over when I got told early on "You write the bloody songs, so you can bloody sing them.", except the word bloody wasn't actually used. I have an average voice and was never fully comfortable in the front-man-wiggles-his-bum role, but once I'd taken my glasses off – which made the audience a total blur – and got the first line of the opening song out I would relax into it. It still didn't stop me screaming instead of singing occasionally (check out She Don't Remember on ReverbNation!)
++ And was Public Address your first band adventure?
No, me and Glenn were in another band in 83/84 called Wine By The Glass. We played acoustic covers and we were less than average! It was the experience of that band breaking up that inspired some of the lyrics in James Dean.
++ Where does the name of the band come from?
I honestly can't remember who came up with the name, but I do remember that we didn't want to be 'The" anything. It was probably Stuart, but I can't say for certain.
++ Who and what would you say were the main influences of the band?
The Beatles were a massive influence for both me and Glenn. They still are for me. Their output was amazing, and their growth as songwriters and performers in such a short period of time was phenomenal. But my big influences at the time of the band were The Smiths and Prefab Sprout. The triumvirate of Morrissey/Marr and McAloon created amazing songs with incredible melodies and superb lyrics. I tried to – and still try to – write with that attitude, making the words and tunes work independently of each other, which I hope I sometimes achieved. Not always, I admit, but I gave it a good go. Derron was a massive New Order fan, but I can't remember who influenced Stuart.
++ Tell me a bit about The Fabled Stable Records. Was it your own label? How did that work out?
It was our own label but it never really existed, hence the use of the word Fabled. I also really liked how the words 'Fabled Stable Record Label' sounded when said together so I pushed for that as the label name. It was just an exercise in me being a smart-arse to be honest, and the rest of the band let me get away with it. The publishing company 'Remember This (Music)' was also fictional. The crazy idea was that we'd eventually have numerous Remember This outlets. Just a bit of fun really.
++ You released one 7″ as far as I know, right? Both songs are top-notch! Can you tell me the story behind these songs?
Thank you for the compliment, Roque.
James Dean, as was the case with most of my songs, was about me or things that I'd seen/experienced. I rarely wrote third-party story songs, and James Dean was a definite first person song. I actually was 21 when I wrote it, and I really was still a child, as the lyric states. The line "leave the house to shouts of Dumb and Immature" related to the break-up of WBTG. We didn't plan the sacking of the singer very well, so badly in fact that the day after the event we realised that all our gear was still at her house. I recall making a hasty exit, carry guitars and amps under my arms with mic stands flying around my head! Dumb and Immature were two of the milder expressions used that day. 'The group of chords that raised a smile, I haven't found one for quite a while.", was self-deprecating and ironic as I had found one for the song itself.
Heart Ache was a group effort insofar as it began as a jam during a rehearsal session. Stuart and I then arranged the rough ideas into song form, and Glenn and Derron got busy with their rhythm parts. When it was taken into the studio it was a reserve song as we intended recording another track as the B side, and the lyrics were very much in a basic state. However, that intended B side song – which I now can't remember at all – became a dog to record and we decided to go with Heart Ache. So while the others got on with their parts I quickly finished the lyrics. They're not great to be honest, just words to go with the groove, but by the end of the session we were happy with what we'd produced. I actually wanted it as the A side but I was outvoted.
++ And how do you remember the recording session?
We used the same studio, Input in Sheffield, where we'd made the demos of Goodbye From Her and Can You Hear Me Now? back in April '86. They'd been engineered and produced by Nick Wild and he did a brilliant job so we used him again for these sessions, although we decided to self produce. I do remember I had trouble singing the first few lines of James Dean in tune – no surprise there – and the finished item was a couple of takes expertly weaved together by Nick. We brought in Mick Ellison, who had previously been in the band for a short time, to play keyboards during the sessions, and he added such a lot to the tracks I was hoping he'd re-join, but he didn't. I always enjoyed our time in the studio. I don't remember much, if any, falling out, though I'm sure there must have been.
++ This record seems to be a bit obscure for some reason! Why do you think that? And how many copies were pressed if you remember?
We had 1,000 copies pressed and self distributed them around as many record stores as we could. We eventually sold about 750 or so. It's obscure because it didn't create enough of a buzz so subsequently became forgotten. I think it was a good song, we certainly gave it our all when recording it and when played live, although the live version was much shorter. We didn't use the intro that's still on the version available on YouTube – I cut that out when transferring it to ReverbNation – and we never used the last chorus live either, going straight to the last guitar break after singing 'overtaking just like Jimmy Dean'.
++ As I was looking for more information I found that there were more recordings of the band uploaded to ReverbNation. So I wonder how come you didn't release more records?
The single was funded by a local businessman who believed we had potential, as the cost was too prohibitive for us to fund ourselves at the time. Put simply, we never got to the point where we could record and release another single.
++ Counting them and the 7″, are there still more unreleased songs by Public Address?
Not that I am in possession of. The seven tracks that exist are taken from a cassette tape I made back in 1987 to give to my then girlfriend (she subsequently became my wife, and then my ex-wife!). They were copied from masters of our demos and live shows that were in the possession of one of our roadies. Sadly, he took his own life a short time afterwards and the master tapes were never recovered. So everything I have is up on ReverbNation, though there were lots of other songs recorded.
++ And from all of these songs, from your repertoire, what were your favourite ones and why?
My favourites were Goodbye From Her and Can You Hear Me Now? GFH was a very personal song (you see, it's all about me!) and the lyric started off originally as a poem. I think it was the best song I ever wrote, and the melody is very simple, with only three chords used in the whole song. When we came to arrange it Stuart wrote some brilliant lead guitar riffs, and I think Glenn's bass line and Derron's subtle changes from rimshots to snare and back again really add light and shade to the track.
CYHMN contained my favourite chord sequences – I love great chord sequences – and I liked the fact that the intro was also the outro. I was never a fan of Derron's double snare during the chorus (his nod to New Order) but I could never talk him out of it. If you take the first letter of each line of the lyric it spells out BEATLES JOHN and PAUL (my subtle tribute), and the first line 'Back again with nothing new' was my little dig at our critics who said everything sounded the same. It probably did though, to be fair.
++ What about gigs? Did you play live often? What was the worst gig and the best gig you'd say?
We played quite a lot over the two years we were together, though we didn't travel any further afield than Sheffield, Derby or Nottingham. My favourite gig was the night we supported It Bites at the Porterhouse in Retford in March '87. They'd had a big hit in the UK called Calling All The Heroes, so we were lucky to get the support slot as a lot of the local bands were after it. Our single had just been released and we saw it as a showcase gig. The three live tracks available on ReverbNation are from that gig. There's a bit at the end of She Don't Remember where I can be heard in the background saying, "New ending", as, for some unknown reason, we'd just extended the track by a few bars. That still makes me smile when I hear it. I just remember it as a great night with fantastic support from both our fans (we had a regular following by then) and those that were there specifically there for It Bites. The worst gig was at a venue in Nottingham, again my memory fails when it comes to its name – possibly for legal reasons – where we just didn't connect with the locals at all. If anything, they were downright aggressive and we couldn't wait to get out of there. I think we played everything at double speed and packed up in world record time. Probably broke the speed limit driving home too.
++ And looking back, what would you say was the highlight of Public Address?
Recording and releasing the single was the highlight for me. I really believed at the time that things would happen for us – the self-belief of youth and all that – but it wasn't to be. I wouldn't change a minute of the experience, both good and bad.
++ Then what happened? When and why did you split?
In the summer of 1987 we'd been together for two years, in and out of each other's pockets, rehearsals, live shows, etc, and we needed a break. We decided to have the rest of the summer away from the band and get back together again in the autumn. When we eventually met up again Stuart said he wanted us to introduce covers and play more in what the Brits call 'clubland', i.e. more showbiz and less indie pop. I took this as criticism of my songs and my vision of the band so I threw my toys out of the pram and we split up, with Stuart and Glenn going off into clubland, and Derron and myself starting another band along with Mick Ellison. We never really got any further than some demos before it fizzled out in 1988. Having known Glenn all my life up to that point, we didn't speak again for almost ten years (how silly is that?), but it's been like old times again for the last 15 years or so (I was best man at his wedding in 2011), and he's now the lead singer in a Mod/Ska covers band called The 5.15s who are brilliant live, and he's a great front man. I do sometimes wish I was up there too, but on bass, in the background, backing vocals only, grooving with the drummer.
++ Since then have you been involved with other bands?
No, I pretty much gave it all up in 1988. I sold all my gear the following year when I got married, apart from one acoustic guitar. I now have a beautiful Epiphone John Lennon EJ-160E acoustic/electric that gets a play every day. I start writing more songs than I ever finish nowadays, but I can't imagine not ever trying to write new melodies and lyrics.
++ And aside from music, what other hobbies do you enjoy doing?
Having reached my half century I need to stay fit and healthy, so I enjoy going for walks, especially around Clumber which is big enough to enjoy without seeing the same things each and every time. I enjoy going to gigs and the cinema when I can, and I'm lucky enough to be in a relationship with an incredible woman – hello Charlotte – so I get most pleasure from being involved with my new family, as well as my old family – hello Da, hello Sis -and seeing my friends. Oh, and drinking quality red wine, that's right up there too!
++ One last question then, your favourite "James Dean" movie?
Giant. Dean is brilliant in the movie, and Elizabeth Taylor was, is and always will be a goddess.
++ Thanks a lot, anything else you'd like to add?
I just want to say that I've enjoyed the whole experience of initially finding your blog on Public Address, reading your very generous remarks on something created almost three decades ago, and then being given the opportunity to discuss the band further with you in this interview. So, thank you, Roque, for bringing back memories of good times from my past. I'm flattered that you've enjoyed something that we all worked so hard on back in the day, and if this leads to a few more people liking our music we've got you to thank for it. Best regards, John.