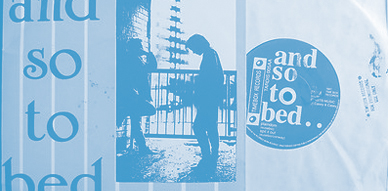 Thanks so much to Eusebio Barata for the interview! And So To Bed was a fantastic jangly band from London in the late 80s that only released one 7″ EP and then disappeared into obscurity, which means their one and sole record is highly sought-after! Super obscure, nothing written about them online, and not even much information about them on their record sleeve, I wrote about them some time ago. Happily Eusebio got in touch and told me the story behind this great band that deserve to be better known!
++ Hi Eusebio! Great that you got in touch and thanks for the interview! So is it a safe guess you are Portuguese and your parents were big fans of the great football player Eusebio? 🙂
Thanks for taking an interest Roque, you and we maybe the only ones who read this.
My family is Portuguese but I was born and grew up in North West London and the names just a family name but it has the advantage of being memorable.
++ But we are here to talk about music though, about your band And So To Bed, who were around the mid 80s? Was this your first band experience?
First and only band experience, it was a bit of beautiful post pubescent accident. We formed with the intention of playing one gig in late '85 and for a long while I'm not sure I thought that would happen. Our first official gig was at the Fiddler on the 7th April 1986 in front of 300 people and we only had 8 songs so when we got called out for an encore we had to repeat two.
++ How did it start? Who were the members, what did each one of you play and id you know the each other for a long time? How did you meet?
We formed the band from amongst friends originally, a few years after we'd finished school and later we found the drummer living about 300 yards from my house. I think growing up in the UK around that time a lot of us lived through that incredible post punk period with the Clash, the Buzzcocks & the Jam etc when forming a band became demystified. You listened to John Peel and thought "that band's great and I can do that". My great inspiration though was the Smiths, many of my friend and I saw every London gig they played and queued at Rough Trade in Portobello to buy the singles the day they came out, it was religious.
I played guitar and wrote songs, the bassist was Martin Lenihan, the singer was Leo Foley and the other guitarist was Sean Mulvenna. We found Paul Deacon the drummer because we walked by his house most evenings and the guy we'd originally asked to be the drummer couldn't keep time (it took him buying a drum kit to find this out unfortunately). There was also a non playing member of the band called Vince Conway who wrote a lot of the original lyrics (Spit it out was his).
> ++ How was growing up in Harlesden? Has it changed much since those days? What's there to do and see there?
Harlesden always had a bit of a reputation for being a rough working class neighbourhood but for us it was just home. It was a neighbourhood with a big Irish and Afro-Caribbean population so I guess music was always part of the backdrop. Most of my friends were Irish then because of the whole Catholic school thing and we spent a lot of time in some fairly basic pubs but at the start of the 80s a guy called Vince Power opened the Mean Fiddler. Now the Fiddler had originally been opened as a pure Country music club which was popular with the Irish community but it was clearly never going to sustain a venue in London at that time. Eventually they started playing a lot of indie music & folk punk like the Pogues, Men They Could Hang & Helen & The Horns and Vince ended up taking over the London live music scene and I think he managed a couple of the festivals too.
Harlesden has become more and more run down in the years since and its population more and more ecletic with more Africans, Poles and Brazilians than you can shake a stick at. It was announced the other day that it'll be part of multi-billion pound regeneration which will probably lead to it become gentrified which is a shame but being poor is no fun so hopefully it'll do some good too. I wouldn't add it to your tourist itinerary for a decade or so, as the Fiddler closed in about 2005 and the rest of it just fairly grim, like the Bowery when I was there 30 years ago.
++ You were telling me that you played a lot at the Mean Fiddler and the Bull and Gate. What other venues did you play? And how come you played so much at those venues?
The Fiddler was our local club so we could alway get 150+ people in there so we played it a lot and we supported bands like Easterhouse (Morrissey was at that gig ) and headline occasionally. The B&G Timebox was about 3-4 miles away and it was the 2nd or third venue we played and Jon B always liked a band who could bring a decent crowd (he was fairly avante-garde but he liked to eat like anyone else), we also played the George Robey 2-3 times, the Clarendon which was a big club in Hammersmith (now departed), we played a range of smaller venues including The Enterprise which had great bands playing there. We played with bands like the Beloved, Close Lobsters, The Chesterfields and the Farm.
++ So Jon Beast, the guy behind the Bull and Gate, he also put out your one and only record. Are you still in touch? And how come you ended up releasing your record with him?
It was hard not to like and be a little impressed by Jon Beast, he was doing things that only 20 years earlier would have been impossible for a guy like him to do e.g. putting out records running his own music venue etc. He had a small office in SOHO which was down the corridor from Harvey Goldsmith and he seemed to know everyone playing in London at that point including a fair few band who went on to be quite successful. I felt the most sorry for him when I left the band as I knew it would have an impact on the marketability of the single and that he'd sunk a decent amount of his cash into it (if only he knew that they sold for $180 on ebay now he might have kept some). I haven't spoken to him since and I have a feeling he's no longer lives in London but if I saw him today I'd buy him a pint.
++ From what I've heard a lot of the C86/jangly guitar pop bands played in the Bull and Gate. Did you feel akin to these bands? Were there any that you liked? And did you ever feel part of a scene?
In London (and I'm sure its true now too) there were 100s of bands playing small clubs trying to make it but it didn't feel like a scene in my view, other than everyone thought they could make music. There were so many competing styles and you'd have gigs which would start with a skiffle band and end with goth band on the same night. I think when you're 20ish you're fairly competitive you feel fairly tribal, those other bands were just competition and we saw a billion bands in London about that time (the B&G would sometimes have 6 bands on the same evening). Of course we were in a band because we loved music so we did have some other bands that we liked such as 1000s Violins who we saw lots & hung out with occasionally and we met the guys from The Mighty Lemon Drops who we liked and we saw the Pogues loads because of the Fiddler and the Irish connection.
++ Oh yes, what about the name of the band? Where did the name come from?
The NME interview would have read that the name was inspired by Pepys and subtext of raw sexuality, the reality was the name started because of a badge or pin as you guys call them. I'd been out with my cousin and had seen the name of a bed store and had said "that'd be a cool name for a band", a year before the band was formed and my cousin ordered some badges with the name on then as a joke. It became my working title for a band but I always meant to change it and then came the song and before you knew it it at stuck. So much about the band was accidental and in retrospect I like that about us, we wanted to be great but we had no real idea what we were doing…I believe if we'd just stuck at it another year or two we'd have had some real success but yes the pin came first.
++ Back to your record. It included four songs, "And So To Bed", "Just Desserts", "Plaindom" and "Spit it Out". If possible care to tell me a bit about each of the songs? The story behind them perhaps?
Ok the lyrics of "And so to bed (she said)" were written by Vincent and so I can't say that I understood what was in his mind when he wrote them but a lot of our stuff was about being ineffectually in love, disappoint by life and the general melancholia of it all, ASTBSS was definitely in that vain. Much of this was influenced by Morrissey asexual lyrics and our unhealthy pre-occupation with English Literature. The original versions of the song was a little slower and skipped along more and was definitely inspired by "This Charming Man", but when we came to record it the adrenalin got to us.
I wrote "Just Desserts" and it was about a bad review we had had, childish I know. We played B & G in Sept '86 and got our first review in Sounds from a guy called Andy Hurt (his name is a lyric in the song) and frankly it was very snide and we paid it far too much attention but at least it spawned a pretty good song. By the time we wrote it we were trying to be a bit more edgy with the guitars, more Josef K than jangly.
Plaindom was originally going to be the single by itself (classic musician thing, you always love the last thing you wrote most) and once we recorded it we just weren't happy with it and rather than re-recording it we decided to make it an ep. I wrote the lyrics of "plaindom" and its about not feeling content with ordinary which was also a theme, it was slightly disdainful of people who just weren't cool enough to do something creative and it irritates me a little because it reminds me of the arrogance of my own youth.
"Spit it out "was another Vince/Eusebio combination and perhaps my favourite of the four recordings (not songs). Its about the moment in a relationship when someone wants to leave but just won't say it, a vague notion that love is dead and yet you're still going through the motions. Its a very simple song with fabulous lyrics and it was recorded quite well so I always enjoy it.
++ And yeah, what was the creative process for the band?
I think calling it a creative process over dignifies it but generally I'd have two or three melodies at a time floating around with the chord structure. I got bundles of Vince's lyrics/poems or perhaps some I'd be working on and I work on them in my dad's garage. Eventually I'd take the song/arrangement to rehearsal and Martin & Paul (the two real musicians in the band) would put together their own rhythm arrangements over the top which often changed the song dramatically. Leo would often have heard the song 30 times before he'd sing on it and again he'd often play with the originally melody, inflections or even sometimes the lyrics. Every now and again we'd sit down and rewrite bits of songs (maybe the middle eight or inter) after we'd been playing them for months and I very much thought that helped songs, like breaking in new shoes.
++ You were telling me that you left the band just as the record was being released. Why was that? Do you think that hurt a lot the future of the band?  And then And So To Bed continued for another year after you quit. Do you know what happened after? Why did they split?
I left the band in about March/April '87 and I think I did it to provoke the rest of the band to up their game, be a bit more professional. We'd been together for about 15-16 months and I felt we'd not really moved on enough and Leo and my relationship had got a bit fraught. I tried for a while to put together another band but never found people I wanted to work with and deep down I want them to beg me to come back. They instead decided to develop their own set of songs and they stopped playing and worked on a new set that never really happened. I heard a few things they wrote which were quite good but they never had the quantity to get back on stage. I don't think they broke up more just started doing other stuff and then life gets in the way.
Meanwhile the single came out in February 1987 and the band stops playing just when we should have been out there playing every other week and irritating anyone who'd play the songs on the radio, in a club etc. It killed the record and I need to take the lion share of the blame for that.
++ Aside from the record, were there any more recordings by the band?
We had a 6 track demo that we did initially, some of it on a tascam 4 track in that garage again but most of those ended up being distributed to booking agents, publishers etc and I don't have one either. That had a much better version of "And so to bed (she said)" on it aswell as "spit it out" but also songs called "cruel bastard","dying breed" & "around my neck".
++ From all your repertoire, what would you say was your favourite song to play live and why?
We had about 16 songs by the time I left and I loved them all but we did a song called "guilt" which was a bit like "Therese" by The Bodines (only better), that was my favourite. It had a fantastic rhythm arrangement, sexy lyrics about catholic guilt and it was going to be our second single…we never recorded it in a studio which is criminal but I had a video of us playing it for a while until it got lost in a house move.
 ++ And what happened to you after you quit the band? Did you play in any other bands?
After I left the band, I had a life but not all at once. The last 20 years I've been working in social housing building low cost homes, helping people find work and regenerating neighbourhoods and I have to say I sure I've done more good doing that than being in a band. I have a wife and daughter and we still live in North West London.
++ What about other hobbies? What else do you enjoy doing other than music?
I love sports especially football but music is still a passion and I've started going to see live music again especially latin singers like Mariza and Buika.
++ And one last question. What about the cover photo of the EP, who are the two guys?
Sorry I have no idea, we use to just buy postcards or clip pictures from magazines and that was the one we used, they're totally anonymous.
++ Thanks again Eusebio! Anything else you'd like to add?
Just thanks for giving me a lovely jaunt down memory lane to when I was in a garage band with my friends.
::::::::::::::::::::::::::::::::::::::::::::::::::::::::::::::::::::::::::::::::::::::::::::::