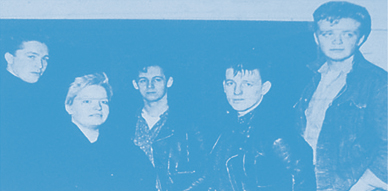 Thanks so much to Mark Mortimer for the great and lengthy interview. On November 2010 I wrote about this great Tamworth band on the blog and recently got in touch with the man behind it. The songs by Great Express are lost gems that deserve to be listened now. Great guitar pop from the golden years of indiepop. Sadly they were never properly released. For sure they should be showcased in a future volume of The Sound of Leamington Spa! Enjoy!
++ Hi Mark! Thanks so much! I know you've been in many great guitar pop bands, but I'd like to start our interviews with Great Express! My first question is, how was Tamworth back then in 1986? Has it changed a lot? Was it a good place to play music?
I got to hand out a mini history lesson for any of this to make sense so bear with me!
Tamworth is middle England's freak-out zone or at least it was back in the early and mid 80s…. For those who have never heard of the place it's a fairly small & inconsequential town just 14 miles north of the country's second city, Birmingham and though in mediaeval times it was the capital of the old Kingdom of Mercia, little has ever happened of consequence for many centuries.
It was the town that manufactured cheap plastic three-wheeled cars called Reliant which were made famous by the 80s TV comedy 'Only Fools & Horses' (my dad spray-painted them for a living) and the only musical person to come from the town of any note was Julian Cope of the Teardrop Explodes.
Tamworth was bitten hard in the ass by punk in the late mid and late 70s and the venom went deep I am delighted to say which really did kick start a tiny "garage band" scene in the town….
I was very very fortunate to be part of a great scene at my school where I was surrounded by cool, creative people all desperate to be in a band and make a statement. We had a communual diary we secretly wrote in during lessons at school without the teachers knowing and called it the 'Memorable Book.'
There was Donald (Skinner), Mas (Matthew Lees), Bam (Andrew Baines), Clem (Paul Clements), Sedge (Stephen Edge), Poge (Ian Harding), Nana (Chris Underwood), Derek (Goodwin), Sam (Holiday) & myself and it was a VERY cool scene.
Whereas punk & new wave sounds turned us on, we were also into some 60s stuff like the Who and Syd Barrett plus we liked the burgeoning mod revival scene & Two Tone but it was bands like Echo & The Bunnymen, the Teardrop Explodes & Joy Division who fuelled our dreams.
There seemed to be a new band formed every lunch hour at school and they had names like (Fetch The) Comfy Jigsaw, Slightly Green, The Travelling Dog, Thirty Frames A Second, the Classified Ads etc….none of us could really play & we were more into the idea of being in a band than actually having any musical ability that warrnted it!
There was intense rivalry between the bands and you counted your closest mates as being the ones you were allied to in your own particular group at any particular time – it was quite brilliant.
There was one exception to the "we can't play very well" rule: Donald Ross Skinner who we called simply Donny in those days. He could not only play guitar properly but he could tune the strings, knew chords and his dad, having been a jazz musician of note, had obviously handed down some great musical DNA to him.
Ironically, Donald used to play drums mostly at school even though he was already the best guitarist in the town aged 15…
Donald did briefly play guitar with my first proper band The Dream Factory who were a sort of psychedelic soul group and during the summer of 1982 I first became friendly with Julian Cope who had just moved back to Tamworth to escape the implosion of the Teardrop Explodes.
I was a teenage trainee journalist just out of school but being a huge fan of the Teardrops, I promised myself I'd blag my way into meeting him by asking for an interview.
I didn't realise that Julian was in a very emotionally weird place at that time and was not far away from a nervous breakdown because his first marriage had also gone kaput and he was seeking solace in Tamworth not the attentions of hite teenage admirers.
Through sheer persistence and illegal trespass in his garden, I eventually got Julian to answer the door.
He was initially freaked out and refused an interview but offered me a cup of tea and a chat which I readily accepted.
We sat there listening to lots of rare 60s psychedelia and garage stuff and everything seemed to click between us….within a few weeks I had played him my first Dream Factory recording. COincidentally we had recorded at Steve Adams' home studio on the outskirts of Tamworth Julian had just made some far out recordings including "Hey High Class Butcher" & "Wreck My Car" which wound up on the B side of his first solo single, "Sunshine Playroom" a little later.
Anyway, it seemed we had lots in common; Julian was attracted to my enormous appetite to hear new music and to expand my view on 60s music and he was also totally into Donald's guitar playing with the Dream Factory.
That eventually led to Donald being drafted into Julian's self-styled "two car garage band" and I carried on with Dream Factory without him.
We built up an enormous following across the UK and had a few singles, one of which dented the charts, but then dissolved in 1986 as I was determined to make the band more lysergic whereas our singer wanted the group to softer and jazzier.
In the final six months of the Dream Factory I had already formed The Great Express as an outlet for my new direction and I guess it was influenced a lot by the C86 generation of bands and also I was really getting into the Stooges, MC5, Blue Cheer etc.
At this time in Tamworth most people were in a band and most of them were shocking but there were some very talented people about and the town did manage to earn itself a reputation which spread far and wide for being a happening place.
Musically, it was very diverse from heavy rock bands including Wolfsbane who were about to become quite big, through to quite twee pop groups, punk bands, synth pop stuff and so on. There was a developing "indie" scene and I was very active on it really.
In those days there were a clutch of small venues and most gigs in the town were well supported although most of the audience were quite snobbish as most people were in bands and everyone was judging what they saw against their own groups which I always found amusing!
But there was a certain charm to it, there was great energy and a real buzz even if most of the bands were rubbish.
Has Tamworth changed a lot since those halcyon days? Most definitely!
There are no venues, very few bands and the whole strident band culture has dissolved, a lof of the town's youth have suffered X Box apathy or dance club-itis these days, and it's very sad…
++ Tell me about Great Express. How did you all know each other? And what sparked you all to start this band? I heard it was a vision of yours?
The Great Express was a personal vision, a reaction against the Dream Factory falling at the final hurdle.
The Factory had been on the cusp of "making it" & we had a national fan base, mostly of mods and scooterists but I had become disillusioned with the violence that had tainted that scene; having watched some skinheads attack reggae star Desmond Dekker on stage at a scooter rally I was sick of it all and musically I was really aching to branch away from the sound of the DF.
We had been given a tag of being a new generation mod revival band which wasn't my initial blueprint at all and I was both depressed that we had got so close to success and also that musically I had much wider horizons than that "mod" tag was allowing me to get away with.
We had just been beaten to a major record deal by the then unknown Stone Roses and I really wanted to toughen the band's sound up & was already writing songs with a spikier feel which really pissed off the Factory singer, Tim Goode who I had been best friends with since the age of 5.
I was listening a lot to Pere Ubu, the Modern Lovers and Television and going to see the Mighty Lemon Drops play whereas Tim was listening to Sade and the Style Council!!
I knew it was going to end in tears but I hadn't quite got the courage to fully quit so I decided to start the Great Express as a side project.
Also, Donald's younger brother Gavin had filled a "friends' vacancy" for me since Donald had gone off globe-trotting with Julian on tour and Gav was this brilliant, off-his-head guy who was SO funny! Just great!
I hung out a lot with Gavin, Barry Douce (who was playing keyboards with the Mighty Lemon Drops) and Rob Cross who later played guitar with Mr. Ray's Wig World and it was fairly wild, trippy and rock & roll!
Anyway, Gav followed in the Skinner family tradition and was already a drummer of real distinction. He was soon playing with Primal Scream & so my personal circle was moving far away from that of the Dream Factory & I was happy to be saying adios to their soul & mod vibe while still retaining a huge love of rare 60s music.
The first incarnation of Great Express was myself and school friend Brian Lacey and we came across a girl keyboard player called Chantal Weston, one of those hanging out at gigs on the Tamworth scene and she was cool. It didn't work out with Brian and so I advertised in the local newspaper for a new guitar-playing lead singer.
Then I decided I had to climb on the Express full time so I closed the Factory and at our last gig Tim punched me in the face and made my nose bleed while were on stage but I just hugged and kissed him as I felt his frustration and I knew I had ruined his dreams.
So having freed myself of the Dream Factory yoke I wanted to make the Great Express an out of control train that could speed along mytholgical tracks to indie-pop notoriety and it was this appropriate imagery of speed and excess that drove me on.
The first track I wrote for the band was called "Total Excess At 200 Yards" which was a screaming mixture of dirty overdriven guitars, pounding tribal drums, cranked-up reverse sitars and ghost-like screams by yours truly, recorded while I was totally off my face. The second track was called "Graveyard Faces" and the third was "Wankerside", a sneering reference to the Tamworth shopping centre Ankerside.
It's fair to say that soul and mod music was a million miles away now! But I still needed new cohorts and fast so I was delighted to audition several people at my house early in 1986.
Two well known personalities from the Tamworth scene showed up among those interested: Julian Amos was someone I knew from a band called Orange Blossom Special and he was a good rhythm guitarist with a love of Postcard type pop which was great in my book.
I auditioned him first and told him he was in without even seeing the rest of them.
Half an hour later I auditioned Ted Wilson, a long-haired guitarist whose background was from the town's heavy rock scene and yet it turned out he was a huge Julian Cope fan and was big time into the Mighty Lemon Drops, Crazyhead, Pop Will Eat Itself and other new bands I was into.
I was really impressed by the fact he loved the MC5 and the Velvet Underground and that had swayed me to have him in the band even before he played a note at the audition.
As it was, he was a much more gifted player than Julian Amos but not as strong vocally. Even though I had my heart set on one singer-guitarist I also told Ted he was in!
I didn't sleep afterwards trying to figure out which of the two I was going to have to disappoint and then realised how stupid I'd been and that great bands often have two guitarists!
As for the drummer, Dave Burgess was a 17 year old from a nearby wealthy village but he'd been a fan of the Dream Factory and although I had no idea if he could play drums I liked him a lot and so he was in too without an audition.
++ What about the name Great Express?
I honestly felt my musical journey was a trip and I guess it still is so it seemd wholly appropriate!
The fact that Donald had also been in a brilliant band (with a brilliant name) called Freight Train in 1985 during his downtime with Copey (check out 'Man's Laughter' on Bam Caruso Records, it's GREAT) genuinely had nothing to do with it!
I also liked words with energy: the word 'Great' came actually from the World War 2 film "The Great Escape" but I dug it because the word drips with positive energy while "Express" came from speed.
When this band came together it coincided with enormous upheaval in my personal life.
My marriage collapsed, I was attacked by someone with a knife, run over by the same person in their car & deserted by my family so it was a crazed period & felt like my heart had been torn from my body, impaled on a fork and roasted over a blazing fire for most of the time the Great Express was in existence.
Therefore, it was quite suitable that the group should boast a monicker that summed up the aggression and speed of those psychotic times.
++ I've listened to many of your bands, and I can say Great Express is maybe the one closest to the indiepop/C86 sound. Also with this band you played gigs along C86 bands. Who were the influences you had at that time? Which other bands of the period did you like?
This is probably because the Great Express were born in the spring of 1986!
I loved many bands from that period if honest; it was a thrilling time for music and was a lot like the punk explosion all over again….I was into loads of people from the Mighty Lemon Drops, the Smiths, Woodentops, Lloyd Cole and many more.
I was already aware of Primal Scream through Gavin and adored their stuff and loved the Pastels too and the Loft.
There was so much great stuff I loved at the time and other names I'd throw into this would include the Jesus & Mary Chain, Laugh, Jasmine Minks, June Brides, Shop Assistants, Talulah Gosh, Brilliant Corners etc….
++ And talking about gigs, you played many! Which ones were the ones you remember with nostalgia, and why?
Actually, I played far fewer gigs in those days with the Great Express than I do now!! The Great Express wasn't in existence for that long actually but we played a number of mostly small and low key gigs.
There were a few that I remember with nostalgia, mostly because I had met Christine, my current wife, around this time and 1987, in particular, was an emotional bulldozer of a year as I split with my first wife in the summer, met Christine and fell in love with her and a lot of the tunes I was writing around that time dealt with pain and joy in equal amounts.
I particularly enjoyed a Great Express gig we played at Leicester University and I can remember that Ted had bought a lovely 12-string guitar and, like Jim Beattie was using it through a distortion pedal to get this beautiful high-octane sound.
We also travelled south to play a gig on the Isle of Wight off the south coast of England and that was great – I remember us messing about in the outdoors swimming pool before and after the gig and drowning our sorrows because Thatcher had just been bizarrely re-elected as Prime Minister and I was horrified!
++ You recorded around 10 songs. How come none of them was properly released? Was there any label interest?
You have to remember we had no management, no financial backing and were all young people just out of school with rubbish paying jobs and no money.
So basically we couldn't afford to self fund a music career like I am doing these days with DC Fontana & we recorded cheaply and incredibly quickly whenever we had a spare £400 and never thought too far ahead.
The songs were recorded to demo standard only; there was no producer really, just me.
And we didn't go out our way to seek a record label either…I had just come out of the Dream Factory and I had initially hoped the group's manager Neil Rushton was going to stick with me and the Express. Indeed, Neil had indicated he would and were close but then Neil to flew to Chicago (& then on to Detroit) as part of his northern soul record-hunting activities and he stumbled across the new underground house and techno scenes in Michigan and fell in love with electronic music.
Though Neil and I stayed very close friends, he went on to be largely responsible for house & techno sounds getting a foothold in the UK and ended up forming his own record label but though he wished the Great Express well he no longer had the time or energy to help us out.
He was ploughing all his energies into this new form of dance music which he identified as a sort of nouveau northern soul, very underground, very much fuelled by drugs; it had its own esoteric Rites of Passages and codes and Neil was intensely charmed by the experiemental electronic musicians he met like Kevin Saunderson (later of Inner City), Derrick May, Juan Atkins etc.
Just to complete this part of the story, a few years later I later went to work for Neil's record label Network during the 1990s as his Head of Publicity and although techno & house music was never my bag I adored the anarchic punky attitude of the label and we were very much like the dance music brothers of Creation and, indeed, McGee was great friends of ours.
Working at Network was wonderful and Neil Rushton was a wonderful maverick man to have as your boss during that time.
++ All of your songs were recorded at the Expresso Bongo Studios. How was that experience?
Wonderful, I hold those sessions with deep affection.
The studio was run by Paul "Snaker" Speare who was a top session sax player and had been a member of Dexy's Midnight Runners around the time of their monster global hit "Come On Eileen" from their "Too Rye Ay" album in '82 and he then played with Elvis Costello & The Attractions as the TKO Horns and also the Specials so he was someone I admired musically.
He was (and remains) a great friend and was very encouraging; I learned a lot of musicality from him and he broadened my musical and studio knowledge enormously.
Even though the Expresso Bongoo was a basic demo studio I always felt we produced good results considering the relatively small sums of money spent and I spent may long days and nights cocooned in there drinking tea, laughing until I wept with Paul – he has occasionally played sax with DC Fontana in recent times.
++ And what about working with Donald Ross Skinner (Julian Cope's guitarist)? What did he bring on the table?
Despite Donald going on tour all over the world with Julian and them enjoying hit records and moving in different circles we stayed in regular contact and of course so it should be because he was one of my closest & true best friends.
We are very close like brothers.
I have always admired and marvelled at his brilliant musicianship. I was never jealous as such and got a great kick of sitting in front of the TV set seeing him doing great things because at one point it looked like Julian was going to be a huge mainstream star around the hit "World Shut Your Mouth."
It was great when he agreed to come over to the Expresso Bongo and help oversee the recording of "(You Could) Change My World" – I was beaming from ear to ear and he added some great techniques like playing the organ through a fuzzbox which is something Julian Cope would do a lot.
That was another growing experience and though that session was short I loved it and I knew that at some stage we would do it again only properly, which is what turned out to be when Donald became my producer with DC Fontana recently.
++ Among the songs I've been able to listen from Great Express I really love "Silent Head". What's the story behind this song?
Thanks, very good of you man.
Lyrically it was about my then girlfriend Christine who I fell head over heels in love with during a very traumatic period of my life. She had been granted a place in college in Munich, Germany so our time together was very short and we spent it under the stars with her head resting on my shoulder, as the words of the song went!
We were married in 1993 and are still together today.
Musically, the song was built around a tom-tom heavy drum pattern heavily influenced by Joy Division and the tune had just two chords with Ted playing a chiming 12-string guitar riff I'd come up with and Chantal contributing a cute keyboard line using a very primitive keyboard sound that was supposed to sound like a sitar but it was nothing like one!
Coincidentally I have very recently re-written this tune as "DevilAngel" for DC Fontana using a cimbalom instead of cheap keyboard so watch out for that in the future!
++ Have you ever thought of putting together as a proper release your songs?
I am not sure that many people would be really interested if I am honest!
Also the original tapes from the demo we made (Witch-Well, Pieces, Heavenly Heavenly etc) have gone missing so I only have an inferior cassette to master from.
++ So when and why did you split? What happened after?
The band kind of ran its course – it was all over within 18 months really. There were no punches at the end, no arguments, nothing extreme.
If honest I can't quite remember the reason it all ended but I think it was more of a case that the band evovled into another one. I know Ted left because his work committments as a telephone engineer became too difficult and the drummer quit the area.
I kept writing songs and demoing them with friends from the Great Express and Dream Factory and this eventually turned into a band I called the Space Seeds which was succeeded by the appallingly-named Bash Out The Odd and Julian (Amos) re-appeared in this band.
++ Are you still in touch with the rest of your bandmates? If so, what are all of you doing these days?
Sadly no.
Last time I spoke to Ted was ten years ago but I believe he is still living locally but not musically active.
Julian simply vanished one day….I drove to his house to take him to a rehearsal for Bash Out The Odd and his dad said he had left the house to move to another part of the country to become a private detective which was really bizarre as he hadn't told us!
That was the last time I spoke to him, really sad.
I shared a bedsit with Chantal briefly for six months in 1988 but haven't seen her since. Drummer Dave is now living in Australia it would seem.
++ Looking back in time, those years seemed to have been they heyday of guitar pop. Did you feel any sense of a community or scene back then? And what was the best thing, your highlights, of being on Great Express?
You are quite right – there was a communal spirit of sorts and deffo there was a scene, at least in Tamworth. I think there was a feeling the town was kind of "losersville," a kind of hangover fromt he punk days.
And there was this vibe that we were all struggling to break out of the place and gain some recognition.
The truth is that the majority of Tamworth's bands from that time weren't up to much though there were several interesting and really talented personalities from that time.
++ And talking about Great Expresses and trains. What has been your favourite train journey in your life?
The continuous train set journey I had in 1974 as a young kid….I spent hours watching my train set imagining I was in charge of the trip……
++ One last question, the culinary one. What's your favourite British dish?
I became a vegetarian in 1987 and I tend to like Mediterranean & Indian food more than the British stuff if honest
++ Thanks again Mark! Anything else you'd like to add?
The interest in the Great Express is enormously surprising and pleasing for me and I want to thank you for taking the time to contact me about such a turbulent and exciting period in my life.
::::::::::::::::::::::::::::::::::::::::::::::::::::::::::::::::::::::::::::::::::::::::::::::
Listen
Great Express – Silent Head