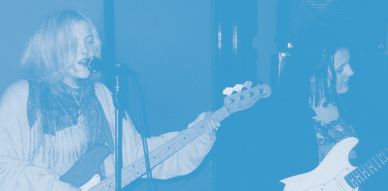 Pete-B from Horowitz and before from The Rosehips shared with me some moths ago 6 songs by a previous band of his: Jack in the Green. I was gladly surprised by this band that were around 1991 to 1994. And happily we could get together most of the band for this great interview and learn more about these demos that never saw the light on a proper release. To listen more Pete has set-up a myspace, so check it out! Thanks again to Corinne, Caroline and Pete for this interview!
++ Hi! You made some great songs, and if it wasn't for Pete, I would have never known about them! But now I wonder the story behind you all… tell me, how did the band start? How did you all meet? And what was the line-up?
Corinne: Myself and Caroline were at the local Sixth Form College at the time. We had met at secondary school. We had started singing and trying to write songs. I had been playing classical Spanish guitar for years and was keen to play electric. I think I had this weird Karaoke type machine that we were trying to record on! I knew Caroline had an amazingly unique voice from the start. It was just coincidence that we met Pete. I'm surprised he didn't fall about laughing when he heard our stuff!
Caroline: Well Corinne and myself decided to make songs together after her dad bought her a really dodgy recording machine! Corinne already played classical guitar and began to translate and fuse it with electric guitar. She showed me the basics on the bass from which I began to write bass lines and we both sang. Shortly after we met Pete and his mate in a pub, realised he played guitar also and had a lot of experience within the local music scene. Both Corinne and I were about 16 at the time. We showed him our stuff, and he started to play with us!
Pete: It was a chance meeting in a local pub in 1990/91. I was there with a friend and we got talking to Corinne and Caroline. We got onto the subject of music, swapped numbers and mentioned something about forming a band. It's all a bit lost in the mists of time but I think that Corinne said that she and Caroline had written some songs. It was a Sunday afternoon when we got together and recorded them on 4 track cassette. I thought the songs were great and had a naive innocence about them. After that initial recording afternoon, we started practicing more regularly. Corinne and Caroline would write the songs and we'd work on them in the evenings and weekends. We recorded with a primitive beat from a drum machine and when we wanted to play live, we asked Mark Milward who I knew from Rosehips days to drum for us and, bless him, he said yes!
++ Where did the name Jack in the Green come from?
Caroline: From a card that I bought for my sister. It had a picture on the front of a wee impish creature frolicking amongst greenery! On the back it said the picture portrayed 'Jack in the Green'. The rest is history. Apparently, it represents the personification of springtime!
Corinne: Yes, it came from a birthday card Caroline sent to her sister. She got it from the bookshop she was working at and it appealed to us as a band name. It does sound quite 'folky' though.
++ I heard you were very young and didn't know how to play bass or guitar before starting the band, is this rumour true? How did you figure out you wanted to start a band then, and how long did it take for you to play the instruments?
Corinne: I had been playing classical guitar from the age of nine but I had never played electric and didn't have a clue about chords! In fact, I wrote 'In a Space' by actually directing Pete as to which chords I wanted! (he was so patient!). It took me a while to transfer my classical skills, and I've still not mastered rhythm guitar fully now!
Pete: Weren't you and Caroline 16 or 17 years of age? Caroline picked up the bass really quickly and I may have pushed us into being a band, saying c'mon, you've got the songs, let's play them together, find a drummer and play live. It just seemed the natural way to me.
++ I also heard that Corinne played guitar with fingers and no plectrum, why was that? Must have hurt so much at the beginning!
Corinne: I didn't play with a plectrum because I didn't know how to. I just played my electric guitar the same way as I had always played my classical. It killed my fingers! I would have huge blisters because of the amount of playing I did. I did have many interesting remedies suggested by people, though!
Pete: I'd never seen or heard anyone play electric guitar like Corinne, with classical style finger strokes to play lead. With the Strat, a delay pedal and a Fender amp, the sound and phrasing were a joy to hear. I love playing rhythm guitar and little riffs and fills so the two guitar styles complimented each other.
++ What were you listening at the time? For me it's a bit hard to pick influences in your music! It does remind me a bit to The Heart Throbs if anything…
Caroline: Never heard of The Heart Throbs to be honest mate! I was listening to all sorts of stuff…from The Incredible String Band and Gong, to the Happy Mondays to the Bee Gees and some! Go figure! You could say I had a bit of identity crisis when it came to my taste in music!
Corinne: I know my guitar would have been influenced by my favourite classical pieces. I loved playing Leo Brouwer. I also had always listened to Blondie and Curved Air. I had just discovered Joy Division at the time, and was listening to PJ Harvey and Primal Scream!
Pete: I was listening to Stereolab a lot – Super Electric and the run of singles around that time. Dry by PJ Harvey was a favourite.
++ Was the demo the only thing you recorded? Was there any interest from any labels?
Pete: We recorded two demos, a year apart, in 1992 and 1993 – both demos had three songs on them. We sent a few out and but didn't get that much response. Too Pure was one label we sent to. Che Records phoned up for a chat and we had a mysterious phone call from some major label A&R chap who wanted to chat about the "layering of guitars".
Corinne: We also recorded lots of stuff in Pete's house. In fact, Pete was a bit of a recording fanatic! Every little thing we created was recorded – so glad he did!
Pete: There were other songs, some completed and recorded on the 4-track and a few others half done.
Caroline: Well I seem to remember that we were supposed to be playing a gig at Tower Records in London but alas we went our separate ways. Does anyone else remember this or am I making it up folks?
Corinne: Yea, I remember that!
Pete: I'm not sure how that happened to come about but yes, we were offered it but didn't play.
++ What do you remember from the recording session? Any anecdotes you could share?
Caroline: I remember making egg mayonnaise sandwiches for everyone and for some reason adding garlic powder to 'em which stank out Pete's car big time! lol. I remember always being over critical when it came to my singing voice…was never happy with it.
Pete: Ant Price from the Rosehips/Venus Beads was a real support to us. He came along to help out when we recorded our first demo, offered us our first gig and was always encouraging us. On "In A Space", we had altered something and forgot to tell Mark, until he was on his way to the live room to record the drum track. It was a case of us saying, "Oh, by the way Mark, there's a bit in this we haven't told you about!"
Corinne: Yes! Mark played a really unexpected rhythm near the end of the song and we loved it so much, we kept it in! I actually found the studio experience quite stressful. I wasn't happy with the levels in the mix and found it difficult to get myself heard. (it's hard being an unassertive, self-conscious teenager!!). I also did my things in one take and afterwards felt like I could have done better!
++ What about gigs? Did you gig a lot? Are there any gigs you remember in particular?
Caroline: Our very first gig was at the good old Wheatsheaf in Stoke on Christmas night! My gosh was I a nervous wreck! But it felt ace once we got into it. Remember doing quite a few local gigs and one in Bristol supporting Cake, where we met Pete's mate Spiderman or summat! He had a really higgldy piggledy house and we all sat around his kitchen table till early hours of the morning with these two other hippy guys eating hot toast with a pound of butter on it!
Pete: Oh yes! We played one gig with Cake at the Louisiana in Bristol. We went back to Spider's flat (Spider was in The Seers) afterwards, admiring the sloping living room floor. We didn't play that many gigs, less than a dozen probably. The Wheatsheaf ones where we supported Venus Beads, Kinky Machine and later Birdland were really good – there seemed to be a lot of people there. I tried to get us support to Elastica and Pulp but we didn't get the nod. We played one Christmas Day gig as a three piece, as Mark couldn't make it. Hang on, wasn't he in the crowd though? Haha…I remember playing maracas on the first song in the set that night.
Corinne: I was always really nervous playing live. I can remember often trying to hide myself behind pillars! I was okay once we started because I would be absorbed in my playing. Caroline was even worse, though! I had to spend a long time beforehand reassuring her. It's a good job Pete was on stage because he was really lively! The three piece gig was really funny. I think it was my idea to play a weird Tunisian inspired instrumental. I don't think Stoke was ready for it because we got an audience reaction of complete silence (cue tumbleweeds!). Mark, I don't blame you for being in the audience! We did generally get a good response, though.
++ Were you involved with any other bands after?
Caroline: No it wasn't until me and Corinne met up again a few years later and wrote some ace new stuff but then I moved to the Cairngorms in Scotland, shacked up with a farmer and my 3 kids and later had a couple more kids, the youngest of whom is just 5 months old right now. Will definitely get back to writing songs again and hopefully performing and recording one day when my children are older…if I'm not too long in the tooth by then that is…
Corinne: When I went to university, I played all the time, both classical and my own stuff. I tried to start up various bands but couldn't really find the right people. I did answer an advert once. It was like some nightmare blind date scenario! Why do people say really inspiring things and then can't back it up! When I returned to Stoke I did focus on my career but still tried to continue with it. Then I met up with Caroline again and we started writing. We had a great time and really clicked again! But, alas, she moved to Scotland and now has many, many, children to look after. Maybe in the future? I have now set up my own solo project called After Coco. I'm trying to record all the stuff I've written over the years plus my new stuff. I started with In a Space and posted it on YouTube and MySpace. The wonders of technology!
Pete: We split up in 1994 and, mesmerised by Corinne's approach to playing, I studied classical guitar and music theory, figuring that I probably wouldn't play in a band again and that I'd get satisfaction from learning a tough instrument. That was a great discipline. Myself and Rob Jones (Exit Condition/Venus Beads) formed Trilemma as a DIY home recording band in the late 90s, spending many intense nights in the lounge with the 8-track. We put out quite a few recordings with zines and small labels. Now I'm in Horowitz.
++ Was green your favourite colour? I ask because aside from the name, there is also a song called "You Dressed in Perfect Greens"! What is this song is about by the way?
Caroline: Green is my fave colour actually. To be honest, back then there wasn't any real sense in our lyrics in that they meant buggar all! We just came up with words that we thought fit the song sound wise rather than them actually having a meaning.
++ What about the song "Lea"? Does she exist?
Corinne: Lea does exist! I named my daughter Lea, 12 years after recording the song! (How rock and roll is that!). I think she suits it…
++ And why did the band call it a day? What are you all doing nowadays?
Caroline: Corinne and I went to different universities so the band couldn't continue. I now live in rural Staffordshire with my farmer fiancé and our 5 amazing children, playing mother earth rather than bass and vocals!
Corinne: I decided that although I was passionate about the music, I didn't really want to go into the industry as a main career. I didn't want to depend on it for income! Nowadays, I'm an English and Drama teacher. I teach in secondary schools around Cheshire, and I teacher drama for a private academy. I'm also married with two kids, Lea and Louis. When I have any time for myself, I hide away in my bedroom with my BR-900 8 track and my Fender Strat!
Pete: Corinne and Caroline went to different universities and they decided the time was right to split the band.
++I was wondering, as I always wonder about food, what's your favourite restaurant in Stoke (or where you live at the moment)?
Caroline: 'Pecks' restaurant is my favourite (well it's actually in Congleton, Cheshire), its posh nosh so to speak…my fave type of nosh
Pete: Mmmm…..food! I tend to favour Sangams in Stoke for a good curry.
Corinne: (ha ha!) Pete, you don't change! I don't really have a preference. If I can get out, anywhere, I'm happy. I do love eating with family and friends (it's the French in me!).
++ What are your resolutions for this new year?
Caroline: to be thinner dear… always to be thinner………………………..x
Pete: get through it in one piece, physically and mentally!
Corinne: Don't believe in them. Personally, if I'm not happy with something I work on changing it whatever the time of year!
++ Anything else you'd like to add?
Pete: Thanks for taking the time to interview us, Roque! It all seems a long ago yet the memories are still fresh!
::::::::::::::::::::::::::::::::::::::::::::::::::::::::::::::::::::::::::::::::::::::::::::::