24
Dec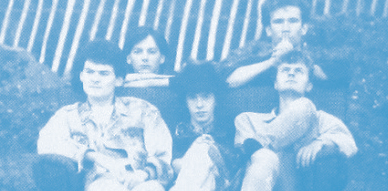 comfort (v.) late 13c., conforten "to cheer up, console," from Old French conforter "to comfort, to solace; to help, strengthen," from Late Latin confortare "to strengthen much" (used in Vulgate), from Latin com-, intensive prefix (see com-), + fortis "strong" (see fort). Related: Comforted; comforting.
With the year winding down, and at the doors of spending my first Christmas in New York, I reckon it's been a good year overall. There's the comfort of knowing that things were finished on deadline, that the label was productive enough and that perhaps we've become a little more known around pop fans. Every year that's the idea, not to make more sales, but to expand the fan base. Proselytism they say.
This is not reflected in year end lists surprisingly. Those music tastemakers have always ignored the real indiepop, the true and not hypocrite. So that's no surprise. And I'm not being bitter or just saying. In a way I feel refreshed to that Cloudberry lives under the radar, because there will never be any intention to please anyone's taste buds but mine. And if that sounds selfish, well, then be it. Though my goal is to share the music I discover and I love. So, think of the latter, and if you love any music, please share it with me too OR start a label. Let's keep on building together a better indiepop scene!
Christmas alone always leave me a bit shaken. I don't know why. I can act a bit tough on the outside, but there's that wee melancholy assaulting me. And it's been years like this, since I don't travel to see my whole family. And perhaps this is the real selfish in me, because I spent my year's vacation allotment traveling to see indiepop bands, castles and friends, instead of my family. Out of guilt, or most probably, due to my own gain, I decided to work during Christmas. And New Years. That way I'll have three days off to use on my vacation to Europe in March. Speaking of which I need to renew my passport.
I heard from my Finnish friend in Estonia today too. She's up for having me some days in Tallinn. So I have to add that to my itinerary. My busy itinerary. I don't want to check for plane tickets today. I checked some weeks ago and the return ticket from Stockholm to Estonia's capital was 90 dollars. Hope it's around the same. I'll book the ticket after Christmas. I don't know, but I don't feel this ticket will be a proper Christmas gift to myself. But then I wonder, what can I buy myself? More records? I barely have space now. I'm actually thinking of buying some furniture. Some shelves for my CDs. If only there was furniture that was especially made to shelf 7″ records…
So today everyone is mellow. And as I said, I'm feeling it too. I have this stupid wish of hearing from A. Though that would probably be for the worst. Haven't heard from her for a month now. That's how the world goes. That's what my beloved McCarthy used to sing in that pop hymn that is "Boy Meets Girl (So What)". There are so many shades to life. If I was going to understand one, I wish it was this one.
I haven't been doing much indiepop shopping as of late either. I haven't added many new items to my eBay saved search. And I have kind of lost the track of the new bands that are coming up. Kind of I have all I need with the new bands I discovered in the last few months and that I want to release next year. So if anyone has any tips for any new releases that I SHOULD get…
I hope I'm not sounding like a sad puppy of some sort. I'm actually pretty excited, it's just you know, looking back at the year that's going away. It was a fabulous year, with ups and downs, but so thrilling, with so many new experiences. I had a fabulous time abroad, going three times to Europe. I didn't have that much dancing this year though. I've had better dancing years I think. I think maybe better concerts too in the past. Though The Aislers Set in New York were monumental. Or The Close Lobsters in Madrid! Ah! That was truly something, something marvelous, not to be repeated. So yes, pretty damn good. And New York has treated me very well aside from a couple of hurricane and train scares. My only regret this year is the one that got away of course. But couldn't have done much either way.
Back to my own comfort. Back to finishing the year with high hopes and high spirits. 2013 is already shaping up with true excitement, there's San Diego in a month and Europe in three months. I just need to figure out what to do in February, where to go?!
———————————————————
I'm revisiting the amazing CD Rupert gave me at Indietracks. Ah! Those three magical days in July, where vegetarian curry is lunch and dinner, when my boots were muddy muddy muddy and I couldn't let her hand go. Rupert was kind enough to burn me this CD, which I think I've told you all about it before when I covered the Meltations on the blog. Now I'm going to cover, if this can be considered covering, the second band to appear on the CD, Cold Comfort. As Rupert told me, not being selfish at all, that he hoped that I could shed new light on these old forgotten bands. That's what it is all about.
Sadly, I've seen while googling about Cold Comfort that the tracks are on Youtube uploaded by Mr Takashi who is very zealous about his rips (or mp3s or something else that I have no clue about). Yes, the same Japanese fan that accused the blog for not giving him "credit" of discovering a band. I guess stranger things have happened in the world and something as silly and ridicule shouldn't be even discussed here. But well, the say football is the most important of the least important things. Probably indiepop comes in second so, it's always an interesting discussing. Anyhow, on his Youtube uploads now he writes "cut off to protect from the US label". Amazing. I can't believe how sad someone can be to think this way. Can he consider the fact that there are more people in the wold that own these records? And you don't need to spent hundreds of pounds on them. You just need to look in the right places. So get off your cloud sir.
Having said that, it's true, I don't own the record. The one and only 12″ the band released. Thanks to Rupert I heard the opening track "Really Really Don't Mind" and thanks to the From a Nothern Place blog I heard the last song "S.A.W.S".  This one has trumpets!! Indiepop with trumpets, that's what it is all about don't you agree? So if you want to listen to that one do head to that blog and check it out there.
I don't think the record has popped up on eBay too often. Seems pretty rare. The artwork for the cover shows 5 times the same photo of an old lady on some sort of grid being the last item a photo of sliced carrots. The record was released in 1990 by Reasonably Serious Records being the first reference in their catalog and I would guess the only one. I'll put my hands on fire and say this was a self-release.
On the A side we find "Really Really Don't Mind", a true indiepop scorcher, and "Don't Want to Know". On the B side we have "Blue Skies in the Rain" and "S.A.W.S.". I haven't heard any of the second songs of each of the sides. Not yet still. So if anyone want to share those, I'd love to hear them!
The band comprised of Giles Evans on lead vocals and trumpet, Jay Baughan on lead guitar and harmonica, Andy Foster on rhythm guitar and vocals, Andy Garlick on bass guitar and Matt Saunders on drums. The EP was produced by Dave Morris, engineered by Mark Tempest and recorded at Workshop Studio. All songs were writing by Andy Foster.
And here is the curious bit, one that I've been trying to follow the thread as a true detective. So on the Thank Yous part of the record there are thanks to Bobbin, George Fardon, Brian, Tatty, Emma, Lib, Giles B, Dave Guillame and PSY. On Twitter I find a Estelle Evans, perhaps related to Giles Evans in some way, and she asks Simon Pegg, yup the actor of many many movies, if he is the PSY that is being thanked on the sleeve. There is no reply from Simon Pegg, at least not publicly, to this question. But during those same dates, on Simon's twitter account, he recommends the bandcamp of an Andy Sonar, his mate. I connect the dots and I think that maybe, but just maybe, this Andy Sonar is Andy Foster? Could it be?
But I can't say. That's where the I stop following the thread. Well, that's where the thread stops. And that's all I could gather about this mysterious group. Questions abound. From the basic background of the band, like, where were they from in the UK? Or why just one record? If they had any more songs? Etc. etc. etc. Any chance anyone can fill in the blanks?
And until next week. Today, have a merry merry christmas!
::::::::::::::::::::::::::::::::::::::::::::::::::::::::::::::::::::::::::::::::::::::::::::::