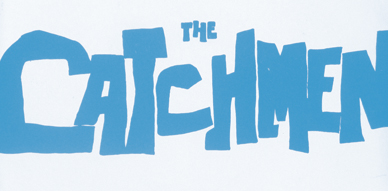 Thanks so much to Michael Knowles for the interview! I wrote about The Catchmen back in March, trying to find out anything about this obscure Stockport band. Gladly Michael was got in touch and was kind enough to answer a bunch of questions. Now The Catchmen are a bit less of a mystery to me. Back then they only released one 7″, but as you'll see on the many links Michael shares with us, there were many other great recordings by the band. Also, make sure to check out his new band, Wintergreen, as it's pretty good!
++ Hi Mike! Thanks so much for being up for this interview. When was the last time you picked up your guitar? Are you still based in Stockport?
5 mins ago. Always strumming a guitar/ banjo/ uke a little out of time. Based in the beautiful Peak District in Derbyshire
++ These days you are involved with Wintergreen. I really enjoy what I've heard on Soundcloud. Tell me a bit about this project of yours? When did it start? Do you have any releases? And how different is this band compared to The Catchmen?
This is the first band I have played in for some time (though I have continued to write songs and record).
An old friend of mine (Pete McGrath) with whom I played in a band post Catchmen (Grifter) saw I will still involved broadly in the Arts and got in touch and asked if I wanted to be in a band again. He is great in that he does the hard part of bands- organising etc so I can concentrate on the fun bit (though it is a very collaborative band). It's a 3 piece band (the first time my guitar has been so prominent) largely because as you get older it's a logistical nightmare to do anything larger. It was great that Ian from the Catchmen (who I have played off and off with over the year) added some keyboard to Whole (sent over the internet – wonders of technology)
++ Have you been involved in any other bands aside from Wintergreen and The Catchmen?
Yes – Grifter – see above. Also did an 'electronic' studio project with Ian Livingstone from the Catchmen and a female singer Jennifer Brett called Casino. See here on Soundcloud https://soundcloud.com/casinoband-1
Ian and I also still record together and I am always demoing acoustic tracks.
++ Let's go then back in time, to the days of The Catchmen. Who were they? Tell me a bit about the members of the band and how did you all knew each other?
They keys members of the band (and the constant) were myself and the keyboardist Ian Livingstone. On the recording you have heard I am singing and playing guitar. On drums is Colin Brennan who used to play with a Chrysalis band called Rex and bass is Darren Martin
++ Where does the name of the band come from?
The film Barberella
++ I know this is a bit of a cliché question, but it's always interesting, what bands would you say influenced you?
For me a clichéd answer I am afraid. The Beatles, but then Squeeze, XTC, Costello, Nilsson, Kinks- songwriters mainly
++ And were there any like-minded bands in Stockport at the time that you really liked?
I liked a guitarist called Steve Finn. There were a lot of good bands around at the time but mostly up the road in Manchester
++ The only thing I really know about The Catchmen is that you released the one 7″. I really love both songs on it. What's the story behind them?
Everybody's Looking for the Sun is about growing apart from my childhood best friend (who gladly I am back in touch with).
Wet Than Dry is a rather extended metaphor about appreciating the past without drowning in it (i.e. the bath!)
++ Was it an easy choice these two songs to include in your 7″? Were there any other song options that you considered?
There were a few songs that we had recorded previously that could have been good singles- Wide Open Eyes, Come On Home, Hurricane, Alice is Blue Again. Have put them up here (with others) https://soundcloud.com/catchmen It was just the timing of going into the studio that meant we picked this one (and that it was irritatingly catchy!)
++ What do you remember from the recording session of the single?
I was at university. It was recorded in the Lymm studio of keyboardist Ian Livingstone in the evening so I often slept through most lectures.
++ Were there any other recordings by The Catchmen?
A lot. A few of them are here https://soundcloud.com/catchmen
None released properly (we didn't have the internet then just cassettes!)
++ How did the creative process work for you guys?
Usually I would come up with a song. Usually about whatever heartbreak I was going through at the time. I would play a few song. Everyone would take the mickey and then we would play it until we found the right feel
++ Who were Taking Liberties Records?
A label we set up for this.
++ And how come there were no other releases by the band?
We tried to get a deal but despite interest from Chrysalis and some major labels it didn't happen. This was before the internet so we 'released' other tracks but on cassette tape really (got that makes me sound so old!)
++ What about gigs? Did you play many? What were your favourite gig?
We play a lot of gigs locally. Oasis supported us and we played with the Rhythm sisters featuring Bruce Foxton from the Jam. Also opened a university with Candyflip. Some of the best gigs though were at the Band on the Wall in Manchester
++ And when and why did the band split?
We had tried to get some interest but it wasn't happening. Ian left. I tried to soldier on but post university I had to try and earn a living!
++ Are you still in touch with the rest? What are you guys up to these days?
I still play music and still record with Ian occasionally. Have written some songs for my films. I am a film producer http://www.imdb.com/name/nm1624973/?ref_=fn_al_nm_3 and Ian is writing the music for my new film (I might provide a song)
++ And aside from music, what other hobbies do you like doing?
Film. Reading. Family. Running. Screaming
++ Looking back in time, what would you say was the highlight of The Catchmen?
Getting a note from Chrysalis saying they loved our demo and to call them on Monday to discuss our future. A glowing review from The Word front man Terry Christian. Some great gigs. Recording. Writing songs. Always comes back to the songs
++ Thanks again Mike! Anything else you'd like to add?
Any help getting tracks distributed old or new in the States/ anywhere greatly appreciated.
::::::::::::::::::::::::::::::::::::::::::::::::::::::::::::::::::::::::::::::::::::::::::::::