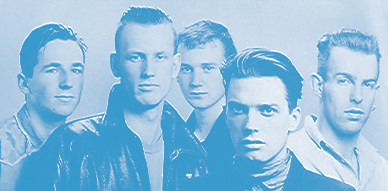 I'm thinking I should leave a post ready for next week. What do you say? I'm kind of enjoying posting some news plus an obscure band every weekend. Next weekend I'll be out of town, in Chicago. Going on a ghost tour on Saturday. Never done that though I don't expect to see anything supernatural. But should be fun, ghost stories are great.  Everything is all sorted as Kristine has already made a schedule for the weekend. Which reminds me I have to start buying train tickets for my UK trip at the end of July before the prices are higher.
Today has been a good day on eBay even though I lost my attention for a second and lost two great records in the last seconds. I don't know what I was thinking. Among the great findings that I won today there was a 12″ by The Wilderness Children and a 7″ by The Sedgwicks that I was missing. Happy Friday. Today I also finished the fanzine. Added a new interview to Sarasota darlings Cassolette. Can't complain. It's been productive.
Also today the pressing plant sent me an email saying that the test pressings for the Very Truly Yours 7″ single are on the way. They should arrive home on Monday. Perfect. We are on schedule. Now it's safe to say the record will be released July 31st, the day they play Indietracks! Though of course, the single will be available before if you happen to be at any of their shows during their UK tour.
So let's talk about some ghosts of the past. Let's go this time to Ireland. To Dublin. I'm sure that somewhere in that city, someone must have it. On tape probably. If we are lucky on a DAT tape. Someone must have Guernica's elusive unreleased album.
Not so sure where to start digging on this ghost tour. Usually my first stop is Discogs, see if someone has listed the band's records there. In this case we are lucky. There's even a small bio about the band:
Guernica took a heavy New Order/Joy Division influence and mixed it with indie/C86/jangle-pop sounds. They also incorporated lighter, rockabilly touches to fantastic effect. After a debut single on Solid, they signed to Idol Records in London and released one acclaimed single(orange an red – 12″). They appeared on TV several times including MT USA ("Americano"), TV Ga Ga ("Americano"), Anything Goes ("New Boy"), Borderline ("Deep Sea Diving") and Megamix ("Homing").
Most importantly there's a band lineup: Joe Rooney (vocals), Derek Turner (guitar), Ray McCarthy (keyboards), Derek Lee (bass) and Dara Broe (drums). Doing some more digging I found out that the lead vocalist, Joe Rooney is one of Ireland's top comic actors and one of the Dereks runs the Spirit Store in Dundalk and manages the Flaws.
On that same discogs page there is a broken link that should have taken you here. This page is part of the Irish Punk and New Wave Discography.  I find there the same text that Discogs has as a biography. Also more information that I would copy paste but it seems these Irish guys are very zealous about their information as they have added some javascript scripts to disallow right clicking or selecting the content.  I don't understand that. I've seen many of the stuff here being copy/pasted in several pages, even in Youtube. No big deal. Anyhow, the stuff they have compiled is really interesting, especially the Spain part:
"We were a New Order type band that ended up going rockabilly. We were a depressing soul-searching rockabilly band, if you can imagine that. We came up with a new type of music in fact, but we broke up after that. The keyboard player found God and he started playing keyboards at a Born Again Christian church. The bass player joined the band Sack and then he left us. Another guy has a studio near Dundalk and the drummer just got loads of girls pregnant!"–Joe Rooney, from a 2004 interview in the Galway Observer
Guernica's records are particularly popular in Spain, where "Red And Orange" has been included on a number of Spanish compilation CDs. Here is Hugo's explanation for the band's popularity in Spain:
"During the mid 80's there was a Belgian DJ called Frank Lenaers that lived in Valencia and played at a very famous club called Spook. He made Orange and Red "very popular" (considering that was a reduced circle of people). He was a true legend on the decks, he developed an unique style of mixing using early EBM's, electro, house and industrial minimal tunes as a base for Indie pop, brit pop & rock songs like Guernica's. Those years of good music, memories & "unhealty life" -the explosion of mescalin and xtc- are still present for some of us…"
There have also been Spanish, Italian and Japanese bands named Guernica, the source of some confusion perhaps.
Note there is NO LINK to the late '90s pop group named Guernica from Buncrana, Co. Donegal who formed in 1997 and released two CD singles ("Surf Buddy" and 1998's "Sights Are Cool") before disbanding, the core duo continuing as Palomino.
Joe Rooney is a now a well known TV actor ("Father Ted") and standup comedian. Derek Lee later in Sack (see Lord John White). Derek Turner (ex Ifter the Shifter) later formed the excellent Honey Thieves.
But of course the connection with Spain is bigger than that. The band's name probably comes either from the Basque town Guernica or most probably from the Picasso painting of the name. This famous painting was created in response to the bombing of Guernica, Basque Country, by German and Italian warplanes at the behest of the Spanish Nationalist forces, on 26 April 1937, during the Spanish Civil War. The Spanish Republican government commissioned Picasso to create a large mural for the Spanish display at the Paris International Exposition at the 1937 World's Fair in Paris.
Guernica shows the tragedies of war and the suffering it inflicts upon individuals, particularly innocent civilians. This work has gained a monumental status, becoming a perpetual reminder of the tragedies of war, an anti-war symbol, and an embodiment of peace. On completion Guernica was displayed around the world in a brief tour, becoming famous and widely acclaimed. This tour helped bring the Spanish Civil War to the world's attention.
But let's not get carried away. What about the releases of the band?
The first release was the 7″ single "Deep Sea Diving" / "New Boy" released on Solid Records (ROK 707) in 1987. This record has a fantastic sleeve, one that I would have loved to released, where this white and brown dog is jumping over a monotone blue lake. Both songs on this record are great, this by far my favourite release by them. It's just fantastic guitar pop, no wonder all of their records are so expensive and rare!
Second release is perhaps their most known record. It includes the hit-in-Spain "Orange and Red", which in an ideal world would have been a hit in the whole world! On the flip side there are another two great slices of pop "The Queen of Our County" and "Missionary". The odd thing about this record is that it was recorded in December 1985 and August 1986 but only released in March 1987. The record was recorded at Slane Studios and they crossed the  North Channel  to sign for Idol Records (home of the great Last Party) in London and release it as a 12″ Maxi single. Catalog number is 12ID2.
Their third release was again a 12″, this time an EP on a label I've never heard before "Miss Pedestal". I would guess it was self-released but I can't confirm it. It was catalog 001 and was released in July 1988. On the A side we find "Humming of the Engine" and on the B side "Summerville" and "Veil of Tears". This may be my least favourite release, as it's the least poppy one. On the B side you can find the rockabilly that is mentioned on their bio; whereas on the A side, well, that song is quite dark!
They appeared on a couple of compilations:
–  Contraseña  – with the song Orange and Red. This is an Spanish compilation.
–  Remember Collection – again with Orange and Red and released in Spain.
–  Unknown name – with Queen of our Country on Eden Music Records.
– Solid Citizens – a tape on Solid Records where they included Deep Sea Divers
Among other bits and bobs of information I've gathered, I found out that they toured with the more known A House (their first ever tour), as a double header bill, through all Ireland, and that Derek Turner had previously been in the band The Handsome Devils. No clue if they had any releases. The Honey Thieves did, but I guess that's another story. And that's about it.
The post came out much longer than I thought! That's good, lots to read! Anyways, if anyone has anything else to add, if anyone has that unreleased album or any unreleased tracks, if anyone have spares of these records, if anyone just wants to share some memories of Guernica, please leave a comment or get in touch. It's hard to get in touch with a celebrity like Joe Rooney for an interview, but if anyone knows how to get in touch with any band member, please let me know! Would love to learn more about Guernica.
I'm so in love today with "Deep Sea Diving" that I have just made everyone bounce their heads on the turntable.fm thingie. It's just fabulous!
::::::::::::::::::::::::::::::::::::::::::::::::::::::::::::::::::::::::::::::::::::::::::::::
Listen
Guernica – Deep Sea Diving