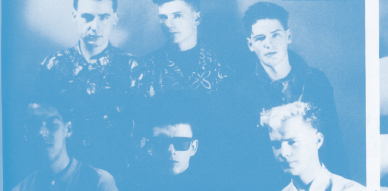 So close to March. So close of me being 30. It's an interesting feeling. I did want to celebrate happily and in a special way my 29th birthday, because in my mind it was the last year of my youth. For my 30th I haven't planned much aside from organizing something with friends and beers, like if I'm not that excited to reach the big thirty. Which is kind of dumb perhaps, I remember Nana's 30th party in Hamburg, one of the best nights in my life, and most possibly one of the best ones for her definitely. That night is for me legendary now, including the best crowd and the best music you could think of. Why didn't I copy and organize something like that? I want to blame it to me being lazy, not wanting to spend my birthday organizing something and taking care of things, of bands, of sound systems, and stuff. I wanted not to worry. Maybe this is a trait of me becoming older? Being a bit more selfish in that sense? I wonder.
Also I have to say I'm not that keen on DJing anymore. It's more fun to dance. Of course, you need a person with fantastic taste so I can dance like a madman, one that plays the songs that "talk about my life".  I have friends that can do that, friends with pristine taste. Not that many in New York, true, but nonetheless, I could enjoy a night of cheesy songs too. My love for Roxette or Vengaboys is something I've never hid. The only DJ gig that I still want to do is the one at Indietracks. I know that it will be hard for me to be picked, especially for my now famous and also uncomfortable indiepop militant stand, but I trust that it will happen. I've always delivered dancing and stomping dancefloors. One of the things I'm proud of.
And talking about being proud of, today I announced a new release on the label. Though the band made a comeback two years ago this is their recording comeback, with new songs. I'm talking of stuff of indiepop legend, of indiepop history, of indiepop heroes. I'm talking about a 4 song 7″ vinyl EP by the might THE HAYWAINS!!!!
Albeit I knew about this release for some months now, we kept it secret until now, especially as the date of the release date is on May 30th, the day of a very important gig for them! The information and a pre-order button are now up on the Cloudberry site. The 7″ EP includes the songs:
a1. It's Time We Stopped Pretending
a2. Badgerline Day Return
b1. The Rebels With Good Intentions
b2. Let's Twist! (The Knife In My Heart)
An interesting fact for you all: 'Badgerline Day Return' is a song the band were playing live back in 1989. The song never got recorded at the time, yet it remained one of The Haywains favourites, and it has at last being recorded!
To my surprise the music doesn't sound like what many of you might expect: "mature and boring". It sounds fresh! It sounds like if The Haywains had never left. This sounds circa 1991. Glory days! Just give it a try, you can download the first song of the record from our site. And on our Soundcloud you can listen to "Badgerline Day Return."
I'm so very happy to announce this record, and I hope you all love it! It will be our last 500 copy 7″ too, because after it we'll be making smaller numbers to catch up with these modern times. So kind of a landmark this Haywains return.
I can't explain the excitement I feel. I've been a Haywains fan for years. Tracking all their releases. I traveled all the way to Spain to see them at Madrid Popfest last year, and what a concert it was. They were so true to their hearts. I had to fight and push to get their setlist. It was amazing! And to remember the day in Bristol, at the Mother's Ruin, at a Big Pink Cake party, when I met Paul Towler for the first time. For a few minutes. So long ago. And having worked twice with him in his other project, The Westfield Mining Disaster, to now being able to release one of my favourite bands from the period. This is why I love having a label, this is why I love indiepop, because things like these happen!
———————————————————–
Changing a bit the subject now, the classic obscure band of the week section. The one that half of the readers care for (ha ha ha).
We stay in the UK. But exactly where inthe UK, I don't know. Playing Soldiers they didn't release anything, but the one song on a compilation. The compilation I'm talking about was "Shift the Shift" and was released in 1984 by Shift Records. Here is the first clue perhaps, it says that the whole record was rorded at Palladium Studios, Edinburgh but track B6 recorded at Berkeley St. Studios. Track B6 was by one Robert Henry.
I don't own the compilation yet, but the prices don't seem expensive, so I might as well get it after finishing writing this blog post. I'm curious though if it's worth it. I don't know the rest of the bands but Chewy Raccoon. They are alright, guitar pop, but wouldn't say indiepop really. You can listen to one of their songs here. Chewy Raccoon released a 12″ with this label in 1985 (Shift 003).
This compilation came out in 1984 and was the first release of the label, being catalog SHIFT 001. What was SHIFT 002? I have no clue. The other bands in this label sampler were: Mo and The Souvenirs, West of Sunset, Earthworks, Simone Lahbib, Anne Turner, and the aforementioned Robert Henry.
The song that Playing Soldiers contributed to this compilation was "Thought for Walking". It was the fifth track on the A side. From the credits we learn that Playing Soldiers were Gordon Keen, Jim Lambie, Mark Tuffley, Nick Quail and Stephen Davis. Not sure which instruments each of them played. It doesn't say on the back sleeve photo of them.
The only other song I know by them is a better one, "Corner of My Mind". This should have been their single I'd say. This song I first heard on Myspace some time  ago, and I grin seeing it in that monolithic site. It's a fantastic piece of jangle, ahead of the game, ahead of their C86 peers. Somewhere in between The Room and The High Five perhaps?! Timeless pop that has been lost in time. Judge for yourself!
Edit!
Seems I didn't do my homework that well. My friend Andreas from Hamburg just pointed me that:
Playing Soldiers predated BMX Bandits, The Soup Dragons, Boy Hairdressers, Teenage Fanclub, Captain America and Eugenius:
Gordon Keen – Playing Soldiers, BMX Bandits, Captain America, Eugenius (see also http://www.discogs.com/Gordon-Keen-And-His-BMX-Bandits-Gordon-Keen-And-His-BMX-Bandits/master/252839 and http://zenandjuice.com/music/teenage_fanclub/text/bmxbandits.txt)
Jim Lambie – Playing Soldiers, The Boy Hairdressers, Jim Lambie (solo, one 7″)
Nick Quail – Playing Soldiers, The Soup Dragons, BMX Bandits, Teenage Fanclub
::::::::::::::::::::::::::::::::::::::::::::::::::::::::::::::::::::::::::::::::::::::::::::::