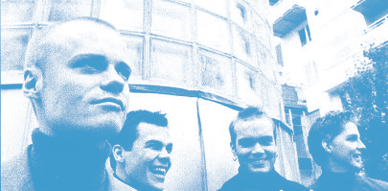 About to start the second half of the year, June is almost over. Last week I was saying that there had been a lot of new indiepop videos released lately and definitely that is a healthy thing. So I want to introduce you to some of these new videos that I've been enjoying the past few weeks. But before that many of you might have seen the news that The Seashells, the legendary band from Umeå, Sweden, will be releasing a 7″ with us later this year. You can listen the A side, "Thoughtlessness" on the band's Soundcloud, you are going to love it! I'll have more news about this release as soon as the artwork for the single is completed, so keep an eye here, on the blog or our Facebook for that. Should be out hopefully by October or November.
I'll start these recommendations by the latest video that has been released, and that's Ay, Carmela's "Crying in Public". This song comes out from an EP titled "Working Weeks" that will be released on July 28th. The sound is a bit different to Carmela's other band, Colour Me Wednesday, where she plays bass. The song is refreshing, it is classic guitar pop, simple, straight to the point, with punkish guitar and poppy vocals, but especially it is different to much of what the UK has been giving us the last few years, that folky/punkish stuff that Indietracks had been championing. For me that is important and it is already a victory.
Next up is a household name, a band that had released with us on Cloudberry: Lost Tapes. They have released a video for the song "Girls" that appears in their first album on Mushroom Pillow that is highly recommended. I remember this video started being recorded the first time the band was in NY a couple years back. It took quite a while but it has been worth the wait.
Perhaps the most exciting news was that Burning Hearts were back. They released a new song, a new video, called "Work of Art". And guess what? It is a work of art. I've always been a sucker for all of their songs, and I've been lucky to have seen them play live. I love the imagery, the lyrics, Jessica's vocals. I don't know much about where or when this song will be released physically, but I hope it is soon. Top stuff.
Then another band that has a connection with Cloudberry, my friends Tiny Fireflies who I just saw once again at NYC Popfest. They have made a video for one of their best songs on their first album: "Ghost". I suppose all of you reading me own a copy of their album, but if you haven't you should grab one before they sell out. Gems like this song abound on it. Kristine and Lisle are two of the most talented musicians I know, and better people even. Now I look forward to their next album effort which they've told me they have started working on!
Expert Alterations is one of the few American bands I really like. On top of that they make indiepop the way I like it and not many does anymore. That one that ramshackles and feels like everything is breaking apart. Crashpop some call it. That one that owes a lot to the TVPs, to the McTells, to O Level and more. They've made a video for "Such a Stupid Fool" and it's a lo-fi bike ride filled with Pa Pa Pas that is just infectious.
Barcelona's Papa Topo are releasing a new album called "Ópalo Negro" this coming month. Their second promo video for this record is "Lágrimas de Cocodrilo" and it is a cracker. Very influenced by La Movida, very Berlanga, very Dinarama. A video full of Egyptian imagery, a saxophone and even a mummy! It looks like it was a lot of fun to make it. I can't wait to have this album, hopefully Jigsaw Records carries it as Elefant prices are always a bit steep for us in this side of the Atlantic.
And actually today I got on the snail mail an EP from a very cool Japanese band that has really surprised me that I want to recommend to all of you. They are called With Me and they hail from Tokyo. They have just released this CD Ep called "Love Letter" and it includes 5 songs that you can have a quick sample here. The band is formed by Aota (vocals and guitar), Miki (guitar), Sakura (bass) and Fumi (drums). It's top indiepop in the classic tradition of Japanese indiepop of course, that one that gets influenced by Momoko Yoshino's bands for example. You can get this album from many stores including Disk Union, Stone Records, Sone Records, File-Under, Thistime, and more! They are also trying to make a 7″ version of this EP and have put together a crowdfunding project if you'd like to help. I'm really enjoying it and I hope to hear more from them in the near future.
So a lot of things going in indiepop world at the moment, hopefully it continues like this for the time to come!
---
Riviera, pronounced, is an Italian word which means "coastline", ultimately derived from Latin ripa, through Ligurian rivea. It came to be applied as a proper name to the coast of Liguria, in the form riviera ligure, then shortened to riviera. 
I heard Riviera for the first time on a Dublab Podcast where Peter Hahndorf from Twee.net was a guest. You can listen and download this session from October 2008 here. In it he introduced a bunch of bands from Asia mostly, like Monte Carlo, Carnival Park, The Oddfellows and more. The penultimate song he played was Riviera's "Heaven Knows I Love You" and they weren't from Asia, but Sweden. It was a nice surprise for me.
I don't know much about this band that only released one CD EP in 1997. I don't own the record yet. I don't know how hard it is to find it. Maybe I'll be lucky someday soon as I have only added it today to my Discogs wantlist.
The CD EPwas released on Trampolene Records (TRACDS513), mostly known for being home of The Cardigans. This label was also a subsidiary label for Stockholm Records that eventually was going to be sold in 2000 to Universal. Maybe then it was sort of mainstream their releases. I don't know how well known Riviera was in Sweden. At least, some attention they might have gotten thanks to being in the same label as The Cardigans?
The CD was economically released in a card sleeve jacket. Three songs were included, "Heaven Knows I Love You", "Same Old Story" and "Why Was I The Last To Know?". The credits tell us that the record was written and produced by Claes Molander. Engineered and co-produced by Charlie Hillson. Mastered by Åsa Winzell at Polar Studios. The photography of the band on the cover and back cover by Peter Larsson.
On the sleeve it is said that "Heaven Knows I Love You" is taken from the forthcoming album "A Lover's Work is Never Done". Thing is, I believe this album was never released as I can't find any information about it. Nevertheless a song by the same name was included in a Japanese compilation of Swedish bands called "Pop Hits the North". This compilation was released by Polydor (POCP-7163) in 1996, a year before the CD EP. On this compilation we could see some very fine and well known bands like The Cardigans, Cloudberry Jam or Happydeadmen among others.
So 4 songs seem to be all their recorded output.
I could find a blog post on a Swedish page called "Tidskriften Pop Revisited" about them. From it I gather a couple of interesting facts, most especially about Claes Molander who seems to be the driving force behind Riviera. We know that he lived in London between 1973 and 1978 and he became inspired by Gary Glitter when he saw him on Top of the Pops. He would come back to Sweden and have a band there called The Varlets in the nineties.
The blog continues telling us some of Claes' influences, from Tamla Motown to Phil Spector. There's definitely that sort of sound. But sadly there's no more info. Luckily through The Varlets I could find out that at least they released a cassette tape in 1994. Seems it was self-released and it included 5 songs (which I found them on Youtube): "Please Let Me Know", "I'm In Love With You", "Sooner or Later", "You're Being Fooled", "Doctor Believe Me".
The Varlets was formed by Benny Björk on bass and vocals, Kent Alfredsson on drums, Johan Elb on guitar, Claes Molander on vocals, guitar and percussion. The produced for this tape was Håkan Göstas and they even had a manager in Jacke Nummelin. Did they release anything else? I don't know.
Another band I know Claes was involved with was Revelation. I believe it was after the demise of Riviera. They released a 7" on Dolores Recordings in 1999 and it included the song "That's How Much You Mean to Me" and an instrumental version of the same song on the B side.
I wonder whatever happened to Claes during the 2000s, seems like he disappeared, or perhaps not? What other bands was he part of? What happened to the Riviera album? Did they play a lot live? Whereabout in Sweden were they based? Would be interesting to find answers to all of these questions and more!
::::::::::::::::::::::::::::::::::::::::::::::::::::::::::::::::::::::::::::::::::::::::::::::