29
Apr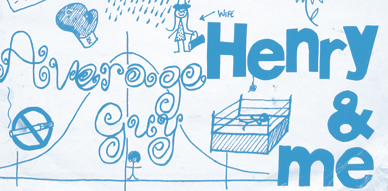 At last I can announce the new release coming out on Cloudberry! The official date is June 12th but there will be copies at NYC Popfest. That's because this "secret" band is playing there. There will also be copies at Indietracks because of the same reason. Perhaps you guessed already. The band is a NYC band, with very tight bonds to the city. Many of the members of the band used to be in a classic, wait, legendary, indiepop band from this same town. I found out that one of the vocalist actually lived three blocks away from where I live now in Astoria. Strangest things have happened. This band toured Sweden even. Hultsfred festival. I wish I had been there. Are you following my hints? They released 10 years ago an epic album, "The Happiest Days of My Life". I still hear many songs from this record when fellow indiepopkids DJ. Then there was the hiatus. Then they came back under a new name and with new faces and released an EP and an album on Le Grand Magistery. Years passed. And now I can happily announce that Cloudberry is releasing The Secret History's new album!
The album is aptly titled "Americans Singing in the Dark" and it's a true ode to New York, this city I've started to make my own. This of course doesn't mean that people that don't live here won't understand it. It's a universal album. It's indiepop, classic, elegant, and well written. The brainy kind. It has it's gritty moments, it's has it's sugary moments, and at all times it's a proud album with immense songs crafted with detail.
11 new songs and opening a new series of contemporary albums called the Cloudberry Dream Workshop. Because I believe that dreams are the future, and these albums are the future of our scene, of our music.
The album is packaged in true Cloudberry fashion, the vertical book style digipak, full colour booklet, lyrics included. Quality over anything, as you who follow us know well. The album tracklist and some more details have been announced on both the Cloudberry site and the Cloudberry Facebook page by now. We will be giving away an MP3 taster in the next couple of hours. I really hope you like it.
I'm very proud about this release as I've been a fan of The Secret History and My Favorite for years. The first time I saw them was at the 2007 NYC Popfest. I was blown away. I remember buying a t-shirt then which I still wear it. Many years after, at Littlefield I was going to see them again, at then another NYC Popfest, the 2010 edition. That year I bought from them another t-shirt. Very similar to the first one, though this one instead of having the name of the band all in white, they decided to have the "The" part of the band in yellow. I didn't know them. I was just a fan. I had had a bit of contact with Michael at some point years before because he really liked the Blind Terry 3″ single, especially because of the nod to Prefab Sprout. Him being a big fan.
Years have passed since those days. I'm still a fan. But now I know them a bit more. Talking at some gigs. And then at Mondo too. Cheap beer and indie gossip. A one time meeting at The Sparrow for another pints and figuring out how we were going to make this release happen. The time frame. Happily as we talk all parts are in the pressing plant and things are full-steam ahead. You can't imagine how happy I am. It's a bit strange when you get to release a band and people you grew up listening to their music with. I always thought that they would have made a great single for Cloudberry when I was starting, but maybe felt shy to ask them. They were too "big" in my book. And now we have worked on this album, albeit secretly, for the last couple of months, but now it's for everyone to know. And I'm honoured. I think it's a great time for the label and a lot has to do with this release. It feels like the label has finally found a place in NYC, something it never did in Miami. And so I hope to see you all at the release party in June. And why not, at NYC Popfest and Indietracks! Can I count with you all?
PS. There's another "secret" gig in July which I'm doing a flyer for as I write these lines and I will DJ between bands then too… and no, it's not in the US!
—————————————————–
So as our weekly "tradition" (because it is one already, right?) I'll introduce you to an obscure band. I don't know yet what's your favourite part of the blog, if any. If the Cloudberry news, if some of my pop diaries, or the obscure band. Or just the MP3 that is shared. You tell me. I enjoy writing anyways. 2004 was the first time I blogged. I'm getting old! Anyhow, let's continue our march in converting all good souls of the world into indiepop and collecting records!
Henry & Me. Who was Henry? And who was this me? Who were Henry & Me? That's an indiepop mystery that Google can't solve. And I'm looking out for your help.
Henry :   masc. proper name, from French Henri, from Late Latin Henricus, from German Heinrich, from Old High German Heimerich, literally "the ruler of the house," from heim "home" + rihhi "ruler." One of the most popular Norman names after the Conquest.
Henry & Me released just one 7″ as far as I know. The A-side was "Sentimental" and the B-side was "Average Guy". I've had this record for a long time on my saved searches but nothing pops up for me. Luckily I finally heard one of their songs, Average Guy, thanks to the great blog From a Northern Place (which I thank and also celebrate on my latest fanzine because they are one of the few that has been making me happy with MP3s from records I've been looking for and feeling curious about for long!).
I'm pretty sure the band is British, because of the accent. But on the back sleeve there's a photo of NYC. With the Twin Towers. Odd. I never saw them in real live. Then the other hint that tells me they weren't from around here is that there is a phone number on there too, belonging to a Ronan Whyte. That's an Irish name though, isn't it? But the number seems British.
The only other information on the back sleeve that seems relevant is that the two songs were original recordings by the band and they were made in 1991.
The front sleeve has a very fun artwork. It's hand-drawn and it's all black and white. For some reason this release seems more like promo material (especially because there's a phone on the back), so I'm guessing they were trying to get label interest? Surprisingly it seems they didn't. It's strange because I really like "Average Guy". It reminds me a bit of Nixon actually. That kind of indiepop. Sad, lovelorn, melancholic, in shambles, written in someone's bedroom, recorded with a lot of hear and honest sentiments.
But who knows what happened to them. And who were the people behind it. It's a big mystery to me. And maybe someone out there can help me understand it better. Who were they? How many copies of this record are out there? Any spares for me maybe? Did they play many gigs? Where did they hail from? Were they involved with other bands? So many questions and don't even know where to start looking.
::::::::::::::::::::::::::::::::::::::::::::::::::::::::::::::::::::::::::::::::::::::::::::::
Listen
Henry & Me – Average Man