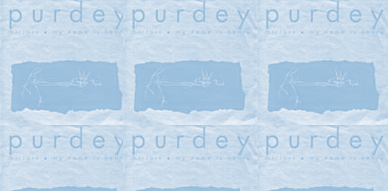 I was gladly surprised and satisfied when I found that at the Alfreton Tesco they sold 2 liter Diet Irn Bru. I haven't seen this fizzy drink since I fell in love with it in Glasgow three days earlier. Since then I've been in Manchester, London and Nottingham acting more or less like a roadie for Very Truly Yours. I believe it all started in New York Popfest, I'd say I've been carrying Kristine's keyboard for an accumulated time of 24 hours. Not exaggerating. It's damn heavy by the way. Right, the Diet Irn Bru, with it's platinum colored label, and that great taste that reminded me to Colombiana Postobon or the Jamaican Kola Champagne, was sitting pretty on my shopping cart along some croissants, a two litter bottle of cloudy lemonade and a Kopparberg 6-pack. Everything was gone by the end of Indietracks but the Diet Irn Bru. I saved it as a precious treasure. Sadly I couldn't fly back to the US with it. So I had to drink it.
I can't believe I didn't have this soda back in February when I first visited Glasgow. Now that I remember, I don't think I had anything but beer to drink while I was there. It's funny as I haven't had a sip of beer since August now. The second time around, while walking around and looking for a hotel were Very Truly Yours could stay, somewhere central, I went into one of the little convenience stores to buy a postcard for my future wife. I couldn't resist trying the Irn Bru this time around as The Orchids mention them in "I've Got a Habit": "So I'm drinking Irn-Bru / And I'm thinking of you / You've got the sunshine in your eyes." I took the Diet version as I really dislike sweets. I know, that's not very indiepop of me. I run away when they start cutting and serving the cake at parties. It's always hard to explain to people that I don't like cake, no one understands.
The Travelodge at Alfreton only provides you with very basic stuff like towels and some Liliput size plastic cups. Plastic cups made of the cheapest plastic around as they don't weight nothing at all. Very risky to take them outside to the sole picnic table to have a drink. The wind would just carry them away. But it was just like that how the race to finish the 2 little bottle started. After breakfast, sausage roll and orange juice, and then having a painful time buying a vegetarian sandwich for Jennifer (because the Little Chef had ran out of tomatoes and cheese, and everything!!), I finally opened the 2 liter bottle. Tim didn't want any. No one wanted to have a cup of Diet Irn Bru. It was just myself and Irn Bru. And I was thinking of you.
I finally had an Irn Bru drinking partner on the train back to London. The always so well-dressed Krister Bladh and I shared stories, gossip and complains, about the whole weekend over plastic cups filled with the orange fizzy drink. The melancholy of leaving the best place on Earth for indiepop pictured next to us where Leo and Vanessa were silent, cuddling and eating crisps. A bit further away Emelie and Gustav sleeping on the not so comfortable train seats. Exhausted. It was over. And soon, more or less when the train was passing by Leicester, we had finished the Irn Bru. Jennifer, sitting next to us, didn't try a sip. It was the end. Next day I was leaving the UK. On the way back to Brockley I stopped once again at a convenience store. There was no Diet Irn Bru. Time to try Ribena I thought, but they didn't have a diet version. I really dislike sweets.
I do miss one sweet though, Marabou milk chocolate.
—
After a couple of very busy weeks, I'm having much more time in my hands. I'm taking some time to relax now as the next month will be very tiring with the move and all. As far as Cloudberry goes, as you know, all orders will continue shipping normally as far as I know. I do hope to find a place in NYC close to a post office. Right now, here in Miami Beach, I have a post office just 4 blocks away. It's really helpful. The only record in production right now is Feverfew but as soon as I'm settled in I will resume the production of the 7″s with Cassolette and Nixon. Also it seems that at last The Deddingtons remastered songs will be sent to me! That means that hopefully early next year we may have a Deddingtons release at last. I'll keep you updated.
The CDs on rotation at home this week were:
1. John Wood – Quite Storm (Excellent)
2. Veronica Falls – S/T (Slumberland)
3. The Wedding Present – John Peel Sessions 1992-1995 (Cooking Vinyl)
4. Beaumont – This Is… (Siesta)
5. Brideshead – Some People Have all the Fun (Marsh-Marigold)
—
Another band I discovered through Heinz's Youtube uploads was Purdey. Sadly there is absolutely no information about them whatsoever in the internet. But let's try to put some pieces together, alright?
Purdey is just a family name as far as I'm concerned. There's fabulous song by Spanish punkies Siniestro Total called "Purdey", there are some shotguns manufactured by some Purdey company and there's also a drink called Purdey's that is sold in the United Kingdom, the Republic of Ireland, Australia, Holland and Belgium. It is sold in 330ml brown glass bottles with a silver or gold plastic label that covers the whole bottle. There are two variants: Purdey's Activation (formerly known as Active Body) – This is marketed as a healthy energy drink and contains a combination of sugars and also tastes very sweet. And Purdey's Rejuvenation (formerly known as Active Life) – This has no added sugar (but is sweet nonetheless) and is sold in a silver bottle. Both variants are made of fruit juices and carbonated water and are fortified with vitamins. They also contain Damiana and Ginseng. None of them are as good as Irn Bru.
But the name of the band most probably comes from the character named Purdey in the British TV series The New Avengers played by Joanna Lumley from 1976-77. She was a spy working for British intelligence in that show.
There's only one release we know exists. It was a 7″ released on Acetone Records from France in 1996. It includes two songs: "Mirrors" and "My Name is Henry". Catalog Number SOLVE 005. So far I've only had the chance to listen to the first track. Some months ago I found out a website for Acetone Records and wrote them, but they never answered. The site looked very much outdated, with a very 90s "geocities" style design, if you know what I mean. I'm not sure where Purdey were from, but a safe guess is that they were from France too. We know that the lyrics were written by an Eric, which is not very uncommon for French to have that name. Eric Cantona for example 🙂
The other, and most important clue, that makes me think they were French is that the record was recorded at Pôle Nord Studio by Mini & Fabius. Not sure if this recording studio exists anymore, but clearly the name is French. Translated: North Pole Studio.
Only 500 copies made and the artwork done by someone called Gijom who also contributed his artistic skills on another Acetone release, on a Sportsguitar 7″. That's about it.
So if anyone knows anything else, has a spare copy, or wants to share any memories, please do! Now do enjoy this fabulous Pooh Sticks influenced track that is "Mirrors". It's GREAT!
::::::::::::::::::::::::::::::::::::::::::::::::::::::::::::::::::::::::::::::::::::::::::::::
Listen
Mirrors – Purdey