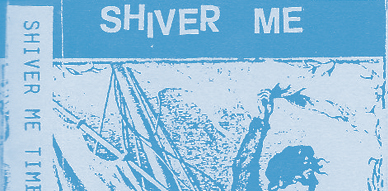 Merry Christmas to everyone! And Happy New Year!!
Last post for the year!! Remember I'm heading to Mexico tomorrow (Friday) night, so please let me know if you need any records! I can mail them within Mexico too if you are not in Mexico City. Not a problem! Just want to help avoid the terrible shipping costs of the United States Postal Service!
Well, as this is the last post of the year, of course I have to wish you all a Merry Christmas and a Happy New Year! As always there are no best of the year lists on the blog as I don't know how to organize my memory to do one. I've listened so much music this year, I think much more than last year, so that makes it even harder to create one. I'll let the cooler bloggers around the world do that (though it is true that they don't list much indiepop in their lists too, shame).
I wonder what would be the best way to start the year? I was thinking about doing some sort of feature for next year, as I did the indiepop world tour where I featured 45 bands from 45 different countries. I was thinking perhaps each month showcase a band that has written a song about that particular month, for example for January I could feature the Most Wanted Men because they had a song called "January" or for November the Desert Wolves. But then, some of these bands are not that obscure, that is true. And another thing is that it may happen that the song named after the month might not be their best song or neither my favourite song by them. I could probably just feature the band and post the song I like most anyways, right? And mention that they did have the one song named after the month. That could be ok, right? It could be interesting, and also it gives me time, it would be just the one post that month that follows this rule, the rest of the posts can be random. Also say for example, it may not be that difficult to track down the Most Wanted Men, maybe an interview would prove more interesting too. Let's see how this idea pans out.
Anyways, I hope too that when i come back after January 1st I can share with you more Cloudberry news, like what more new releases are in store! I can't wait to share them it is hard to keep quiet!
So what new indiepop did I found these days?
Rose Melberg (with Larissa Loyva): there is just the one song titled "Dues" on the Lost Sound Tapes label BandCamp for this duo by the legendary Rose. This song was part of the recording session for her album "September" but remained unreleased until September 29th when it was uploaded. Here Rose sings duet with her long time friend Larissa who plays in the band Fake Tears. The digital track is sold for a buck and all proceeds are to be donated to Girls Rock Camp Vancouver.
Hoop: it is clear that I'm not a tape fan. My relationship with cassettes is not one of love. As much as I dislike streaming music, I prefer that over tapes. CDs and vinyl are fine with me. But tapes, I have a heard time. So I'm not surprised that I haven't checked the Lost Sound Tapes label BandCamp in like forever. So now I find myself checking the catalogue out and find that in February this Seattle band released a tape album titled "Super Genuine" which is actually really nice! There are eleven songs of introspective pop, sweet and melancholic. The band is formed by Caitlin Roberts, Pamela Santiago, Leena Joshi and Inge Chiles. An all-girl band which sounds really fine.
Shrouded Amps: one more from this tape label from the Northwest. This band formed by Tracey Vath (bass, vocals), Matthew Budden (guitars, vocals) and Eirinn M.  (drums) released a 6 song cassette that is catchy and powerful too! Noisy and upbeat, this EP titled "Come Along to The Chocolate Church" was released in May and I'm really enjoying it. The songs are "Chocolate Church", "Cross-Cat to the Black Path", "When You Asked", "Flags", "Concerning Naming Children" and "Lost Creature Land".
Bitter Cherry Jam: don't know much about this band but I see that their limited edition cassette titled "2012" is already sold out. I think that this was actually a re-release of their CDR released in 2012 on the Tulip House label which the band also runs. Well, that's what I believe is the story. The songs on this release by this sweet sounding Japanese band are "Go With Me", "I'm Truly Happy", "You Can Live Your Life", "Rebirth", "Limitation", "So In Love" and "Good-Bye Friends".
The Vegetables: and this is another release I found on the Nagoya, Japan, based Tulip House label Bandcamp. It is a 7 song tape titled "2" and includes "Your Secret", "It's Also Fantasy", "It's so Sad", "Don't Mix Danger", "When You Start to Sing", "Ilevan" and "A Wonderful Night Will Come". From what I got from Google translate I can see that this is the second mini-album by the band and also it is the culmination of a 20 year career. The tape is still available mind you, 3 copies available at the time of writing this post!
——————————————————–
It was many months, maybe a year or more, when I wrote about a obscure band called North By North West on the blog. The band's only released songs were a compilation called "Shiver Me Timbers" released by Rutland Records in 1991 (RUTT 16). They of course weren't the only band on that compilation, there were many and at least half of them were unknown to me. One of them were the jingle jangly The Brickfields.
I have never heard the tape in its entirety, only loose songs here and there. On Discogs there is a scan of the tape sleeve but there is no information about any of the bands. There were many bands from other countries other than the UK, there were Australian, German and Spanish bands. I can imagine them lovingly packing their tapes and mailing them to Leicester were the label was based.
Where were The Brickfields from? I couldn't confirm it but they must have been from the UK, England most probably. I look for any Brickfields in the UK, maybe it was a town there? Well, I do find that there is a stadium in Devonport, England, with the name Brickfields Recreation Ground that is mostly used for rugby by the Plymouth Albion. It was built in 1915. Could I doubt that it was their inspiration.
I do find one more Brickfields, and this could be probably my best bet. There is a Brickfields in Bletchley, England. In this area there is a nature reserve called The Blue Lagoon. Could they have been from the surrounding area? Somewhere in Milton Keynes?
How many were in the band? How long did they last? Were they involved in other bands? Their only output seems to have been this one song they had on the "Shiver Me Timbers" compilation titled "Weekends Stop Here". There doesn't seem to be any other compilation appearances, nor any demo tapes listed on Discogs. But I'm sure that if they recorded one song, they must have recorded at least another one, or more. But how can one find out?
I wonder if maybe whoever compiled the tape for Rutland might remember them, maybe they knew them personally. Maybe. Or maybe you saw them play live back in the day? Anyone remember them? I really like this little lo-fi jangle gem, would love to hear more!
::::::::::::::::::::::::::::::::::::::::::::::::::::::::::::::::::::::::::::::::::::::::::::::