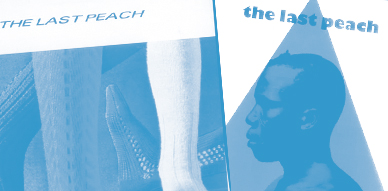 Thanks so much to Mark Hodkinson for the great interview! The Last Peach were a great guitar pop band from the early nineties that sadly didn't break through. They released two 12″ singles, Jarvis and String-Like and received many positive reviews. Nowadays Mark is a writer and he runs his own publishing company, Pomona Books.
++ Hi Mark! Thanks for being up for the interview. You are a writer now and your latest was "The Last Mad Surge of Youth", which I just ordered. The promotional blurb is really compelling to any music lover: "a novel about bands, growing up, moving away and getting famous, suicide, staying at home and getting bored, fanzines, the bomb, love, alcoholism, egotism and self-doubt." Was the nostalgia for those 80s what inspired you to write it? How autobiographical is it?
I wanted to write about what I know about and that period felt particularly intense in terms of emotion and hopes. The book follows the characters into middle age, so it isn't solely based in that period. There is some element of autobiography in the book, as there is with almost any work purporting to be 'fiction' but most of it is from my imagination.
++ How much of The Last Peach is in the book by the way?
Very little. I was 26 when I joined The Last Peach. Before that I was in two other bands – Untermensch and The Monkey Run. I tended to plunder this period for material because that's when I was first starting out and doing so much, meeting so many people. I think it was a richer pool from which to draw inspiration, anecdote etc. We were more child-like and open with our dreams and one another.
++ So okay, let's talk about The Last Peach, which I'm very curious about as there is almost nothing online about your old band. You had been in a couple of bands before though, right? How different were they to The Last Peach?
Untermensch were quite punk, really. We couldn't play particularly well so we made a noise. It was a good noise, though, often built around driving bass lines. Some people have said we sounded a bit like the Dead Kennedys, which is fine. Although we lacked musical acumen we were devoted to at least trying to sound original, having something to say lyrically, and from the age of 16 (when we formed the band) we had a real, almost innate understanding of Art and integrity and how we were delivering the whole thing to the public. I know this sounds pompous but it was essential back then that everyone had a manifesto. I cover this approach in the novel, incidentally, how it was all very politicised and do-or-die.
We evolved into The Monkey Run when we realised we didn't really fit comfortably in the 'anarcho-punk' movement. We wanted to broaden the sound. This was mainly inspired by hearing The Smiths early singles and a wonderful group called The Chameleons. I realised I could pick individual strings rather than whacking them all really hard. We were of the Manchester era that later spawned Happy Mondays, Stones Roses, Inspiral Carpets etc but just missed the boat. We played shows with The Stones Roses, Chameleons, Wedding Present etc, did Radio One sessions etc but we never met that one person (manager, label rep) who believed in us enough to take us on.
++ How did The Last Peach start? Who were the members and how did you know each other?
I packed in The Monkey Run in 1989 when I sensed we just weren't going to 'make it'. The music we were playing was still great but we kept getting false hope – labels asking for demos etc and then passing on us. It had become a slog – sending out tapes, hustling constantly and it wasn't fun any more. About this time I started buying records from a store in Hebden Bridge (West Yorkshire) and the kid working there kept recommending lots of great stuff – I remember he was switched on to Kitchens of Distinction early on and most things he recommended were great. He was called David Cooper and had his own band, The Last Peach. They had already done local gigs and had a review in NME. He had just had some kind of fall-out with the rest of the group and we decided to have a jam. I brought along Pete Betham who had drummed towards the end with The Monkey Run and it worked really well. Darren Sharp, a friend of David's played bass – he'd been in The Last Peach in a very early incarnation, I think: a lovely warm and funny bloke. I saw in David a real ambition and he had these great songs and catchy guitar riffs. I had a clear thought that being in a group with him would be more fun than The Monkey Run because he was a great organiser and grafter. I resolved that I'd be happy to play rhythm guitar, suggesting the odd minor chord here and there, but basically playing a supporting role to David. I'd been the 'boss' (or perhaps just thought I was!) most of the time in previous groups, which I enjoyed most of the time, but it can be a bit much and it means you take all the knocks far more personally than other band members.
++ I guess because of your writer background you were the lyricist?
Nope! I don't think I contributed a single word or phrase to The Last Peach. Again, David had a clear idea of what he wanted to sing about and I liked his lyrics a lot. They were very conversational, nothing fancy or self-conscious – great little stories about our little lives and the people we knew. I always knew I'd one day be a writer and I much preferred the idea of novel writing to squeezing up thoughts to fit lyric meters etc.
++ Why the name The Last Peach?
David was in the garden (as a kid) mucking about with a peach and his mum shouted: 'Hey, what you doing? That's the last peach…and a legend was born.
++ The band hailed from Halifax/Hebden Bridge. How was the scene there back then? Any other good bands in town? What about venues? Which were your favourite spots? I guess you hanged more in Manchester proper?
The only band I really fell for was Wonky Alice, who we also put out on Pomona. They were fantastic – a cross between the Bunnymen, Pink Floyd and The Chameleons, but much more of themselves too – out there, musically and lyrically. We played the local Trades Club a few times in Hebden Bridge which was okay but our best gig ever was at The Return Club in Halifax, which was a sort of nomadic gig. On this particular evening we played in a sports centre and as good as sold it out. The nearest thing I can think of is the Nirvana video for 'Teen Spirit'. The place went totally, utterly mad. We had kids all over the stage, falling into the amps, the drum kits. After each song I remember this roar went up. Each of us were grinning our heads off and I think we knew that we were in the middle of one of the most memorable nights of our lives. I'd played sell-out shows with The Stone Roses, and The Chameleons before, in Manchester, but it wasn't like this. The Halifax crowd were there for us, so it was all the more special and it was out-of-control, on the edge. There was no security or anything, just the local lads that put on the gig, and we were all overwhelmed, in a nice way – there was no fighting or recklessness, just droves of kids piling on, like Assault on Precinct 13 or something. I may be exaggerating! A bit.
++ And I wonder, living in Manchester, how important were The Smiths for you all?
Life-changing, that's all. They absolutely distilled everything about the environment and times we were living through and turned it into perfect art. I feel people like Morrissey have some kind of 'visitation' that enables them to say so much so succinctly and imaginatively over a short period of time. Marr, too, but this time on guitar. All those wonderful, wonderful tunes.
++ In 1992, Melody Maker named you "Tip for 1992" along Suede and Pulp. They broke through but sadly you didn't. Why do you think this happened?
Again, we didn't meet the right people. That's all the difference is when you get to a certain point. We had fantastic tunes, a real commitment and understanding but, along the way, no one took a gamble on us. We played with Pulp once. They were always a great band and deserved their success. It's a fine line, making it and not.
++ Your first release was the 12″ single "Jarvis". Care to tell me a bit about this record? Was this a nod to Pulp by any chance?
Jarvis was the surname of David's girlfriend at the time: nothing to do with Pulp. I'm not sure, but I think the song is a paean to her redemptive powers. David was at a low before she came along!
++ Also on this 12″ you included "Miles Over There" which is such a beautiful song. Do you mind telling me the story behind this song?
Sorry, that one was already written before I joined. We re-recorded it later. I always felt it was a bit skeletal sounding and wanted filling out but I might be wrong.
++ Second release was the "String-Like" 12″ which has kind of an odd cover artwork, very different to the bright coloured first single. Was there any reason for this? Did you as a band design them?
I found some postcards in a second hand shop and passed them to David who always did the graphics. I thought the design he did was brilliant. We just liked the image. David did all the artwork on the first single, pretty much independently. We liked it – four feet, four socks, four lads in a band that shook the Calder Valley.
++ Which was your favourite song of yours? And why?
Back of her Sleeve was always good to play live.And so was Jarvis. They were all great!
++ Both singles were released on your own Pomona Records. How did Pomona Records started? Where did the name come from? What was first, Pomona Records or Pomona Books?
I formed the label, purposely to release the band, and later Wonky Alice. I'd done similar with The Monkey Run. We had a manufacturing and distribution deal with APT who covered most of the costs, so we had all the 'fun' of recording, designing, promotion etc. The label came a long while before the books.
++ So what happened, why no more releases? Why no album? Were there more songs recorded that still remain unreleased?
I think David sort of grew up and lost a good deal of his ego! He became more tolerant and compliant and kind-hearted – all the things that work against you becoming successful. It's always a lot easier if you're a despot. He got heavily into the cooler elements of dance music (trip-hop etc) and tried to move us into that direction. I think this led to some discontent from the rhythm section and I was struggling a bit, too. We should have done an album, that would have been a lovely memento of the times, at least. We didn't fall out or anything. I'm still best friends with David, Pete and Darren, and that's a rare thing.
++ What about gigs? Any anecdotes you could share?
I'm not good with anecdotes. I recall the gigs all being rushed and nervy. It's such a bizarre thing to do, standing in front of people showing off. I never truly got used to it.
++ When and why did you split? Where you involved with bands after?
I can't remember when we split exactly – 1994? I've had an on-off thing with John Matthews (ex-The High) called Black September. We've done a couple of albums on Pomona. I was a massive fan of The High and tracked down John and he kindly agreed to 'join'. It's not a 'proper' band though – we've never played live. It's the very occasional strumming and messing and recording. I'm proud of the records, though. I woudn't put anything out I wasn't proud of..
++ Just out of curiosity, what are you more passionate about, writing books or making music?
Books. I feel you can grow old far more graciously writing.
++ Looking back, what was the biggest highlight of being in The Last Peach?
Probably that mad gig in Halifax, or the numerous sessions in David's cellar where we made some great noise and I always looked forward to seeing these very funny, friendly, happy (most of the time) blokes.
++ Alright, I've been listening to The Monkey Run stuff now, it's really good! I wonder how those songs have flown under my radar. I will probably ask you for an interview about them some time soon. But let's wrap up this one now. Anything else you'd like to add?
Do stuff. It's fun.
::::::::::::::::::::::::::::::::::::::::::::::::::::::::::::::::::::::::::::::::::::::::::::::