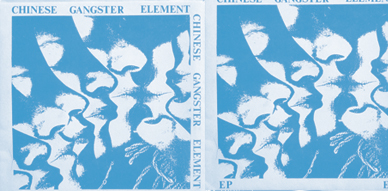 I receive news that the new Alpaca Store is about to come out. On October the 2nd to be more precise. A beauty of a record released on 10″ on Elefant and on CD on Luxury Records. Seems the labels are taking pre-orders now too. I would buy it blindly, without listening to it, but I get a cool chance to hear the songs in their full glory (and not demo or unfinished versions) for the first time today too.
How beautiful all these songs are. 6 songs for quality pop. I will be fair and not review them right away, at first listen. I'll have maybe 10, 20, more listens and next week let you know what I think. But my first impression is that it's so good. So few records this year has brought me such a big smile on my face.
Speaking of that, there's been another record that has been released in the past few days. And that's the Brideshead new album on Shelflife. The Wiesbaden band that played a delightful set at the NYC Popfest, returns with their third album aptly titled "Never Grow Up". Luckily for us the title is dead on, the band hasn't "matured" and gotten a "mature sound". They sound so fresh and fun as they always did. They're promoting the album with the song "At 45rpm" for which they've recorded a promo video. I'll look into doing an interview with them soon, the German indiepop heroes.
Another important news coming from Shelflife is the 7″ that marks the return of the classic and beloved Swedish band Red Sleeping Beauty. Two songs, "Always" and "Breaking Up is Easy" that are just pure pop candy. Reviewing these few new up and coming releases make me thing that indiepop could have a vibrant scene once again!
And I say that because these three releases have brilliant guitars, jangly ones. And that's what many of us have been missing throughout this year. There's been too much distortion lately on indiepop. Too much shouty stuff too. I like some of that, but there's nothing wrong with the classic sound. I actually like it better.
And the last recommendation I have for you has some classy and elegant new wave influences thrown into it. Hails from Japan and it's on Fastcut Records. They are called Moscow Club and their new 7″ has a beauty on the A side called "Celine" (with guest vocals by Amanda from Alpaca Sports) that you can't miss. It seems their debut album will be released shortly too, on September 30!
A few goodies coming out. Not forgetting we have a beauty here too in Cloudberry with the release of The Color Waves this week. Happy times then!
—————————————————————
Okay, time to head back to the 80s then, try to dig some info about yet another obscure guitar pop band from that prolific decade. This time around let's get our detective gear and try to find out about a band that has one of the most curious and mysterious names in my record collection: Chinese Gangster Element.
I have no clue what they meant with that name. Sure there are Chinese gangsters. But it's a bit odd. Also I think that in the UK the Chinese community is small. Or perhaps not? In any case it's not comparable to the community here in the US, right? Speaking of which this week I was surprised to hear some indiepop from China, even covering Sarah Records, but that's a story for another day.
I can't really remember why I bought their one and only 7″. Perhaps I saw it on a list on Twee.net. Or somewhere online. To be honest it wasn't hard to find. On Discogs it seems it sells for cheap. Which is good for us record collectors. The thing is, after you listen to "Jivin'", the opening track, you'll probably would want to hunt for it.
There are four tracks on the record. On the A side there's "Jivin'" and "Chloe". On the B side there's "Muscle" and "In My Body". The record was released on Ted Records (CGE 100) in the year of 1986. Say indiepop year 0. The artwork for the cover is also very mysterious, with a bunch of profile faces, five facing right, 2 upside down facing left. Strange illustration.
When we turn around the sleeve we get the band members:
Andy Greaves – guitar
Mick Haymer – bass
Fiona McBean – vocals
Kev Greaves – drums
So fair to assume that the guitar and drums were brothers? Or at least related? The record was engineered by Tony Bonner at Off Beat Studio in Leeds. And we get told to play the record loud. And the only other important hint left is that the band were based in Halifax.
Halifax is a minster town, in the Metropolitan Borough of Calderdale in West Yorkshire, England The town has been a centre of woollen manufacture from the 15th century onward, originally dealing through the Piece Hall. Halifax is known for Mackintosh's chocolate and toffee products including Rolo, Quality Street and Rowntrees. Shibden Hall is also in Halifax. The Halifax Bank and Yorkshire Bank were also founded in Halifax. Dean Clough, one of the largest textile factories in the world at more than 1⁄2 mile (800 m) long, was in the north of the town. The premises have since been converted for office and retail use including a gym, theatre, Travelodge and radio station. The town's name was recorded in about 1091 as Halyfax, from the Old English halh-gefeaxe, meaning "area of coarse grass in the nook of land".
I find then a Facebook page called the Halifax Music Heritage Trail where Andy Greaves is mentioned. Perhaps I'm on the right trail. Then I find a club page where all the gigs played there are listed. It's called the 1 in 12 Club. And we find out that the Chinese Gangster Element played there many times:
December 7 1983 – w/ Photomontage
April 4 1984 – w/ Gross National Product
January 1 1985
January 22 1986 – w/ Party Day
July 1 1988 – w/ The Adams Family
Almost every year they played at the club with the exception of 1987. Were they formed in 1983? Or before? And why did it take them 3 years to release their first record? Though to be fair on September 1st 1984 they recorded a Peel Session.
This session you can actually find it on Youtube thanks to the one and only Dave Driscoll. On this Session they recorded 4 songs: "Red", "In My Body", "Red Light" and "This is Hell".
There's also a compilation flexi that I still don't own which has a song by Chinese Gangster Element. I haven't heard this one. The song was called "Joey" I believe it's a double-sided flexi as Discogs lists that on the A side there's Fez with the song "Strange" and the Chinese Gangster Element song. While on the B side we have Roberta Junk with "How Many Friends?" and Langfiled Crane's "Kiss Me Stephenson". I haven't heard any of the other bands before! This flexi was released by Spike's Label (LYN 19817/18). The label was also based in Halifax.
Then Discogs lists 3 compilation appearances. Where there any more? We know they appeared on a record called Enemies of the State. This was put out by the same club  I mentioned ealier, 1 in 12, on it's own imprint 1 in 12 Records (1 in 12 003). This record was part of a series of records titled Worst of the 1 in 12 Club. This was the 3rd volume and was released in 1984. The song Chinese Gangster Element contributed was "World's On Fire". This song too you can listen online on Youtube. The only other band that I know in this compilation is The Word whose "Schoolboy Saint" 7″ is a favorite of mine. The record was a Porky Prime Cut and you can read on the matrix "Say No To Masons And Part Time Politico´s — To Melanie + Keith From The Class War Boys" and "A Porky Prime Cut Are You An Enemy Of The State?". Classic.
Next, in 1985, they contribute the song "Fast Town" to the compilation Folio Hearts on Confidential Records (file 005). This time I have no clue about any of the bands on the compilation. All songs seem to have been recorded at OHM Studio in Wakefield, West Yorkshire.
The last compilation listed is "New Songs for Mutants". There's no date for this record. The song that the band contributed was "Wet Dreams". On this compilation the other known face is The Deep Freeze Mice. This tape was put out by Lakeland Records (LKND001).
Now I'll search for the band members. Andy Greaves is easy to find. He seems to be playing up to this day on an ensemble called Greaves Taylor Gillon. There's a small bio for Andy on their website:
Singer, songwriter, guitarist, mandolinist, poet and noted eccentric, Andy Greaves,, has been at the centre of the Calder Delta music scene since his debut in the 1980s with John Peel favourites The Chinese Gangster Element. Over the last 30 years he has created original music in genres as diverse as punk and country music. Andy currently fronts British Bluegrass rebels, The Tragics, as well as performing widely as a solo artist and poet
And that's where the trail for the Chinese Gangster Element stops. I can't find anything else about them. I wonder then, if anyone out there that remembers them can help me. Did they record any more songs? What happened to the other members? Were they involved with other bands? Would be nice to know!
::::::::::::::::::::::::::::::::::::::::::::::::::::::::::::::::::::::::::::::::::::::::::::::