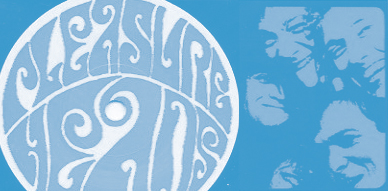 Last post for January, the year well underway. It hasn't been the most exciting starts when it comes to indiepop news, there has been some, but in this quiet time I've managed to finally start to catch up with the pile of records at home that were waiting to be listened.
Also The Suncharms compilation is being pressed at the moment, all proofs have been approved and there's nothing left to it but to wait until the CD factory sends them my way. Pre-order now on the website, and that way help fund further releases as well. Speaking of which I've retaken conversations with three bands I want to release in the Cloudberry Cake Kitchen. I hope there are more news in the months to come though things have been moving slowly.
I finally gave a good listen to the BOB compilation. What a good band this was. I still can't believe they weren't booked at Indietracks a couple of years back. Rumour says that they offered to play. I wish I had seen them. The compilation is fantastic really, don't understand how I took so long to buy it. Now, they have to release another compilation with more stuff. They have more songs than these 2-CD compilation has.
Another CD that was heavily played was the new Tiny Fireflies album. I have the vinyl copy as well, but for practical purposes, on the CD-player, it was much easier to listen to this beauty on the go. Throughout my subway rides, and walking the streets of NY, the beautifully crafted songs by the Chicago now three-piece, was such a bright light in these winter days. Definitely a winner and I proudly voted for it as best record at the Twee.net poll. So happy to call friends two of the most talented American popkids I know. On top of it all, they have great taste in their record collection as well. While listening to their record the amount of memories that cross my mind are endless, from the times in Manchester, to Glasgow, to Madrid, to Canterbury and so on. I'm very fond of those moments.
Lastly, I've played, according to Last.fm around 5 times the last week the new Cola Jet Set album. Surprised to see my name on the thank yous, the album is a sweet sweet rush of jangly popstactiness. If not knowing Spanish is a problem for some of you, don't despair. The music is so catchy, and the guitars jangle and jangle while the smartly and beautifully arranged songs are a treat to discover. It's no surprise that after all these years Cola Jet Set can keep providing us with strong records and hits. For me Felipe, even since Los Fresones Rebeldes, or Los Canguros if you want, has been a hit-factory, with such an immense talent for pop hooks that continue to amaze me. And it look so simple. But it isn't.
I started listening to the Creation Records box set too. Just the first CD, and no surprises there. Began to read the 4AD book too. Not that I'm a fan of that label, I only really really care for Lush, honestly. But I love reading the story of labels, so I hope this book doesn't disappoint me.
Now I look forward to something that I've been missing the past two months, South American football. Now that the summer vacations are over for the people down south, the leagues will start again in a week and the one and only Copa Libertadores. I know you all prefer European footie, but sorry, there's nothing like my own. It has a different flavour. And then the announcement of NYC Popfest lineup sometime soon! I can't wait!!
———————————————————————
So I kind of went through the records in my box that has the letters M, N and O. I skipped some that I haven't covered in the blog, I just thought they weren't that good to recommend. Some of them I just bought them because they were in a label I liked. There was a 7″ by Oporto that I want to recommend, but as they are members of The Proctors, and easily reachable through Facebook and so on, well, I thought it'd be better to interview them. So I'll try that soon. So I closed that box and went to a box that only has bands that start with P. Thought I'd start with The Pleasureheads.
I'm assuming they took their name from The Birthday Party song.
I only own one record by them, a 7″ released in 1986 on Molesworth Records. I remember I bought this just because of the label they were on. This label had released a favourite band of mine, The Charlottes. They also had released The Nightjars who I have reviewed and interviewed in the blog. So it had to be good.
The record I own turns to be the first one The Pleasureheads released. It includes 2 songs, the A side is "Falling Man" and the AA side is "Don't Fake It". The catalog number was HUNTS 2. It was recorded the 12th and 13th of April in 1986 at the University of Surrey. It was a joint single of the week for NME.
The University of Surrey is a public research university located within the county town of Guildford, Surrey, in the South East of England, United Kingdom. The university specializes in science, engineering, medicine and business. It received its charter on 9 September 1966, and was previously situated near Battersea Park in south-west London. The institution was known as Battersea College of Technology before gaining university status. Its roots, however, go back to the Battersea Polytechnic Institute, founded in 1891 to provide further and higher education for London's poorer inhabitants.
I find on the back sleeve that the band members have particular last names: Pete Herrahead, Andy Donnyhead, Mark Randyhead, Dean Nicholhead and Peter Elderhead. On bass was Pete, on guitar Andy and Mark, on vocals Dean and on drums the latter Pete. Turns out that their real names were: Dean Nicholls, Andrew Donovan, Peter Elderkin, Mark Randall, Kevin Murphy and Peter Herron.
The engineer for this record was Jim Abbiss. And an interesting tidbit was that the photo on the back cover was taken at a Woolworth's photobooth. We learn too that the band was based in Peterborough.
Peterborough is a cathedral city and unitary authority area in the East of England, with a population estimated to be 184,500 in mid–2011. Although traditionally part of Northamptonshire, for ceremonial purposes it falls within the county of Cambridgeshire. Situated 75 miles (121 km) north of London, the city stands on the River Nene which flows into the North Sea approximately 30 miles (48 km) to the north-east. The railway station is an important stop on the East Coast Main Line between London and Edinburgh. The unitary authority borders Northamptonshire and Rutland to the west, Lincolnshire to the north, and non-metropolitan Cambridgeshire to the south and east.
After this record they were to release more stuff. I don't own any of it, but let's go through them, right? The next record was released the same year, 1986, on Ediesta Records. It was a 12″ with three songs. The A side was "Holding On", the B sides were "Beside My Head" and "Hit the Ground". These songs were recorded on the 4th and 5th of October of 86 at the Music Room in Peterborough. There's a bit of a story on the back sleeve for each of the songs. Also cartoon drawings of the members. And instead of just giving their address for fanmail, they ask for multi-million pound deals and offers of marriage.
Ediesta would release their next record in 1987. Three songs, "Treasure", "Madonna Eyes" and "Something Above" on a 12″, though a white label 7″ promo exists that doesn't include the third song. David Colton was the engineer for this record and it was also recorded at the Music Room in Peterborough during April/May of 87.
During the winter of 87 and 88 they would go onto record their album. Titled "Hard to Swallow" it was released in 88 by Ediesta (CALC LP 43). 10 songs: "Sold", "Whip it Up", "Crystal Clear", "Something You're Above", "Hit the Ground (New Version)", "Frankly (I'm not H.P.)", "Treasure", "Harvey's Cane is Out", "Kind But Blind", and "That's All Folk's…". Engineers for this record were Baz Voce and David Colton. It was again recorded at Music Room. I heard so far just one song from this record, "Frankly (I'm not H.P.)" on Youtube, and I find it much more rockier than the 7″ I have. Wonder if the rest of the songs also got that treatment.
And while I was on Youtube I found 20 minutes worth of live footage of a band called The Pleasure Heads playing at the Old Grey Horse in Didsbury, Manchester. Are they the same Pleasure Heads? Maybe you want to have a look here. If you can confirm or deny if they are The Pleasureheads I'm writing about, it'd be nice to know! I actually found that there was a band from Pittsburgh called The Pleasure Heads too. So better be sure!
Their last release, according to Discogs, was another 12″. Now on the label Black (catalog 12 REV 60) they were to release a three song maxi, "Within Reach", "There's No Change" and "She Said". The record was recorded and mixed at Gem Studios in Frampton, except "She Said" that was recorded at Elephant Studios in London. It was 1990.
But let's look a bit at the members. Kevin Murphy and Andy Donovan were part of The Surgens who released some records in the 2000s. They were a country and surf band. Later in 2010, they both were in a band called The Malingerers and released a mini album in 2010 called The Lost Tapes.
Perhaps the most familiar name for indiepop fans is that one of Mark Randall. As you know I'm a big fan of The Fat Tulips. BIG FAN. And also of Heaven Records. Well, turns out it's the same Mark Randall behind these two amazing and important pieces in the indiepop puzzle. As you know with the Fat Tulips he used the alias David F and later he would become a well known member of the stuckist movement. According to Discogs he has also been a member of bands I've never heard of like Ermintude, Mary McKirdy and the Liquid Fruit Machine, Servalan and International Wigg Control, and some other bands that I'm very familiar like Oscar, Confetti, Slumber and Sundress. Now I feel like I want to interview him… he even has his own Wikipedia page.
Anyways, if you know how the rest of The Pleasure Heads record sound like, if they are as poppy as the first one, if they recorded more songs, if they were in any other bands, if the video I posted has the same Pleasure Heads I'm talking about, or anything else that would paint a better picture of the band, please use the comment section. Would love to know more.
::::::::::::::::::::::::::::::::::::::::::::::::::::::::::::::::::::::::::::::::::::::::::::::