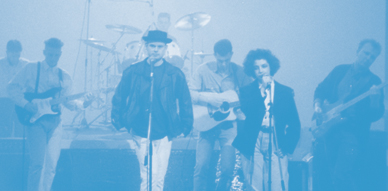 Thanks so much to Paul Stewart and Phil Ball for the interview. Our own Cloudberry Records have just released a fantastic retrospective by Feverfew that includes all the songs they ever released plus more. 17 remastered tracks where the genius of Feverfew shines. A classic, and a great way to start the Cloudberry Cake Kitchen series. Packaged in a lush custom digipack, and liner notes by Phil Ball, bassist of Feverfew. You can get the record by sending 15 dollars (US orders) or 17 dollars (Intl. orders) through paypal. Both prices include shipping and handling. You can find more information on the Cloudberry Records site, on the Cloudberry Kitchen series area. Now sit back and enjoy!
PS. All orders are on their way. Sorry for the little delay, it's been hectic with Cloudberry moving to New York and all! Thanks again for the support and patience.
++ Tell me about the name of the album? Where does the phrase "Something of Nothing" comes from? And why did you decide to name it like that?
PB: That's something that has come from my side. Something Of Nothing – this was an expression that my Mum would often use to describe other people's egotistical boasts. Basically that they had nothing special to boast about and they were just building up the smallest things to try and make themselves look important. It just seemed fitting to use that as the title for the album. Feverfew was just a band, a group of friends, that played and wrote songs, nothing more, nothing less. We never pretended to be something we were not. It's funny that other people have become very precious about it…
++ So it's been more than 20 years since you were around as Feverfew. So how did you start as a band? How did you all know each other?
PS: I already knew Keith from the Church we used to go to. We dreamed of forming our own pop band so we started writing songs using the old guitar I had and a mono cassette recorder. We would have been in our mid teens then. We soon realised that to realise the dream that we needed to expand the line up so I knocked up a flier and put it in the music shops in Reading; that's when Phil called my house and suggested we meet up for a rehearsal.
PB: I seem to recall that I saw the advert in Hickies a local music shop in Reading Town Centre, I had already played in a couple of local bands but after they split I was looking to join an indie guitar POP band. I saw the advert called up and it went from there. Originally it was just the three of us and a drum machine writing and rehearsing in Keith's bedroom.
PS: I later met Victoria at a bus stop who said she sang and invited her along too. This foursome formed the original nucleus of the band
PB: The funny thing was that all of us were Woodley based, and lived approx. 5 – 10 minutes from one another but outside of Paul and Keith we never actually knew each other. This proves that it's a small world but as individuals we can still be so distant from each other in so many ways….
During this time we started to write songs but struggled to find a permanent drummer, the first two recordings we made were using friends and relations as "session" players.
PS: Lloyd later followed on drums and at this point we could genuinely say that we were finally a group
PB: In between times Vicky left, Christine joined and then left and Vicky returned once more. Jason came and went as second guitarist and finally we were joined on acoustic guitar by Lloyd's brother, Lee.
Keith – Vocals
Vicky – Vocals
Lloyd – Drums
Phil – Bass
Lee – Acoustic guitar
Paul – Acoustic and Electric Guitar
This was the final band line up and the one that continued from late '88 until the bands demise. So over the life of the band the sum of parts was 1 bassist, 3 singers, 3 guitarists and 4 drummers (incl Dr. Rhythm…)
++ And why the name Feverfew?
PS: Keith had read that Feverfew was the first known thing to grow in the earth naturally after the Hiroshima bomb was dropped. This really made an impact on him and we thought it was a fitting name for a band as it was quite abstract. At that time we didn't want to be called "The (something)s" like a lot of the names springing up at that time.
++ I hope I don't sound biased, but "Something of Nothing" may well be one of the best indie pop records this year. The songs are so strong, music and lyric wise. So tell me how did the creative process work for you?
PS: Usually, I had the chords and basic ideas for the songs then Keith, Phil and I would host a practice in one of our bedrooms and, after endless cups of tea and much scribbling in exercise books we would work out and arrange the songs. Once we built up a reasonable number of songs we'd then book a rehearsal room and work on the live sound with the drums.
PB: I think that at this time we were just learning the craft of song-writing, the ideas would be constantly tossed around between us, each of us suggesting things, adding and taking bits away, and the songs would gently evolve over the numerous cups of tea. During the jamming process Keith would have some key words and harmony ideas, the final lyrics would tend to come a little time after the "tune". For the three of us the song writing together seemed to be a very natural process, the mass majority of the feverfew songs were actually written in Keith's bedroom over cups of tea. I believe the time that we knew we had "something" was when we wrote Casey Jones, this was the point when everything just clicked.
++ And also, why, with so many great songs, you didn't get to release more records back in the day? Wasn't there interest? It's hard to believe!
PB: Originally we thought that we needed to follow the usual "grind" that bands would go through, for example playing all the toilets in London, touting ourselves to record labels etc. but we soon realised that this was not really us and not something we wanted or needed to pursue. We realized that we could do things on our terms and in the ways that we wanted. I don't want to sound like some old hippy but for us it was much more "organic". There was "Interest" but we wanted to do things in the manner that we wanted, we were never keen to give up artistic control
PS: you have to put things in context; we're talking mid/late 1980s and there were some excellent bands appearing overnight. Reading at that time had a very strong healthy music scene with many venues and some really great bands. You could literally see 2 or 3 bands every night of the week if you wanted. I guess you could say we were ambitious but knocking on record label doors wasn't something we thought was worthwhile. Which suited us as we just loved playing live.
PB: For feverfew it was just about writing songs and playing and never about ego or adulation.
++ Let's talk about gigs? Which were the best? Any anecdotes you could share?
PB: Actually during our time we played quite a few, I found my diary from 1988 quite recently and I was surprised that there were so many dates inside. I think that other bands always found it strange that we were quite happy to be first on, the main issue for us was just about playing and not about where we were on the bill.
Best gigs:  South Hill Park Wilde Theatre, this was early 89 and also the ones at the After Dark supporting our indie pop heroes were always memorable. For me the one that always sticks in my mind was when we came back together in Feb'91, a celebration for the live of a sadly departed friend. We played like our lives depended on it, it was a very special night.
Anecdotes:- I think my falling over the double bass of Jim Jimenee always sticks in everyone's mind, I can still hear the crash on the floor even now and can visualise it slowly falling over. To this day I still maintain that to place it in the middle of the floor was a stupid place to put it. Anyhow finally no harm was done but the dirty looks from Jim Jimenee could have killed. Also feverfew having a rummage through the "Sale of the century" prizes, I really would not have liked to won the bed…
++ And what about that TV appearance? How did that happen? Was it a strange or just a fun experience?
PB: Just completely surreal… I think that we were always in two minds about doing it but in the end we just went for it. This was the in the very early days of Sky TV and the "Squarial" so probably only 2 or 3 people saw it…
PS: This is a bit of a blur really but I think Keith knew someone who was connected with the people looking for various acts for a talent show on Sky TV. It was, and still is, quite surreal as we found ourselves being called for make-up before recording 'Bed Of Roses' for a real TV show. We met Paul King (from 'King'), comedienne Faith Brown and Keith Chegwin.
PB: Cheggers was always a hero for the band, we always had a soft spot for "Cheggers plays POP!" We would often play the theme tune in rehearsals and I think on more than one occasion during our live set
++ Your tapes, as well as the flexi were released by "Mighty 3 Minutes". Care to tell me who was behind this label and how important was its support towards Feverfew?
PB: This was a label managed and operated by a guy called Phil Broadhurst, a local fanzine writer and all round good guy (and also fellow Woodleyite). It was just a meeting of minds… After a few months working together, Phil also began managing the band. We had the same ideals and same philosophies both personally and politically so it was a natural progression. Phil was a very integral and important person, an inspirational figure for the band. He was unofficially the additional member of the group, he was always there to pick us up when we doubted ourselves.
++ So yes, the "Give it Up" flexi. Who is that little boy on the cover? And how well did this flexi do? I think I paid like 20 pounds for it in a store in Stockholm! Must be quite rare!
PS: The picture is of me aged 2 or something in my parents' back garden. I must have been about 2 or 3 I guess. It was Keith's idea to use the picture on the front sleeve. We paid for the flexi disc ourselves; we probably got 1,000 or so pressed I guess and sold them or gave them away at gigs. I guess they are pretty scarce these days.
PB: Seems strange after all this time that this is so sought after, we were selling them for 70p and we struggled to sell them… I think that finally they were all sold (or given away) but it took some time.
++ The flip side of this flexi is a song dedicated to "Casey Jones". How come?
PS: It's just taken from the first line of the song and fits in with the sample of a steam locomotive at the beginning but the song isn't about Casey himself.
PB: It was just a metaphor that Keith used, an expression to describe a long lost love. It was a spin on the age-old lonesome train metaphor. I think that the best thing ever written about Casey Jones was that it was the "1st post Thatcher love song"
++ Then there was another proper release, the split 7″ with The Rileys on A Turntable Friend. This release happened already after you had split, am I right? Did the label convince you to get back together or what? How did it work out? And how come you ended up releasing a record in Germany?!
PB: Actually The Happiness EP was recorded by a group of friends rather than two bands and was never really intended to be released, it was just the coming together of a group of people to celebrate the life of a friend tragically lost. After the recording session everybody was extremely pleased with the end result (both artistically and personally) so we considered releasing it, first idea was as a M3M release. Around this time I was having a lot of correspondence with Ulrich from A Turntable Friend and he offered to release it so we agreed. Keith designed the sleeve and Phil Broadhurst wrote the liner notes and the rest as they say is history
++ On top of that you released many tapes as Feverfew. Care to list them? And how many copies would you make of them?
PB: The list of release would be similar to the one below:-
• First demo (four tracks) Casey Jones / I won't touch a girl again / Kindly Written Words / All the things I gave to you (Tape not officially released)
• 7" Flexi (M3M) – Give It Up / Casey Jones
• Cassette version of flexi (four tracks – Give It Up / Casey Jones / Pretending To Be Someone Stronger / Give It Up (long version))
• Cassette tape issued free with Sprog Fanzine – incl. Give It Up (long version)
• Cassette EP(M3M) – The Night It Rained Perfume (four tracks)
• Cassette EP(M3M) – Songs To Make Friends By (eight tracks)
• The "Happiness" EP 7" (A Turntable Friend) – two feverfew tracks Bed Of Roses / She's Leaving plus two tracks by The Rileys (In reality all four tracks were performed by the same group of people)
Quantitites, actually I have no real idea probably between 3 to 4 hundred maximum. I am also sure that we released a joint Flexi with 9 Steps To Ugly which was given away with a fanzine but I honestly cannot find any evidence. The 9 steps track I seem to remember was Vaudeville, maybe this is just completely my imagination…
++ I'm kind of picturing your merch table at gigs, with the tapes, the flexi, and also pins. Did you usually have a merch table? What other things you used to sell? Pins? T-shirts? And who usually was sitting behind it, taking care of the fans?
PB: Back in those days there was no Merchandise stall or table, it was just the band selling the tapes and flexi after the gig. Generally I used to look after the selling (with support from the other members) and also the financial side of the band. The badges that were made were distributed free with the flexi. For T-shirts there were only ever a limited edition produced, I think these went to the band and our closest friends. I am not sure that we ever had any "fans" there were always a number of regulars who would appear time and time again at the gigs and buy the tapes etc. In turn the next time they would bring their friends and it grew in that way. There were also a number of people that would write to us via fanzines, compilation tapes and the like, we were always very flattered by the attention and always did our best to respond and write back.
++ Feverfew wrote so many great songs, I have many favourites, but I'm wondering which are your favourites. And which were the fans favourites back in the day for playing at gigs?
PS: Personally, I liked playing Kindly Written Words and Pretending to be Someone Stronger. The band sounds really fluid and some of Keith's best words are on The Demise of Rock'n'Roll – all about a local DJ.
PB: For me Casey Jones, Summer 82 and A Crimson Gloom plus there were some other newer songs that we never recorded. I think the lyrics to all the songs are quite special. From a "fans" perspective probably "The night it rained perfume" or "Bed of roses" or perhaps "Answered Prayer" these were the tracks often mentioned in the letters and postcards we received.
++ And yeah, why didn't you get to release more records? It's hard to believe that with so many great songs no one seemed interesting in putting them out?!
PS: As I said before, we weren't out to change the world and, being unconnected with any label, meant we were free to make our own choices. If we had really wanted to, we could have gone further. I have a rehearsal copy of one of the last songs we ever wrote as a band and it stands way above everything else we did but at that point people were starting to move away, change jobs, get married etc. Who knows?
PB: Actually I am in full agreement with Paul, a number of the later songs were really great, however many of these were never recorded and I guess will never see the light of day… The songs that were written over the period / life of the band were always very personal for the band, we never tried to write Pop songs for mass consumption. I am extremely proud of each and every one of them as they all have a lot of memories associated with them
++ So right, what happened? Why did the band split the first time, and then the second time? And what did you all do after?
PS: (were there 2 splits??) We never really fell out; we tried to keep things together for as long as possible but as people's lives and circumstances change it was eventually decided we would disband. There were also a lot of sideline projects going on which is a good thing.
PB: I think that I mentioned before that the band never split, it just kind of dissolved, we never really separated, we just weren't doing "it" anymore. In Mid '89 I was getting married, Keith was in a relationship and moved to Brighton and I seem to remember Paul falling out of love with the guitar and in love with a girl and that was that. Late '89 I formed The Rileys with Lloyd, Vicky and Jason from feverfew with Mike and Richard, around this time Paul was back playing in She's Gone and as an aside starting to write songs with Keith.
When Jason died in Jan'91 it pushed everybody back together once more. Born out of the shared grief we started talking about playing together again, began rehearsing, then we played a joint gig in Feb'91 (This was originally a gig that The Rileys were booked to play). Due to the positive energy and feeling that came from those sessions we then went back to the studio to record some tracks in April'91 this eventually became The Happiness EP. Around this time there was some talk about starting over once again as feverfew but in the end everybody decided that it was the perfect way to finish.
++ Back again to our compilation, why did you decide it was time to release it? Was there any reason behind it?
PB: On the back of reigniting my interest in music / indiepop I got involved with a number of Internet bloggers who were very interested in old school indiepop and in feverfew and also The Rileys, around this time I also got involved in Facebook and from this a number of enquiries came reference releasing a Feverfew retrospective compilation. Personally I never really considered it at all, however there were a number of offers made and it just seemed a good time to collate all the songs as a united body of work, many of which had never been formally released or were available only as very poor quality recordings lifted from the tapes and singles etc.. I ran the idea past Paul and he agreed it was a good idea. Timing wise in 2011 it was 20 years since we made the last recording session as Feverfew so everything just seemed to fit. The main reason and concept for the release was to serve as a celebration of a band, of a friendship and also to commemorate the lives of two very special and important people. It is as simple as that, there were and are no ulterior motives.
++ And how do you think the songs have aged? To me they sound so fresh!
PS: The songs evoke really happy, creative times. I was in a band with good friends and we all really enjoyed ourselves. If I'm honest, there is a tinge of sadness associated with it for me as the world was a much easier place to inhabit then than it is today and I yearn for those times again. As for the music, I think they stand up very well on their own; a little naive in places but we were cutting our teeth as musicians and we spent a lot of time honing our craft. We had high standards and ditched a lot of material if we didn't all feel it was up to the standard we set ourselves.
++ And looking back in time, what would you say were the highlights of being in Feverfew?
PS: For me, the gigs were such a high, the friendships in the band and recording our own material in a proper studio and coming away with a cassette you could play on your Walkman.
PB: When I reflect back I realize how lucky I was to be able to write songs and to perform with some very talented and creative musicians and above all that I was fortunate enough to meet and enjoy a friendship with some wonderful, generous and honest people.
++ Now the important questions, are you still playing music?
PS: After Feverfew Keith and I formed Blueboy who were signed to Sarah Records and released 3 albums and a few singles. After that we had a brief fling as Arabesque and then later as Beaumont on Siesta Records which amounted to a further 3 albums. After Keith's sad death a few years ago I began writing again and am now preparing material for a new baroque-pop inspired project called Edwardia (see www.myspace.com/edwardiamusic).
PB: I have just started playing once more after a gap of more than 15 years, I am now playing bass with The Occasional Orchestra a band comprising the ex-members of indie favourites Home & Abroad
++ What other interests and hobbies keep you busy or entertained when not making music?
PS: I have amassed a collection of old tat from the 1930s and '40s and my work in a Museum just outside London keeps me very busy.
PB: I have a very demanding job plus family commitments (a wife, three children and a dog) therefore I do not have so much additional spare time outside of the "Occasionals" and normal life so I try to make time to spend with my family, to read and relax as much as I can.
++ Thanks again! Anything else you'd like to add?
PS: Thank you for including us in your writings; it is flattering to know that people are still interested in something that we did such a long time ago !
PB: Yes, also from my side thank you so much for the opportunity. In addition it's been a real pleasure to get to know and to work with you over the last months, thanks for the many interesting conversations!! Keep up the good work!
::::::::::::::::::::::::::::::::::::::::::::::::::::::::::::::::::::::::::::::::::::::::::::::
Listen
Feverfew – Crimsom Gloom