21
Nov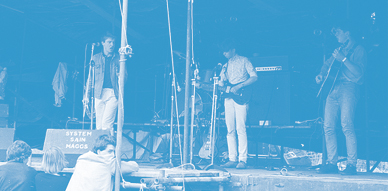 2014 around the corner! This is the last post of November as next week I'll be out of town. In the very remote chance that you'll happen to be in Lima, Peru, next week, there's an event that I want you to attend. I will be DJing on the 28th at a club in downtown Lima after the bands Eva & John and Submarino play. It's a very happy chance for me as I'm a big fan of Eva & John, who put out one of the freshest debuts this year. The link for the Facebook event is here. If you happen to be around, please say hello!
On some random Cloudberry news, I hope you are all aware that you can pre-order both The Rileys and Lost Tapes 7″. They should be ready by the end of December or early January. I'll keep you updated as there will be posts in the blog next month of course. 4 at least. So keep an eye on that. And of course there's a bunch of interviews I've been working on, trying to shed some light on some obscure bands that deserve to be known!
I've written a bit already about this trip to Peru, perhaps not that much as I use to when I go abroad, but I will definitely go through it when I return. But my arrival doesn't look that great, I've already been told that this coming weekend no alcohol is served as there are elections for some positions in the Lima municipality. Weird laws. Just have to go along I guess.
Let's travel to Wales today. Though not to my memories of my Welsh holiday a year and a half ago. I have very happy memories of it of course, Cardiff, Swansea, Chepstow, Tintern. One of the best weeks of my life definitely. So many castles visited. I want to go back, to Pembroke, to Caernarfon, to Anglesey, places that I have only read about in all these books about medieval Great Britain that I own. So many places I want to visit, the list goes on. I fell in love with that magical country, full of myths and mystery. True, after that trip I had one of the hardest breakups so far in my young life. And that makes Wales a difficult place for me. But still, I'm hard-headed and want to visit Wales again. And while figuring out and admiring those beautiful castles in the northwest, I also want to figure out one of indiepop's biggest mysteries, Tynal Tywyll.
Not much of a mystery because of being obscure. I believe a lot of people know about them. But they know the name and little more. A week or two ago Andreas from Hamburg, a true indiepop visionnaire, wrote me about them. He was looking for more information about their releases.  Discogs doesn't list all of them. So he sent me a list of information he had gathered and could be helpful for researching about them. And hopefully learn whatever happened to them.
I know of them from just some loose songs. I know mostly about them through Youtube I must admit. There's the video for the jingly jangly "Telyn Wedi Torri" that gives us a little tour of a Welsh town (which town is it? can anyone tell me?), another video for a live performance for "Y Gwyliau", that sounds a bit Morrissey-like, and also a pair of videos of a live gig that includes a bunch of their songs ( part 1 includes I believe "Emyr", "Duw Rhyw", "Cyfweliad" and "Jack Kerouac" while part 2 includes "Crocodeil" and "Showbiz"). To our luck, we also get a live performance of the song of the promo video, there is this beautiful live rendition of "Telyn Wedi Torri" that you all ought to listen and watch. The guitars don't stop chiming!
After you've listened and you wonder why don't you understand them, you'll notice they sing in Welsh. I must admit that I didn't hear much Welsh while I was in Wales. Only at the train stations. I expected to use some of the silly phrases I learned from the Lonely Planet guidebook we brought. But no. Welsh (Cymraeg or y Gymraeg) is a member of the Brythonic branch of the Celtic languages spoken natively in Wales, by some along the Welsh border in England, and in Y Wladfa (the Welsh colony in Chubut Province, Argentina). Historically it has also been known in English as "the British tongue", "Cambrian", "Cambric"[12] and "Cymric". The 2011 UK Census counted almost 3 million residents of Wales. Of these, 73% (2.2 million) reported having no Welsh language skills. Of the residents of Wales aged three and over, 19% (562,000) reported being able to speak Welsh, and 77% (431,000) of these (that is, 15% of the total population) were able to speak, read, and write the language. This can be compared with the 2001 Census, in which 20.8% of the population (582,000) reported being able to speak Welsh. In surveys carried out between 2004 and 2006, 57% (315,000) of Welsh speakers described themselves as fluent in the written language.
Also pretty interesting is their counting system, which is very similar to French The traditional counting system used by the Welsh language is vigesimal, which is to say it is based on twenties, as in standard French numbers 70 (soixante-dix, literally "sixty-ten") to 99 (quatre-vingt-dix-neuf, literally "four twenties nineteen"). Welsh numbers from 11 to 14 are "x on ten", 16 to 19 are "x on fifteen" (though 18 is deunaw "two nines"); numbers from 21 to 39 are "1–19 on twenty", 40 is "two twenties", 60 is "three twenties", etc. This form continues to be used, especially by older people, and it is obligatory in certain circumstances (such as telling the time).
Anyways, enough of linguistics, though I find it immensely interesting. I found a very informative biography on last.fm for Tynal Tywyll. This might start solving the mystery.
Tynal Tywyll formed in 1984 in the very confusing landscape of mid 80's Welsh music. Heavy metal to the left of them. Reggae to the right of them. What could they do? Taking their cue from The Byrds and REM they played a chime-y, rickenbacker infused form of "pop" music and released 3 singles, 3 EPs and 2 albums. On their first TV appearance on HTV Wales they dared to wear turtle neck jumpers, paisley shirts and necklaces, which was enough to elicit, if not death threats, threats of a good kicking from some quarters. They once recorded a TV session on the same day as Heavy Metal legends Wenfflam, who wore skin tight tiger print pants in a sort of NWOBHM Saxon style, and who have gone down in history as the Welsh language Anvil. All Hail Wenfflam. (Indeed all hail Anvil too. But we draw the line at Manowar.) TT were vehemently Metal-phobic at this time, and were naively worried that being in the same studio as a metal band would infect them with the airborne virus know as "Spirit of metal" and make them buy Donington Rock tickets. It did not. As time has gone by the TT members have grown up a bit and actually consider sharing a stage with Wenfflam a privilege. Anyhoo, continuing, the band played many concerts in some very strange places such as Dolgellau village hall, which was actually rafter swinging, riotously good fun. They did get their van headbutted without provocation by a cloven hoofed man beast in Bala but that is another story. At one Eisteddfod, in a starlit field, after midnight, they were accosted by a weeping man mountain know only as "Maharan". He could have killed the whole band with one thumb thrust but the band quickly offered the tearful behemoth words of solace like Androcles to the lion, and he was grateful and spared them. At one concert a drunken ape of a young farmer manhandled one of their guitars and surveyed it as if it had beamed down from mars, uttering quizzical grunts as he turned it every which way. They did not correct him for they were fey musicians, not ringmasters of feral turnip gatherers. Many and absurd were their adventures. They were "active" (in the musical sense) from 1984 to 1995. A compilation CD of all their records is possible within the next few months. There are no plans to dust off the turtle neck jumpers for a live reunion, as they would rather be remembered as young and relatively pretty, but their spirit lives on in the recordings.
A compilation CD of all their records? I don't think this ever happened did it? This text was written in 2011.
Let's head to Discogs then and see what's listed there as any pop researcher would do as a first step.
There's one album listed, " Lle Dwi Isho Bod +… ". It has Scooby Doo and Shaggy on the cover. They too were used to solve mysteries. Scooby Doo was one of my favorite cartoons when little. It was aired in channel 7, a government owned channel, back in Lima. I believe it aired at around 4:30pm. I could be wrong, it was a long time ago. It was before the Cartoon Network and that sort of things. This album was released in 1992, on the Crai label (catalog CD 032) and included 20 songs! Andreas tells me that songs 1 to 14 were originally released on MC (one of the albums, probably the final one) and tracks 15 to 20 are culled from various singles.
The Ankst label  lists an album "Slow Dance Hefo'r Iesu" (Ankst 002), but can't find any more information.
There are two singles listed. The first from 1986, "'73 Heb Flares / Rhwyma Fi", included those two songs and was released by Recordiau Anhrefn (catalog Anhrefn 007). The second single was the one from the video, "Mae'r Telyn Wedi Torri" and was released by the Bobby Riggs label in 1987. The catalog number was SRT-7KS-1383 and the B side for this single was "Y Gwyliau".
The Anhrefn label also released some guitar bands like Y Cyrff or the punkier Fflaps, worth checking on Youtube.
There is of course another 7″ not listed that I did know about, that's the one that has "Jack Kerouac" on the A side. I used to think this was the most well known record by them, but if it's not listed on Discogs, well, I guess it's not.  This one was released in 1990 and R072F. The B side was "Boomerang".
Then there's a 7″ on the Ankst label, "Syrthio Mewn Cariad", catalog Ankst 004. Not sure what the other songs on this are. It is an EP, so perhaps more than 2 songs are included in the record.
But Andreas sends me a link for yet another single, not listed on Discogs. This one from 1988, with catalog number SRT 9KS 1858. I wasn't aware of this one. With a very 60s artwork, this record includes the songs "Duw Rhyw" and "Gorfennaf Eto" on the A side and "Showbiz" and "Gerddi" on the B side. A veil of mystery covers this one.
They also appeared on the compilation "Cam O'r Tywyllwch" released by the Recordiau Anhrefn label. Catalog was 002. In this comp they contributed the songs "Paid A Synnu" and "Yr Effaith".
By now I feel terrible. I don't own any of these records! I should start getting my hands dirty and try to find them!
I keep searching and I stumble on a WordPress blog by the same uploader of many of the videos of the band. It's called Fanzine Ynfytyn ( I believe this means Fanzine Idiot). There's a blog post and souncloud links about Tynal Tywyll! It seems these recordings come from a completely unofficial tape! have a look! It sounds amazing. It seems these recordings are from 1985!
Okay so you have questions, what does Tynal Tywyll means? It means Dark Tunnel. This I learn from a book called Blerwytirhwng?' The Place of Welsh Pop Music  that seems very pricey, but there's a Google scan of it. Here it confirms that they hailed from North Wales, and they seem to be grouped into a scene called the Bethesda scene. Sadly this is the only mention of the band here.
Gladly Andreas helps me with the band members:
Ian Morris – singer
Nathan Hall – lead guitar
Gareth Williams – bass
Gruffy Davies – rhythm guitar
Dafydd Richards – keyboards
Gareth Hughes – drums
It is still very mysterious but we've been putting many pieces together. We have at least a better discography than Discogs by now, and we have some names. Let's keep digging.
There's a mention of a Gareth Williams singing in an alt-country band called Colobos in Wrexham. That's North Wales. Could be him? What about a Gareth Hughes, playing drums in a punk metal band called Act of Supremacy? though it seems that by 2007 he had left the band already.
But I think I hit the jackpot. I found a band called Soft Hearted Scientists based in Cardiff. Nathan Hall seems to be playing there. If he is the same Nathan Hall who I think it is. Will try my luck emailing them.
Though there's still a piece of the story that I haven't mentioned. Tynal Tywyll singing in English. They were called The Collectors and perhaps that should be another blog post. But at least let's mention that they released two CDs  the 1993/4  "Astronaut Girl"  and the "Desolation Angels", both on Citizen Records.
I haven't heard these CDs either, but some of the songs posted on Youtube, though Andreas tells me that "The Collectors are also very good and the interesting part is that they re-wrote and re-recorded (at least two) TT songs with English lyrics, e.g. "Jack Kerouac" (with Welsh lyrics) became "World Away" (with English lyrics) etc."
The first CD, "Astronaut Girl", is catalog 002, whereas the second was 003. I wonder, was there a Citizen Records 001? I assume this was their own label.  "Desolation Angels" includes 14 songs. 6 of them appear on "Astronaut Girl". The only song that remains exclusive to the 7-track "Astronaut Girl" is  "What Have We Got To Lose?". The fact that the address on the back for Citizen Records is what creates a bit of confusion. It states the label is based in Cardiff. Either they moved from the north to Cardiff, which is I think a more English speaking place and started singing in English, or the label was just based there and it wasn't ran by the band.
And here the research reaches a wall. There are no more places to look on the web at least. But I'm sure people out there must have heard about them, maybe saw them, or own their records! Would be great to hear if you have any more information about this fantastic Welsh indiepop band! A one of a kind band, that deserves more recognition in the indiepop-world!
::::::::::::::::::::::::::::::::::::::::::::::::::::::::::::::::::::::::::::::::::::::::::::::
Listen
Tynal Tywyll – Jack Kerouac