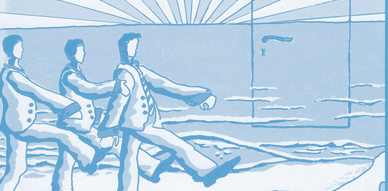 So nice, I'm at home today. It is a holiday here in the US and I'm taking it easy. Hope you are having a nice Monday too, and wish you a good start of the week. As I write these lines I'm updating the website and now you can pre-order the new CD that we are releasing later this winter by The County Fathers. The tentative release date is March 15th but I'll confirm it with you all that are interested soon. The album as you might have noticed includes the 3 songs from the one and only record they released, the "Lightheaded" 12″ that came out on Ugly Man, plus 10 more unreleased songs! I'm sure you all lovers of classic jangle pop will love this retrospective album!
Last week there were a few interesting news that are worth mentioning. So let's start!
Linda Guilala: our Vigo friends have released a new song/video that will be part of a 7″ that is going to be released this 26th of January. The song is called "Primavera Negra" and it continues the path the band started in their latest album "Psiconautica". It is a brilliant new song, and I'm having such a good time seeing Iván fooling around like a kid! Catchy, classy, I definitely will order this record!
Alborotador Gomasio: the Madrid based band is releasing a new album on the 19th, next week! It is going to be titled "Luz y Resistencia" and will be released by the Spanish label Limbo Starr. The band has just shared a new song on Youtube and I'm enjoying it a lot. "Agosto, Bailando el Caos" is the name of it and as I said will be included in this new release that will be available on vinyl LP and CD. Hopefully I can get this record when I visit Madrid Popfest!
Tiny Fireflies: one of my favourite US bands is Tiny Fireflies. That is no surprise. On top of that I can call both Kristine and Lisle my friends. I was even lucky to have a few songs on different 3″CDs on Cloudberry in the past. True, that 7″ by them is still one that hasn't happened, but hey, they band is self-releasing a 7″ very soon that has two songs, "2040" and "Nothing". You can check both lovely tracks on their SoundCloud. Dreamy and timeless, and supposedly we will all be able to order the record at the end of February. That sounds like a long wait, but I'm sure patience will pay off! Looking forward to have this record on my collection. Oh! And the artwork for it looks very cool too!
The Hit Parade: I haven't ordered yet the new The Hit Parade 7″. That is not good. Where is it being sold in the US? I should check Jigsaw. If not I hope someone can bring me a copy from the UK to Madrid? Maybe. If not I will just have to order it from a UK store. Some weeks ago I recommended the A side, "Oh Honey I…", now it is time to listen to the B side, "History of Art", which is available to stream on Youtube. It even has the lyrics for singing along. The song is one of melancholy, it is not the upbeat bouncy Hit Parade, but a slow, bittersweet, one, classic sounding Julian.
The Catherines: this one-man band from Hamburg has already been recommended on the blog too. But I found out they have a new song on BandCamp called "If You Knew What's Behind Her Smile You Wouldn't Want to Make Her Happy" and I really liked it. Jangly and upbeat, it is a nice cool song ready for anyone to add in a CD mix swap (it's been a while since I've done one of those! I would love to do one soon!).
———————————————————–
It has been many years since I heard Friends Ahoj for the first time. It was just the one song, "Have You Seen That Girl?" that was uploaded to Youtube by my then Japanese friend Takashi. He was also kind enough to prepare me some Mp3 folders on dropbox with a lot of obscure indiepop goodies. That was when he was friendly, not competitive with me. At some point, as many readers on the blog know, this Japanese indiepop collector decided to stop sharing songs with me and complain that I didn't give him credit on the bands that appeared on the blog. Of course this wasn't true, I did give credit when it was due, but well, I guess he assumed one could only find music if it was through him. Strange people one encounters in the indiepop world indeed.
Anyways, I played many times this song. I remember it was the first time I had transferred Mp3s to my phone, then an iPhone, for a trip I was going to do to London. I remember riding the London red buses playing all these songs he had shared, and I clearly remember being on the bus around Tufnell Park and listening to Friends Ahoj. It is quite interesting how a song can transport you to a moment, be part of a particular memory.
I liked the song, but the truth is that years later I was to hear the other song on the one and only 7″ they released, "Grandstand Girls", and I must say that I like this song better! How come if this song doesn't connect me to anything, doesn't bring up any memories. Well, it is a strange thing, and I don't have a proper answer. I like both songs, but I enjoy "Grandstand Girls" more, at least right now!
I read someones copy came with German candy. Did all of them? The single sided single came out in 1993 on the Ice-Cube Toneporter label (ICE 5) with the two songs I mentioned as a double A sided single. I don't see any other releases listed for this label but it does say that this was a sister label to Eiswürfel Tonträger who had released singles by Die Busfahrer or I, Ludicrous. Now that I think of it, I did interview Die Busfahrer time ago and Mathias Hill, the man behind the man, did tell me it was his own label. Maybe he remembers the Friends Ahoj? He did mention that some of the copies of this record include a stamp out of G. Gottschling's collection and a pack of ahoj-brause. Some kind of an off-shoot from the Merricks, with Günter Gottschling singing, quite charming, very 60s-pop.
The single was released as a limited edition. Not sure how many copies, but I'm still missing a copy myself! The record sleeve also seems to have come in different colors. I've seen it in yellow, white and even blue. On the back sleeve there are lyrics for both songs. I can't see any band lineup but it does say that both songs were recorded during a warm spring in 1993 in studio one at Radio Hartwich and that the artwork was designed by B-A-Wake factory.
Even though there was only one 7″ the band was involved in a handful of compilations according to Discogs. Not surprisingly some of them came on the aforementioned Eiswürfel Tonträger label. On the second release by this label (EIS 2) from 1992, the "Wagweiser Durch's Eiswürfelland" tape compilation the band contributes the song "Dark Rooms". Something interesting to mention is that their name appears as Friends Ahoi. With an I instead of a J. Thanks to this compilation, were all bands are listed with the city they are from, we get to know that the band hailed from Wolfratshausen.
Wolfratshausen is a town of the district of Bad Tölz-Wolfratshausen, located in Bavaria, Germany. The town had a population of 18,122 as of 31 December 2014. The first mention of "Wolveradeshusun" appears in documents from the year 1003. About 100 years later, Otto II, the Graf of Deißen-Andechs, built a castle on a hill overlooking the valley. The castle was destroyed on 7 April 1734 when lightning struck the tower storing black powder. Stones from the ruins were transported to Munich where they were used to build the Residenz.
In 1993 the band was to appear on another tape compilation, now on the "Frischer Morgentau" comp released by Steinpilz Tonträger (STEIN 1). I remember seeing many copies of this tape at Pete Hahndorf's place in Bremen. Might it be the label of his brother? My memory tells me yes, but I can't confirm it. Friends Ahoi (again with an I) appears with the song "Step by Step".
1994 would see two compilation appearances. On Eiswürfel Tonträger's "Die Schönste Platte Der Welt" CD compilation the band appears with "We Might Be Giants" and "The Man Who Sold Manhattan (For a Dime)". Two songs. I see our friend Krischan wrote the liner notes for this CD! I should track this record down. The other compilation I was to mention was the "Ein Spätsommercocktail" 7″ released by Steinpilz Tonträger (STEIN 2). Here they contribute the song "Mushroom Seller".
Lastly there is another compilation that has no date on Discogs. "Limited Europopsongs" was released by Meller Welle Produkte (MEL 21) as a tape compilation. It was very limited, just 100 copies and it came along with the first 100 copies of the compilation tape "Europopsongs" (MEL 20). Anyways, on this tape the band appears with two more songs, "My Woody's Called Woody" and "Drink To Me".
That's about it. So I count, 8 songs? That's all they released. But what is itching me is that I can't seem to find any band members names aside from Günter Gottschling. I found where they were from, but that's all. There is of course information about Günter and his involvement with the Merricks, but nothing about Friends Ahoj. I do find plenty of Japanese websites mentioning the single, seems indiepop fans over there love it, playing it at DJ nights. But I can't seem to find anything else, not even in German. So maybe some of you who remember them can help solve the mystery behind this obscure Bavarian band?
::::::::::::::::::::::::::::::::::::::::::::::::::::::::::::::::::::::::::::::::::::::::::::::