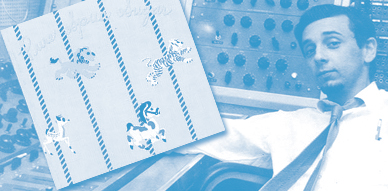 A couple of days ago I bought for a mere $1.50 on Amazon a compilation called "Pure Spun Sugar" released in 1998 by two labels together: American Pop Project and Candy Floss. It feels like a compendium of many small bands from those days, including some known names like Dressy Bessy, Cuckooland, Aquadays or Poastal, to name a few. It flows nicely, and surprises at many points. My first surprise is that Dizzy Joghurt, the great twee-ish band from Japan, was already in the radar of some labels in the USA, I have never understood why they aren't more known. Second surprise was that The Brian Jonestown Massacre song included is quite good. I admit never listening to them because I think they have a terrible name. Maybe they have some stuff that's worth? And the last surprise I get from it, is a track called "Phil Spector's Birthday Song".
The compilation includes many California bands, I wonder why. From the 14 songs on it, 6 are from the Golden State. That's 43%! Two of these bands, from the 43% clutch, are from San Diego, the great Red Dye No.5 and the unknown to me, The Sleazy Beats. They are the ones who have penned that tribute song to Phil Spector, that whose wall of sound is over exaggerated nowadays with the reverb tuned up to the max. And no, today it's not his birthday, I'm not doing any sort of tribute myself. We are a month away actually, Mr. Spector was born the same day as baby Jesus, December 25th. And anyways, he will spend his birthday in the state prison of Corcoran. Don't think he'll have a big celebration.
'Kind of like the Wall of Sound/You stand tall forever…' –  The Sleazy Beats sing.  Also as the song starts to fade, a guitar countermelody first features the line associated with the words 'be my, be my baby,' and then the one for 'to know, know, know him…' The song is full of nods to Phil Spector. But are there any nods or hints to who The Sleazy Beats were? The answer is no. I looked online for more information about them just to come empty handed.
The only other clue is an address written on the compilation. 6633 Solita Avenue, San Diego. Plotted the address on Google Maps, and went ahead to some modern stalking skills. Street View! A one floor white house comes up. A small US flag hanging outside, the front porch surrounded with a white picket fence. A lovely house, a big garage, and I assume at least 2 bedrooms. There are only four houses on this block, two in this side of the street, big enough to house a band. Also it seems to have a big garden in the back and a bungalow! Perfect place to store the drums! But then, 10 years have passed and most probably they have moved away and some retired couple is now living and gardening this house.
This case seems to have too many lose-ends and not many clues for the indiepop detective. Whatever happened to The Sleazy Beats? Did they release any other songs? Did anyone remembers them playing live? Judging from the poptastic "Phil Spector's Birthday Song", they were up for something special.
::::::::::::::::::::::::::::::::::::::::::::::::::::::::::::::::::::::::::::::::::::::::::::::