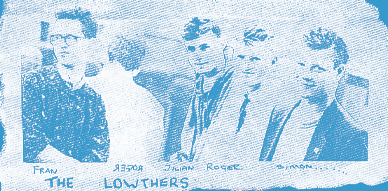 Quite an exhaustive week thanks mostly to a freelance job that, like a snowball, became bigger and bigger. Moving domains, websites and databases is never fun. Working with some people who don't understand anything about it, and expect everything to be functional within hours, is really annoying to say the least. My patience wore thin. If I hadn't signed a contract until July, I would probably call it quits. The money is never worth if it's going to affect my sleeping patterns. That's my rule of thumb. But, in the end, I convince myself of being a professional and found some energy, somewhere deep in my soul I guess, and managed to finish it. But of course, there won't be time to relax. I can see a pile of work coming up, though it won't be freelance so I'm hoping that I can work at my pace. A pace I haven't been able to have probably since last May, when things got terribly busy with NYC Popfest, and there was no time for anything else. But no complains then, it was busy but in a good way.
How can I bring back that weekend of Brooklyn Lagers and L and R trains. A weekend when Amanda and Helena stayed at my place and woke me up singing "Secret Secret", a weekend of new friends and familiar faces, a weekend where indiepop reigned supreme again. I guess Indietracks will revive some of that excitement in a month, but it is a different experience altogether. It's in the middle of nowhere and "exploration" means seeing trains and farm animals, unlike here in NYC where it has a wider meaning. Though also, the immersion is much different, Indietracks is like an indiepop holiday; NYC, is a different experience. It can't be compared.
It's been a couple of years since Maz took over NYC Popfest, and every year he keeps doing it better. You can only salute his taste, trying to always bring the new bands to the NYC public, something that me, attending many popfests, celebrates. It's refreshing to see bands that I haven't seen before. And Maz is good at that. He doesn't just book his friends. As I told him, he is a 'visionaire'. He knows what the fans want when it comes to indiepop. And mostly because he is fan himself. And it's clear he dedicates a lot of his spare time to discover new and exciting music. During this NYC Popfest weekend, in a turn of events, at one point, on Saturday, he went up on stage just before Saturday Looks Good to Me. For the first time he addressed the fans directly,  with no shyness or stage fright. He thanked everyone that attended. He thanked all the bands. And last but not least, he invited everyone to the dance party. It was one of my Popfest highlights. I feel it's important to make these festivals as personal, as friendly as possible. I think Maz is achieving that.
For me there was one band that was brilliant. And they were Cola Jet Set. Tight, fun, and close to pop perfection, Felipe Fresón's ensemble was as dreamy and fun as you want a pop band to be. Even though they had lost some members in the last couple of years, the band seems to keep going strong, and everyone that is new, replacing an old member, performs just as good, and maybe, better. Alicia, Daniel, Ruth, Joan and Felipe gave a fabulous performance on Saturday night, even to the point that Maz had to ask twice to the sound engineer to give them more time so they could perform two more songs. One of them, an encore, "Al Amanecer". And the fans were thankful to it. People danced non-stop to songs that most don't understand because of the language barrier. And that is enough to point out how good they were. And how about Felipe's introduction to each one of the songs? Not a story of what the song is about, but a little footprint perhaps, a little note with irony and love about what was going to be the next song. It was endearing. And the band smiling non stop, having the time of their life. And Joan leaving the drums, getting close to the stage, hitting his drumsticks, and asking for the crowd to get wilder, happier. And shouting, "one, two, three", Ramones-style, because they were in NYC, and "Al Amanecer" is as punky as it gets.
And what can I say about hanging out with Felipe. Record shopping at Academy Records where I found the "Not Just Mandela" compilation for six bucks among other things. Having some bulgogi while we waited Pushy Parents. Getting some Burning Hearts records signed, and me, getting my Fresones Rebeldes' "Al Amanecer" 7″ signed by the master himself. Endless conversations about Spanish indiepop, the story behind Los Canguros, Pepito Sex, and what not. The Barcelona scene, Brighton 64 and Kamembert. Los Negativos. His Vespa and his trip to see Les Calamites. It was good times. And can't wait to hang out again. Perhaps when I find the time to visit Barcelona. Wouldn't that be glorious?
And talking about signed Burning Hearts records. Weren't they magnificent? I got the chills when they played "Into the Wilderness". I was hypnotized by their set. The two times I saw them. They were just perfect. They had a SOUND. And I feel terrible now for missing them at NYC Popfest 2009, when they were just a duo. So I can't compare. But this four-piece they are today, they can be huge if they wanted. They have songs, they have a particular sound that is both dreamy and edgy, and they are great musicians. Jessika is among my favourite vocalists at the moment in the indiepop scene. Well, at the moment is a bit paltry, I'd say since they started, 5 years ago, when I listened "I Lost My Colour Vision", since then, she is one of my favourite vocalists. White socks up to her knees, holding the microphone and playing at the right time the keyboard, she exudes passion and control, and I find myself  bewitched by their songs. And I say it now, I wanted to release it back in the day. I love that song, and funny enough, they didn't play it. But they played all my other favourite songs, so why would I complain.
It was sad that last year they had to cancel their Indietracks show. I was so excited to see them. I thought that maybe that was going to be my last chance. But the world is generous, and I was lucky to see them twice in NYC this May. Once at the sauna of The Cakeshop, sweating like if I was running a marathon in the Sahara desert, and then at The Rock Shop, where only a few, those militant indiepop fans, attended that Monday after Popfest. A Popfest hangover show indeed. Seeing Jessika and Henry again, since 2009 when they came to play with Cats on Fire, was great. And they haven't changed a bit, they are nice, humble and friendly as they were. And they keep doing great music. And you know, I look forward to one day when I can work with them. They are among the best bands around, really creative and talented, that deserve to play more festivals around. It's a bit confusing to see why they don't get invited to more shows around the world. They are as good as Cats on Fire. And shouldn't be seen as a sister band or something like that. They are a band on their own. And they keep better and better. "Into the Wilderness" should have been a HUGE hit last year.
There's more to what NYC Popfest offered and I will continue to cover it next week. Also hopefully there will be time to do a little preview for Indietracks. I need to do that because I don't have a clue yet if there are any clashes this year for me. Need to organize myself. Anyhow, moving to the meaty part, the one that is important for all of us, indiepop collectors, the obscure band of the week. This week I'll introduce you to The Lowthers, from Manchester I believe.
I believe they hail from Mancunian lands, but I can't assure you 100%. I can only tell you this for sure, they were formed by Simon Howles on vocals, Fran Wright on guitar, Julian Dyson on bass and Roger Quigley on drums. They were called "Fine British Mitherers" and they were around 1987 and 1988. Maybe earlier too. Maybe later too.
They appeared on two compilations. The first one is from 1987 and was a tape compilation called "Are You Ready?". This was a proper indiepop compilation that included the likes of The Haywains, The Driscolls, The Mayfields and more. The song they contributed was  "Whoose Afraid?". I remember hearing it. Though I can't seem to find an MP3 of it. I'm sure many of you have it. And if you have some time, please do send it my way. I feel I have this compilation somewhere on MP3, but I still haven't had the time to organize some of my hard drives, nor my computers, since I moved to NYC. Somedays I seriously think I need an intern or even better an assistant to organize a bit the mess here. Any takers?
The second compilation appearance, the one I know I love, is on the "The Disparate Cogscienti" compilation, released in 1987. This compilation was on the Cog Sinister label ran by The Fall's Mark E. Smith. The song was "Sylvia" and what a song it is. It's pure jangle! But first a little history of the Cog Sinister label thanks to Discogs:
The first appearance of the Cog Sinister label was in 1987 when The Fall used it as the imprint for their self-released anthology album "Palace Of Swords Reversed". The imprint returned in 1990 when the band signed to Fontana and used Cog Sinister as a vanity label for their releases. When they moved from Fontana to Permanent Records, they continued to use the Cog Sinister brand on their releases .Since leaving Permanent in 1995, The Fall no longer used Cog Sinister on their new material. However, since 1997, the imprint has become part of the Voiceprint label group, and is being used for reissues of the group's back-catalogue.
"The Disparate Cogscienti" was the second release on the label and it includes another gem, Beatrice's "A Girl Like Me". So I do recommend getting it, as I listened Jessel's recommendation once, that time he took me to a – secret, secret – to find so many great records in what may be the best record shopping experience I've ever had. That day I picked up this fabulous black, white and yellow sleeve from one of the racks, after my good friend asked me if I knew about it. Of course I didn't. He said it was worth it for the Beatrice song. Though he did mention that The Lowther's song was quite good. And good it is. And the compilation is worth getting for The Lowthers song too I say. On Discogs at the moment there's a copy for 4.99 euros if you are interested. I say get it.
Sylvia s(y)-lvia, syl-via as a girl's name is pronounced SIL-vee-ah. It is of Latin origin, and the meaning of Sylvia is "woods, forest". The Latin form Silvia was more popular for centuries until recently. Rhea Silvia was an ancient nature goddess, mother to the twin founders of Rome, Romulus and Remus. Shakespeare used the name Silvia for the love interest in his play "Two Gentlemen of Verona", probably intending to give the impression of a typical Italian girl though the name has come to be regarded as an English name. Through the centuries, Sylvia has many variant forms: Silva, Silvaine, Silvana, Silvania, Silvanna, Silvia, Silviana, Silvianne, Silvie, Sylva, Sylvana, Sylvanna, Sylvee, Sylvette, Sylviana, Sylvianne, Sylvie, Sylvina, Sylvine, Sylvonna, Sylwia, Zilvia and Zylvia.
Who was this enigmatic Sylvia, that the vocalist is saving himself for? Was she real, I wonder. If she was, she did inspire a fantastic indiepop song. Or maybe they were inspired by a historical Sylvia as Shakespeare did? If so, I would rule out the Sylvias with different spelling, so no Queen Silvia from Sweden, and no Silvia Pinal from those Mexican soap operas I saw with my nanny back when I was a five year old. Or Sylvie Vartan, that French chanteuse who was pretty pretty. We rule her out too sadly. So what about Sylvia Syms, the British actress? She is a possibility. It's not a rare thing 80s band singing about actresses from back in the day. The other known Brithish Sylvia I can think of, and then I can't think of many as I'm not British, is Sylvia Pankhurst who was a main player in the English suffragist movement in the early decades of the twentieth century. So no, don't think they sang about her. Most probably, I'm just thinking too much and they just sang about a Sylvia they knew, a Sylvia from their neighborhood who they had a mad crush with. Lucky her. The song is really GOOD.
The only other fact, and perhaps the most interesting fact, is that Roger Quigley, the drummer, went to form The Bitter Springs, The Montgolfier Brothers, and the Verspertine record label. Alright. Most of you may know these names. But why were The Lowthers forgotten? Maybe because these were their only two songs? Hard to believe, but it's a possibility. Two songs that weren't released as singles, but on obscure compilations.
But still, I want to ask, because "Sylvia" is a fantastic jangle pop song that could be showcased in the great Sound of Leamington Spa compilations, does anyone know if they recorded more songs? what happened to then? did any of you happen to catch them playing live? if so, do share what you know or your anecdotes.
::::::::::::::::::::::::::::::::::::::::::::::::::::::::::::::::::::::::::::::::::::::::::::::
Listen
The Lowthers – Sylvia