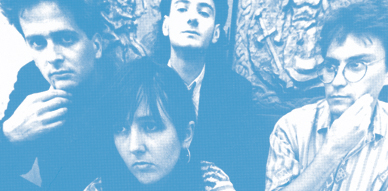 The Catherine wheel (also Catharine wheel, pinwheel) is a type of firework consisting of a powder-filled spiral tube, or an angled rocket mounted with a pin through its centre. When ignited, it rotates quickly, producing a display of sparks and coloured flame. The firework is named for the wheel on which St. Catherine was martyred.
Don't confuse them with the same name band from UK. These Catherine Wheel were from Sydney, Australia, and they weren't press darlings at all like their British counterparts. Their lifespan was quite short, just two years, from 1989 to 1991. During this time they released 10 songs, all of them little pop gems that history has forgot. I can't believe there's no single blog post about these wonderful band in the whole internet! But then, in a way, it's nice that bloggers are not getting their mouth full giving all their discography for free on rapidshare. I'll make some justice today.
Catherine Wheel were Andrea Croft, Grant Shanahan, Brett 'Bert' Thompson and 'Biff' Smith. The band came to life after The Honeys disbanded. It was then when ex-Honeys Andrea, Grant and Bert came together as Catherine Wheel releasing their first single that included Almost Blind, Sunny Sunday and Look At Her. It was released on the That's Bizarre label. I still have to get around this one. But I bet it's a cracker. I found a review online on the KVD Records page that says:
The band have managed that rare trick of making smooth and pretty pop music but keeping the edges that make it have a life. "Almost Blind" and "Sunny Sunday" are the sort of pop people made in the sixties without embarrassment or guilt, but few even try now, and fewer succeed. Really good female/male vocal harmonies make this stuff a real treat for the ears. "Look At Her" goes too far in the folk direction and doesn't make it through a full play, but the other two are plenty good for lots of listens. Let's Active fans probably should be thinking in terms of purchasing multiple copies.
I do have and enjoy quite a lot the brilliant Blue Avenue / Last Explanation single. This, their second 7″, again released on the That's Bizarre label in 1990, has the band's best two tracks. Blue Avenue counts with a saxophone and it's the only track (besides 'Blackest World') I know where Grant is the main singer as the vocal duties were usually exclusively Andrea's. Still she does backing vocals on the catchy choruses of this wonderful song. What a timeless tune! Then you flip the 7″, and you get such a rewarding tune: Last Explanation. I wonder how this track is not a classic down under. It has that same magic The Hummingbirds used to pull out, that same bittersweet vocals of the antipodean Look Blue Go Purple, and the charm of Even as We Speak. How did they do it? I think I should dedicate some time having a listen to the whole oeuvre of The Honeys, but also to the later bands they were involved with. Andrea Croft's Polyanna and The Snow Leopards and Grant and Brett's Eva Trout. And mind you, The Honeys are back together gigging around.
Their last release was the "Self-Portraits" 5 track CD-EP on their usual label, That's Bizarre. This time it got the Shock Australia distribution and it was quite easy to track down for me. On this release Biff Smith is replaced by Matt Handley on guitar. This EP opens with Reach, which is one of my favourite songs by them, it's the star of this release. A lovely jangle pop tune, nice arpeggios and sweet vocals like a speed-up The Carousel. The third song, 'Blackest World' is another great tune, that, under a Chills-like guitar assault and a saxophone (again!), Grant croons till Andrea joins for an epic melody. The remaining three songs ('Wilsons Beach', 'Mama' and 'Self-Portraits'), are quite good as well but they are more calm, less bouncy, reminding me to the early 90s British band The Heart Throbs.
I believe Jim at Egg Records announced he was going to do a CD with obscure Australian pop gems from that period. If he does it, this band should be included. Lovely.
::::::::::::::::::::::::::::::::::::::::::::::::::::::::::::::::::::::::::::::::::::::::::::::