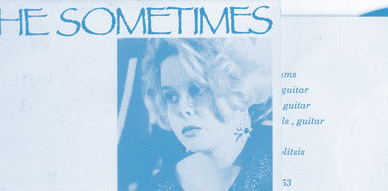 Two weeks ago I was arriving at Heathrow airport. After watching a couple of Bruce Willis movies on the plane and complaining with the United Airlines hostess about them charging for beers on the flight, 6:30 hours of sitting down at the uncomfortable economy class, my excitement was beginning to show. Though I hid it well to go through customs with a serious face. 6 days. Vacations. Thank You. And then, to pick up my bag full of records and other goodies.
Last time I was in London was for Chickfactor, in November. I was a bit down and lonely. It was no surprise then that I still had money on my Oyster card (10 pounds!) and money on my O2 phone card (4 pounds!). So no need to stop and top up these. Let's go straight to the underground, catch that Piccadilly line towards Jennifer's!
Buying the usual shampoo, soap, razors, you know. I travel light. Shower. Choosing a Betty and the Werevolves t-shirt. Because they were Londoners. Having lunch at the pub. Fish and Chips. Let's keep it classic. Take the train from West London all the way to King's Cross. Go to Jennifer's office and pick up the merch and pedals of The Secret History. Now let's head to The Miller, where the gig is going to take place.
Bad coincidence. I get a text message from my friend Albie. She won't be able to make it because she has to organize something for the party. I don't know what party she is talking about. I then realize it's her birthday. What a moron I am. All these traveling have made me lose the sense of time. So I don't get to see her, nor greet her. Just a stupid text message saying happy birthday. It's hard to make it up for everyone when you are abroad and for so little time. Though you might think this is a terrible excuse.
Anyhow. At the Miller. Only the Great Ghostby and Laura are around. The rest of The Secret History are on their way. I notice that downstairs all the Pale Spectres are already having some beers. But I dont get to meet them. Not yet. Soundcheck. The Secret History gang has finally arrived. A tattooed guy talks to me in Spanish. It's Rafael, the drummer of Pale Spectres. With his Mexican accent he asks me for a copy of the Flowers 7″. It's all yours I tell him. It's great to finally meet him! My new metalhead-pop friend. I didn't expect him to be that punk!
I glue some posters on the walls of the pub. Posters for the gig. On the posters it says it's sold out. It is. There's only space for 100 people, and I believe 105 or something are going to be attending. Jennifer sets up a Colour Me Pop thingie, for people to leave their emails, so they can join her mailing list for future shows. I write my email first. Before anyone else. And I use my personal one. I never do that. Definitely this is going to be an special evening.
I run downstairs to tell David Feck from Comet Gain it's their time for soundcheck. They are all having some beers of course. They come and they sound amazing. Then it's Pale Spectres turn. Now I meet the whole gang, Thomas, Stephane, Jeff and of course, Rafael el Duracell. The cool thing is that they bring their own French crowd, friends that I see at every Indietracks I go, Clemence, Emilie and Joanny. Them three who run the Another Sunny Night club in Paris. Them three who are a lovely bunch! And joining them I meet Amanda, a Swedish girl who dresses in one piece outfits, has short hair and speaks perfect French. Later I would know she is a fantastic dancer too!
Then of course the three bands play. And they are all amazing in their own rights. I DJ too a bunch of songs. Well known and not so well known. If you google alright you can find which songs I played that night. If you are curious. I'm not very curious about it. Ok, maybe a couple of them, because I would love to know what happened to those bands. But I'll blog about them some other time.
My highlights of the night start showing up. Seeing Christos and Matthew. Christos who wouldn't come to Indietracks at all. My dearest friend who was very much missed. How much I'd love to hang out there like previous years. At least I got to see him on Thursday. Matthew of course I would see later playing with The Fireworks at the Church.
I meet Martin who used to play in the Meta Band, in Sweden. He is on vacations in London and he is a big fan of The Secret History. Or well, of My Favorite. It seems their shows at Goteborg and especially the Hultsfred festival are nothing short to epic. I wish I had been around then and there. They have a big Swedish following with that handful of gigs! Impressive, but well deserved if you have ever seen them play!
Of course I get to see Miguel! With who Im staying too. And with who I would get a late night kebab after running to catch the last train all the way to Ealing. Because we stayed until the last possible minute that Thursday talking with the French crowd and drinking beer. Expensive beer!
And meeting Elin! Elin from Je Suis Animal, asking her which songs to play, which Dolly Mixture song would be good. Dear Elin who blamed me for staying at a hospital-kind of hotel at Indietracks instead of camping. Elin who helped me in my stay in Tallinn. Elin who makes the most beautiful music. At last I got to properly talk to her in person!  What a star she is!
And last but not least I saw my dearest Kajsis. Another year of visiting London and hanging out. Another Indietracks of joking and telling each other all the gossip, catching up. Like we've always done. Buying beer, having a good laugh. It's always lovely to hang out with her, though Kajsa, I thought I was getting a free Cosines 7″! WHAT!?
What about the gigs you say. Of course, a review of the gigs. That's what people care. Afterall it's about the music right. Couple of things first, the event was thoroughly organized by Colour Me Pop (aka. Jennifer). I think she found a great venue (it's been the cleanest pub I've been to a gig in London), and everything went really smooth. Even the sound guy was really friendly!  So many thanks to her for letting me be part of it and DJ. Now, team Indietracks, invite me to DJ. I want to be part of Indietracks.
Pale Spectres. Very excited to see them of course. I had put a song on a compilation CD and loved their 3″ CDR on Little Treasure. On top of that I've been chatting now and then with Thomas and I believe we are very similar in our opinions about indiepop. I like that. I don't have to explain, and we agree more or less on our tastes. Especially when it comes to the mafiosi. Also, those who read the Cloudberry fanzine know that we are doing a 7″ on Cloudberry pretty soon. As you can tell, it was a big deal this concert for me. And well, seeing Stephane jumping here and there like a kangaroo, Jeff being a summer-like Johnny Marr with his shorts and his arpeggios, Rafael drumming and singing giving away all of his lungs, and Thomas being the classy and shy vocalist all indiepop bands want, made a fabulous impression to the crowd. Everyone was static. The jingle jangle. The great melodies. The classic indiepop of Brighter, Brian, Blueboy and all bands that start with B, was there. And they were only going to confirm it days later at Indietracks (more on that next week perhaps).
Comet Gain. What can I say about Comet Gain? Many people say they are hit and miss. That it depends on their mood. That day they were pretty good. Way better than the time I saw them in NY. Not as good as the time I saw them at The Lexington some years back when Pete Astor opened for them. I'm a big fan of Comet Gain, there are few bands that have such a discography, and so many great songs. But whatever I say, you already know. They are already part of the indiepop pantheon.
The Secret History. First show for Mickey Grace's new band in the UK, or in Europe even. And they did what they do every time they play in NYC. Lots of attitude, lots of energy, lots of passion, and lots of enthusiasm. Four ingredients that American bands usually lack, The Secret History have so much of it that they could give it away every single night they perform. Playing a couple of My Favorite classics, and then a repertoire that included mostly songs from the new album released on Cloudberry, the band put a killer performance, accordingly to their headliner status. It was indeed also a preamble for their epic gig at indietracks. Who would have thought. Months before when we were discussing the album, at The Sparrow in Astoria, when we were telling each other that Indietracks had to happen, that London had to happen. Sometimes wishes come true. I released the album. I saw them in the UK twice. And The Secret History are one of the best bands of these times. And they proved it. To a foreign, to a new, crowd.
————————————————————–
I just found out that a listing for their record went unnoticed and finished on July 7th. How terrible. Really. I just wrote the seller if the record is still available. But with my luck, probably not. It was on Buy Now and at a very accessible price. The record I'm talking about is very obscure, and a lot of it has to probably do with the band name, The Sometimes. Not an easy one to google.
The Sometimes were from somewhere in Australia. And as far as I know released just one 7″. On the A side the song "People Go Home" and on the B side "Let Your Guard Down". So far I've only been lucky to hear the B side thanks to Peter Twee.net's "The Sound of Glen Waverley" CDR compilation.
The only other thing I was able to find about them was that they included the A side on a tape compilation called "Screaming at the Mirror" that was released in 1988 by Ticklish Tapes (catalog number TT 007). On this tape the only other band included that I've heard before is Scarecrow Tiggy. Are the rest of the bands jangly pop as well?
This appearance only confirms my suspicion that The Sometimes were around in the late 80s. They don't have anything else listed on Discogs (not even the 7″), or anywhere else. If I could only get the 7″, maybe see who the band members were. Their label. Anything.
No more clues. Just a fantastic song for you to hear. If you have any information, or happen to have a spare copy (unless the eBay seller is kind enough to sell me the expired listing), I'd be very happy! Hopefully we'll find out soon more about them, and perhaps, there are a bunch of their songs somewhere waiting to be unearthed.
:::::::::::::::::::::::::::::::::::::::::::::::::::::::::::::::::::::::::::::::::::::::::::::