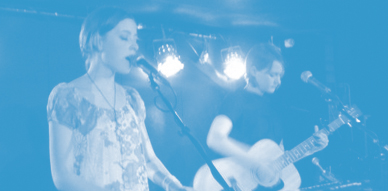 Back in 2003-2004 I fell in love with a handful of songs by mysterious Swedish band called Fibi Frap. I played them often. Very often. On repeat. I burned them on CDs. Took them everywhere on my CD player, the same one I still use daily today. I didn't know anything about them. I had downloaded these tracks from Soulseek, perhaps from the Twisterella room, or the Picknick room. From some Swedish user most definitely. Those were the days when I was falling for everything indiepop, when I was discovering how beautiful and how life-affirming this music is.
I wouldn't revisit Fibi Frap until 2010. It was January and things hadn't worked with K. It was hard to swallow and understand. She had written to me a letter where she called us soulmates. But soulmates wasn't enough for it. Perhaps it was the long-distance situation. Miami to Stockholm was a long way, though it would turn out that we'd see each other about five times in the year to follow. Then maybe she just didn't like me, or she wasn't ready at all. She used to be depressed. Very depressed during those days. She was the first one in my long history of meeting depressive Swedish girls. A history that still follows me, where the worst thing is that I haven't learned how to deal with them yet. Always ending in drama. Funny, as it's usually us the "latin" people who are supposed to be more melodramatic and who produce an infinite number of cry-me-a-river soap operas.
There were plenty of songs that coloured my days then, that I identified myself, that I made mine. The Clientele's "Since K Got Over Me", St. James Infirmary's "How Many Times", Rose Ellinor Dougall's "I Know We'll Never" or the Marine Time Keepers' "When Will You Realise That I Care", were among them, though the song I heard the most was Fibi Frap's "Sadeyes".
"Sadeyes" ended up being my theme song during those dark months, when things were confusing,  and where I wouldn't assume that this wasn't meant to be. I nicknamed her "Sadeyes" too. It rapidly became the most played song of mine on Last.fm. It made me smile and look with a bit of a positive outlook the whole situation. It wasn't me. It was her. The connection, the chemistry, most probably had idealized everything. I wrote extensively about her on the blog, the zine, and various inserts. I was heartbroken. And Cloudberry as a label that believes in unrequited love, continued, stronger than ever. Finding strength where there was pain. Today the story repeats itself. Time to regroup. Hacer de tripas corazón. Time to find Fibi Frap again among my old hard drives, or find the songs again on Soulseek. If I just had the original releases. I can only imagine holding those CD-R EPs whose cover art I've never seen, but that I picture as something cute, done with love, and it would mean the world to me.
Saved. Up and down I smile, giggle and enjoy the four tracks on their first CD-R release, the eponymous titled EP. Four playful songs, "Sadeyes", "Applecoins", "To Make You Happy" and "Sunny Days", that were ahead of their time, a mix of Action Biker and The Deirdres, in a bedroom style recordings. They could just be your two best friend playing songs for you, in your living room. There's closeness and not a single bit of arrogance, ambition or pretentiousness. It's what it is. Songs straight to the heart. Proper popsongs, no tricks, no cheats. Just make them yours.
As far as I know there's a book called "Fibi – Frap" by an author called Doe Mena-Berlin. I couldn't find any relevant information about her/him aside that there are other books by the same author like "Vis – Öä" or "Coco – Dies". I assume it's a Swedish author, and that is half Spanish, or with half-Spanish descent, as Mena is a very common last name in Spanish speaking countries. Also the publisher of "Fibi – Frap" was Bra Böcker and the book was out for the first time in 1996 according to Google Books. I don't believe these are novels though, but most probably volumes of an encyclopaedia, where Fibi is the first entry on the volume and Frap the last. That's what my instinct tells me. But either Fibi or Frap don't seem to be Swedish words. There doesn't seem to be any other hints about the nature of this cryptic name. Can anyone of you solve this mystery?
Fibi Frap were two girls, Madelaine Sillfors and Sarah Andreasson who lived in between Gothenburg and Stockholm, probably one in each city. According to their old myspace, they made "happy and sad casio serenades about love". And listed a long list of influences: Manga, picknix, Boris Vian, Paul Auster, Maurice Blanchot, Magnetic Fields, Will Oldham, Morrissey, Computer Vikings, Oski, Lifli, Brendan Perry, Neil Young and the guys, The Cure, Alma Cogan, Nina Simone and looove. They had good taste. And these serenades about love that they used to write were a clear example of that.
They started the band neither in Stockholm or Gothenburg, but in Kiruna in 2001. Kiruna being the northernmost city in Sweden, situated in the province of Lapland. Population 18,148 in 2010. I might guess both Madelaine and Sarah were originally from there and were good friends, or just perhaps were going to school there and met randomly. During their stint in Kiruna they recorded their first EP, the "Fibi Frap EP" in 2002. After this release they moved to Gothenburg and Stockholm and they gigged extensively in Sweden, playing the hip clubs of the time like the mighty Starke Adolf in GBG and Lava in STHLM. Other clubs that saw them were Debaser (Stockholm), Club monsters of Indie, Popaganda (festival) and on Meths Salonger (Gothenburg) They also appeared on radio, in shows like P3 Demo or P3 Pop, one of my favourite radio shows during those years, where Hanna Fahl would even play some of our own Plastilina releases! On P3 Pop they played live too, in the studio, in March 2003. I wonder if anyone has those recordings!
In 2002 they also contributed the song "Sunny Days" on the compilation "Alltid hela tiden: Utökad familj volym ett" ("Always all the time: Extended family volume one") released on the "Alltid Hela Tiden" label run by Johan Jakobsson, a music journalist that writes for Sonic Magazine and perhaps the biggest fan of Strawberry Fair, who he would later release a delicious EP in 2006, the last time we heard from Jenny!
The next year, in 2003, they contribute "To Make You Happy" for the "Picknick Picks!" compilation tape released by the American label Popgun Recordings that the good Raoulie de la Cruz used to run. This tape, catalog number 055 and that had Argentinean comic strip cult hero Mafalda on the cover, included five songs by five Swedish indiepop bands picked by the Picknick fanzine. It was during those days that I also discovered on soulseek the Picknick room where I used to hang out silently and learn about all these small and fantastic bedroom projects that were appearing every minute in Sweden.
Fast forward to 2004 and they release another EP, "How Fast is Your Heart Beating", from which I have barely any information other than they were released on the My Secret Garden label, that used to be run by a guy called Martin, who lived with his girlfriend and cats in Gothenburg.
Every year they would make an appearance, so in 2005 they contributed another song to another compilation. The song was the fantastic and catchy "Where'd You Learn to Kiss That Way?" (a nod to the Field Mice?) and the compilation was "This is My Secret Garden", on the My Secret Garden label (catalog 010).
2006, another obscure release, "Remember Being Born". Also this same year they showed up in yet another compilation on Rokit Records. The song "Catherine" was included in the "Robots And Electronic Brains – Telephone: Smethwick 2341-2" CD that came for free with the fanzine Robots and Electronic Brains (Cambridge, UK) in it's 15th number.
And after that they totally disappeared from the face of the Earth. During their brief run they were praised by many bloggers and fanzine writers alike, from Tangents to Le Manchester, but for some reason they never ended up being a household name, a popular band. If only they would have lasted a year or two more, I would have pestered them until we could have made a release on Cloudberry, or help them play at Indietracks or some other Popfest. Their playful songs, their witty lyrics, and the bouncy melodies were always on repeat. I hate myself for not being able to buy their records, those DIY CD-Rs released in those years. They were pretty limited and today must be really impossible to find them.
I tried to get in touch with no luck through the Myspace some years ago, when compiling what would become The Sound of Starke Adolf compilation. I wanted them to contribute a song for me, but never heard from them. How much I would have liked that. I would even dream putting together some sort of compilation of all their songs. That would make me terribly happy, possibly poor, but who cares, this is indiepop!
But if anyone know their whereabouts please do let me know. I would still like to showcase them in the next Starke Adolf, I would love to hear the rest of their songs, I would love to know if they are still making music. And most and for all I would like to thank them for the music.
::::::::::::::::::::::::::::::::::::::::::::::::::::::::::::::::::::::::::::::::::::::::::::::
Listen
Fibi Frap – Sadeyes