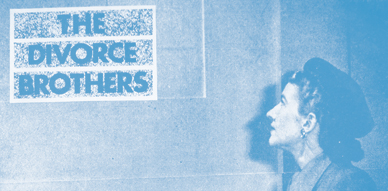 Not much to say this week. Lush will reform, play a show and release a box set. I think that is the news. Everything else at the moment is just accessory. And that's fair. It's good to see this comeback, that so far will include a concert in London and a box set reissue. But what else there is to talk about when such big news eclipse everything else?
It's tough, right? The other important announcement came from Firestation Records. They will be releasing a bunch of records that no one can miss. They are essential:
– A reissue of The Hardy Boys' "Wonderful Lie" 12″ – A reissue of Ala Pana Fuzo's "Friend" 7″ as a 12″
– A reissue of The Dubious Brothers album "The Foresight Saga" on vinyl as well
– The Love Parade, on both CD and vinyl, gets the treatment we've been expecting for a long time. A retrospective compilation called "All We Could Have Been (1989-1990)". 15 songs that I can't wait to have them at home.
– And last a retrospective for the obscure band The Banzai Babies called "The Sun's Still Shining"
Another record that has been released lately is that of Rose McDowall's. It's called "Cut With the Cake Knife" and it's available in CD and LP. It's out on Night School Records and it's a reissue of the limited 2004 release on Bad Fairy Productions, though the songs were recorded in their entirety in the late 80s. "So Vicious" was always a favourite song of mine, so it's good to be able to have it on record, and not just in MP3, now.
I also got on the mail the McCarthy reissue on Optic Nerve. The 7″ that was included in the pre-order looks and sounds great. The album I haven't played yet. But I was very happy to get such a big booklet, with lots of photos as well as the posters that accompany the release. Now where do I find frames for European size posters in the US? IKEA, right?
And last but not least our friends from Pretty Olivia Records in Spain have also a reissue. This time it's for the great New Zealand band The Wild Poppies. The record, a double LP, is titled "Heroine: The Wild Poppies Complete Collection (1986-1989)". Another record that can't be missed.
So, after reading all this, how does your wallet feel? Skinnier? Mine starts to worry me!
——————————————————-
Perth is a city in central Scotland, located on the banks of the River Tay. It is the administrative centre of Perth and Kinross council area and the historic county of Perthshire. According to the preliminary 2011 census results Perth, including its immediate suburbs, has a population of 50,000. Perth has been known as The Fair City since the publication of the story Fair Maid of Perth by Scottish writer Sir Walter Scott in 1828. During the later medieval period the city was also called St. John's Toun or Saint Johnstoun by its inhabitants in reference to the main church dedicated to St. John the Baptist. This name is preserved by the city's football team, St. Johnstone F.C.
Last week we were talking about a band from Perth, Scotland. I think we should do it again this week. And also another band that many years ago I was introduced to by Takashi, that strange Japanese man who knows so much about indiepop but it's not so keen in sharing his knowledge with the rest.
The Divorce Brothers. What a good name for a band I thought. They only released one record, and their legacy on the web is non-existent. There's absolutely nothing written about them aside from Takashi's blog and the always reliable for it's taste From a Northern Place blog. Discogs lists the record, released on Separation Records (Left 1db is the catalog number) in 1986. It was a 12″ EP, running at 45rpm and included 5 songs:
A1. To Understand
A2. That First Kiss
B1. Walk Out the Door
B2. The Divorcee
B3. The Liquidator
We know the members of the band too:
– Ian McIntosh on vocals and guitar
– Abe McIntosh on guitar
– Ged Lerpiniere on bass
– Paul Caswell on drums
– Derek Anderson on keyboards
Liz McKenzie did backing vocals, the engineer for the record was Dick Gibson and the producer was Reg Bottomskelp. The cover was designed by Nick Wright for Nature Morte and the band photos on the back cover were Jim Lees'.
There are a bunch of thank yous on the back too. I guess the names I can see as famous is that of Billy McKenzie of The Associates. I wonder, perhaps Liz, who was doing backing vocals for the band, was related to him? Also a club is thanked, one called Soul Kiss Club. Wonder if any of you ever attended it?
That's all I could find really about them. The song I'm sharing is amazing, you are going to love it if you don't already. I wonder though what happened to them, how come they only released one record, if they were involved in other bands, and what are they up to these days.
Also, it's been a long time since I had these songs as MP3s, maybe someone can help me with them. I think they were lost when my hard drive got fried like 4 years ago. I don't own the record, but if anyone has a spare, that'd be nice too!
:::::::::::::::::::::::::::::::::::::::::::::::::::::::::::::::::::::::::::::::::::::::::::::