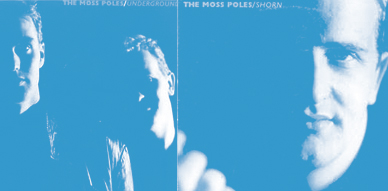 After getting such a nice email from my friend Jennifer recounting me with details her weekend at Indietracks, and also reading Ragnhild blog about her Soda Fountain Rag experience at the same festival, I got all teary-eyed and nostalgic wishing I had attended the festival of steam trains and indiepop (and some other questionable music).
I'm seriously considering going next year, if it happens of course. Indietracks and a side trip. Perhaps the north of Wales, a dream of mine since forever, visit Caernarfon, Harlech, Beaumaris, Conwy castles and more. Or take my girlfriend north, to Scotland, as she would like that very much.
I guess planning will start when the dates are announced and I book almost immediately a Travelodge room. That's how it usually started. Ah! the memories!
But I thought about finding some new talents from the British isles, start giving the organizers some ideas of some indiepop music that could fit in the festival. Obviously this is by no means a request or a demand. I already know that their taste differ with mine. But maybe, just maybe, one day it will be like the first years, where it was a solely an indiepop festival worth traveling miles and miles, crossing an ocean.
Because folky and punky bands abound here. Garage too. So, put yourself in my shoes. Why would anyone pay a pricey transatlantic flight for the same old? We don't get much indiepop here. Just NYC Popfest and the random My Favorite, Pale Lights or Gingerlys gig. That's it. For someone hungry, thirsty, for pop, well Indietracks should be the panacea. Right?
Anyhow, I find myself on Bandcamp looking for bands in the British isles. Not anywhere else. Not even Europe. If they come from this area they are definitely cheaper to book, and probably even easier to get them in a short notice, if there's an emergency like a band canceling last minute for example.
The first band I find is called Dott. They are Irish actually and their last tape titled "Beverly Baldwin" (gosh I hate tapes) has been nicely reviewed by Brooklyn Vegan it seems. Released on Mirror Universe Tapes from South Carolina (!), there are four songs by this band from Galway. This duo formed by Anna McCarthy and Evan O'Connor (already married to each other) sound quite nice, it is fuzzy pop with girl vocals. A nice little surprise.
Whalo is not technically exclusively Brit. They are half Swedish, half English. From Nottingham and from Stockholm. Another duo, Johanna Lageryd and Matthew Breed (don't know if they are married) and yet another tape, this time released by Alicante, Spain's, Mondo Canapé. Titled "Sleepy EP", it includes 4 classic slices of indiepop. Jangly guitars, girl vocals and lo-fi production. Being from Nottingham, definitely should give them an edge and they should be booked for the Derbyshire festival. It's just a bus ride away!
I don't know where Glass Arcades are from. But they write "potato crisps" in their Facebook. They must be British. This is a one man project as far as I know. Anton Salmine writes, performs, mixes and produces. Their new EP is called "Singular Forms" and it is available online. Dreamy and jangly. If he puts a band together for a live performance, it could definitely be an early evening band in the church, don't you think?
Remember The Hillfields? We put a 3″ here on Cloudberry many many years ago. Rob has put together a new London based band called Rapid Results College. Classic guitar pop, good to enjoy with a cup of tea. They have an album on CD now titled "In City Light" and it includes 10 songs. Worth checking out!
Small roundup, but interesting for sure. In the coming months I'll keep digging some more, perhaps one of these bands do find a place in the most important indiepop festival in the world.
———————————————————
I didn't know until today that you could actually buy moss covered poles. I found a place where you can get them for $6.99. Maybe there's cheaper places. I don't know what is their use though. Maybe someone can tell me?
The Moss Poles was another band I heard for the first time in those years when I was discovering indiepop online while hanging on Soulseek rooms like Twee Folks or Viajeros Polares. If I recall correctly the song "One Summer" was usually shared on mysterious folders titled "Future Leamington Spa" or something like that. Songs that should have been part of the great "Sound of Leamington Spa" compilations Firestation Records used to put out where obscure bands from the 80s were introduced to a new audience.
I remember too that The Moss Poles had an online presence. They had a website. I can't remember though how it looked like. I do know that the Twee.net bio for the band was taken from that website, so it's pretty legit:
The Moss Poles were formed by Nick Potter, Sean Bergin and Mick Kemp in the summer of 1987. They met whilst working together in University of London halls of residence in Camden, North London; Nick was already in a student band with Mick called Last of the V8s, which Sean joined as bassist. The other members of the V8s departed over time, leaving Nick, Sean, Mick and a drum machine. Their first gig was at the Half Moon in Herne Hill, for which they recruited a drummer, Brendon the American. The Moss Poles began to play gigs around London with different drummers (occassionally reverting to the drum machine for some gigs) and quickly built up a reputation as an outstanding live act. They were spotted by an A&R man for MCA, Tim Bulliment, who booked them in to do a demo of One Summer, one of the songs which most represented what the Moss Poles were about – fast, guitar driven post punk studded with harmonies and melodic hooks. The studio desk blew up so the session never happened; soon afterwards another session was arranged with Duran Duran's producer – this didn't work out so well. Then MCA introduced the band to Jeff Chegwin, a music publisher, who arranged a recording option with Warner on the fledgling Idea label (not to be confused the the XTC label of the same name). Jeff also introduced the band to Harry Barter, who became their manager. The single 'One Summer' was released in July 1987 and the music business began to take an interest; a Janice Long session got them national airplay and the gigs got bigger. The single 'Underground' was released soon after, and the band then went into the studio to record an album – Shorn – which was released late in 1987. The band continued to play gigs around London and got a couple of slots on GLR including a live lunchtime acoustic session. In March 1988 the Moss Poles went on tour. Steve Lamacq, who was a big fan of the band, came with them, following the van in his mini. After the tour ended, Sean left. Nick carried on, and Jeff got a deal with Mayking for a second album and third single; these were recorded in a studio in Wales with Nick's friend Paul Breuer (later lead singer of Junior Cottonmouth) on bass. But the label went bust and all the tapes were seized due to non-payment of fees. Sean did rejoin the band and they did a few gigs in London to promote the new album, but the chemistry of the band had changed. In 1989, they reformed for one or two gigs before calling it a day. Sean now plays with an occasional punk band in Rugby and Nick lives in Australia. 'One Summer' still gets played on the radio occasionally, and it sounds as good as it ever did.
Twee.net lists them as if they were from Scotland. It is clear from the bio that they were based in London. That website used to have a download page but I believe all the songs that I downloaded from them were lost when my "music" hard drive stopped working. According to an old blog post from Power Populist there were 42 songs to download. Some of them from an unreleased 2nd album.
I do own two of their records, the "Shorn" LP and the "Underground" single. The one I'm missing is the "One Summer" single (which I just ordered to complete my collection). I believe I bought the ones I have when I went to a record shop in Greenwich many years ago.
"One Summer" came out on both 7″ (cat. Idea 006) and 12″ (Ideat 006) on Idea Records in 1987. It included "One Summer" on the A side and "Go Down" on the B side on the 7″. The 12″ added another song to the B side, "Blissful".
Second single was "Underground". This was Idea 007. Also released in 1987 this included two songs on the 7″ and three on the 12″. "Underground" was the A side whereas "Were You Happy?" was the B side. The 12″ added "The Sweetest Girl" to the B side. The record was produced by Andrew Fryer and The Moss Poles.
Idea Records was a great indiepop label, releasing classic records by The Jack Rubies, The Wolfhounds, Playing At Trains and The Wallflowers. With them they were to release also the Shorn LP in 1987. The catalog number was IDEALP 002 and it included 14 songs! There were 7 on each side, and you could find on the A side: "The Things You Say", "Take it Or Leave it", "Don't Worry", "Amanda Dreams", "All in Your Eyes", "I Hear You Scream" and "Don't You Know?". The B side had "Underground", "More & More", "The Sweetest Girl", "You Came Up & Smiled", "Little Prince", "What Can I Do?", "To Kiss You".
From the credits we learn a few details, Dave Kirk helped with drums and Andrew Fryer with keyboards in this record. It was recorded and digitally mastered onto DAT at Chapell Studios.
Let's keep digging. On Youtube I find a song called "10,000 Miles" and is dated 1989. It is said to have been the third single. Sadly it never got released. Luckily this same Youtube account, which I suspect must be from a Moss Poles member, has many more Moss Poles videos. All of them uploaded 6 years ago:
– One Summer Live 1986
– A rehearsal from 1985 playing the song Loop
– The song "Blissful"
– "Here He Comes" live at Dingwalls in Camden
– "Little Prince" live at Dingwalls in Camden
– "Underground" live at Dingwalls in Camden
– "One Summer" live at Dingwalls in Camden
– "Take it Or Leave it" live at Dingwalls in Camden
Then I stumble upon Nick Potter's Soundcloud. Here there are some more tunes by The Moss Poles, but most importantly two songs from the second album, "The Eucalyptus Crack" and "The Whole World's Sinking". Such great songs! What happened to this record? Why did it never come out?
Other song names I could find online were "Couldn't Find a Reason", "Don't Think About Me" and "Your Ignorance". May these three also be from that 2nd unreleased album?
The last item I could find about the Moss Poles is that they appeared on a compilation on Idea Records called "The Idea Compendium" (IDEALP 003) released in 1988. In this great compilation they contributed "One Summer" and "Go Down".
Then I couldn't find much more about them. I wonder why they took down their website. What happened to all of those songs that were available for download and if they will be available again. What happened to the band members afterwards? Were they involved with music? What about before being The Moss Poles? Had they been in bands? And what about that 2nd album, what's the story behind it?
Anyone out there remembers them?
EDIT: Jessel shared with me the 2nd album. The tracks included are: "The Whole World's Sinking", "Pretty Blue Eyes", "The Eucalyptus Crack", "Tell Me", "Don't Stop To Think Of Me", "Missing Her", "Don't Say Anything", "Don't Get Me Wrong", "Your Ignorance".
::::::::::::::::::::::::::::::::::::::::::::::::::::::::::::::::::::::::::::::::::::::::::::::
Listen
The Moss Poles – One Summer