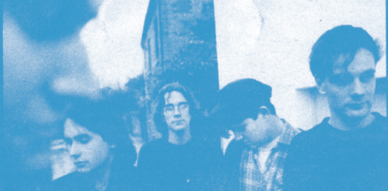 This is the last post, even though there might be an interview or two published, before I leave to the UK on the 21st for a little vacation. I'll be back on August 2nd. And hopefully that same day I'll prepare a post about Indietracks or some adventure I had in the UK. So worry not of the lack of updates.
These coming days are dead busy at Cloudberry HQ. Today the new fanzine is out. And the Very Truly Yours records have just arrived home. I have to cut the 500 inserts during the weekend and hand-number them. I know the release date is July 31st, but the thing is that the records have to been in UK by next week, so my Chicago darlings can sell them in their gigs all around the UK, from London to Glasgow. Also have to send the records to mailorders before I leave to London. So I'm on a very tight deadline. On top of it all my Peru plays Colombia today at 3pm for Copa America quarterfinals and that will take half of my day probably.
At this point I'm not 100% sure that I will sell records at Indietracks. But leave me a note, or an email, and I could bring the records you'd like to the festival. I'm not sure what's the deal this year for labels at the merch tent. But I don't have much time to sit down and miss bands I'd love to see. I made some weeks ago a small schedule for what I'd like to see, it goes more or less like this:
Friday
Pocketbooks
Saturday
14:00 Remi Parson
15:00 Graeme Elston
16:00 The Garlands
16:40 Wendy Darlings
17:00 Next Time Passions
17:40 Butcher Boy
18:40 Help Stamp Out Loneliness
20:30 Milky Wimpshake.
Sunday
13:20 Proctors
16:00 Papa Topo
16:40 Sloppy Joe
17:40 Zipper
18:40 Very Truly Yours
Quite exciting!
So what did I listen this week on CD?
1. Chain Letter –  Théâtral Musical (Tulip House)
2. Various Artists – Good Thing Goin' Pushbike Compilation Vol.4 (Pushbike)
3. BMX Bandits – Bee Stings (P-Vine)
4. Zoey Van Goey – Propeller vs. Wing (Chemikal Underground)
And now onto our obscure band of the week: Jane From Occupied Europe. I would have featured this band a long time ago. I was in touch with the bassist of the band, Dave Todd, some years ago and we agreed on an interview. Sadly I never heard back from him. Anyhow, let's review this fantastic Salisbury band that had three releases, which I proudly only own 1 of them! I should start tracking the rest.
First stop, Wikipedia:
Jane from Occupied Europe were a band that originated from Salisbury, Wiltshire, England. Band members had appeared previously in other local bands, most notably Bubblegum Splash [Subway Records] and a popular Wiltshire band, Mrs Taylor's Mad. They were part of what was an interesting scene of music that stemmed from the area around the mid to late 80's, including bands like The Badgeman (Paperhouse Records), The Mayfields, and Mad Cow Disease. Whilst their sound has been bracketed under the 'Shoegazing' mantle, their sound was based around a broad number of styles and influences including psychadaelia, punk, and garage. The band toured around England, supporting bands like Carter USM, Catherine Wheel, Mock Turtles, and the Seeds amongst numerous others.
The band was formed by Jim Harrison, vocals & guitar, Colin O'Keefe, guitar, Dave Todd, bass, David Ware, guitar, keyboards & vocals, and Phil Eason, drums & percussion. On an interview I did with Bubblegum Splash's Nikki and Marty she told me that it was Jim and Dave who were in Bubblegum Splash and  after some googling I found out that David Ware was in Mrs. Taylor's Mad. Wonder if Jane From Occupied Europe was the first band Colin, Dave and Phil were on?
So one would assume that they took their name from the second album by Swell Maps and that's true. They once told the NME: "Swell Maps thought up some really great titles and, er… we just ripped it off." But then I get curious, and I wonder if that name has any significance. I can't think of Europe being occupied, or any particular Jane. Maybe it comes from a sci-fi book or something? Anyhow, maybe you know better and can tell me where this enigmatic name comes from. But now onto more about this fantastic band.
I fell in love with them since I bought in 2006 their 7″ "Ocean Runs Dry", a mix of shoegaze and guitar pop released in 1989 on  7 Per Cent Records (catalog JANE 001). I believe the band run this record label. This record is not very hard to find, and I recommend anyone reading this to get it. I've seen it on Discogs for less than 5 bucks. You'll thank me! The track swaggers with a distorted guitar, another guitar doing arpeggios, and c86 class vocals! On the flip side you find two more great tracks "Annabel Lee" and "Kingdom By The Sea". So Oceans and seas? I guess Salisbury is not that far from the Atlantic, did they go to the beach often? And what about Annabel Lee? "Annabel Lee" is the last complete poem composed by Edgar Allan Poe.
Onto catalog JANE 002. That was the Little Valley Town 12″ EP, released in 1990. That record included 4 songs: "Little Valley Town", "Parade", "Walking Around" and "Horizons in Blue". This release and the previous one can be downloaded from this blogspot page the band set up. Sadly their last release, JANE 003, their 1991 album "Colorsound". is not available anymore for free download. But let me promise you that if you get your hands on it you won't be disappointed. The quality is still there, and only one song is repeated on the album from previous releases: "Parade". If you happen to find extra copies for these two releases let me know, I'd be interested!
There were two compilation appearances as far as I know and actually one of them was already discussed on this blog on an interview with Krischan! from Frischluft Records. The song " Just like Holden Caulfield" was included in the compilation "Mit Sonnenschirmen fingen wir den Blütenzauber". Krischan! remembers: 'We were writing to the address on the Bubblegum Splash-single trying to obtain a song by them just to learn they were no more. The Bubblegum's flavour may have been gone, but they didn't throw it away (as Mighty Mighty once claimed) but re-put it into shape that was Jane From Occupied Europe."
The second compilation appearance was on the first Heol tape. This is a "legendary" tape that was released in Francein 1991 and was put together by Anne Moyon. I believe she is married these days with the great Philippe Katerine. But that's a story for another day. The track that Jane From Occupied Europe included in this compilation was just named "Untitled".
According to the blogspot, after the split of the band, one of the members moved to Bristol and recorded some songs under the name 7% Solution. You should be able to download those from the page as well. I wonder which member was it. It doesn't specify. Check them out, it has some sort of Spacemen 3 feeling, a bit more poppy maybe.
There is some more info on the a page called Birdpoo. There you'll be able to find a review of their first 7″, a review of a gig in the Powerhaus (seems every band I like have played here!), and an article that appeared on the NME in 1990. This page is really worth checking out as it also has lots of info in some other worthy bands of the period! Wish it was updated though!
Anyhow, that's more or less all you need to know about this great but sadly underrated and forgotten band. If you want to add anything, share stories, or fill in some gaps, please get in touch! Now enjoy the super fantastic "Ocean Run Dry".
::::::::::::::::::::::::::::::::::::::::::::::::::::::::::::::::::::::::::::::::::::::::::::::