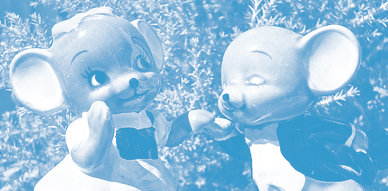 When Ignacio told me, during the Friday night shows, that Tiny Fireflies was his favorite band ever, I was a bit surprised. I asked him again if he meant ever. And he did. The main man of the new label Cerillas Garibaldi was totally charmed by them and for the first time he was going to see them live. I lost track of him as soon as the gig started. I wonder if he was one of the many that got the new split with Lily of the Valley and got it autographed by Kristine and Lisle. I know there were many humble fans in Spain who got the signatures of the pretty Tiny Fireflies.
I'm not sure exactly which songs they played that night. I can remember that they played all the songs they have released, but no Club 8 cover. I didn't get their tracklist this time, not because I didn't want to, but because Jorge was collecting them for the Madrid Popfest archive. So here's a tip for bands, make at least 3 tracklists. Because  I need one for sure.
The gig was beautiful, as always. The fragility and tenderness that Tiny Fireflies evoke can't be compared to any band these days. I don't think anyone comes close either. Their sound is just way too dreamy, and deliciously sweet. Kristine's angelic voice blends so perfect with the electronic beats and Lisle's jangly guitar. One only wonders how this sound was achieved in Chicago, three blocks away from the Division subway station on the blue line. No, it doesn't make sense.
All the copies the band brought to Madrid were sold. Success for a tour that started in their hometown a week before and later spanning some cities in Wisconsin. Their first Tiny Fireflies tour. Though last year they did play a couple of gigs in the UK, but the main tour then was the one by Very Truly Yours, their "other" band. I remember clearly the gigs at the ROTA, opening for the Sunny Street and Amor de Días, and the one at Indietracks. By this time they had their first release out, the magical 3″CD on Cris' label Little Treasure. I got my copy that sunny Friday in Nottingham, when a big group of Indietracks' goers met at the Ye Olde Jerusalem Inn for lunch. These memories make me want to go so much to Indietracks this year. Time to break the piggy bank?
I've seen Kristine and Lisle play so many times, even more than Allo Darlin' or The Smittens, which is already something.  I am a declared fan of their musical talents, and their sensitivity to write songs. Moreover I consider them great friends. Can't wait to see them next month here in New York to hang out and attend the Chickfactor 20 gigs. To which I ask, why were these gigs scheduled on weekdays? I'll be dead tired, exhausted, trying to wake up the morning after to go to work. And I will have to control how many beers I can drink.
We met Tiny Fireflies on Wednesday, outside of Alonso Martínez station. Along with Zipper, we all headed to a very cool bar whose name I have forgotten. There we had wine and beer and tried the classic tortilla de patatas. Kristine was impressed by the fluffiness of it and asked for the recipe. Among laughs, and "getting to know each other", as it seems Zipper and Tiny Fireflies each missed their gigs at last year's Indietracks, we had a great time. That's when we decided to hop to another bar, a more traditional Spanish one, you know, one that serves sausages and other treats along your drinks for free.
The next days I would become Tiny Fireflies official translator. Was it an upgrade from last year's Very Truly Yours roadie? We would meet around 1pm, a bit ashamed of looking for lunch that early for Spanish standards. And so, we would go looking for restaurants that served a daily menu, something we really enjoyed. For around 10 or 11 euros we could eat well, a proper meal consisting of an appetizer, an entree, dessert, and a drink. Plus bread. A really good deal. And so Kristine and me tried many different things, mostly thinks done with pork. Alexandra stuck to having salmon, while Lisle enjoyed "bocaditos" made of ham or the brilliant "roman" style calamari. I would translate the menu and they would always laugh when we would find "gallo" which is rooster on the menu. It wasn't an easy task to translate as I didn't know the meaning of many things, the Spanish from Spain, when it comes to food, differs a lot from the one I know from Peru.
We traced every room of the Thyssen-Bornemisza Museum of Art. We got in for free, just by chance, as they were having a free entrance that day because of some sort of women related celebrations. Was it international women's day? Could be. And then we also visited and took some Tiny Fireflies promo pictures at the Madrid Botanical Gardens, where I ended up being asked by many tourists to take pictures of them. There was this couple that asked me to take a picture of them with the "tree of love" as a backdrop. As it wasn't spring yet, the tree was gloomy, very far to convey any sense of love. More of a Halloween picture if you ask me, not very romantic. And then we also enjoyed riding up and down, many times, the clear crystal elevators of the Reina Sofía museum, to get beautiful, panoramic views of Madrid. And there we also went for free, as there's a nice deal on Saturdays after 3 pm. While at Reina Sofía we ended up speechless upon finding the impressive Guernica by Picasso. Stunning really.
Meeting on Saturday at Puerta del Sol, taking pictures under the "bear and the tree" statue, symbol of Madrid, and walking around and bumping with Miguel Navarro, guitar extraordinaire of The Felt Tips, we waited for Cris and Madidi to arrive, for one last lunch in Spain (at least for us). When we were altogether we headed into one of these menu restaurants I've been raving. We loved the name of it, "La Soberbia" (The Arrogance), and we enjoyed some beers to start. I remember trying that day Salmorejo, a delicious cold soup made out of tomatoes, and the delicious Solomillo made out of pork. Cris had the same as me, Kristine got the Solomillo and a salad, Madidi got the paella, Alexandra went for some peppers filled with fish that she didn't like much, and Lisle a ham bocadito. Then Cris had to run for sound check, as he was in charge of making The Close Lobsters sound good for their historic show later that night. And then, when we asked for the check (or the bill as you say in the UK), Kristine had the best idea of getting rid of all her Euro change. And so we paid the check mostly on coins, and coins, and coins. Brilliant.
It was just a couple of weeks back since we released the Tiny Fireflies split CD. And now I hope that in the not so distant future we'll get their songs on vinyl. At least that's what I would love to do.
And now onto some obscure band, and to make it a bit more relevant, a US band that doesn't sound American at all: Mouse Boy, Mouse Girl. Well, I'm not very sure if they were a band or not, but I do know this one song that I've really been enjoying for the past week since Alexandra e-mailed to me. I wonder how such a pretty song have been unattended, unexplored, unheard, by me. I will blame it to my anglophile-ness when it comes to indiepop. The song is called "Make Like We're Not Sad" and it's such a delicious slice of fragile indiepop.
The song was part of a compilation put together back in 1998 by the now sleepy indiepop-list. The compilation was called "The Family Twee". The idea behind the compilation was to have songs by the members of the list. Not surprised to see Mario's Zapato, Chris' Suretoss, in their for example. But I wasn't around in the list back in 1998, so I'm unfamiliar with many of the bands, and the people behind them. A little research and I found out how this was organized by "Skippy":
September 1997 – An invitation is made to members of the list to submit a song/whatever, that is under 2 minutes long. We will create 2 cd's filled with their tracks upon getting enough people to do it (60!) and it will become a 'snapshot' of the current state of the list. A postcard if you will.November 1997 – By this time, we've had 85 people say they definitely want to do it. We await the first 60's tracks and then open it up to the remainder.
December 1997 – We've received only 46 of the promised tracks. People flake, that's life. I have list members Jim Curran and Anne Zender over for a holiday cocktail and to 'sequence' and 'rate' what we have. January 1998 – I moved everything I own from Chicago to NYC. I get the track total up to 60, pulling teeth, but this also means that some people haven't 'contributed' if you know what I mean.
March 1998 – I give the 60 songs to pal and Kindercore cat, Ryan, who will inexpensively master the thing.
April 1998 – Apparently there are some problems with a track or two and we need to get the original from the person.
June 1998 – CD is mastered and prepared for pressing. Skippy loses artwork that Andy Blanchard so generous drew because he didn't have a 'song' contribution. We await Andy's duplicates.
August 1998 – The two CD set arrives here in spindles (the state of CD manufacturing took 7 weeks!). As soon as we whip up some art, we can package these babies up and get them out. Of course, I seem to have underestimated the costs of the project and am now in the hole for about $600.September 1998 – I receive the plastic booklets we will use. Artwork is shipped to a friend who can do it 'cheap'. I haven't heard from him since. November 1998 – I decide enough is enough, make some 'bootleg' style artwork and begin the arduous task of packaging 1,000 double CD's with inserts in my spare time (with my girlfriend's help)
December 2, 1998 – All systems go! The CD's are ready to ship. Problem is, some of you have changed your home address and your e-mail addresses. I have saved enough money to ship these (there's quite a few international ones, y'all), but I don't want to start sending to addresses that you gave me back in November last year because I don't want to get it returned.
After a bit of investigation to find out at least one name behind Mouse Boy, Mouse Girl. It seems it was Tony Gauslin who was behind this precious song. This was prior the days of him making songs with Laura Watling under the name of "Color and Shapes". And that's really all I know. Did they make any more songs? Did he ever receive a copy of the Family Twee CD (he complains in 1999, a year after, of not having received a copy!)? and did they release any songs? maybe on other compilations? And what is he up to? I'm sure the talent is not gone!
Any clues, hints, or anecdotes you want to share, you know what to do in the comments section!
::::::::::::::::::::::::::::::::::::::::::::::::::::::::::::::::::::::::::::::::::::::::::::::